Located in Botum Sakor National Park of Koh Kong, Cardamom Tented Camp is home to some of the best views mother nature has to offer.
My colleagues and I had recently spent 3 days and 2 nights glamping in style at Cardamom Tented Camp and we had such a wonderful experience.
What to Prepare
Before getting into the trip details, below is a list of things you should prepare.
Sunscreen: It's not that hot during this time of the year, but it's always better to apply some protection before heading out under the sun.
Mosquito Repellent: You're staying right in the middle of the jungle. It's a must to bring mosquito repellent.
Land Leech Spray: Land leech is very common here. You can get any particular kind of land leech spray, but we were recommended to use Off-For-Kids as it is stronger and can be used for both mosquito and land leech.
Earplugs: It's important to use earplugs while trekking. You don't want land leech in your ears.
Safari Style Outfits: Not a must, but you'd look perfect in photos in this eco-camp setting.
Sneakers/Boots/Hiking Shoes: Bring a good pair of sneakers, boots or hiking shoes. Make sure you bring the most comfortable pairs you've got. The trekking trail is easy but slippery.
Sandals/Flip Flops: You don't want to put on your boots all the time, do you? Sandals or flip flops are good as long as you walk on the wooden platform around the camp.
Snacks: Of course there is an open-air restaurant here, but they offer very limited food options. Bring along some snacks if you're a heavy eater.
Full Movies/Series Download: There's not much to do at the camp and internet connection is fleeting. Download a few movies or a whole season of your favorite series.
Day 1: Getting to Cardamom Tented Camp
We left Phnom Penh at 6:00AM and after an 8 hours journey on the bus, we finally landed in a land of nature.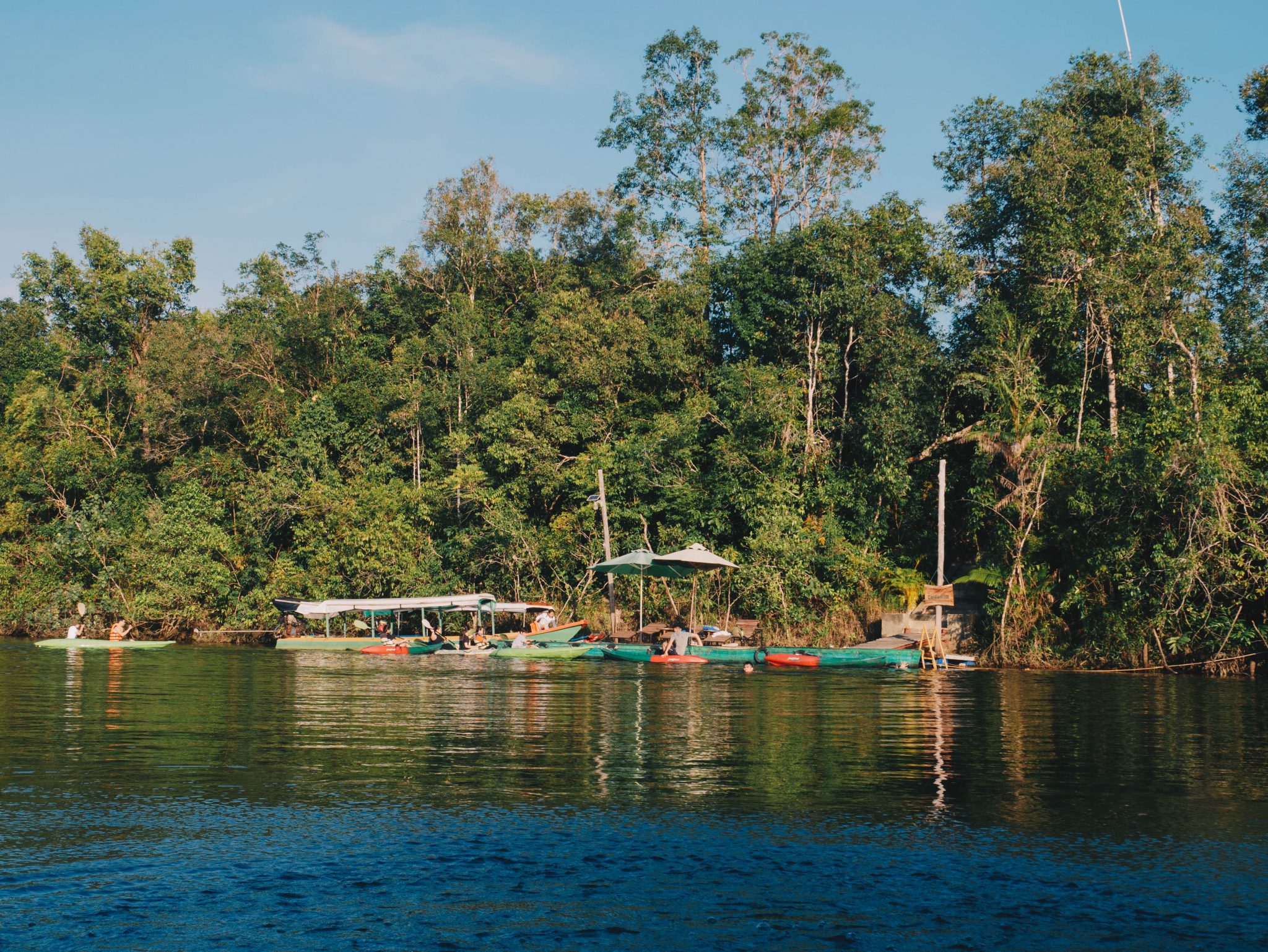 It usually takes only around 6h30m from Phnom Penh, but we stopped approximately 1h40mn for breakfast, lunch and pee break which made our journey even longer.
To get to Cardamom Tented Camp, take Phnom Penh – Koh Kong minivan and tell your driver to drop you off at Trapeang Roung Bridge.
Once you're at the bridge, look to your left and you'll find this small red road leading to the pier.
Cardamom Tented Camp staff normally picks you up at 2:00PM. Since we were the only group who filled all their tents, we asked them to pick us up earlier.

There's a house selling a very limited range of soft drinks on the left hand side of the pier. If you get to there too early, you can order something to drink and wait until the boat comes.
The eco-camp is 14 kilometers away, which takes you another 50 minutes on a slow wooden boat from Trapeang Roung Pier.
Upon arrival, we were welcomed with a lemonade ginger tea and cold towels. Mr. Allen, the lodge manager, then gave us a brief introduction about Cardamom Tented Camp, the conservation and protection work of Wildlife Alliance and things to do and don't at the camp before sending us to our tents.
There are 9 luxurious and comfortable safari style tents at Cardamom Tented Camp. They can welcome a maximum number of 22 guests at a time.
You'll find 3 bed types here; Single, Double and Triple Beds. We slept in the triple one.
There's no AC, but a standing fan in the tent.
Though there are a lot of insects coming in at night, I still love their en suite private bathroom. And yes, they have hot water and rain shower.
Love how they use locally-sourced soaps and shampoo here.
Here's our beautiful sun-protected terrace on the patio.
After a quick shower and short rest, I walked around our campsite for some photos.
Besides the scenic lush greenery and serene atmosphere, you can also swim, kayak and ride the 75 meters zip line here at Cardamom Tented Camp.
Here are some of the best views of Preak Tachan River between 5:00PM and 6:00PM.
This is their open-air communal style restaurant. There are a lot of geckos and insects here. Make sure to tie up your hair at the restaurant. You wouldn't want insects in your hair like I did for 2 days in a row.
Due to a small number of staff, they offer a fixed menu here at the eco-camp.
You have 3 options for breakfast; fried rice, noodle soup and pancake. You have to choose one of the three the night before. Your breakfast starts with fruit salad; dragon fruit, watermelon, pineapple and apple, and continues with the breakfast option you chose.
As for lunch and dinner, they always serve you Khmer dishes like Fish Amok, Tom Yum and others. Your meals end with western desserts like Chocolate Lava and Cheese Cake or Khmer desserts like mango and sticky rice.
I loooooooove their Chocolate Lava and had to eat it again before leaving. It's the best Chocolate Lava I've ever tasted!
Day 2: Getting to Ranger Station from Cardamom Tented Camp
Our second day started at 7:00AM.​
They're trying to reduce plastic here at Cardamom Tented Camp, so they will prepare you a bottle of water before you start trekking. The bottle isn't for free, you have to return it after. But if you like it, you can get one from them for $9.95.
We started trekking at 7:40AM. It's a 4.5km distance from our camp to the ranger station. You'll get there in an hour.
It's an easy and flat trekking trail, but quite slippery.
There are a lot of land leeches here. Make sure to wear long sleeve shirt, long pants and long socks.
We reached the end of the trekking trail and had to take a 3-minute-boat trip to the ranger station.
Here we are at Preak Tachan Ranger Station.
These are the illegal equipments that rangers have captured from poachers and loggers. The display includes traps, improvised hunting rifles and chainsaws.
We talked to rangers, took some photos with them before heading back to our campsite.
There are two options to get back to the campsite from the ranger station; kayak or boat. It takes 15 minutes by boat and 1 to 1.5 hours by kayak.
We were welcomed back with a glass of orange juice after the trek.
We just spent another half day chilling. There's nothing to do much at the camp, but Cardamom Tented Camp is a great place to enjoy a peace of mind with cool breeze on our face and organic tasty food in our tummies.
Things to Know
Temperature between December and January would drop to 14℃ at night and early morning. Make sure to bring a hoodie or a jacket with you if you're traveling between the mentioned period.
Don't bring any hair blow dryer, curling iron or hair straightener. Cardamom Tented Camp runs on solar system and power generator, such hair machines draw too much power.
Keep out food from your tent. You wouldn't want rats or any other types of wild animals to drill a hole through your tent for those food. I'm not lying, this had happened before.
You'll find a lot of geckos and insects around the camp, especially at their open-air communal style restaurant. Make sure to tie up your hair. I let my hair loose and ended up having a few insects in my hair for two days in a row. Never knew insects love my hair this much. Haha
Due to the remote location, they offer a fixed menu for breakfast, lunch and dinner. Vegetarian dishes are available upon request.
There's no signal at your tent, babe. If you want to make a phone call, you can do so at the restaurant and bar area though the signal might be fleeting.
Cardamom Tented Camp is very secluded; for this reason, internet connection is also very limited.
They offer several different packages at Cardamom Tented Camp. Our package was a 3 Days 2 Nights Trekker Package and it cost us $175/Person. The package included a round-way boat trip from Trapeang Roung Bridge, 5 meals, a trek to Ranger Station and free use of zip line and kayak. Price might change according to season. Click here for other packages and information.
They also have merchandises for sale at very reasonable price. I bought 2 water bottles back home.
"Your Stay Keeps The Forest Standing." Book your trip at Cardamom Tented Camp here.