When you've been to Siem Reap and written about it for so many times, you'd want to do something different. Something that not many people have done before. It's not just for your readers, but also for yourself.
I was searching and searching for what I can do for a change in Siem Reap, and after daaaaays, I finally came up with the list.
Is it going to be something unique? No. Extraordinary? Yes.
My boyfriend and I recently spent 3 nights and 4 days in Siem Reap. Below are the highlights of the 4 extraordinary things we did during our visit.
1. Microlight Cambodia
I first found out about Microlight in 2018, but I didn't have the money to spend back then. I thought to myself "Maybe I'll try it one day or maybe I won't."
I'm glad that day finally comes. Microlight flight was worth all my money.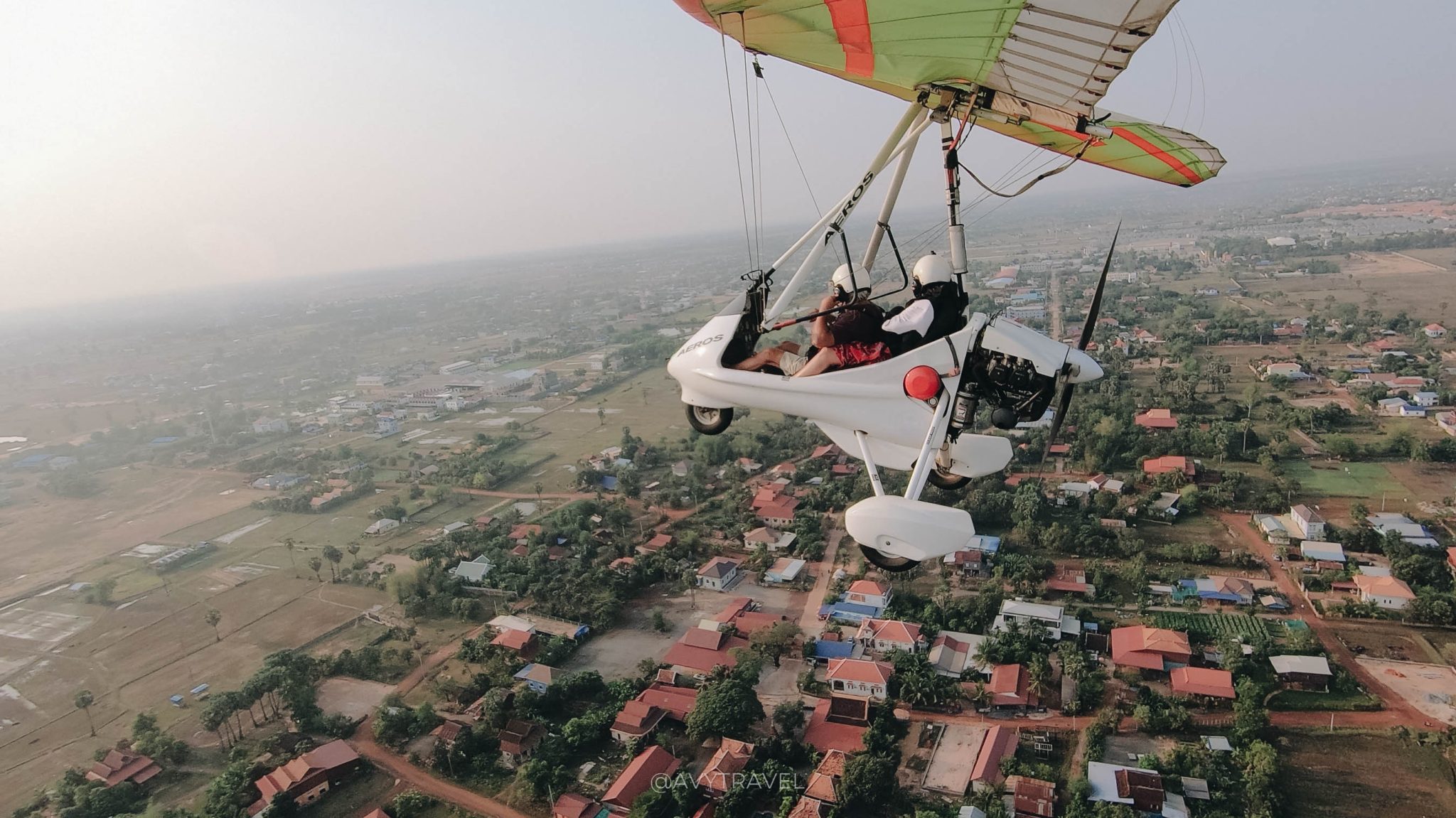 There are 2 options available for the flight; a 30-minute temple route for $150, and an-hour see-it-all (Temples, Phnom Krorm, Floating Village) for $250 per person.
I initially booked for the sunset flight. But when I met Eddie, the pilot, that day, he advised me to fly with him the next morning as the weather was too cloudy and that I wouldn't be able to see the sunset. I agreed to reschedule our flight to 7am the next day.
To get the best out of your Microlight experience, don't forget to bring 2 micro SD cards. Eddie has one GoPro on the wing and one at the front. Best thing to show off to your social media friends. 😂
Eddie is very professional. I felt very safe throughout the whole flight.
Here are some of the temples I got to see during the flight.
Here's the most exciting one of all, Angkor what? It's Angkor Wat! 🤩
Smart phones are not allowed during the flight. I brought my camera and it was really hard to get the photos I wanted. If you wish to take photos, bring a compact camera with a neck strap.
I took the 30mn temple route flight, so I didn't get to witness the floating village and Phnom Krorm. But here are some of the photos I personally got from Eddie.
There's no maximum weight for the Microlight flight. But according to my experience, I think it would be a bit crammed to be in the passenger seat if you've got a big build.
Eddie can fly all year round as long as the weather is good. To avoid excessive messages asking how much (though I already wrote about it), I won't display Eddie's contact number publicly here, but drop me a message if you'd like to book the flight with him.
2. Angkor Hot Air Balloon
Before we get into it, you have to know that there are 2 types of balloon ride in Siem Reap. One is the hot air balloon with Angkor Hot Air Balloon, and another one is the helium balloon with Angkor Balloon. Yes yes, I know it's very confusing even with the name. I was once confused too.
This first one that we're going to talk about is the hot air balloon.
My original plan was to take a day off from the office and get to Siem Reap on the 31st of March. But as I checked with Angkor Hot Air Balloon team, their last flight of the season would be on the 30th of March. I had no choice, but to rush to Siem Reap early just to catch the hot air balloon ride. 😂
I booked for the flight with them on their Facebook Page. 50% deposit is required upon booking. There's no limited weight for the hot air balloon, but if you're more than 120KG, you'll have to pay double.
Angkor Hot Air Balloon owns 5 balloons of 3 sizes; small, medium and big. The small one is for 2-5 people, medium for 6-8, and the big one is for 9-16. We flew with the medium sized balloon.
The ride is $100 per person for local and $115 per person for international. The price also includes pick up and drop off at your hotel. They also gave us one cap as a souvenir, water and wet towel.
Angkor Hot Air Balloon only flies 4 months a year, which is from December to March.
The setting up process was really quick. It took even less than 10 minutes.
The flight is for 30 minutes and 500 meters from the ground.
Up we go!
There was no sunset during our flight, I had to use this photo from Angkor Hot Air Balloon team, Mr. Makara.
It all depends on your luck and I was far from being lucky. It actually looked like this during our ride, but I'm still glad I got to see Bakong Temple for the first time from above.
It was fun seeing all the kids chasing the balloon down there. The pilot even gave us candies to give away to them. 😂
3. Angkor Balloon
Angkor Balloon isn't something we did recently. It was since 2020 and I had also written about it once. But there are some changes with the flying schedule as well as the price, so I'm going to include it here.
Again, not to be confused with the hot air balloon, this is the helium balloon that we're talking about here. This balloon is attached with the string, which means it doesn't go anywhere besides flying up.
The flight is for 10 minutes and it's 120 meters from the ground. They fly every day from 5:30am to 6:00pm. The sunrise and sunset flights are $25 per person and the normal flight is $20 per person.
Here are some of the 360° views from the balloon.
4. Angkor Eye
Here comes the final exciting thing for us to do in Siem Reap, a ferris wheel ride with Angkor Eye.
The ticket is $5 per person for local and $6 per person for international. They're open from 2:00PM-8:00PM daily, but their counter is close at 7:40PM. That means the last ride is at 7:30PM.
The ferris wheel is 80 meters high from the ground and the whole ride is for 10 minutes.
Each capsule was equipped with an AC. Best place to cool off, especially during this time of the year. 🤣
We were told the best time to visit Angkor Eye is at 5:30PM. Unfortunately, the only time left for us to be there was at night, so we didn't get to see anything much. We'll definitely be back here next time to enjoy the evening view.