The last time I was in Malaysia was back in 2017 for a Social Influencer Festival. It was a 3-week trip with other 20 bloggers and YouTubers from 13 different countries to promote Perak, hence Destination Perak. The trip was prepared by the amazing organizers to incredible places across Perak, so I didn't bother to plan or take some time off to travel on my own.
It's a coincidence how every time I'm in Malaysia, I'm always on an invite. I guess Malaysia and I are fated to be in a bleisuretionship? We'll never know. 😂
Same went with this time, Runaway, Vevid's Day Off and I were invited to visit RedQ (AirAsia Headquarter) and CAE Training Center. It was supposed to be a 3D2N visit, but since I didn't get to explore Kuala Lumpur last time, it's about time I experienced this city at is best this time.
First time in Kuala Lumpur? This 5 days and 4 nights itinerary might be just perfect for you. 😉
Getting There
My boyfriend and I booked for a 1:40pm flight with AirAsia and a round way ticket cost us $110 each. You can book your flight ticket here.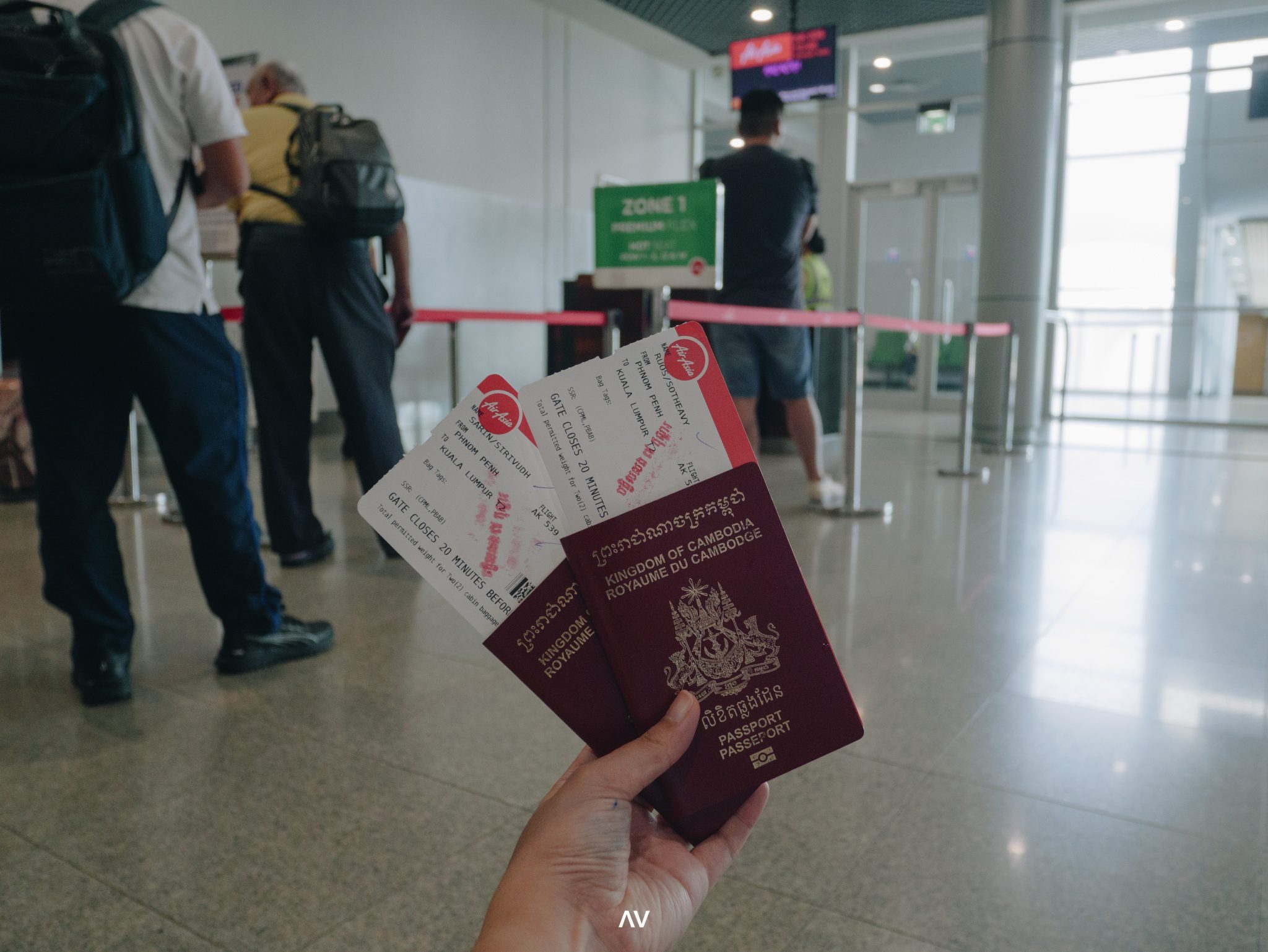 One fact. Did you know that AirAsia was voted as the world's best low-cost airline 14 years straight at Skytrax? 🤔
I kid you not. Being voted by millions of global travelers in 14 consecutive years is huuuuugee.
Despite it being low cost (one way ticket starts from only $55), they deliver a remarkable degree of standard consistency and provide exceptional service. All cabin crew have been in strict and intensive training.
All the facts aside, AirAsia also has a wide range of in-flight food and drinks to choose from. To make sure you'll get what you really want, I'd suggest you book for a Value Pack in advance.
The value pack includes:
20KG baggage allowance
Standard seat selection
1 meal
Travel protection
Here's my first in-flight meal. 😋
The flight was estimated to arrive KUL at 4:35pm and we really landed at 4:35pm.
Getting from KLIA2 to the City Center
There are several ways to get to the city center; bus, taxi meter, Grab, KLIA Ekspres and KLIA Transit.
If you travel in a group of 4, it'd be best to take Grab as the fare isn't that expensive divided by 4. The only problem with it is that you could be stuck in traffic jam if you're traveling in rush hours.
What about KLIA Ekpres and KLIA Transit? What are they?
Both KLIA Ekspres and KLIA Transit are trains that run from the airport (KLIA and KLIA2) to the city center, KL Sentral, and vice versa. The main differences between these 2 services are their departing schedule, travel duration, and ticket fare.
The total journey time between KLIA2 and KL Sentral with KLIA Transit is approximately 40mn. Trains run every 15mn during weekday peak hours, and every 30mn during weekday off-peak hours and weekends. The ticket is 25MYR ($5.49) one way.
As for KLIA Ekspres, the travel duration between KLIA2 and KL Sentral is around 30mn. This service currently runs every 20mn all day, every day, including on weekend and national public holidays. The ticket is 55MYR ($12.08) one way, and 100MRY ($25.16) round way.
You can easily find both KLIA ticket counters and terminals by following the signs in the airport.
My boyfriend and I wanted to get to the hotel before it's dark, so we decided to go with KLIA Ekspres.
Here's how the train looks like.
I later found out through the ad on the train that you can save 10% off with KLIA Ekspres when you book online.
There isn't much to see along the way, so just sit back and enjoy the ride.
KL Sentral is the main train station in Kuala Lumpur. Either you're commuting in the city or traveling to other parts of Malaysia, you need to come here.
The hotel that we booked is located in Chinatown. Once we reached KL Sentral, we had to buy ticket and hop on another line to Pasar Seni. After spending 12 bucks on the one way fare from the airport, we were surprised to pay for their city trains. They're really cheap.
Arrival
We finally got to our hotel.
Hats off to my boyfriend for finding such a perfect location. Our hotel is only a few minutes walk from the MRT and the bus hub.
We booked for a 2-night stay at Travelodge Chinatown in a Superior Double Room, and it cost us $81 (including VAT and Service Charge). We could have gotten a better deal, but our reservation was made 12 hours before our stay, which explains the higher rate.
2 bottled water and instant tea and coffee are provided. There's no hair dryer in the room, so if you're the type who uses hair dryer every day, please remember to bring one.
If you're a first timer in Kuala Lumpur and have no idea which area to stay, I'd recommend Chinatown and Bukit Bintang.
I personally prefer Chinatown, but you can check them both out and choose according to your preference. These two areas are in the vicinity of most main attractions.
Petaling Street Market
Our original plan was to go to Jalan Alor Food Street in Bukit Bintang once we arrived. But we were tired from all the ride, so we decided to relax in our room a little longer and charged our phones to 100% before we headed out again.
Petaling Street Market was our first stop. It's only 5mn walk from our hotel.
They sell all sorts of souvenirs and counterfeit goods here. Hey don't get me wrong. I don't mean that in a bad way. Not all of us can afford the real branded stuff.
What I found most surprising was the price of the suitcase. I walked around the market and the lowest one I found is only $13. Surprisingly cheap, right?
What's even more shocking is that it's not just at this market. All the luggage I saw across Kuala Lumpur start from this price. It's unbelievable!
After a few laps around the market, we decided to eat what we found selling at most of the stalls, grilled marinated chicken wings! 🤤
I am not talking about a specific place here as you'll find this almost everywhere in Kuala Lumpur.
The minimum order for this is 4PCS. We got ours at Master Kow for 20MYR ($4.39).
We looove the spice and the crisp. It was good!
2 wings each without rice weren't enough to fill our stomach, we had to find something else to eat. So we walked to this stall which is just across the street.
Not sure what our orders are called as the menu is all in Chinese. But one was shrimp dumpling soup with noodle, and another one was just dumpling soup. All food in the menu at this stall is only 9MYR ($1.97) per dish.
Their soup might not be for everyone as you'll taste a really heavy shrimp flavor. But I looove it! It reminds me Thipsamai Pad Thai in Bangkok.
Right next to the dumpling stall, you'll find a lot of people queuing for the signature claypot rice. My boyfriend and I actually wanted to give it a go too, but we made our decision following the recent reviews and decided to pass. Let me know if you've tried this before.
PS150
Unlike other trips we've been to, our trip this time happened very last minute. We didn't get to search all the places we wanted to go and all the food we wanted to try.
Lucky for us, we have bong Irene, who's a real foodie. I asked her for a pub recommendation and she sent us to PS150.
We walked past this romantic place on our way to PS150.
Finally got to PS150! Their entrance looks like a traditional Chinese medicine house, while in fact, it's the complete opposite. 🤣
The atmosphere at PS150 is nothing like all the pubs my boyfriend and I have been to. It was like we were in a whole new world.
The cocktail bar is separated into 4 different zones. I didn't get to take the photo of the first part as it was too dark. But let me try my best to describe what it looks like.
When you first enter, you'll see a row of table on the right hand side of a narrow walk way with a little beaded curtain hanging from the top of the booth. Most people that sit here were couples. To us, it gave off a secret date or a shisha bar kind of vibe.
The photo here is the second zone. I don't know how to describe it, but to me, it looks like a chilled Tinder first date kind of place. 😅
Here comes the third part. This is more our vibe. They used low height tables with small chairs. This is a good corner for a group of friends.
When I say it's good for a group of friends, it truly is. We weren't eavesdropping, but we sat next to this group who kept gossiping loudly the whole time. 😂
I didn't get to check the last part of the bar as it was too crowded. But from the look of it, this last part is wilddddd, even the bartenders themselves. They've got this "I love your wife" pin on their bar apron. 😂
There are sofas and a few seats around the bar. Looks like a perfect spot for hooking up. 👀
We went to PS150 on Friday, so most of their signature drinks were already out. We ended up order Lychee Number 3 and Pandan Muka.
My boyfriend and I went to 2 other pubs during this Kuala Lumpur trip. We had to say PS150 offered the best cocktails. Thanks to bong Irene once again for such a great recommendation.
Malaysia is a Muslim country; for this reason, alcohol here is very expensive. Cocktails here start from 45MYR ($9.89) and you also have to pay for 10% VAT and between 5%-6% service charge. Don't dream of getting drunk here, you'll go broke. 😂
Day 2
Our day 2 itinerary was all packed, so we had to get up early to be able to visit all the places on our list.
If you visit Kuala Lumpur for the first time, you'll be surprised by the number of street arts you find. It's very common here.
These arts are just across the street from our hotel.
As you walked past the street art, you'll find these flower stalls right next to one of the Indian Temples in Chinatown.
You'll also find a few Chinese temples around this area. But my boyfriend and I were in a rush to queue for our breakfast, so we didn't get to take any photos.
Ho Kow Hainam Kopitiam
My boyfriend found Ho Kow Hainam Kopitiam when he was searching for where to eat in Kuala Lumpur. Since we were already here, we thought well, it wouldn't hurt to queue.
It was already this crowded at 8:30am.
They have this automatic queue number machine and a TV that shows which numbers are currently dining in.
We got number A035 and had to wait 45mn to get in. While waiting, grab their menu and write down what you want to order so that you wouldn't take any longer to decide once you're at your table.
We were finally in!
We ordered their signature yam cake, kaya toast, and kopi-c. It cost us 30.75MYR ($6.75) in total.
This is my first time trying kaya toast, so I don't have any benchmark to compare whether or not they make a good one here. But it wasn't like wow or anything, it tasted okay for me.
I don't think many people would agree with me, but I don't like their signature yam cake. It tasted like wu ren to me. I don't like wu ren and that's my problem, not theirs. Let me know what you think if you've tried their yam cake before.
Their Kopi-C is great though. The flavor is as strong as a Vietnamese coffee. I like it!
Kwai Chai Hong
Kwai Chai Hong is a very picturesque street filled with art and heritage.
A stroll down this lane will take you back to the golden days of KL Chinatown.
The street is lively both at day and night. It's coffee by day and cocktails by night.
BookXcess RexKL
When you search for where to go in Kuala Lumpur, BookXcess RexKL will surely pop up.
There are several BookXcess in Kuala Lumpur, but the one at RexKL is the most visited—not for books buying, but for photos taking.
The place is giving off a Coex Mall Starfield Library vibe. It's wonderful and the little nerd in me is happy to be here.
If you're truly a book lover, you'll loooooove it. You'll find a wide range of genres and your nose will be satisfied with the enchanting smell of paper books filled in the air.
Central Market
We dropped by Central Market after our photo session at BookXcess.
This market is a vibrant shopping hub of art and textiles, but it wasn't appealing to a non-artistic spirit like me. 😅
You should still check it out though. There are a lot of things you can take back home.
Click Central Market to see its location.
Merdeka Square
Merdeka Square is a very famous landmark in Kuala Lumpur. There's a massive field with a nicely manicured lawn here with one of the world's tallest flagpoles at approximately 95 meters high.
Right in front of it is the Sultan Abdul Samad Building.
From Merderka Square, you can also spot the top of KL Observation Deck and Petronas Tower.
River of Life
We walked past River of Life on our way back from Merdeka Square. It's quite a sight to behold.
Click River of Life to see its location.
Pavilion Kuala Lumpur
River of Life to Pavilion Bukit Bintang isn't in a walking distance. We had to walk to Pasar Seni to catch an MRT to Bukit Bintang, then walked a few hundred meters to Pavilion.
Pavilion is a shopping mall of over 700 retail outlets and restaurants. It blends the best of the international and local retail world and is positioned as the 'defining authority in fashion, food and urban leisure'.
My boyfriend and I are not big on shopping, so we were there to just window-shop and eat.
There are a few shopping centers around Pavilion. We went into a few, and some of them look quite abandoned.
We even walked all the way from Pavilion to Berjaya Times Square shopping complex and Berjaya is not worth our walk.
If you want to do branded goods shopping in Kuala Lumpur, I'd recommend you to skip the others and just head to Pavilion and Suria KLCC directly.
Elephant Republic
It was still 5pm when we got to Jalan Alor Street Food. Most of the restaurants were still preparing and my boyfriend and I were also not hungry, so we had to find somewhere to sit.
We came across these interesting murals around Jalan Alor.
Elephant Republic is only a few minutes walk from this mural.
The cafe decoration is like a showroom. It feels like you're at an open house rather than a cafe.
We ordered Blue Lemonade and Double Lemon. These 2 drinks cost us 25.3MYR ($5.56). Both drinks tasted okay.
Jalan Alor Food Street
Elephant Republic is usually closed at 6pm. Even if we were still not hungry, we had to leave before they kindly ask us to. 😂
Jalan Alor is a famous food street in Kuala Lumpur. There are a lot of restaurants here and finding where to eat is one hard task.
After reading a few local articles, we decided to eat at Sai Woo.
We ordered Chili Crab, Sizzling Hot Plate Nyonya Style Prawns, Deep Fried Squid, Steamed Rice, Beers and Water, and it cost us only 165.5MYR ($36.37).
We looooooove all their dishes. Their seafood were really fresh and they cooked everything to perfection. My tastebuds were in heaven from the first bite.
The Attic
It was still too early to go back to the hotel after our feast at Sai Woo.
We knew alcohol in Kuala Lumpur is freaking expensive, even beers from mart. But we still went to the pub.
Most of our budget in this trip went into alcohol. Noooo we're not alcoholics, we just wanted to try something new. 😜
The pub that we went to was The Attic. Imagine walking down these spiral stairs when you're drunk. 🥹
We like the vibe here. There are both indoor and outdoor seating.
There was also a live acoustic music during our visit.
We ordered 3 drinks (I forgot their names) and we didn't like them all. 😭
Day 3
We already covered most of the places on our Day 2, so we started our day 3 quite late.
First, coffee.
We read online that coffee at Feeka Coffee Roasters is amazing, so we wanted to give it a try.
Nuh-uh, not for us. We were deeply disappointed. It was far from good.
I guess we were too spoiled by the incredible coffee we've had in Thailand and Cambodia. I was told if I really want good coffee, I should head to Ipoh. And yes, that's where I'm going next.
Aquaria KLCC
We navigated our way to KLCC Aquaria after we fueled ourselves with a not-so-good cup of coffee.
We booked our admission tickets on KLOOK as it was cheaper. Adult ticket is only 63MYR ($13.84) on KLOOK, while it is 75MYR ($16.48) at the aquarium.
I guess I'm too old for an aquarium. It didn't excite me.
Suria KLCC
After an hour spent at the aquarium, we headed to Suria KLCC next.
Located at the foot of Petronas Tower, Suria KLCC is a premier 6-storey shopping mall with over 300 flagship stores overlooking KLCC Park.
Again, we were not here to shop, but for lunch at the food court. 😂
Sadly for us, we visited Suria KLCC on a weekday so the food court was all packed. We decided to have 4 FINGERS for lunch.
We made a great decision choosing this place. Their chicken were fresh and tasted really good.
3 days in and we still haven't got any photo of Petronas Tower. 😂
We didn't take weather factor into consideration and delayed our twin tower visit to the last day. It was raining the whole afternoon.
We tried walking out in the rain but it was quite heavy, so we ran back in.
Bape Cafe!?
There was no other option other than sitting back and waiting for the rain to stop. We decided to go to Bape Cafe!? and wait.
My boyfriend ordered a Rose Latte and I ordered an Houjicha.
I tried Houjicha at Matcha Venture in Cambodia and it's forever my favorite. So I thought, hey houjicha in another country might taste good too.
That's a big no. I ended up drinking my boyfriend's drink. Typical girlfriend's behavior. 😂
KLCC Park
The rain got a tiny bit better after an hour of waiting. We were running out of time so we decided to just go.
It wasn't that bad.
We wanted to capture Petronas Tower from this park angle for our Facebook content cover. Pretty damn good, right? 👀
When I first saw The Whale on Instagram, I thought "Why the heck would you photoshop a whale to a photo in front of Petronas Tower?".
As I kept scrolling, I realized the whale is real. No one photoshopped it in, it's just there.
So yeah, in case you also thought it's photoshopped—let me tell you. It's not. 😂
Tune Hotel KLIA2
Petronas Tower mission accomplished. It was time to go back to KLIA2.
Our full day visit at CAE Training Center and AirAsia RedQ was on the following day, so we stayed at Tune Hotel KLIA2 for 2 more nights.
That is quite big for a layover hotel.
This is the room we stayed in.
Here comes our favorite part of the hotel. 😂
Food and drinks at the hotel are usually sold at a higher price, but it's not the case here. It's the same price as other restaurants we've been to around Kuala Lumpur.
Day 4
Good morning sunshine. Time for a field trip~
Our agenda started at 8:30am. We had a safety briefing session with AirAsia team and other YouTubers, creators and influencers from Vietnam and Myanmar before we hopped on the bus to CAE Training Center.
CAE Training Center
CAE Training Center is a center that offers initial and recurrent training to airline pilots, cabin crew and ground training, and engineering and maintenance training.
Who has dreamed of being a flight attendant?
It's not all fun and games. All those pretty faces you've seen on your flights have gone through really intensive training.
Besides observing all the trainings, we also had this once in a lifetime opportunity to be in one of the simulators. We wouldn't know how a real pilot cockpit looks like without this opportunity.
RedQ (AirAsia Headquarter)
We had a short lunchbreak before we continued our visit to RedQ, AirAsia Headquarter.
These 3 have to be the cutest of all Allstars. 😍
Welcome to RedQ! Let me take you on a virtual tour of AirAsia Headquarter. 😚
Special thanks to AA team for a warm welcome.
This is a timeline wall that shows 21 reasons why AirAsia rocks. ❤️
Here are all the red cap designs. We were each given one red cap.
It's interesting to see that their office is all in open space.
The rooms are specially reserved for meetings. They named their rooms following their flying destinations; for example, Phnom Penh, Ho Chi Minh, Manila, etc.
What's most interesting is this slide. We were told they've got this tradition where all newbies have to take this slide down. Don't feel stupid, let the child in you out once in a while. You can see how fun it is by just looking at this photo. 🤣
Here's the view on their rooftop. Best place for plane spotting.
We concluded our visit with a short yet insightful conference call with AirAsia CEO, Tony Fernandes.
This was such a wholesome experience.
Day 5
Here comes our last day in Kuala Lumpur.
We actually wanted to go to Putrajaya, which is a city nearby. But then we thought it wouldn't have been fun and we wouldn't have been able to enjoy everything fully, if we were to rush to every place. So we decided to go to Mitsui Outlet Park instead.
Mitsui Outlet Park
Mitsui Outlet Park is a factory outlet shopping mall which is located around 6km from KLIA.
We took a free shuttle from B9, KLIA2.
We arrived the outlet park after 6mn.
I told you earlier that my boyfriend and I are not big on shopping, but we just spent 5 hours here at this 2-storey outlet park. Crazyyyyy! 🤣
There are soooo many things to see at Mitsui and the price is super affordable. Even a non-shopper like us went nuts and got a few things back home. 😂
Please do not miss Mitsui if you ever visit Kuala Lumpur.
Back to KLIA2
Our flight was at 6:45pm, so we had to head back to KLIA2 at around 4pm to check in and dropped our luggage.
We used a self check-in this time.
Besides Mitsui Outlet Park, you can also shop directly in KLIA2. We had some time to kill after we checked in, so we did just that.
Now it's time to go back home. See you in the next article!
Book your flight with AirAsia here.