How you doin'? *In Joey's voice*
I hope you're doing great. It's been almost 8 months since I last published. Here I am, back with a new and exciting blog post.
Looking to visit Steung Popok, Koh Kong? Keep on reading, you're in the right spot!
Believe me, I understand how frustrating it is to find the detailed guide about Steung Popok. I tried all the sources online, but all led to deadends. The only option left was for me to chat to the Facebook Pages of the accommodations I was staying at for answers.
I had a whole list of questions and it didn't feel good having to drop those questions on them like a bomb. I could sense they were annoyed to answer too. But I'm sure they'll thank me later.
My boyfriend and I recently spent 2 nights at 2 of the accommodations around Steung Popok. If you've been planning a trip to the same destination and couldn't find a detailed information on how to get there and what to do, this article is specially written for you.
Day 1: Getting to Steung Popok Camp Village
Located in Sre Ambel District of Koh Kong, Steung Popok Camp Village is 3h30mn away from Phnom Penh. Click here to see the map.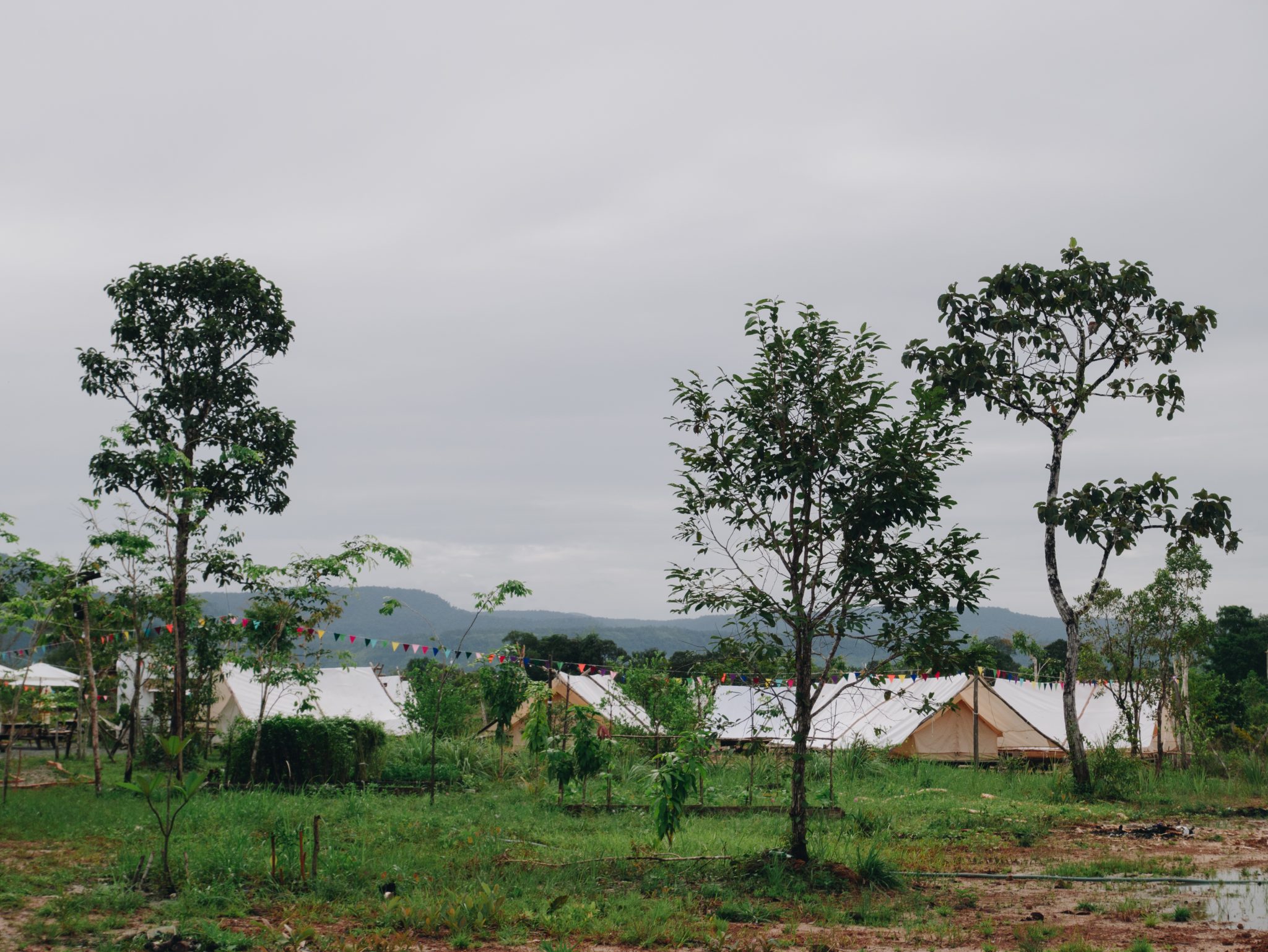 We left Phnom Penh at 7:30AM and got to the camp village at 12:30PM.
It couldn't have taken us that long if it wasn't for Google Map. We were supposed to be on National Road Number 4 until Sre Ambel intersection, but our beloved map had another idea and led us to Road 143 instead. And yes, we blindly followed. :')
I'm not sure where that road leads to, probably the express highway which is to be operated from October this year. So if you're traveling on the same route then Google map decides to lead you to Road 143, don't. Stay on National Road Number 4 to save your time and gas.
I know I have embedded a map to the camp village in the link above, but in case you lost your internet connection on your way there, screenshot this.
Once you get to the end of Sre Ambel Bridge, drive slowly and look for a red dirt road on your right hand side. Turn right and continue straight on the muddy (if it's during the rainy season) and bumpy road for approximately another 40 minutes. It's not that far, but considering the road conditions, you'll have to go as slow and careful as you can.
You'll go past 2 bridges to get to Steung Popok Camp Village. After the second bridge, continue straight about 3km. Once you reach an intersection, you'll see a Steung Popok Camp Village sign on your left and a sign to Steung Popok viewpoint on your right. Turn left for about 500m and your destination will be on the left. I'm writing this with Google Map voice assistant in my head. Haha
If you're traveling by van, you can stop at the end of Sre Ambel bridge and call a motor driver to take you to the camp. But make sure to book your tent and organize a motorbike trip with your host in advance. One way trip from Sre Ambel bridge to the campsite costs around $5.
Steung Popok Camp Village
There are 10 tents at Steung Popok Camp Village.
Each tent can accommodate 2 people and costs differently on different days of the week. Breakfast is not included in the room price.
Monday to Thursday: $35
Friday and Sunday: $40
Steung Popok Camp Village usually has a one night stay tour package for a large group of people on Saturday. Their promotional price for one person is $35, but I'm not sure what's included in the package. You can chat to their Facebook Page here for more information.
You are required to provide them your ID Card and pay the full amount when booking.
My boyfriend and I wanted to avoid the crowd, so we decided to check in on Sunday. We got the whole place to ourselves, but there are also some cons to being alone; for example, spending extra on our following day activities. I'll tell you more about that later below.
Here's how their tent looks like.
Every tent is equipped with a USB mini fan, but some are broken. Don't worry, you won't need a fan – it's a bit windier at night. They already have towels for you in the tent, so you don't need to bring yours.
You'll find 6 shared bathrooms here; 3 for men, 3 for women.
Food has to be pre-ordered 1 day before your trip. They only have Khmer food here. Their food ranges from a $3 breakfast to a $20 dinner.
Traveling in a large group and wonder if you can bring in your own food and drinks? Yes, you can. Unlike other resorts, Steung Popok Camp Village does not charge extra on brought-in food and drinks.
These are some rules and regulations at Steung Popok Camp Village.
I love their outdoor restaurant decoration. Simply beautiful.
Our lunch cost $15 and the portions were enough for 4 people. It was a bit salty for our taste.
There is no electricity here. The power generator is on from 6:00-10:00PM. So if you want to charge your phone or other electronic devices, please bring them to the restaurant and charge during the mentioned hours.
It was raining almost the whole day during our visit. We stayed in our tent until 3:30PM before we decided to check out Phum Teuk Srae, another sister place of Steung Popok Camp Village.
Phum Teuk Srae
Phum Teuk Srae is still new. There's no road sign leading to this place, and the map was pinned at the wrong location.
If you're following the wrong map and traveling from Steung Popok Camp Village, go a little bit further than the pinned map. You'll then see a small red dirt road on your right. Turn right and keep going all the way in, Phum Teuk Srae will be on your left.
They also welcome overnight guests here. I was just there for the view so I didn't get to count the number of tents they have, but probably 10.
You can go kayaking at Phum Teuk Srae for $2.5 per person. If you're a guest at either Steung Popok Camp Village or at Phum Teuk Srae, you are allowed to kayak as long as you want. But if you're an outside guest, you have a limited time of 1 hour to kayak. That's more than enough.
They also have a bamboo raft here. Free of charge for their overnight guests.
We weren't in the mood for neither kayaking nor bamboo rafting. We just took some photos then left back to our accommodation.
Dinnertime!
Look what we had for dinner.
This Mookathak costs $20 per set. They mentioned it's a set for 3-5 people in their menu but nuh-uh – I don't think so.
Their sauce tasted really good and went really well with the grilled meat. The only problem for us was that charcoals weren't hot and burned enough. It took us forever to grill the meat and finish our food.
Day 2: Hiking to the Viewpoint on Phnom Ban Teat
We got up at 4:00AM to get ready for a hike to see the famous Steung Popok (Cloud River in English). Our guide was late and finally picked us up at 5:15AM.
I told you earlier that there are cons to being alone, correct? Yes, this is it.
Hiking to the viewpoint usually costs $2.5 per person if you go in a group of 10 people. But there were only 2 of us, so we had to pay $15 for this morning hike.
But hey, I'm not complaining. This isn't expensive. Our community guide had to pick us up from our accommodation very early and drove all the way to the starting trail. He led us to the top and even packed a gas stove, kettle, and water to make coffee for us.
There are 2 mountains to see Steung Popok. The old viewpoint is at Phnom Toib Cheang and the new one is at Phnom Ban Teat. We didn't get the chance to visit the viewpoint on Phnom Toib Cheang, but we were told you can easily drive your motorbike to the top.
As for Phnom Ban Teat? You have to hike! The distance isn't very far, only 1.3KM but it took us 30 minutes to reach the top.
The trail isn't very beginner level. I suggest you bring a good pair of sneakers if not good hiking shoes. If you don't have a trekking pole, you can also use the bamboo stick you find along the way.
We reached the top and there was no cloud river for us to see. We waited, but still no. We were in no luck. Mr. Cloud was like, try again later Avy!
This is what you'll see when the sky is clear.
We left back to our camp at 7:15AM then had some drinks at the little camp village café before we headed to our second day accommodation.
Their drinks start at $1.5. We ordered a glass of iced coffee with milk and a glass of lemon tea. One tip to ordering your coffee or other drinks at a place you've never tried before is to ask for LESS SWEET. We did, and it was still a little bit too sweet for us. :')
Getting to Koh Baitong
Koh Baitong is 9km away from Steung Popok Camp Village. It took us another 40 minutes to get there.
We couldn't reach Koh Baitong by car, so we just parked at the camp and called motordub to pick us up. It cost us $4 one way from Steung Popok to Koh Baitong. To book your motorbike trip, please arrange with your host in advance.
After a 35mn drive on the bumpy road, you'll have to continue another 5mn boat trip to reach your final destination.
Koh Baitong
There are 2 bungalows and 3 tents at Koh Baitong. You can book your stay with them here. 50% deposit is required upon booking.
Bungalow is $50 per night and tent is $35 per night. Both bungalow and tent can accommodate 3 people. There is no extra bed here. If you're traveling in a group of more than 3 people, you'll have to bring your own sleeping pad or inflatable mattress for your own comfort.
The room price already includes a free breakfast for 3 people. You'll have to add extra $3 per person for breakfast if you're going there with more than 3 people.
We stayed in a bungalow. My first impression of the room was "Wow". I mean how can you not be fascinated by this? My photos don't do the room any justice. It's wayyyy more beautiful outside.
I posted an Instagram story and got so many messages asking where this is, which I haven't responded to until now. Sorry my friends, your girl Avy is busy writing this article. I'll surely get back to you after.
$50 per night for a room this exquisite? That's super affordable! I'm sure you wouldn't find this deal elsewhere.
This is the view from our bungalow. Super refreshing!
It's extremely picturesque! A perfect spot for chilling out and taking some wanderlust photos.
The only annoying thing about the bungalow is these little things. I don't know what they are, they just keep falling from the ceiling all over the bed.
Here is Koh Baitong common area.
Spot this little buddy!
There isn't a 24h electricity at Koh Baitong, they use solar. You won't even find a power socket in your room. Don't forget to bring your power bank.
They don't have a private bathroom here, this is the only shared bathroom on the premises.
Koh Baitong is even more secluded than Steung Popok Camp Village, so you also have to pre-order your food in advance. Food starts at $6.25 per dish, rice is charged at extra $5 per pot.
We were busy unpacking our bags and taking photos, so our host just brought a cooler bag of soft drinks and food right to our room. We ordered Bay Cha Lok Lak, but this was more like a beef fried rice to us. 😅
Their hospitality level is out of this world. They always asked if we needed anything and made sure we had everything we needed. They treat you so nicely that you'd start to wonder what you did to deserve such special treatment. Haha
Isn't this meal spot magical? I can't tell them enough how amazing their decoration skills are.
Beautiful from every angle!
The internet connection at Koh Baitong isn't stable and there isn't much to do here either, so we decided to take a boat trip to see some mountain views. The 1h boat trip cost us $20.
Here are some views we got to witness on our boat trip.
Koh Baitong team never failed to surprise us with their decoration skill. Look how they set up our dinner table, isn't this romantic? They're just impressive!
We only pre-ordered 1 dish for dinner because we knew their portion is big and we wouldn't be able to finish it all, but they gave us a little more than that. 2 extra dishes for free; 1 was from them and another one was from another guest. How kind!
We didn't know what to do after dinner, so we just chilled at our room and went to sleep early. We haven't slept this well for so long, I don't know but it felt like we were being hypnotized. Haha
We woke up for sunrise the next day, but it was raining and there was no sunrise to see.
The host came to our room, welcomed us with a good morning tea and coffee, and set up a beautiful photo spot for us. No accommodation or hotel has ever treated us this well.
We had porridge with crispy fried fish and braised fish for breakfast.
To tell you the truth, I'm not a big fan of porridge. But daaaamn, they made it so well that I want to add more porridge with their crispy and braised fish into my life. Haha
Don't believe me? Go to Koh Baitong, try it and let me know what you think.
Other Attractions
Besides the famous Steung Popok, you can also visit Phum Steung Pongrul and Pongrul Waterfall.
My boyfriend and I didn't get to visit other places. We wanted to avoid rush hours in Phnom Penh, so we had to leave early. Share your photos with us if you get a chance to visit these places later. 😉
Things to Prepare
Don't know what to prepare for this trip? Here you go!
Hiking Shoes / Sneakers
Flip Flops / Sandals
Trekking Pole
Raincoat
Headtorch
Mosquito Repellent
Power Bank
Expense Breakdown
Below is our expense breakdown for 2 people. We spent $130 each for the whole trip.
1 night stay at Steung Popok Camp Village: $40
1 night stay at Koh Baitong: $50
2 Days Food & Drinks: $87
Boat Trip: $20
Hiking Trip: $15
Motorbike Trip: $16
Gas: $32