Planning a weekend getaway to Khnorng Psa? This article is specially written for you!
It's been too long since I last published. I was supposed to be in SEOUL in April but then this whole pandemic happened and I had to cancel all my plans in 2020. In case you're reading this article from outside of Cambodia, you should know that COVID-19 situation here is quite good compared to other countries globally. But this doesn't mean that you can go around carelessly, you still need to practice all the new normals.
Khnorng Psa is not the first trip I made during COVID-19. I had a few other trips, but none was worth to write about because I went with the wrong group of people to the destinations I had already been to.
I spent one night in Khnorng Psa last week and it's definitely not for the faint of heart and foot! In this article, you'll find a list of things you need to know before planning your trip to Khnorng Psa.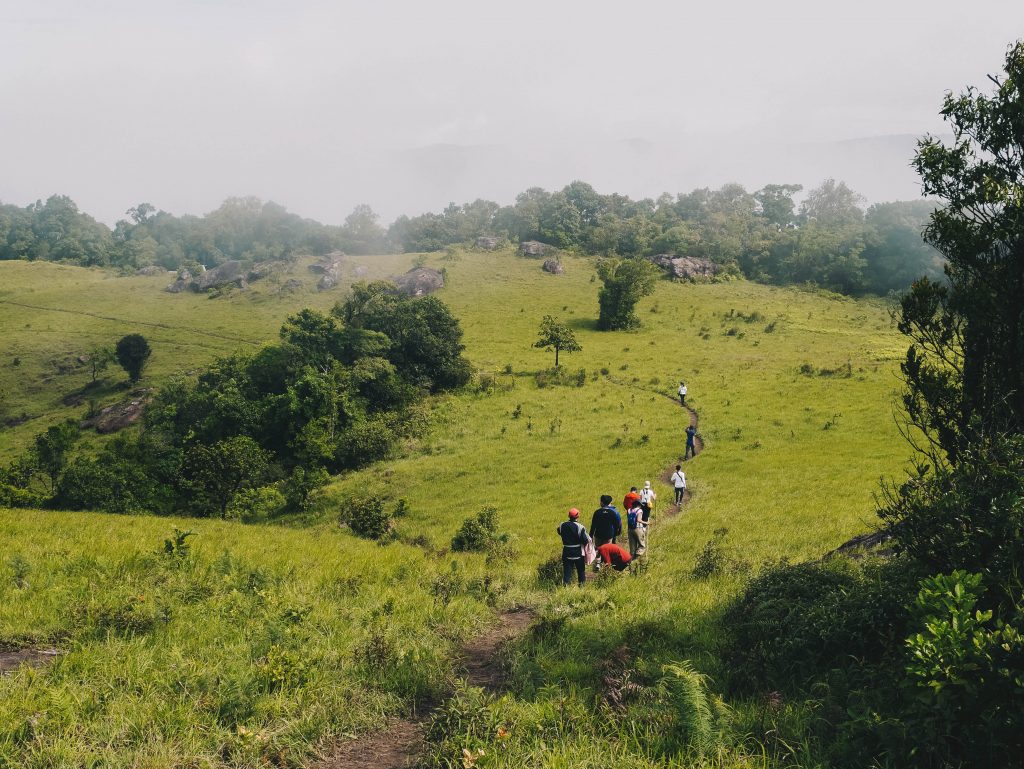 What to Prepare
Sportswear: Remember that some of you would be hiking up to 8 hours (if you're a slow hiker); therefore, don't bring any unnecessary clothing. Make sure your outfits are light and versatile.
Hoodie / Jacket: Temperature drops down to around 20 degrees celsius at night and in the early morning. Bring a jacket or hoodie to keep you warm.
Raincoat: It was raining all the time while we were hiking. Bring a reusable raincoat.
Water Proof Bag: Raincoat alone is not enough. You also need a water proof bag for your phone or camera.
Plastic Bags: Bring a few plastic bags for your dirty clothes. Besides your worn clothes, you also need a plastic bag to pack back your trash.
Hiking Shoes: This isn't an easy hiking trail; there's no up and down like other places I've been to. It's either you go all up or all down. I'm sure you wouldn't reach the top if you choose the wrong shoes. Make sure to check the reviews before you buy one.
Hiking/Trekking Pole: Going to Khnorng Psa during rainy season isn't easy. Hiking/Trekking pole helps you a lot when going downhill.
Flip Flop: Your hiking shoes will be all soaked up if it's raining on your way to the top. Flip flop is good for walking around your campsite.
Sleeping Bag: We asked our tour organizers a few times before the trip whether or not they will provide us the thin mattress and pillow in our tent. They said they will, but there was nothing at all. The weather at night was killing us. We brought our thin blanket to fill its purpose, but we ended up using it as a mattress instead.
Inflatable Pillow: If you can't sleep without a pillow, then make sure to bring one. We used our hoodie as a pillow and it didn't work that well.
Lightweight Towel: Bring the light and quick-dry towel. Microfiber towel should be good for this trip.
Torch: Hiking at 4am is dangerous without a torch, especially when the hiking trail to the viewpoint is this slippery. I bought a very small torch all because I trusted my tour leader so much. He told us we'd walk for just 1km on a flat surface to the viewpoint, but that was a lie. One piece of advice I can give you is to buy a lightweight head torch as it's way more convenient and offers a better lighting as well as a greater battery life.
Power Bank: There's no electricity, babe. Bring your own power bank to charge your phone.
Insect Repellent: Surprisingly, there weren't many insects at our campsite. But bring your insect repellent just to be safe.
Sunscreen: Yeahhhh, I don't think you want to come back with a sunburn.
First Aid Kit: You can't foresee what's going to happen. First Aid Kit is compulsory when you're spending a night or two in the middle of the forest.
Muscle Cramp and Spasm Relief Spray: This is unavoidable for most. To smoothen your journey, don't forget to bring a leg cramp relief.
Small Lunchbox & Spoon: I don't know about other tours, but ours informed us to bring our own lunchbox to reduce the disposable box.
Energy Bar: I usually don't eat when I'm too tired. If you're like me, it's important to bring some energy bars and other energy drinks. Remember that you need to use all your energy going uphill and downhill.
Snacks: Of course, your tour already have food prepared for you. But please be reminded that you're going with a lot of people; therefore, you wouldn't get to eat instantly. Bring your own cereals or instant noodle enough for 1 night and 2 days.
Water: You'll need a lot of water to stay hydrated. Bring 3L if you're staying for a night.
Day 1: Getting to the Campsite, Khnorng Sampeou
Since Khnorng Psa is a new hotspot; plus, my boyfriend and I are just a group of two, it's quite hard (but not impossible) to go there yourself. For this reason, we decided to go with a local tour this time.
Believe me, I wouldn't go in a tour group if I had all the choice in the world. I'm never good at traveling with a group of people I'm not close to. But to my surprise, people on this tour are very helpful— not all, but half of them.
We left Phnom Penh at 4:20am and got to the breakfast place at around 6:10am.
After our short break, we continued our 2 hours journey from Aural roundabout to the community. It is compulsory to fill in the request form and submit it at Cardamom Mountain Headquarter before you start hiking.
From the headquarter, it takes another 5 minutes to get to your tractor transfer point.
The journey on tractor to the hiking trail could take up to 2h30mn depends on the road condition. It took us 1h30mn when we went and 2h15mn when we were back.
This tractor road condition in the photo below isn't the worst yet. I didn't get to take the photo of the road when we were back (I was too exhausted and couldn't feel my legs). Believe me, it wouldn't have taken us 2h15mn if it wasn't horrible!
We got to the hiking trail at 11:40am and started hiking at 12:00pm. Our tour leader told us it's 7.5km to get to our campsite, while it's actually 10km (according to my Mi Band).
The journey wasn't easy for us mediocre hikers. My boyfriend and I took 4 hours to get to our campsite, Khnorng Sampeou. As we heard, the advanced-level hikers would take 3 hours, while the beginner would take up to 8 hours to get to Khnorng Sampeou. Guess we're not so bad after all, huh? Haha
It was all foggy when we got to our campsite.
But it looks quite pretty covered in fog.
Here are some photos of Khnorng Sampeou in the morning.
This is the view overlooking our campsite and the surrounding.
This is gorgeously god-like!
Day 2: Getting to Khnorng Psa from Khnorng Sampeou
We had to start hiking to Khnorng Psa at 4am. Again, our tour leader lied about the distance. I guess this is for a good cause, he probably didn't want to demotivate us.
He said we would walk on the flat surface for just 1.5km to the viewpoint, while our Mi Bands told us it was 3.8km. Plus, it wasn't walking on the flat surface, but the very slippery hillside.
We packed our instant noodle and stopped for breakfast at the supposedly-sunrise spot. Unfortunately, there was no sunrise to see as it was raining all night long.
Our tour leader then led us to another viewpoint which is 700m from the sunrise spot.
Though it wasn't all that clear, it was still worth all the hike!
How's this for a photo spot? These two photos were taken about 5 minutes apart.
Personally, I like the view of Khnorng Sampeou better.
Things to Know
A round trip hike is around 39.32 kilometers. Make sure you're ready for this.
When your tour leaders tell you it's a 1km distance, please expect the double or even triple.
Don't think you can carry your backpack all the way to the top? Good news is that you can hire someone to do it. I'm not sure how much they charge, but I heard it's 5000riels/kg. I feel bad for them, but you just gotta accept that this is how they make their living.
Make sure your bag DOES NOT EXCEED 6kg for girls and 10kg for guys.
Land leech is not commonly found at Khnorng Sampeou and Khnorng Psa. But it's still better to cover your skin with long sportswear.
There's no toilet on the mountain, your best option is to use the natural bathroom.
You can take a bath at a stream called Darn Jerng Preah (អូរដានជើងព្រះ) around 600m from Khnorng Sampeou.
Our tour is 1 night and 2 days and it cost us $65/person. Round way bus, 5 meals, 3L of water, 2 packs of Royal D, 2 packs of coffee and tent are included. If you want to sleep in the tent alone, you can pay extra $10.
Foreigners have to pay an additional fee of $5/day for one person to Cardamom Mountain Range Headquarter before they make their visit to Khnorng Sampeou and Khnorng Psa.