How should I even begin to tell you about Mui Ne?
Okay, let start with something simple. Did you know that there are sand dunes in Vietnam?
Yasssss baby, SAND DUNES! Not one, but TWO of Vietnam's very own version of Sahara with just a 4h30mn-ride away from Ho Chi Minh city!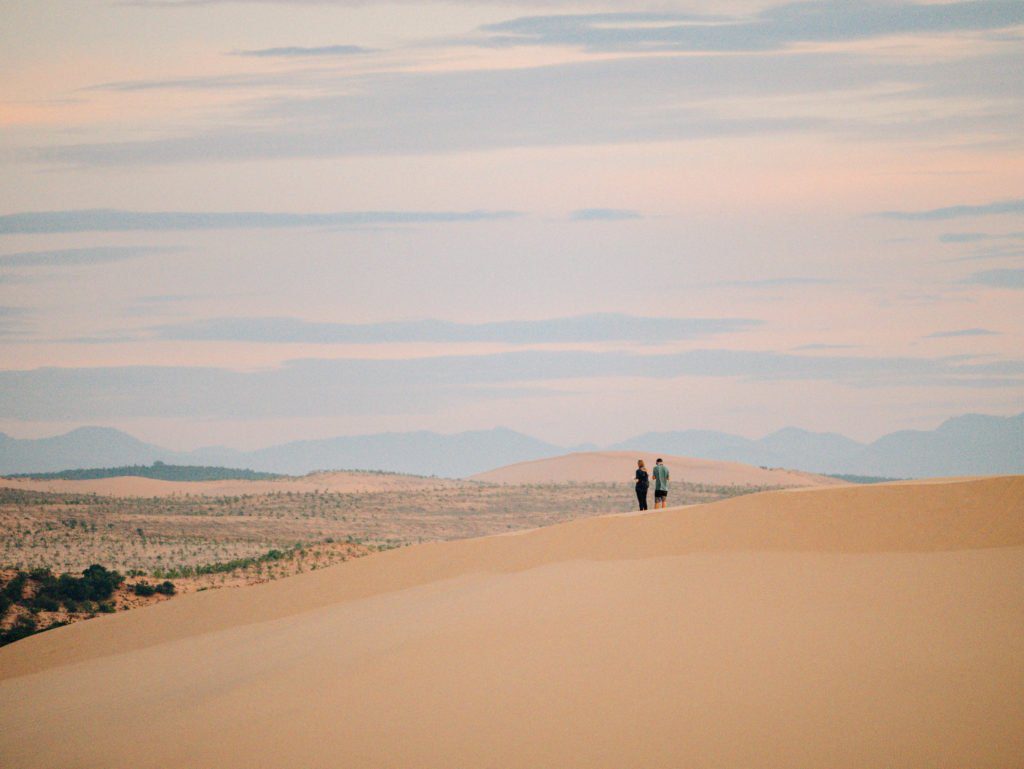 My boyfriend and I had recently spent 2 Days & 3 Nights in Mui Ne. Below is our full itinerary.
DAY 0
Traveling isn't so fun without fucked up stories, don't you think?
We booked for a 1:30AM bus from Phnom Penh to Ho Chi Minh because we wanted to avoid the crowd at the border. JUST OUR LUCK! The effing Virak Buntham night bus had completely ruined our plan. I don't know what the hell was wrong with them, they didn't depart until 2:30AM.
The bus didn't stop for a freaking pee break the whole night. Brace yourself if you're a night pee-er.
We finally got to the border at around 8AM. The border crossing was complicated for first timers as Virak Buntham bus attendants didn't guide passengers about what to do at the border crossing at all. Some passengers looked bothered as they didn't know what to do. Lucky for me, I've been to Vietnam for countless times or else, I'd have freaked out too.
If it's your first time traveling from Phnom Penh to Ho Chi Minh, AVOID VIRAK BUNTHAM. You can search for other bus companies here.
When one bad luck happens, always get ready for another.
We got to Ho Chi Minh at 10:30AM after a 2h30mn drive from the border.
Soon after we had lunch, we went directly to Tam Hanh Travel bus station to catch a 1PM bus to Mui Ne. That was when we found out our 1PM online booking didn't go through. We had no choice but to wait until 2:45PM for their next bus.
The bus to Mui Ne was 25mn late. :')
I thought our unlucky day has long ended since we would be in Mui Ne in no time.
I guess not! Our bus broke down within a 35km away from Mui Ne. Another bus came an hour later, but every single seat was full. This is when bus aisle is important.
ARRIVAL
The only good thing about Tam Hanh Travel is that they dropped us directly at our hotel.
We got to our guest house at 9PM and the hotelier wasn't there, so they left us with this note for self check-in.
We spent 3 nights at Phuong Nam Guest House. Our room type was Standard Double Room and it cost us 1020000VND (44USD) for the whole stay.
DAY 1
There aren't that many attractions in Mui Ne. You can basically visit every place in one day. Since we had 2 days in this little town, we decided to just chill most of the trip.
Our first day started at 9AM as we couldn't wake up early after a feel-like-forever-bus ride from the day before.
Fairy Stream aka Suoi Tien was our first stop.
1. Fairy Stream / Suoi Tien
Of course there's no fairy here, but you'll feel like you're in one your own fantasy worlds as you're wandering through the stream.
Limestone formation is the main attraction here.
Do not come back until you find a small waterfall at the very end of the stream.
In case you want to stay here longer, you can also choose to eat at the food stalls along the stream.
The best time to visit is as early as 7AM. It takes about 1h30mn back and forth, you wouldn't want to get burned as the sun gets hotter.
Tips:

– Leave your shoes at the entrance as you need to walk ankle-deep through the crystal clear stream. You can also choose to carry them around if you don't trust strangers to look after your shoes.
– Wear knee-caps length pants or shorts. You wouldn't want to pull up your pants the whole time.
– Bring a small water bottle to stay hydrated.
Location: 49B Huynh Thuc Khang, Phuong Ham Tien
Opening Hours: 6:00AM-6:00PM
Entrance Ticket: 15000VND/Person (0.65USD)
Parking Fee: 10000VND (0.43USD)
2. Have Lunch at Choi Oi
We found this place online as we browsed through cheap eat in Mui Ne. Since this eatery isn't that far from Fairy Stream, we decided to go there for brunch.
Look how cute the eatery is.
My boyfriend and I have a thing with fresh watermelon juice. We never miss ordering this every time we eat.
These are what we had for brunch.
The taste is average and the portion is small. It cost us 200,000VND (8.7USD) for 2 dishes and 3 glasses of watermelon juice.
Location: 115 Nguyen Dinh Chieu, Phuong Ham Tien
Opening Hours: Mon-Sat 8:30AM-6:30PM ; Sun 8:30-4:00PM
3. Chill at OCEAN Coffee
We had all the time in the world as our next agenda didn't start until 3PM.
We drove all the way from Mui Ne to Phan Thiet just for a drink at OCEAN Coffee.
When my boyfriend told me about this cafe, I got a picture of a normal size cafe with an open ocean view in my head. I was surprised by how big the cafe is. It's good to expect less sometimes.
We ordered blended coconut and iced milk coffee. It cost us 65000VND (2.8USD) for both drinks. This is super affordable for a cafe with such view!
Location: Nguyen Tat Thanh, Phu Thuy
Opening Hours: Daily 7:00AM-10:00PM
4. Check Out Thanh Minh Tu Pagoda
Thanh Minh Tu is only a few minutes drive from OCEAN Coffee.
There's nothing to do here besides observing the ravishing structures of the pagoda.
I don't know about you, but I think Thanh Minh Tu is the best looking pagoda throughout Mui Ne and Phan Thiet.
Location: Mau Than, Phu Thuy
Entrance Ticket: Free
5. Poshanu Cham Tower
If you've been to the heavenly temple of Angkor Wat or set foot at the incredible Prambanan before, I'm sure Poshanu Cham Tower has nothing to wow you.
Though this Cham Tower doesn't put you in a camera-trigger mood, it still deserves a bit of your time once you're in Mui Ne.
Here's the view of the nearby temple, Buu Son, from Poshanu Cham Tower.
Location: Phu Hai, Thanh pho Phan Thiet
Entrance Ticket: Free
6. Bai Da Ong Dia Beach / Mr. Dia Rock
I wonder who came up with the name of this place. Mr. Dia Rock, seriously? Who's this Mr. Dia? LOL
My boyfriend had no idea this beach is a place for kite surfing and parasailing. He saw someone kite surfing from afar for a few seconds and he said "Beb, I don't know what I just saw but it looks like a fast flying moon".
I laughed sooo much. I had no idea what he was talking about, so we waited for his "fast flying moon" to appear again. That was when I realized he was talking about kite surfing.
Here's how Bai Da Ong Dia Beach looks like.
Location: Nguyen Dinh Chieu, Phuong Ham Tien
Parking Fee: 10000VND (0.43USD)
7. Mui Ne Fishing Village
I read a few articles and they recommended us to go to Mui Ne Fishing Village in the morning for the early morning fish market. Our morning schedule was full, so we went there in the evening instead.
I don't think it makes any different between morning and evening. People are still selling fresh seafood until dusk and a lot of local would come here to grab some fresh seafood back home.
Not often that you find a kitten sleeping with 2 pups.
Location: Mui Ne, Thanh pho Phan Thiet
8. Dinner at Dong Vui
Dong Vui is a food court of various cuisines ranging from Italian to Vietnamese food.
The sitting area is comfortable and the food is cheap compared to other restaurants.
We had fried rice, grilled squid, shrimps and oysters, fried squid and tea. It cost us 355,000VND (15.43USD) for all these.
Location: 246 Nguyen Dinh Chieu, Phuong Ham Tien
Opening Hours: 8AM-11PM
DAY 2
9. Sunrise at White Sand Dunes
It's never okay to wake up at 3:30AM, but we'd do anything for sunrise. :')
Mui Ne White Sand Dunes is 37.6km away from our guest house so we had to leave early for sunrise.
I was anxious for weeks after I found out about the corrupted police trap on the way to Mui Ne White Sand Dunes. If you haven't come across any article about these corrupted cops yet, check here.
Lucky for us we got to the sand dunes without being stopped by any police.
There's no entrance fee to the sand dunes, but guaranteed you'll be offered an ATV Ride upon arrival.
We were hesitated at first because 300,000VND/Person (13USD) is quite expensive. On second thought, we would miss the sunrise if we didn't take the ATV. So yeah, we just went with it.
My gaaaawd! I would be crying right now if I hadn't taken the ride. IT WAS EXHILARATING!
Our driver is very professional. He drove like craaaazyyyyyy in the sand and gave us just enough dozes of adrenaline rush!
There's also a lake on another side of the dune.
Here's the view from the lakeside.
The best time to visit is either in the morning for sunrise or evening for sunset.
Tips:

– Walk barefoot or with socks on the sand. Shoes would only make it harder to walk.
– For a great view of the dune, take ATV to the lakeside.

Location: Hoa Thang, Bac Binh District
Entrance Fee: Free

10. Breakfast at Cafe Lubu
We stopped at Cafe Lubu for breakfast after we came back from White Sand Dunes.
Just like Choi Oi Eatery, we also found this place in cheap eat list. They said Cafe Lubu is a great place for breakfast. The service is fantastic but the food isn't that great.
We had these two dishes for 100,000VND (4.34USD).
Location: 321b Nguyen Dinh Chieu, Ku Pho 2
Opening Hours: Daily 7:00AM-10:00PM
11. Lunch at Joe's Cafe
It was time for lunch again after a long rest. Joe's Cafe was where we went to.
The cafe doesn't look that big from the outside, but you'll be wowed once you get inside.
Lunch with a sea view, isn't that nice? Ummm well, dinner with a sea view would be even better.
The taste is average but great that the portion is big. It cost us 379,000VND (16.5USD) for lunch. NOT CHEAP.
Location: 86 Nguyen Dinh Chieu
Opening Hours: Daily 7:50AM-11:00PM
12. Sunset at Red Sand Dunes
Here comes our very last destination in Mui Ne.
Red Sand Dunes is closer to town and much smaller in size comparing to the white one.
For an exciting experience, try a plastic sled down the slope for 30000VND/Person (1.3USD).
The best time to visit is in late afternoon for sunset.
Location: Vong Xoay, Duong Vo Nguyen Giep
Entrance Fee: Free
EXPENSE BREAKDOWN
To sum up, Mui Ne isn't cheap compared to other parts of Vietnam I've been to.
I was there with my boyfriend for 3N2D and this is how much we had spent divided by 2:
Accommodation: 22.17USD for 3 Nights
Food and Drinks: 57.15USD for 3 Days
Motorbike Rental: 5.65USD for 2 Days
Gas: 1.95USD for 2 Days
Activities: 15USD
Others: 2.6USD
Total: 104.52USD
To book your bus tickets, click here.