Virachey, Virachey, Virachey …
We finally met after 3 failed attempts. I thought I wasn't fated to meet you and now that I'm here, it feels like a dream come true.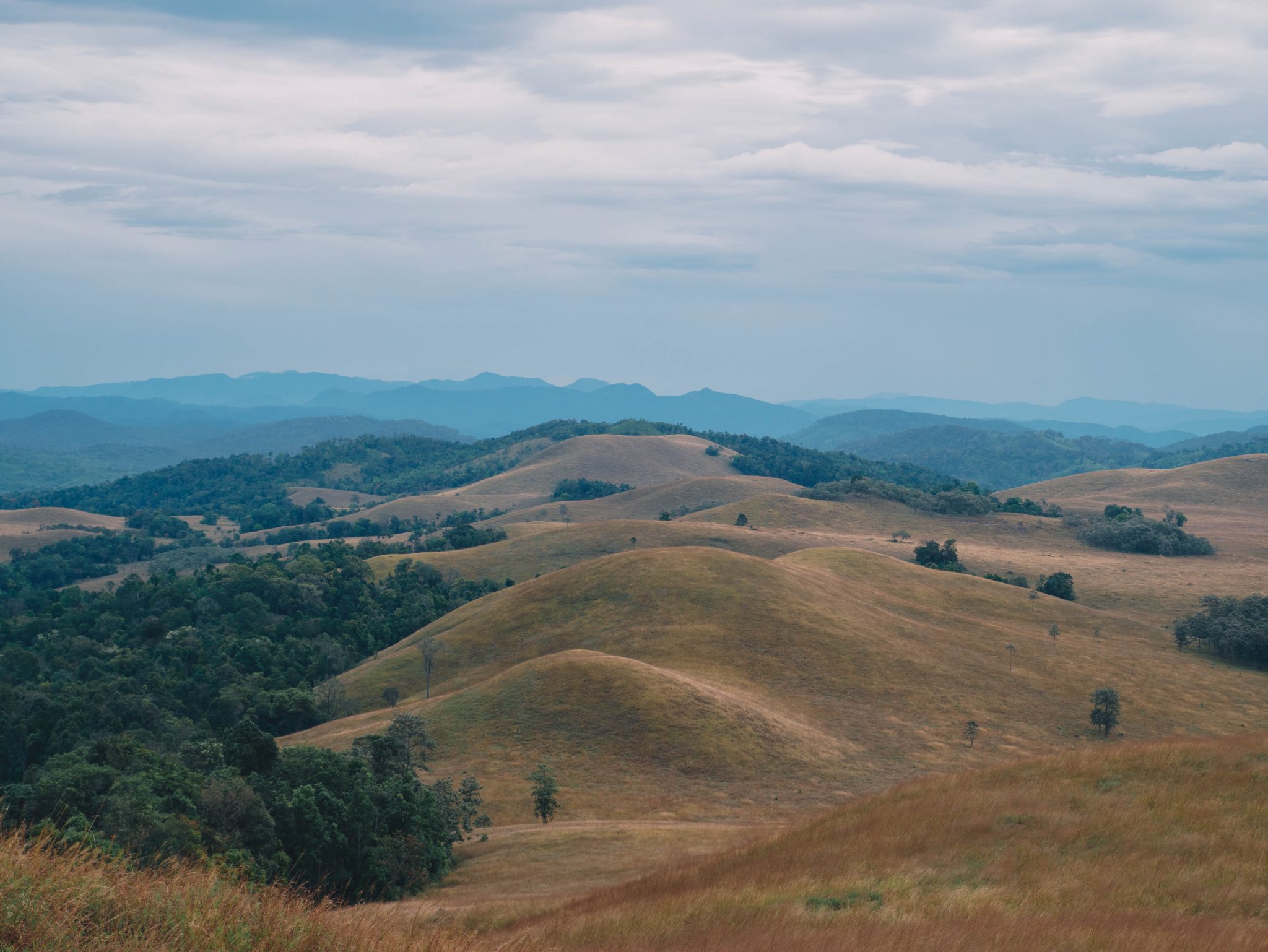 Believe it or not, I drafted this opening more than a year and a half ago because I thought I would be there soon. Boy do I know I was this unlucky.
My boyfriend and I weren't ready and didn't have enough hiking gears the first time, then when we were, COVID came along and the national park was closed for a long while. We then booked the tour when the park was reopen; unfortunately, the viewpoint was damaged by forest fire. So yes, the only option is to delay our trip for almost 2 years until recently.
We are sooo ready now and though the golden view isn't what's on our mind, we still decided to book for this trip as soon as the park was reopen. We can always go again when it's green. My boyfriend and I recently spent 3 nights and 4 days at Virachey National Park. We were the first group to visit the park this year after a very long while.
Never heard of Virachey National Park before? It's probably the best of all natural landscape sceneries in Cambodia. Keep on reading, if you don't believe me.
If you're into trekking and hiking, this trip might be something for you. It's about time you took some days off to recharge and connect with nature, don't you think?
Day 1: Getting to Taveng
Our 4 days journey started very early. We left Phnom Penh at 4:50AM and got to Srok Taveng at 5:10PM.
I know what you're thinking—yes it took us more than 12 hours, but that also included breakfast, lunch, pee breaks, and a quick stop at Boeng Yeak Laom and Ratanakiri Provincial Department of Environment.
We got to Boeng Yeak Laom in Banlung at 2:30PM. I'm not sure if the entrance fee is charged based on car or person, it cost us $2.5 for a Ssangyong of 9 people.
We spent an hour here to enjoy the view and walk around the whole lake. A get-ready leg exercise before the following days hardcore trip.
After leaving the lake, we headed to Ratanakiri Provincial Department of Environment to get Virachey entry permit.
The entry permit costs $5 a day per person. You'll find visitor regulations and guidelines at the back of your ticket, remember to read that carefully. I don't want to bore you with the details right now, so I'll write them down for you at the end of this article.
Ohh, here's an important tip! Get yourself a rice bag at the grocery house next to the provincial department. I got mine for only 500 Riels. You'll need that to protect your backpack from their bumpy motorbike ride up the mountain!
Look at my rice bag condition after I got back.
A trip from Banlung to Taveng took us another 1 hour.
We spent our first night at Virachey National Park Headquarter in Taveng, which is 8km away from the park starting point for our adventure the next day. There are 4 shared bathrooms here, but don't expect them to be hotel-clean because they're far from it.
The water you use here comes from the well nearby and might not be enough for everyone. Take a quick bath and try saving some water for others.
Day 2: Getting to Veal Thom
No one likes waking up early several days in a row, but being on an exciting trip like this one? That's a big exception.
We got up at 5:30AM, took turn taking a bath and went for breakfast in the village. We also had to pack our lunch for our not-so-easy upcoming journey.
The Journey to the Top
Our journey started at 8:50AM. The distance from the starting point to the top is approximately 22km and takes 4h30mn by motorbike. Click here to see the map.
Each one of us gets our own skilled driver with very special motorbike made specially for this trip.
Though you'll spend most of your time on motorbike, this trip isn't recommended for the faint-hearted. Crossing Sesan River, driving into very deep forest, passing several different streams, hiking on very difficult trails, pushing your motorbike uphill and downhill—these are all parts of the journey.
Being at the back of the motorbike felt like playing a 4D video game. You don't know what's coming and have to be really focused on the road, mind your head, arms, and legs. I heard there was a driver from years ago who got hurt by the small bamboo branch. So please, please be very careful.
Remember Shang-Chi bamboo forest maze scene? I felt exactly like I was being chased by the forest itself. Haha
Meet my awesome driver and guide, bong Peul, a very skilled, strong, caring, and helpful guy. We took this photo together when we got to the top.
Don't say I didn't warn you, don't you dare bring your own motorbike because both you and your bike will break into pieces. I didn't even do anything, I just sat at the back, hang tight, and I almost shattered.
Reaching the Top
I was soooo happy when I got to see a little sight of the hilltop, especially after several hours feeling bad for my driver and hurting my whole body. Without him and his bike, I couldn't imagine myself reaching the grassland with the backpack and tent on my back.
Almost there!
Finally here! We got to the hilltop at 1:50PM. Here are the very first hard-earned views we got to witness.
It's not easy to get here, but it's worth every sweat you dropped and every ass-ache you felt.
Khork Chul Mountain (Trung Chruk)
We took an hour rest near the stream before we started hiking again. Our first stop was Khork Chul Mountain (Brao language), aka Phnom Trung Chruk in Khmer.
Here are some views along the way.
I don't know if it's my pants, the grass, or it's me, my whole legs were super itchy when we hiked to the first viewpoint. I didn't enjoy this moment of my trip. But reaching the summit and feeling the welcoming cold breeze on my face and body had completely cooled me off.
We got back to our resting spot, took a bath at the stream then continued to our campsite.
Our First Campsite, Khlorng Khleav Mountain
It was already dark by the time we got to our campsite on Khlorng Khleav Mountain.
My boyfriend and I never set up the tent by ourselves, it was always with the help of others. With zero knowledge of how to set it up, it was very challenging for us, especially in the dark. Our guides did help us, but it was a different type of tent and they weren't sure how to set it up either.
It was finally ready, but guess what? We camped on a few rocks. It wasn't a good night sleeping on those rocks, but we did have a good laugh setting up. I also kept dreaming of avoiding rocks and actually tried to avoid them in my sleep all night. Haha.
We woke up at 5AM the next day. This is what we do for love, the love for sunrise. Unfortunately, there was no sunrise to see. I guess the sun takes his weekends off.
Here are some views from Khlorng Khleav in the morning. What a stunning backdrop!
Oh the beanie and my thick sweater? It was cold and windy. I didn't have internet connection to check the weather, but I think the temperature was between 14°C to 16°C.
No, this is not over-edited. It was taken during golden hours. 🧡
Day 3: A Few Hikes around Veal Thom
We packed up and left to another mountain at 8AM. We had our breakfast, took a rest, then continued our hike to the mountain nearby.
The No Name Mountain
This no name mountain was our first stop. The name is not no name, but this mountain's got no name, so I decided to name it No Name. Haha
While our guides were cooking lunch for us, we spent an hour walking back and forth.
We came back down and had lunch at 12:45PM. Most of the food we ate during the trip are Brao (an ethnic group in Taveng) dishes.
This is what we had for lunch. Both sticky rice and soup were cooked inside bamboos. Other people from my trip might disagree, this is not the best food for me, but it's a must try!
Chrang Kes
Being on this kind of trip requires a lot of energy and commitment. We had a 30mn rest after lunch before we started hiking to the next stop again.
Just some views along the way. Every angle here at Veal Thom are picturesque.
What a sight to behold!
Finally here! Introduce you to Chrang Kes, a mountain full of rocks and 4G.
Our guides usually come here to connect with their families during their time with us.
We didn't have a good experience getting to the campsite after dark, so we had to leave Chrang Kes and rushed to our second night campsite earlier.
Nhib Mountain, aka Phnom Rung Khla
It wasn't as early as we expected. We got to our campsite, Phnom Nhib, at 5PM. Right in time for sunset!
Sunset view here was especially memorable.
I know I said all angles at Veal Thom are pretty, but this bird's eye view from Phnom Nhib has to be my most favorite. Look, just look. Who wouldn't love it?
Here are some photos of me taken the last morning before we left.
And these are some photos on my way back, right before we left.
I don't think my photos do any justice to how amazing Virachey National Park is. You've got to be there to take in spectacular views after spectacular views all around.
What to Prepare
Being on a few hardcore trips doesn't make me or anyone an expert in hiking, but here's the list of what to prepare according to my personal experience.
Sportswear: Bring 3 sets of lightweight, quick dry, and versatile sportswear for your 3N4D trip.
Sweater: You only need one sweater or jacket to keep you warm. Bringing too many will eat up all your space.
Hiking Boots: This is one of the most important things for a smooth hiking trip, especially for those who's never experienced any hikes before.
Long Socks: You actually need only 3 pairs, but always bring an extra, just in case.
Sandals: A backup for when your boots are wet, and a great choice for walking around the campsite.
Trekking Pole: A few people on our trip didn't use the pole, but I recommend you do. Trekking pole is very helpful for both walking uphill and downhill. It helps you from falling.
Hat/Cap: Bucket hat, baseball cap, or sunshade, bring one of your choice to keep yourself from the sun.
Sunscreen: I lost my sunscreen on the third day of the trip and my skin didn't feel and look great. Make sure to bring one.
Sunglasses: Bring one for both protection and style.
Face Mask: Not just because of COVID alone, you should wear it during your 4h30mn motorbike journey to the top. It's going to get very dusty and ugly.
Insect Repellent: This is a must-have for every trip.
Raincoat: I know this is not rainy season, but you can never predict the weather. Just bring one, it won't eat up your space.
Backpack and Bag: You'll need one backpack for your clothes and one for your other essentials like camera, phone, etc.
Head Torch: Yeah, head torch is better than handheld torch
Snacks: In case you don't like food prepared by your organizer or know that you're a picky eater, bring some of your own.
Protein Bar: Not necessarily, but if you're like me and don't eat much when you're tired, bring some.
Lunch Box and Water Bottle: Our organizer is trying their best to reduce plastic. Bring your own lunch box to pack your food and water bottle to refill filtered water.
Mug: Both to drink water and to use it for a quick bath at the stream.
Biodegradable Soap & Shampoo: I didn't know about this and brought my non biodegradable shower set. Get the biodegradable ones from the local shop.
Quick Dry and Lightweight Towel: Your daily home use towel will surely take up most of your space and doesn't dry quickly. Make sure to use the quick dry and lightweight specially made for camping and hiking.
Sleeping Bag: Sleeping in the tent isn't comfortable. You'll need sleeping bag to keep you warm and comfy.
Power Bank: You'll need it for your camera and phone.
You can find most of the items I mentioned on VTENH. I have also recommended some of the products I use here in this app.
Things to Know
Virachey National Park is one of the 9 national parks in Cambodia. This park offers a 360° mountain view. You'll feel like you're living your best dream.
This national park can cater only a small group of 10 travellers at a time. Our drivers and ranger are Brao Ethnic Group. A ranger will tag along with you the whole trip for your own safety. Your driver will also be there to give you a hand and cook for you.
The whole trip cost us $265 each. I thought it was expensive, but as I got to experience everything, I think they should have charged more. Our drivers really used all their strength to take us to the top. Spending 9 hours on the motorbike has really connected me to my driver. We talked and got to exchange many cultural differences along the way.
If you ever feel like you paid too little, feel free to add more tips. There's a regulation saying you are not allowed to hand out gifts of money unless in group donation. But you can hand the tip to your organizers and they will arrange it accordingly.
This tour includes a roundtrip from Phnom Penh to Ratanakiri, 10 meals, filtered water, tent, sleeping pads, ranger, driver, park entry permit, and community donation. Insurance isn't included, but you can add extra $5 for that.
There's no waterfall near our campsite, but 2 streams. I suggest you take a bath before going to your campsite.
As I mentioned above, you'll spend 4h30mn to reach the grassland. You'll be traveling by motorbike most of the time, but there will be parts where you have to walk uphill, downhill, and even sit down to reach the ground. I had my pants torn the size of 2 thumbs because I had to sit down a few times. Haha
My boyfriend and I got rashes on our backs and butts after we got back. Not taking a bath on our last day might have been one of the reasons. If you also get rashes after your trip, try applying baby powder and they'll be gone within a few days.
Visitor Regulations and Guidelines
As promised above, here are visitor regulations and guidelines.
All visitors to the national park are required to carry a park entry permit ticket and to be accompanied by a national park ecotourism ranger guide and community guide.
It is forbidden to collect orchids or any other plant or animal specimens without a permit to do so from Virachey National Park.
It is illegal to purchase wildlife or wildlife products.
It is illegal to use narcotic drugs of any description.
Do not dispose of non biodegradable refuse in the forest or village. All plastic, cans and other items must be taken out of the park to be disposed of cleanly and safely in the nearest town.
Do not eat any wildlife while in the park or a host village. If unsure, please ask first.
Bury any human waste and toilet tissue well away from water courses and human dwellings.
Ensure that cooking fires are safely located and well extinguished before departing a camp or lunch site.
Do not use non biodegradable soaps and detergents in natural water ways.
Do not buy cultural artifacts in host villages.
Do not hand out gifts of money, medicine or expensive, personal effects to individual villages (donations however can be made to an established village authority for the benefit of wider community e.g, school materials).
Pay only the agreed prices (as set by the community and Virachey NP ecotourism unit) for community guides, porters, food and accommodation etc. If unsure, check with your guide.
Do not bathe nude in public areas.
Be respectful of village culture, customs and sacred places at all time. If unsure, check with your guide.
What do you think? Want to go to Virachey National Park now? Solo Landscapes has upcoming trips this year end and early January. Check with them for more details.