What is the ONE reason that makes you want to visit Sa Pa in the first place?
I'm sure the answers are vastly different from one person to another when it comes to answering this type of question. Some would say they want to conquer Fansipan, the roof of Indochina, while others would provide a simpler answer of wanting to experience a colder breeze in a fresher and an extremely stunning setting.
Sa Pa has always been on my mind ever since a friend of mine mentioned this place to me all the way back to 2016. Having done some research about such fascinating destination, I knew I had to be there some day, sooner or later.
I guess THAT TIME has come sooner than expected. My boyfriend and I had spent 2.5 days in Sa Pa and below are the list of places we have been to.
Getting to Hanoi
You may already know that there's no airport in Sa Pa, so you need to get to Hanoi first.
Flying directly from Phnom Penh to Hanoi is super pricey. If you're traveling from Phnom Penh (like us), you may want to check out these two options:
Option 1:
Take a bus from Phnom Penh-Ho Chi Minh. Get your bus ticket here. Then take a domestic flight from Ho Chi Minh-Hanoi. The domestic flight from Ho Chi Minh is usually less than 50USD one way, we got ours for 27USD. Get your flight ticket here.
Option 2:
Take a bus from Phnom Penh-Siem Reap, then take a direct flight from Siem Reap-Hanoi.
We got our Siem Reap-Hanoi flight for 70USD. This is more pricey compared to option 1, but we were traveling on national holidays and wanted to avoid the crowd at the border crossing, so we chose it this way.
Getting to Sa Pa
Once in Hanoi, take a night bus/train to Sa Pa. The whole journey usually takes 6-7hrs by bus and 8hrs by train.
Bear in mind that the bus takes you directly to Sa Pa town, while train stops in Lao Cai which is around an hour drive from town. Get your bus/train tickets here.
Arrival
Our trip had gotten off to a rough start.
We booked for a luxury Sao Viet Cabin night bus from Hanoi-Sa Pa through Vexere a few weeks before our trip. While booking, there were a few pick up point choices we could choose from including Sao Viet Station and Noi Bai International Airport. Since our flight would be landing at night, we chose a pick up point from the airport as it was more convenient for us.
Vexere whatsapp-ed us the bus plate numbers and driver's phone number a few hours before departure, so we thought we wouldn't have any problem finding the bus.
Our departure was scheduled to leave at 00:30, so we waited 30mn before departure at the exact location provided, International Lobby Column 12. 30mn had passed, the bus still wasn't there. We thought it could have been late, so we waited another 30mn until 01:00AM, but the bus was no where to be found.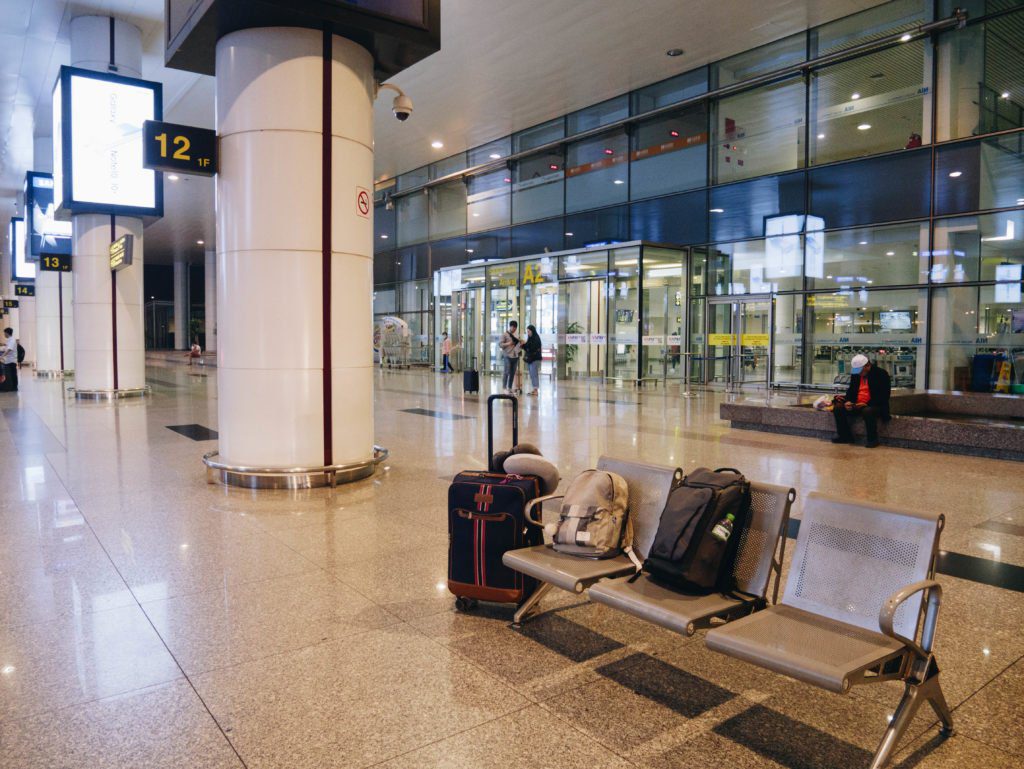 We decided to call the driver but he didn't speak English. We finally found someone to talk to him in Vietnamese only to find out THE BUS HAD ALREADY LEFT WITHOUT US!
We tried to call Vexere hotline, but we couldn't reach them as it was already midnight. We left them texts on Whatsapp to tell them how fucked up we were and asked for compensation at around 01:00. The texts were not seen, so we had to write another email to inform them of our problem again as soon as we got to Sa Pa.
They finally responded at 13:00. After a two-day discussion, they agreed to give us a refund. The full compensation wasn't refunded until the next 7 working days (which is normal practice I suppose).
Leaving with no other choice, we decided to get in a taxi to Sao Viet station to get another bus ticket. Lucky for us, there were still two seats available for a 04:45AM bus to Sa Pa.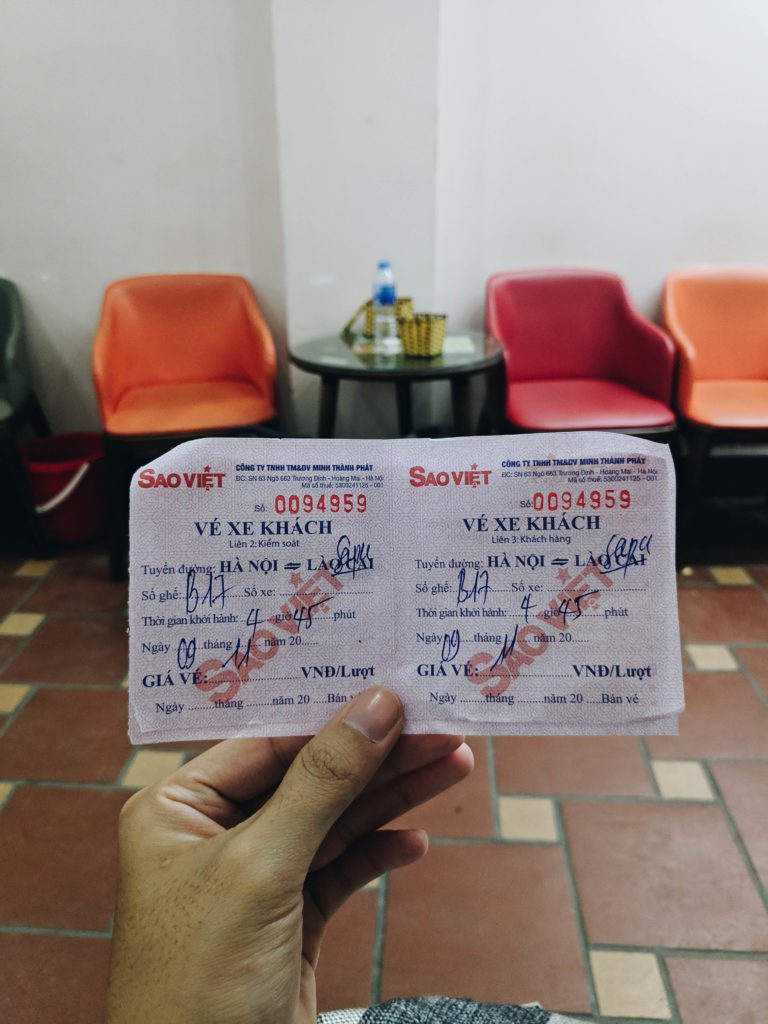 We decided not to sleep and waited until our departure. We finally got to Sa Pa at 12:00PM.
According to our experience, I'd just say the refund process was quite a hassle. I wouldn't recommend you booking via them unless you have no option. And if you do, be cautious, and select the boarding option with the least chance of error.
Cloud House Sa Pa
We stayed at Cloud House Sa Pa in a superior deluxe room for 3 nights.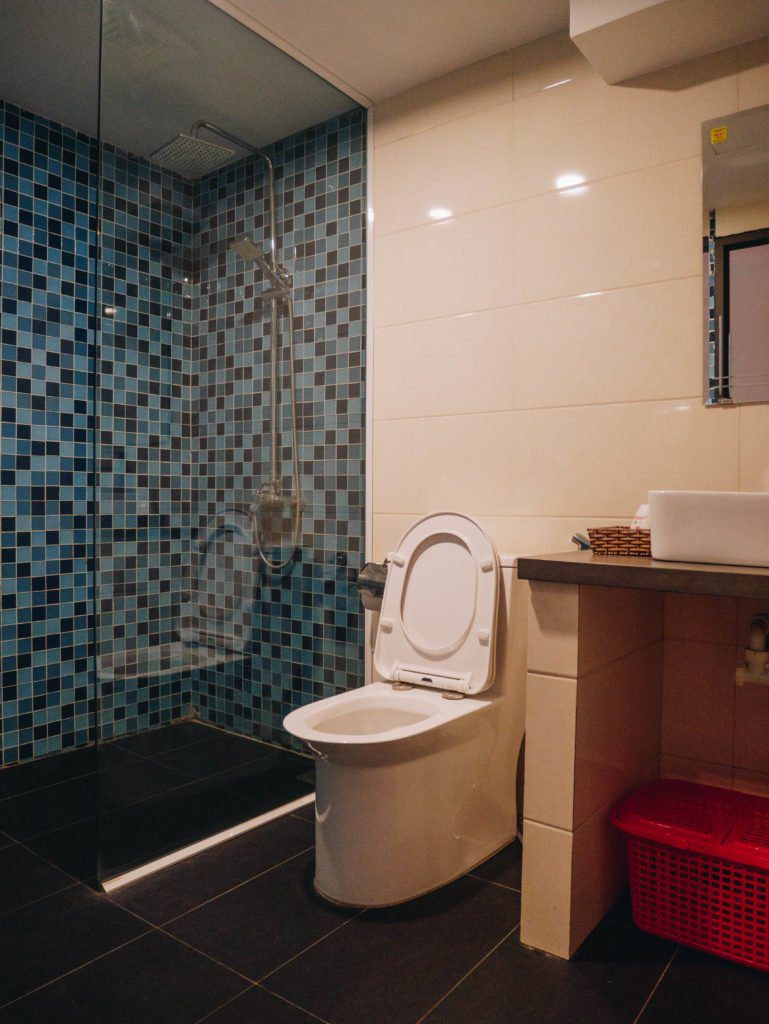 It cost us 1,030,000VND (44.5USD) for the whole stay.
No fan or aircon is needed when the temperature is between 10-16 Degrees Celsius.
Getting Around in Sa Pa
The cheapest way to get around Sa Pa is to rent a motorbike. We rented ours for 120,000VND/Day (5.2USD).
If you're not used to riding motorbike, you can also get around with taxi meter.
DAY 1 (From 14:00PM)
Who wouldn't be tired after a whole sleepless night? For this reason, we decided to just chill on our first afternoon in Sa Pa.
1. Viet Trekking Coffee & Restaurant
Viet Trekking Coffee & Restaurant is like Miss First Choice when it comes to choosing restaurant with a view.
We were surprised to find this place online in a cheap eat list. But with a view like that, we knew what to expect.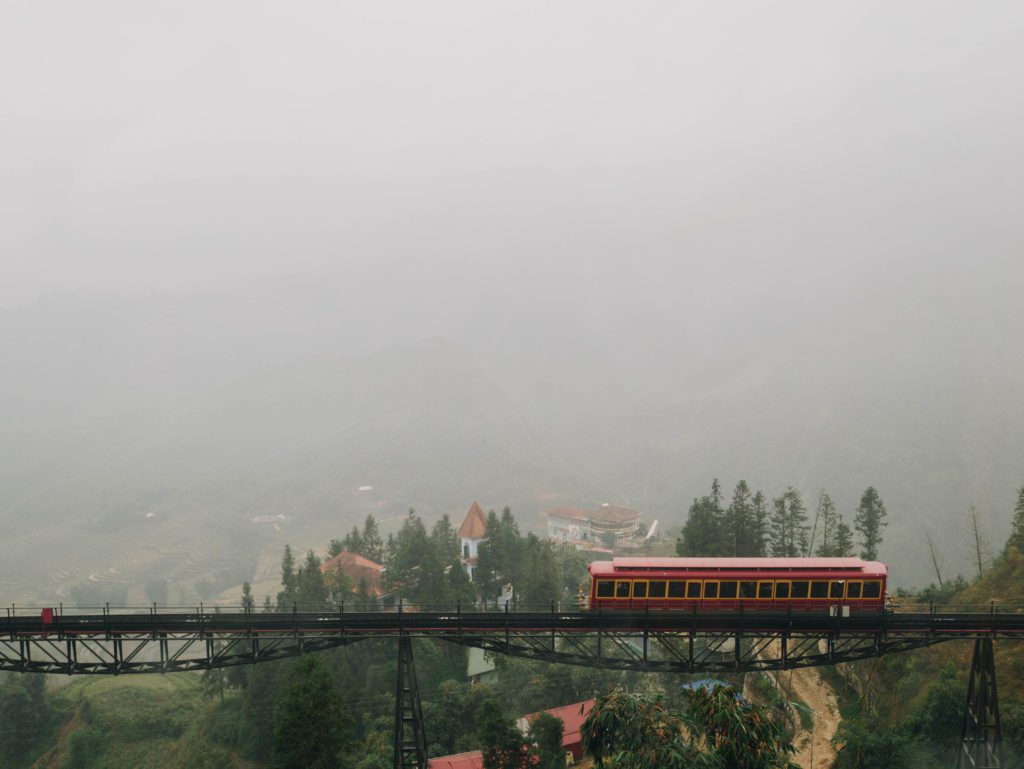 Yep, we were right. It's not cheap, at least not in our standard.
We had Bolognese Spaghetti, Cabonara Spaghetti, Iced Latte and Sa Pa Fog Coffee (whiskey, coffee and cream) for lunch. We spent 425,000VND (18.35USD) for everything.
Here's the view of the restaurant from the train.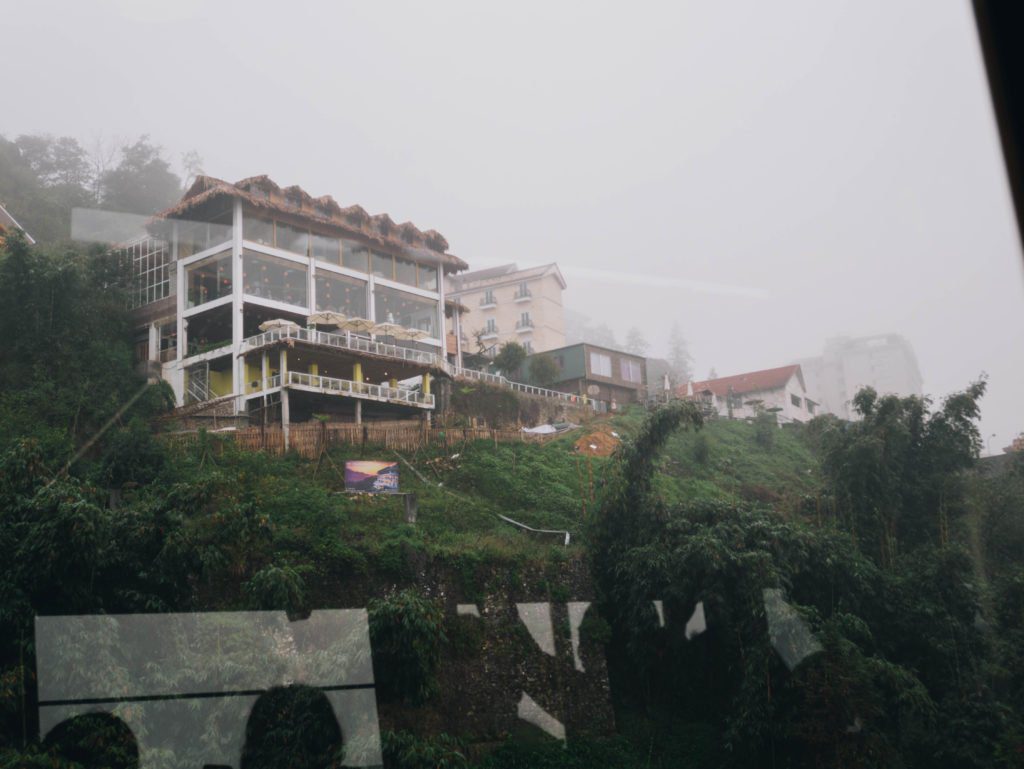 Let's now take a look at this well decorated restaurant.
We would have seen the view of mountain range from the restaurant, sadly it was all too cloudy.
This is the street art we found along the way to Viet Trekking Coffee & Restaurant.
Opening Hours: Daily 06:00-23:00
Location: 33 Hoang Lien, Sa Pa
2. Sa Pa Station / Sun Plaza
With such magnificent architecture, I'm sure Sa Pa Station/Sun Plaza is the most eye-catching building throughout the whole town. Anyone crossing the building would always stop for a few photos.
Not only is the exterior nice, the interior is also admirably outstanding.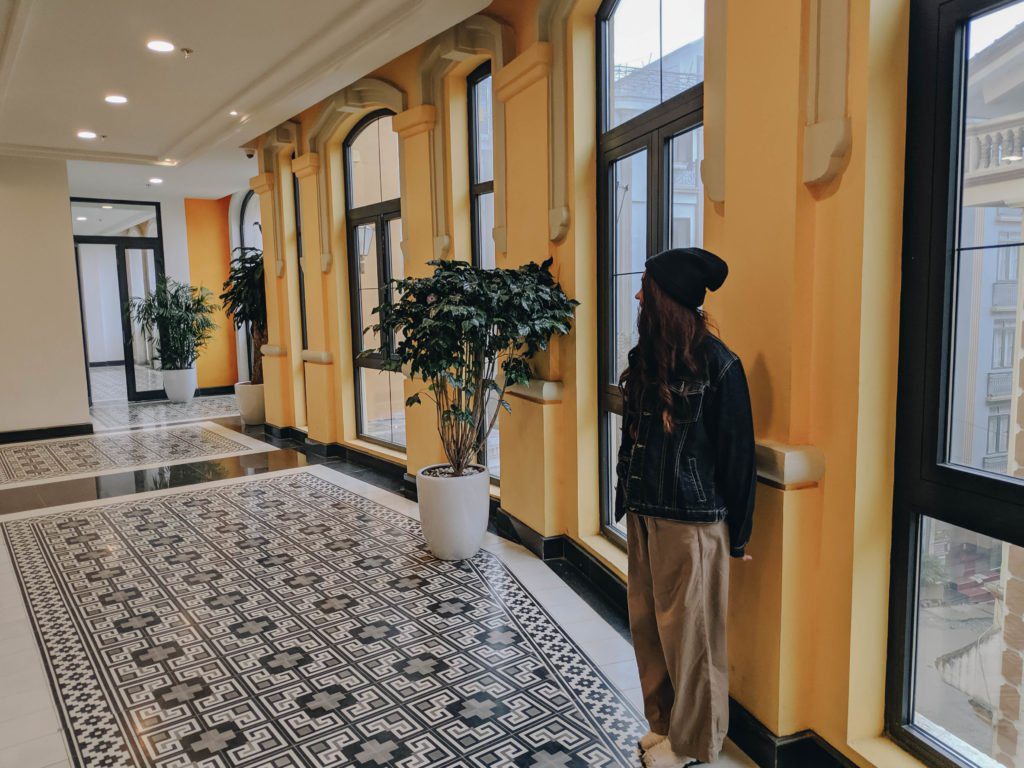 Sa Pa Station is also where you can get your cable car ticket to Fansipan. Besides the train station, there are also shops selling sweater and other warm clothes.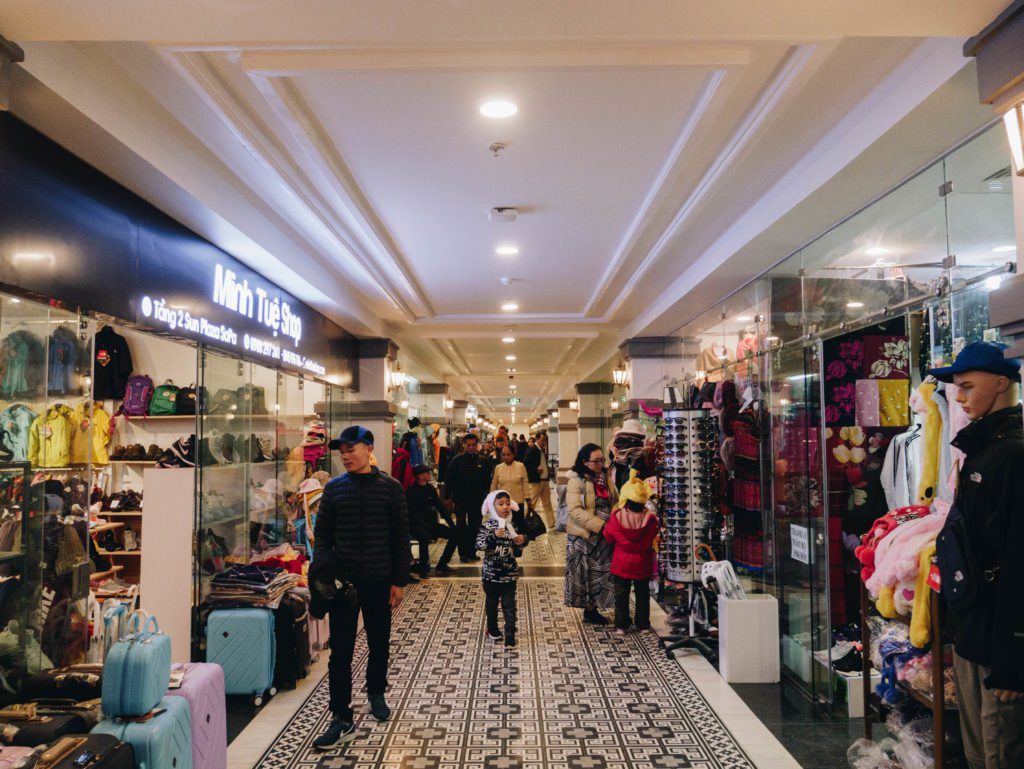 Opening Hours: Daily 07:00-21:00
Location: TT. Sa Pa, Lao Cai
3. Notre Dame Cathedral Sa Pa
I must admit Notre Dame Cathedral Sa Pa doesn't really evoke much wonder compared to Notre Dame Cathedrals in other parts of the world.
Notre Dame Sa Pa is much smaller and simpler in design. It takes only 5mn of your time to stop by.
These two photos were taken 2 days apart when the sky was clear and foggy.
Opening Hours: 08:00-18:00
Location: Sa Pa Town, TT. Sa Pa, Lao Cai (Right across the street from Sa Pa Station)
4. Sa Pa Lake
Sa Pa Lake has got a view to kill for!
Whether the whole town gets foggy or clear, getting a glimpse of the lake is just delightful. I could sit here all day long without getting bored.
Which lake view would you prefer? Foggy or clear Sa Pa Lake?
Location: Sa Pa Town, Lao Cai
5. Walk Around Sa Pa Town Square
Besides driving, why don't you take some time to just walk around and appreciate the little charming town of Sa Pa?
We got to capture a few interesting shots while strolling around.
This place is like a meet up point for the ethnic group. We usually see a lot of H'mongs dressing in their traditional clothes with babies on their back here.
Even after dark, the town doesn't seem to get any boring.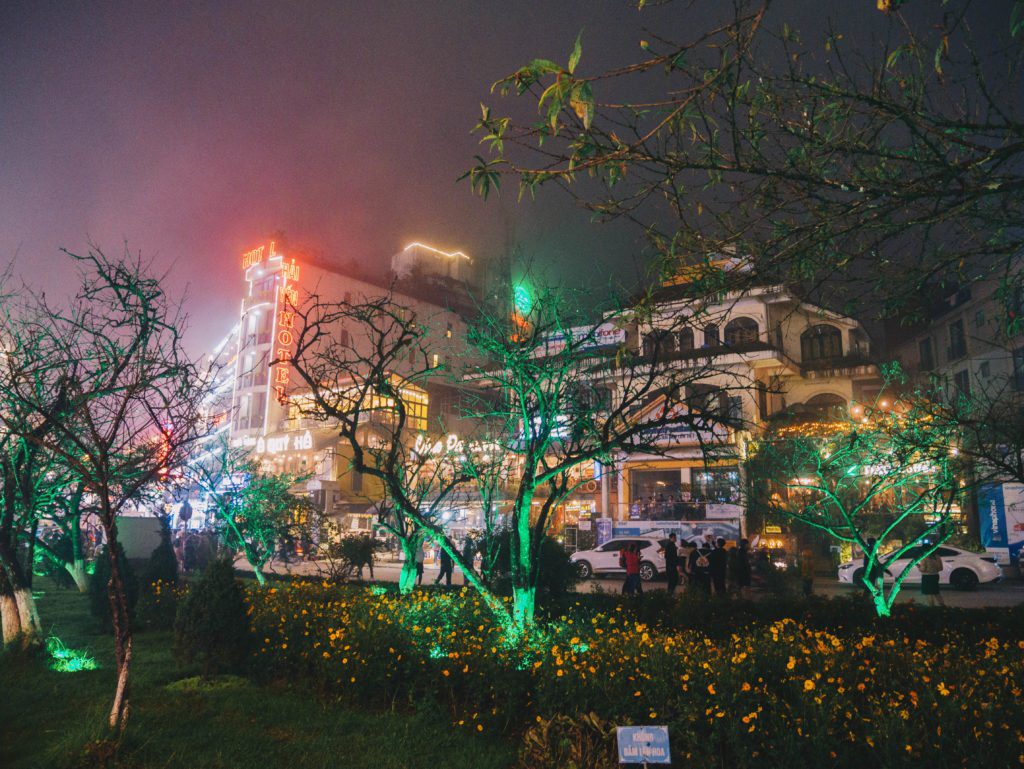 The fog was everywhere but it doesn't make the town any less pretty.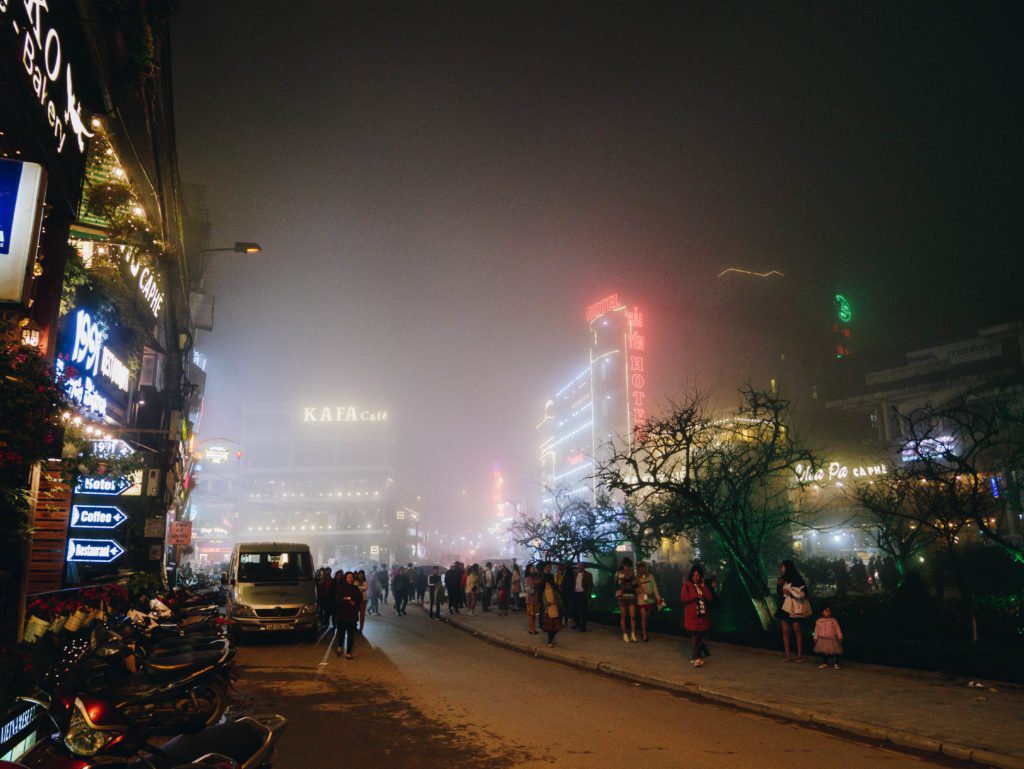 I couldn't just walk past without capturing these adorable H'mong babies. They sell keychains and bracelets.
Don't ever leave Sa Pa without trying their local street BBQ.
You can find the same thing everywhere. Some places are more packed than the others, but just go for the less crowded one. The flavor and price are basically the same.
DAY 2 (Leg Day)
With the first day of our vacation basically gone way too chilled, we decided to go a bit hardcore on our second day. I swear I almost died from walking too much.
1. Check Out The Little Market next to Tourist Center
I didn't even know there was a market in there, let alone what it's called.
This little market is located around Sa Pa Station right next to the tourist center.
We came across this place while making our way to find breakfast, so we decided to stop by a bit.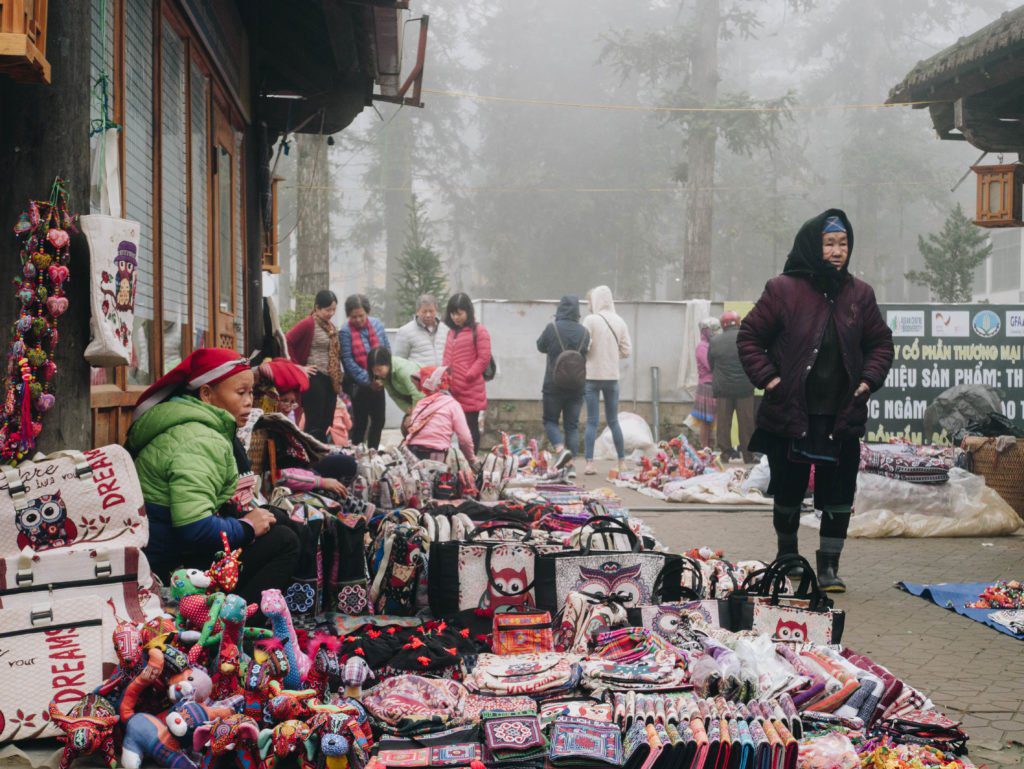 2. Conquer Fansipan
It's a sin to leave Sa Pa without visiting Fansipan. I mean heyyyyyy, it's Fansipan, the roof of Indonchina you guys, why would you miss a place this great?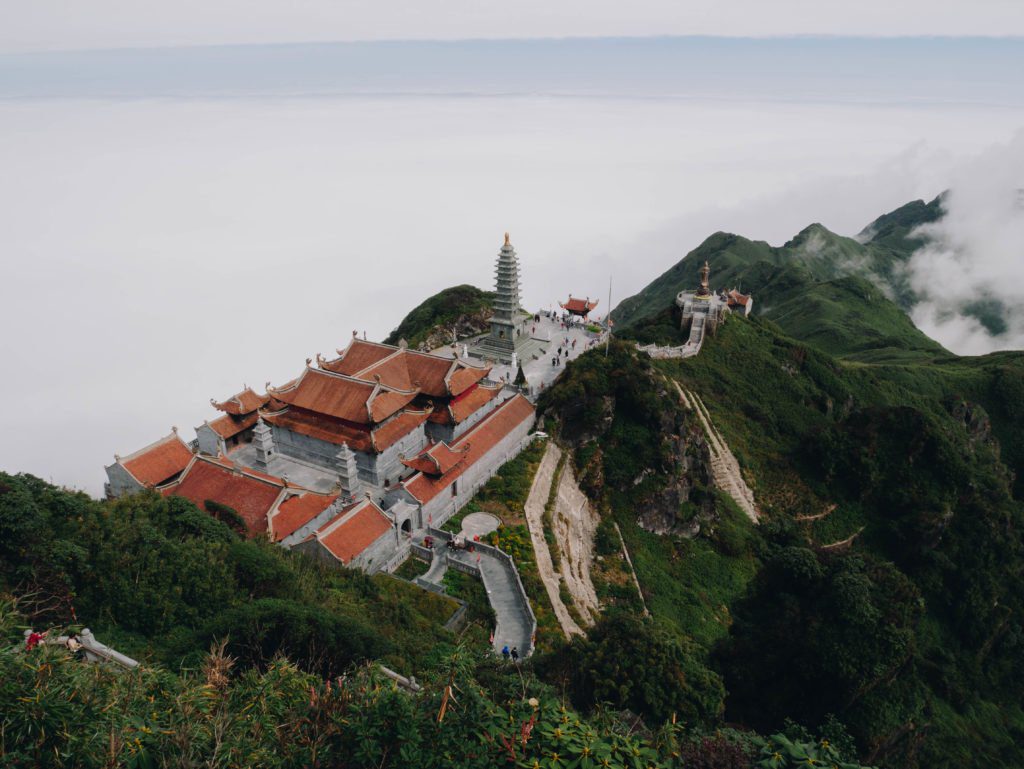 If I'm not wrong, there are two options to get to the top of Fansipan.
For those who are super fit and into hiking and adventurous stuff, you may want to try the first option of trekking between 2-3 days.
If you're not-so-fit like me or don't have enough time, on the other hand, you may want to take the 15-20mn cable car then climb the 600+ stairs to the summit.
Worst case scenario, if you're even less fit than I am and don't want to walk up all those stairs, you can also choose to buy an extra train ticket (second one) for 70000VND/Person (3USD) to take you to the top.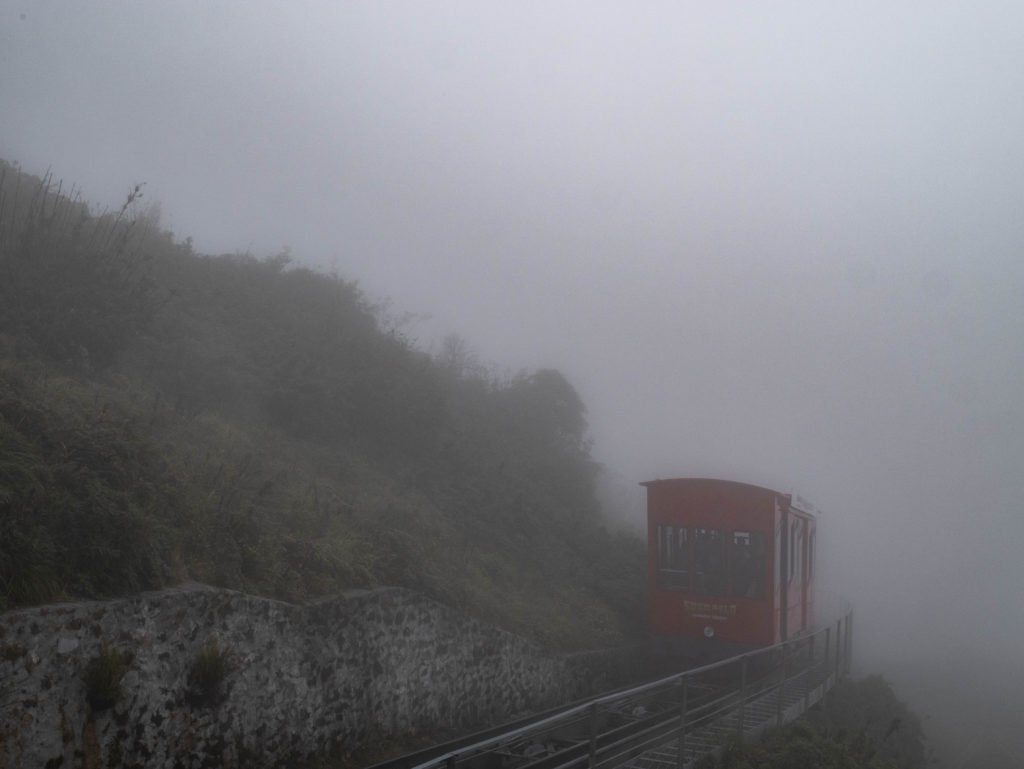 We wouldn't recommend you to take the second train as you would miss out so many picturesque sights you could only see while taking the stairs.
To make it easier for you, let me walk you through the cable car riding process.
Step 1: Get your cable car ticket at Sapa Station.
Step 2: Once you get your ticket, walk to your train terminal in Sa Pa Station.
Step 3: Board the train.
Step 4: Say hello to Muong Hoa Sation!
Step 5: Line up for your cable car ride.
Step 6: Get on your cable car and enjoy the view whether cloudy or clear.
Step 7: Get off your cable car and start exploring!
Ticket Price:
Adult: 750,000VND/Person (32.4USD)
Kid: 550,000VND/Person (23.5USD)
The price includes a roundway (first) train ride from Sa Pa Station to Muong Hoa Station and a 15-20mn cable car to Fansipan.
Opening Hours: 07:00-17:00
Location: TT. Sa Pa, Lao Cai
3. Muong Hoa Valley
Muong Hoa Valley is one of the main attractions that you don't want to miss during your time in Sa Pa.
People usually go there trekking but we decided not to and just watch the view from Yummy Restaurant located right in Muong Hoa instead.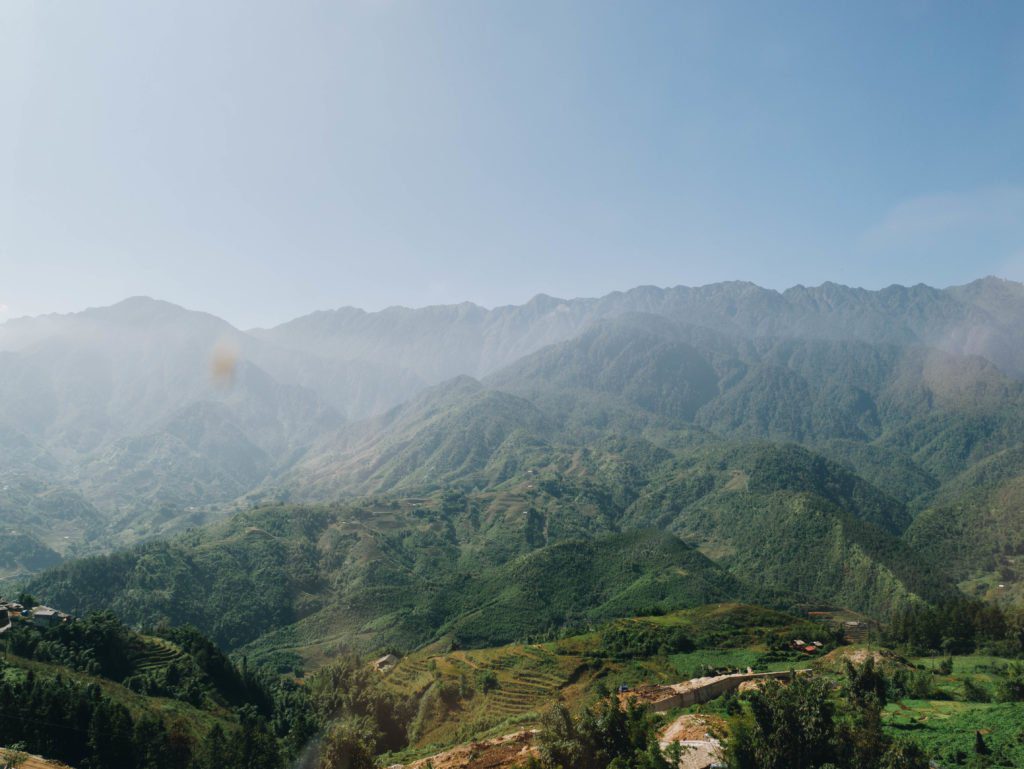 Please be noted that the weather that day wasn't our big fan; therefore, we couldn't capture the whole Muong Hoa. I'm sure it's much more awestruck than the shown photo above.
4. Cat Cat Village
If the idea of getting up to the top of Fansipan isn't your cup of tea, getting down to the bottom of Cat Cat Village might be of interest.
One word to describe Cat Cat? EXQUISITE!
As you walk through the village, you'll get a chance to take a look into local daily life, interact and get to know them. There are also souvenir and handicraft shops on both sides of the trail that you can shop from.
The breathtaking setting along the way makes up for all the exhaustion you feel.
Once you get down to the bottom of the village, you'll get to enjoy the aesthetic waterfall, residents' traditional houses on display and a butterfly farm.
Correct me if I'm wrong. But with a lot of tourists dressing in traditional costumes and posing for photos, I'd say Cat Cat Village is like Vietnam's very own version of Disney Land. This is not a bad thing though, I'd still recommend Cat Cat!
The only thing I hate about walking to Cat Cat is the lack of pedestrian walk way. Guaranteed you'll be honked at countless of times as you make your way to get your ticket.
Entrance Ticket: 70,000VND/Person (3USD)
Opening Hours: Daily 06:00-18:00
Location: San Sa Ho, Sa Pa, Lao Cai
DAY 3
As we had a super tiring leg day on our second day, we decided to sleep until 10:30AM. We started our last day trip at 11:00AM.
1. Ham Rong Flower Garden
Having read some good reviews and seen some impressive landscape photos on TripAdvisor, we decided to make a quick stop at Ham Rong Flower Garden.
With a lack of direction signboard in the park, we were told to follow our "brain GPS" to reach the viewpoint. We walked all the way to the top and couldn't find any, so we came back down.
The viewpoint was actually half way to the top and is blocked by so many trees. You couldn't really enjoy a view overlooking Sa Pa town anymore.
I don't think people really go to Ham Rong in 2019. The place has given me an uncanny abandonment vibe. Don't get me wrong, the flower garden still looks fine but there are just so many trees that block the viewpoint.
The ticket price is 70,000VND/Person (3USD). 40,000VND would have sufficed as they don't really take care of the garden that much anymore. I wouldn't recommend Ham Rong to anyone visiting Sa Pa in 2019 or the next year to come.
Entrance Ticket: 70,000VND/Person (3USD)
Opening Hours: 09:00-17:00
Location: Sa Pa Town, TT. Sa Pa, Lao Cai (very close to Notre Dame Cathedral)
2. Silver Falls (Thac Bac Waterfall)
Located 13km away from town, Silver Falls is quite far comparing to other attractions in Sa Pa. It took us 30mn on motorbike to get there.
Silver Falls doesn't really take much of your time as you already enter at the base of the falls. You just have to take some steep stairs up and DANG- you're there!

The waterfall is visible from the road so if you don't have a 15mn for it, a quick photo from across the street should do.
I'd say Silver Falls isn't the best waterfall I've seen, but totally worth a quick stop once you make your way to Love Waterfall and Heaven Gate.
Entrance Ticket: 20,000VND/Person (0.86USD)
Location: San Sa Ho, Sa Pa
3. Love Waterfall
It was already 16:00 when we got to Love Waterfall and we still had another attraction to wrap up for the day.
It's a long way to get to the top of the fall so we decided to just go half way then hurried to our next attraction.
The fall we saw was already splendid, guess the one up there is even better.
I don't know if I should recommend this place as we didn't get to see how beautiful it is ourselves, but most travelers really recommend it. You may go check it out!
Entrance Fee: 70,000VND/Person (3USD)
Location: Son Binh, Tam Doung, Lai Chau
4. Heaven Gate
Heaven Gate is only a 5mn drive from Love Waterfall, but it was a tad bit tricky for us to find the place as it wasn't really on map. If you wish to go to the same place, you may try searching for "O Quy Ho Hotel" instead.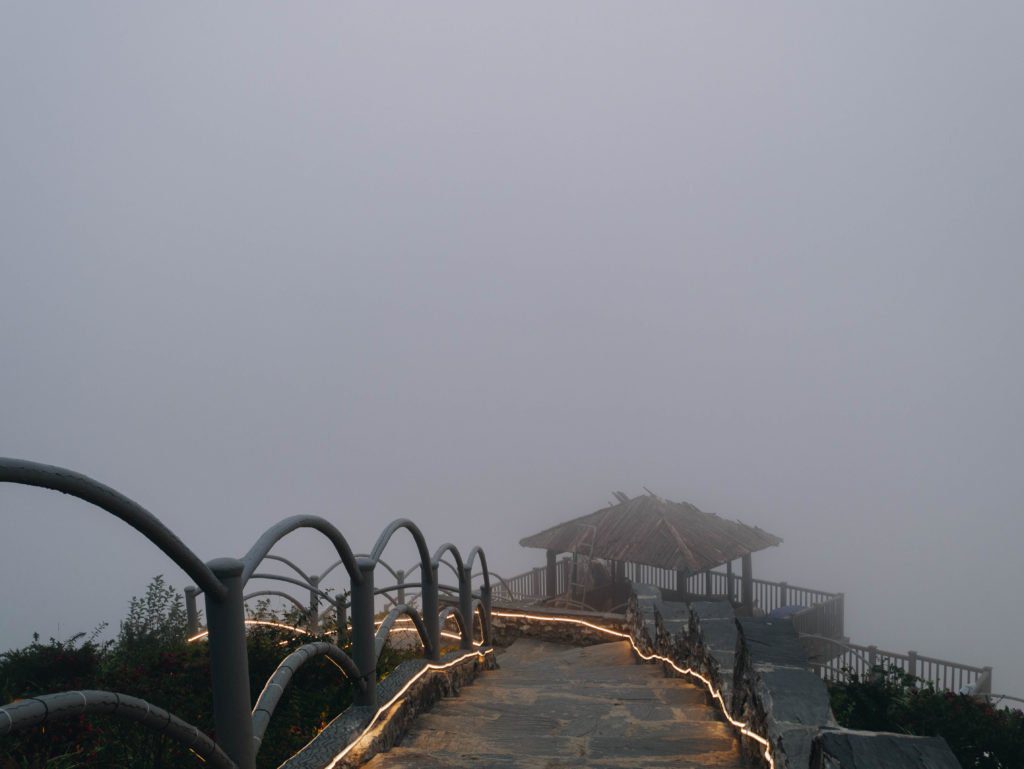 A guy came to me and presented me an entrance ticket as I was approaching the place. I thought the card was already used and that he was pranking on me, but I still took it anyway.
I was quite nervous to use the card to be honest but it WORKED! I don't know who this guy is but whoever and wherever you are, thanks so much for helping me save 80,000VND. Hahah
Here's the stairs that lead to nowhere but heaven.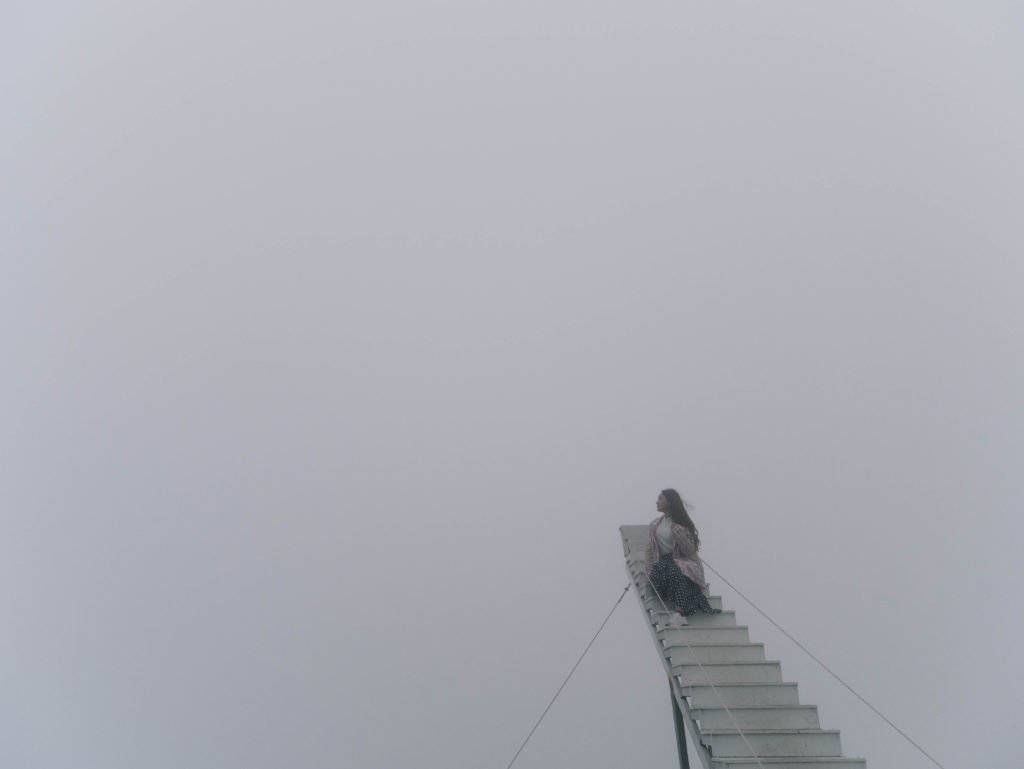 Some parts of Heaven Gate was still under construction during our time there but it was still heavenly.
Entrance Fee: 80,000VND/Person (3.45USD)
Location: O Quy Ho, Son Binh, Tam Doung, Lai Chau
Expense Breakdown in Sa Pa
Again, we spent 2.5 days in Sa Pa and here's our expense breakdown in Sa Pa DIVIDED BY 2:
Accommodation: 22.25USD (515,000VND)
Motorbike Renting: 6.04USD (280,000VND)
Gas: 2.15USD (50,000VND)
Food & Drinks: 56.5USD (1,307,750VND)
Activities: 44.06USD (1,020,000VND)
Others: 6.73USD (156,000VND)
Total: 137.73USD (3,328,750VND)
Get your bus tickets here.