Finally a trip outside of Cambodia after 3 years! I almost forgot how it feels like to be away from home, everything seems different after all this time.
What about you my fellow readers? Have you been anywhere in these last 3 COVID years? I hope you're fortunate enough to not have been stuck at work.
My boyfriend and I met up with Cambodian Backpacker in Siem Reap around 1.5 months before our trip. We were discussing work and catching up, but then a Thailand topic came up. We suddenly grabbed our phones to check our availability and set the date instantly as we talked.
I'm sure you understand how it's like – there's a 99% chance that your trip wouldn't happen when planning it with your friends. Little did we know we're in that 1%, our trip actually happened. 😂
My friends and I recently spent 2 days in Kanchanaburi. Below is our full itinerary.
Getting to Bangkok
My boyfriend and I left Phnom Penh on Friday night. We actually wanted to be in Bangkok in the afternoon, but the flight was way over our budget so we decided to take the 5:15pm flight instead.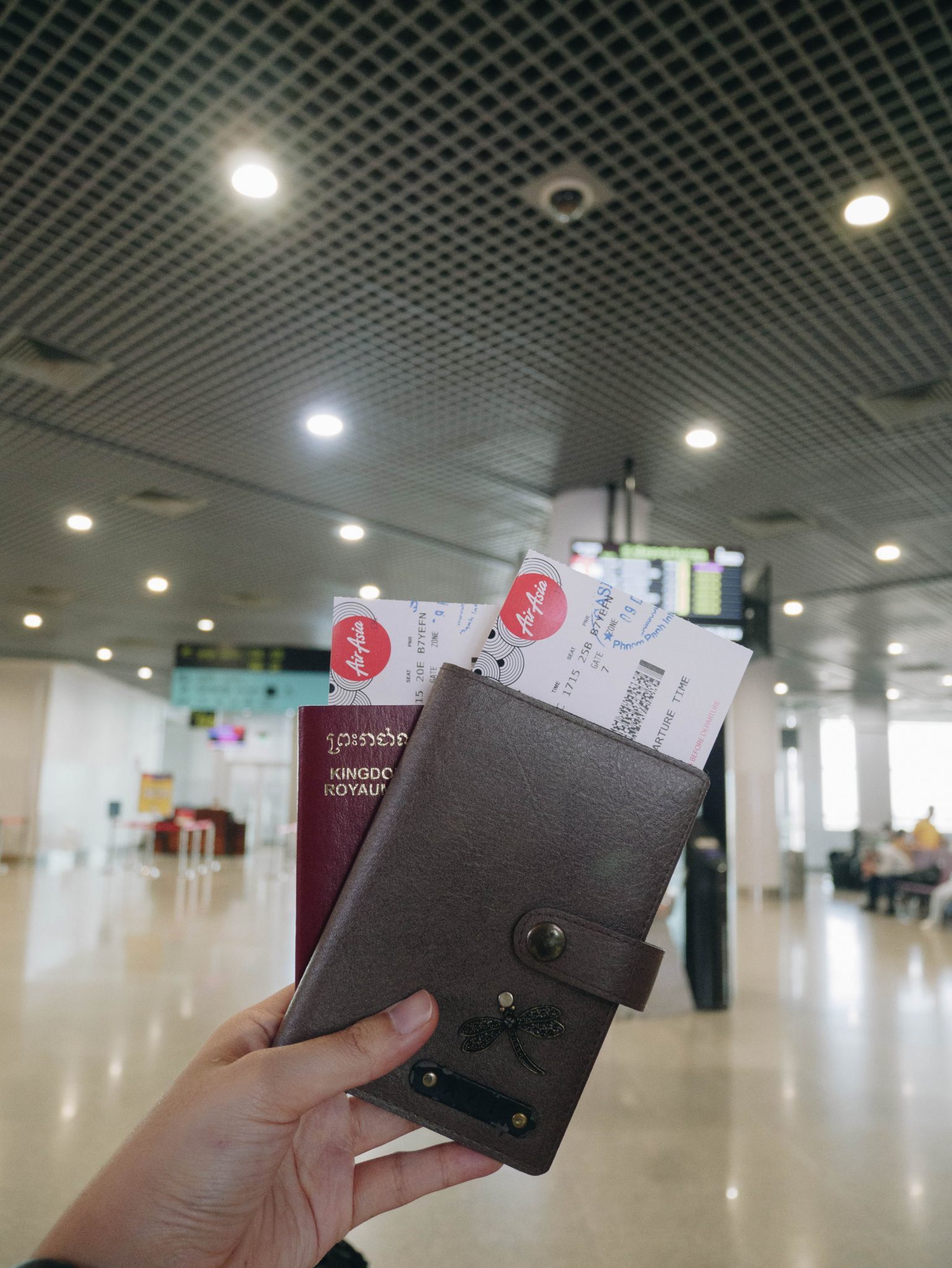 We got to Don Mueang arrival hall at 7pm then met with our friends who got here from Siem Reap first.
We had to navigate our way around a lot during this trip. To be safe, we got ourselves a sim card for 300฿ at the airport directly. Believe me, the price isn't that much different outside. It'll only make everything harder to communicate in Thai. When you purchase your sim card at the airport, they will choose the right internet package for you depending on how many days you're staying.
I've never taken the airport shuttle from Don Mueang to the center before, only the other way around. I read online that you can take A1 bus from either Gate 6 Terminal 1 or Gate 12 Terminal 2 to Mo Chit. We blindly followed the article and went to Gate 12 Terminal 2.
There was no bus stop sign nor was there any shuttle timetable at this gate. We asked the security guard if the bus would come and he said yes. Maybe my Thai is so bad that he didn't understand or he just didn't care to listen. Haha
We waited and waited for 30 minutes and the bus still didn't show up, so we decided to walk to Gate 6 Terminal 1. We knew we were at the right place when we saw tourists lining up, bus stop sign and the shuttle timetable. The bus arrived after 5 minutes.
Their A1 shuttle leaves every 15-20 minutes and operates from 6:15am to 12am daily. Bus from Don Mueang to Mo Chit (Opposite Chatuchak Park) costs 30฿ per person.
Mo Chit BTS is a 15-minute-walk from Mo Chit Bus Station. It cost us another 44฿ per person to travel from Mo Chit to Saphan Taksin BTS .
I've always thought BTS is cheap, fast and convenient. But what I've learnt from this trip is that if you're traveling in a group of 4 to 6 people, it's always a better idea to check Grab first. It could be faster and cheaper after being divided into 4 or 6.
It took us another hour to get from Mo Chit to Saphan Taksin and we also had to change from BTS Sukhumvit Line to Silom Line at Siam.
We were supposed to get off at Thonburi, which is one station away from Saphan Taksin. Since I led my friends to the wrong station, we had to walk around 3km to get to our hotel. 🤣
3km walking with all of our backpacks and luggage is no joke. There were actually 2 ways to get to our hotel, but we decided to go with the shortcut. We walked past a pier, a bridge, a few overpasses, a dark and quiet sewage alley, abandoned houses – it was chilling. What an experience. 😂
The Pattern Boutique Hotel
We finally got to our hotel at 10pm.
Night markets were on our first night agenda, but it was already too late by the time we got here so we just walked around our hotel block to find something to eat.
The Pattern Boutique is located in Thonburi, which is very far from where tourists are usually staying. But this was our best option as we needed to catch our morning train to Kanchanaburi the next day.
We booked a Double Room for $21 per night.
We didn't know there's a bunk bed in the room when we booked. We were surprised to see one when we got here. Haha
At just $21 per night, this room can accommodate 3 people.
The room is very small yet they have everything we need, from a hair dryer to a mini refrigerator.
I really admire their creativity. Though the space is tiny, they still manage to have this.
Getting to Kanchanaburi
Here comes our second day in Thailand.
Train from Bangkok – Kanchanaburi operates 2 times per day; one at 7:48am and another one at 1:48pm. It leaves from Thonburi Station in Bangkok and usually takes around 3 hours.
The train ticket from Bangkok – Kanchanaburi is 100฿ per person. There's no seat or carriage number, you can sit wherever you like.
The train itself isn't equipped with ac, but fans.
Another way to get to Kanchanaburi is to travel via bus or mini van from Mo Chit Bus Terminal in Bangkok. Bus and mini van offer a wide range of departure times and do not cost any different. But once in Thailand, take the train for the experience.
If you decide to take the train, make sure to get to Thonburi Railway Station by 7am. You can't book your ticket online so you'll have to do things the old-fashioned way by queueing for the ticket on spot.
No worries about traveling with an empty stomach, there will be a lot of vendors walking from carriage to carriage selling you food and drinks.
There is no breathtaking scenery until the last 10 minutes before reaching Kanchanaburi.
Kanchanaburi Day 1
We got to Kanchanaburi Station at 10:50am after a 30mn stop waiting for other trains to past.
You'll find a few songthaews (2 rows seats car) at the station.
Songthaews are usually very cheap for the local, but we didn't know how to tell the driver where we were going so we decided to walk instead.
Our first stop was OK Bike Rental, which is 2.9km from the train station. Walking under the sun with all our luggage made everything worse. :')
They have several motorbike options and the price starts from 200฿ to 500฿ per day. My boyfriend and I went with the automatic one at 250฿ per day. Gas station is a few blocks away and gas isn't included in the price.
To rent the motorbike, they will ask you for your passport to make a rental agreement and a deposit of 1,000฿. The motorbike has to be returned by 6pm on your last day.
Hop Inn Kanchanaburi
Their check in time is 2pm. Since we were too early, we just left our luggage with them and came back later in the evening.
We booked for a 2-night-stay in their Double Room for $37.
The room is really clean. The only annoying thing about staying at Hop Inn is all the noises from the cars and motorbikes.
First Lunch in Kanchanburi
We were all starving and didn't want to drive around for lunch, so we just headed to this small eatery near our hotel directly.
The old lady wasn't at all welcoming. Not sure she was mad at someone else before us, mad at us for being foreigners, or mad at herself for not being able to communicate with us.
I speak a little Thai. I asked her for the menu and she handed me one. It was all food with no price, so I asked my friends to see what they like first then asked her for the price after.
Once we selected our own dish, I went to her and asked how much each dish costs. I don't know what I did wrong, but I got on her nerves even more. She got much madder and didn't even want to talk to me. I wasn't angry at her for being this unapproachable, I just found it funny. 😂
After I placed the order, I walked outside to take some photos of her place. I didn't have any intention to expose how bad she treated us – as I mentioned earlier, I found it funny she was being that way. My intention was to use this photo as a reference to what I'm writing about in this blog.
I guess she was guilty and worried I'd talk shit about her restaurant. She came to me with very very mean and angry face asking why I was taking photos of her place. To state her exact words, she asked "You take photos, your friends take photos, what are you planning to do?" I replied "Oh we just take photos for Facebook." She dropped her angry act and started being friendly from then.
Friendly? What's got into her? Lmao
She then started asking questions of where we come from, why I am able to speak Thai, where we were planning to go, etc. She even gave me a heartfelt compliment saying I'm very smart, though I wasn't able to pronounce all the words correctly, I could still communicate well.
A friendly face then a compliment? What a twist! 😂
The first dish came out very salty, while the last dish was overly sweet. I joked with my friends that she put all her heart into cooking the last dish so bear with it. Haha
Food here starts from 40฿.
Giant Monkey Pod Tree
Giant Monkey Pod Tree wasn't actually on our first day itinerary. Our original plan was to visit Erawan National Park, which is 72km from our hotel. Sadly we couldn't go there because our train was delayed.
This Giant Raintree is 37km from town and takes approximately 40 minutes to get there. There is no entrance fee to this place.
You'll find a lot of stalls selling food and drinks, sunglasses, hats and apparels here.
Got to meet this cutie, Nong Buck, on our way in.
To be honest, I was a little disappointed when I first got here. My inner reaction was "Huh, that's it?"
But as I walked in and stayed a little longer, I started to see its beauty shining through.
The tree is truly majestic. Just like its name, it is gigantic. It takes around 10 people to wreath the tree.
There is a little campervan café, The Vannaheim, at the back.
My boyfriend ordered their Signature Latte for 85฿ and it tastes amaaaaaazing. It was coffee-ey, nutty, and also chocolaty. We loved it!
So lucky to have met the stars of the Giant Tree before leaving to our next stop. There are 2 of them, one in browny black and another one in whitey brown.
You'll find these two in almost every blog and video.
Wat Tham Suea (Tiger Cave Temple)
Never have I ever been to a pagoda this enormous and spellbindingly beautiful.
We spent 2 hours here and couldn't even visit all the places around.
There is no entrance fee to the pagoda.
I told you earlier that Giant Raintree and Wat Tham Suea weren't on our first day agenda, correct? Correct. That explains my outfit. Since shorts are forbidden here, I had to hire a sarong for another 20฿. You can find the sarong rental stall near the staircase.
There are 2 ways to get to their first floor. Take the electric cart for 20฿ per person one way OR walk the 150 staircase.
This is the very first view you'll see once reaching the first floor.
And this is me in a sarong (well, you couldn't really see that. Haha).
Your walk around the temple doesn't end here at the big Buddha. Look to your left and continue your way up.
Here are some photos taken on the next floor and from above.
Meena Café
It's a sin to leave Kanchanaburi without visiting Meena Café.
Meena is like a Ms. First Choice when it comes to café hopping in Kanchanaburi. She's got all the charms that everyone is attracted to.
You are required to buy a drink upon entering. Having been to many famous and beautiful cafes, I expected Meena to be expensive. But nope, most of their drinks are 85฿ only.
I ordered their Iced Green Tea. The taste is average, but I wasn't disappointed. I'm glad I got to witness such breathtaking views overlooking Wat Tham Suea during this golden hour.
Besides, their café setting is truly impressive.
The best time to visit Meena is between 4pm and 5pm. They're open from 8:30am to 7pm and close every Wednesday.
JJ Night Market
I don't know about you, but night market is a must-go for me when I'm in Thailand.
We walked past JJ Night Market when we got to Kanchanaburi this morning and there was nothing here, just a big space.
Evening comes and this place has turned 180 degrees. It's very vibrant and you'll find hundreds of stalls here.
Food and drinks here are unbelievably cheap. You can have 20฿ and still be full.
Besides food and drinks, you'll also find clothing and other accessories stalls here.
Kanchanaburi Day 2
Our day 2 started at 7:30am.
We stopped at a restaurant along our way to Tham Kra Sae for breakfast.
We had their rice noodle soup for 40฿ per dish.
Unlike the old lady from the day before, the cook of this restaurant is genuinely friendly. He even recommended us places to go.
Tham Kra Sae Railway
All tourist destinations in Kanchanburi are further away from town and located on different routes. We made a big mistake by staying here for just 2 days.
If you ever visit Kanchanaburi, I'd recommend you to stay here for at least 4 nights and 5 days. Only then will you be able to explore all the attractions.
Tham Kra Sae Railway, also known as Death Railway, is located 54km from town. It took us approximately 1 hour to get here. This place alone already took half of our day trip.
I love how most destinations in Kanchanaburi do not have entrance fee.
Once you arrive, you'll see plenty of stalls selling bags, hats, clothes, food and drinks. Considering the tourist hotspot, they still sell everything at a standard price.
There is a cave on your left hand side as you walk on the railway.
You'll also find a big camping site on your right along Khwae Noi river.
It's very noticeable how lottery tickets are sold at all the sacred places in Thailand. My boyfriend jokingly said that maybe people pray to win lottery tickets then return their offerings instantly when they do win. 😂
People come here to capture the beautiful sight of the train on this death railway. We were told the train usually gets to Tham Kra Sae at 10am, but it was delayed to 11:50am during our visit. We couldn't wait as we still had too many places to go to, so we just left.
These photos are the best I've got.
Mallika R.E 124
I searched for Mallika while planning for this trip and I actually wanted to skip it as this place doesn't appeal that much to me.
I'm glad my friends convinced me to be here, I would have missed an opportunity to travel back in time.
I've read that Mallika is an ancient village that's been restored and maintained to its original form. What's fascinating about this place is that all of their staff are dressed in traditional costume and even speak old Thai language.
Out of all the other attractions we've been to in Kanchanaburi, this is the only place with an entrance fee.
The ticket is 200฿ per person and it includes one free shaved ice, one mango sticky rice and 20฿ discount at Black Canyon. They also have Thai traditional costumes for rent, starting from 200฿ to 500฿.
Thai baht isn't accepted at this ancient village, you have to change your Thai baht to their old currency, Satang. (1 Satang = 5 Thai Bahts).
There are many things to shop from here. You'll find variety of food and drinks, cosmetics, perfumes, scented candles and many more.
You can also go up this white tower to see the whole view of Mallika and its surrounded places.
Dear my photo enthusiasts, make sure you have enough space for all the photos here.
Keeree Mantra, Chan Nature Café & The Village Farm to Café
There are wayyyy too many enchanting cafes in Kanchanburi. Deciding on which one to go in such a limited time is harder than a breakup. 🤣
Lucky for us, all of the cafes we shortlisted to are located at the same place. Going to Keeree Mantra also means visiting Chan Nature Café and The Village Farm to Café.
Beautiful, isn't it?
This is The Village Farm to Café.
We didn't get to try anything here as we were still full from our lunch and still needed to buy drinks at our next stops.
You'll reach Chan Nature Café entrance after The Village Farm to Cafe. Visitors required to buy an entrance ticket of 85฿ per person before entering. The ticket can be exchanged to one drink at Chan.
It would be really magical at night with all these Christmas light decorations.
There is no coffee here, only tea. Most of their drinks are close to 200฿, only a few drinks are at 85฿. I ordered Mikkutsu Matcha for 185฿ and my boyfriend ordered Hojicha Joyo for 165฿. The taste isn't outstanding.
Every corner at Chan is Instagrammable and that explains all the crowd.
Kan Machi Café
Café after café. How could we not when most of the cafes here are this attractive?
I guess Thai people are very into Japan. Most of the places here are very Japanese, and Kan Machi Café is one of them.
Same rule applied, you have to order a drink upon entering. Unlike Chan, drinks here are half cheaper but the taste remains the same – just typical.
No one would know you're in Kanchanaburi and not Japan if you didn't check in the location on Facebook and IG.
Skywalk Kanchanaburi
Skywalk is one of the newest attractions in Kanchanaburi. It offers a panoramic view of the city, mountain, as well as the different colored of Kwae Yai and Kwae Noi rivers.
We couldn't make it up as the line was too long, and those who already purchased the ticket also needed to wait. Plus, we had to return our motorbike by 6pm, so we just skipped the skywalk and went to River Khwae Bridge instead.
This is the view from the skywalk riverside as we left. It's not this close, I used a zoomed lens to capture this. 😅
River Khwae Bridge
I know River Khwae Bridge is one of the tourist attractions, but I didn't expect it to be super crowded. Just like us, people flocked here for the 5:30pm train sightseeing.
This is the best photo I've got without too many people in it.
The train was delayed 15 minutes to 5:45pm during our visit. So don't worry if you don't see it at 5:30pm, stay there a little longer or you'll miss it.
Just like other attractions, River Khwae Bridge is surrounded by food stalls, restaurants and old buildings. The photos would still be beautiful even without the train in the picture.
Kanchanaburi Walking Street
We had to return our rental bike by 6pm.
Since we already visited JJ Market the day before, it only made sense we visited Kanchanaburi Walking Street on our second night. We thought it is open on Saturday and Sunday, so we walked for 2.5km from OK Bike Rental to Kanchanaburi Walking Street.
Our stomachs were growling and we were hoping to have more street food here, but the street was empty. They're open only one day per week, which is on Saturday. This is why you have to check everything carefully before going. Haha
We couldn't feel our legs after a whole day of 21km walk so we just booked Grab to JJ Market for dinner again.
Day 3: Going Back to Bangkok
We already experienced the train ride in Thailand, so we took the mini van back to Bangkok.
You can also book the bus ticket online in advance, but you don't have to. We got our ticket at Kanchanaburi Bus Terminal directly on our departure date. They usually leave when the van is full, probably within 15-20 minutes.
The bus ticket from Kanchanaburi to Bangkok Mo Chit 2 cost 130฿ per person.
We reached Bangkok at 11am. Since we didn't visit anywhere new in Bangkok, there isn't much to write about. Until next time.