Looking for some peace, seclusion and nature immersion? Pack your bag and reward yourself with a trip to BeTreed Adventures. Once you get a taste of it, you'll never want to leave.
Located in Preah Vihear, BeTreed Adventures is an ecotourism destination offering unique experience for nature lovers and adventure seekers. It is also home to endangered and threatened Cambodian wildlife species like pileated gibbons, silver langurs, banteng (wild cows), barking deers, sambar deers and more.
Just a little bit of a background story, BeTreed Adventures is run by Ben and Sharyn who have been living in Cambodia for more than 20 years. They're working to protect and preserve Phnom Tnout Community Forest and its furry and feathered inhabitants as well as to educate the benefits of forest protection and preservation to the surrounding communities.
My boyfriend and I spent 2 Days and 2 Nights at BeTreed Adventures and we wish we stayed there longer.
What to Prepare
Before getting into the trip details, let's take a look at a list of things to prepare.
Moos Som Chanh: I had dengue fever around 8 years ago and it was very costly. I know that I'm traveling to the forest and just to be safe, I bought myself a Moos Som Chanh Gold Pack for $29.16 from Prudential.
This package I bought covers both dengue fever and malaria for one full year and it'll cover $500 if you were diagnosed with dengue fever or malaria.
But if you think this package is too much out of your travel budget, you can also buy yourself a Dengue Essential Pack for only $4. The coverage of this package is $150 diagnosis benefits and the validity is also one full year.
Prudential also offers other packages besides the mentioned two. You can contact them directly or click here for more information. I understand that we're all busy protecting ourselves from COVID-19 this year, but you shouldn't neglect common diseases like dengue fever and malaria that could rip your pocket at any minute, too. Better be safe than sorry, babe!
Insect Repellent: Just because you already bought a Moos Som Chanh Package doesn't mean that you don't have to protect yourself from mosquitos and other insects. Bring insect repellent and spray when needed.
Spasm Relief Spray: It's an easy 14 kilometers round trip hiking trail, but it could be a challenge for those who have never walked this much before. Bring a leg cramp relief spray just in case.
Sunscreen: The weather at BeTreed is amazing, but you'll still need sunscreen for your hiking and zip lining adventures.
Long-Sleeve Shirt & Long Pants/Sportswear: Remember to always wear long sleeve shirt and long pants when you go for a hike. The lighter and quicker dry the fabric, the better. Though there is no land leech here, there might be some other types of insects you don't welcome.
Hoodie/Jacket: It's an open air accommodation. It could be a bit chilly at night and in the early morning, especially between November and January.
Sneakers/Boots/Hiking Shoes: As mentioned earlier, the trail is easy but can be slippery. My boyfriend brought a bad pair and slipped a few times.
Small Lunchbox, Spoon & Water Bottle: We love how our organizers put a lot of thoughts into sustainable tourism. Instead of using disposable lunchbox and water bottle, they informed us to bring our own reusable set.
Snacks: There's no mart or anything here at BeTreed, you're basically in the middle of nowhere. If you know yourself that well, bring along some snacks.
Getting to BeTreed Adventures
Transportation from Phnom Penh to BeTreed Adventures can be inconvenient and costly; for this reason, we decided to go with Solo Landscape this time. Read how to get to BeTreed if you still insist on going there yourself.
We left Phnom Penh at 6:20PM and got to BeTreed at 1:15AM. The whole journey from Phnom Penh usually takes only 6h30mn by van, but we stopped for dinner and pee break a few times.
We were super exhausted and just went to bed straight after we got to our house.
BeTreed Accommodations
BeTreed offers 2 accommodation styles; 2 Stilt Houses and 1 Monkey Pod Treehouse.
Accommodations here cost $60 per night. There's no AC in the house, all accommodations are open air.
Stilt House can house up to 8 people. Each Stilt House contains a queen sized bed and single mattresses on the platform for 3 or more people as needed.
The house also features an in-house open air bathroom with hot shower.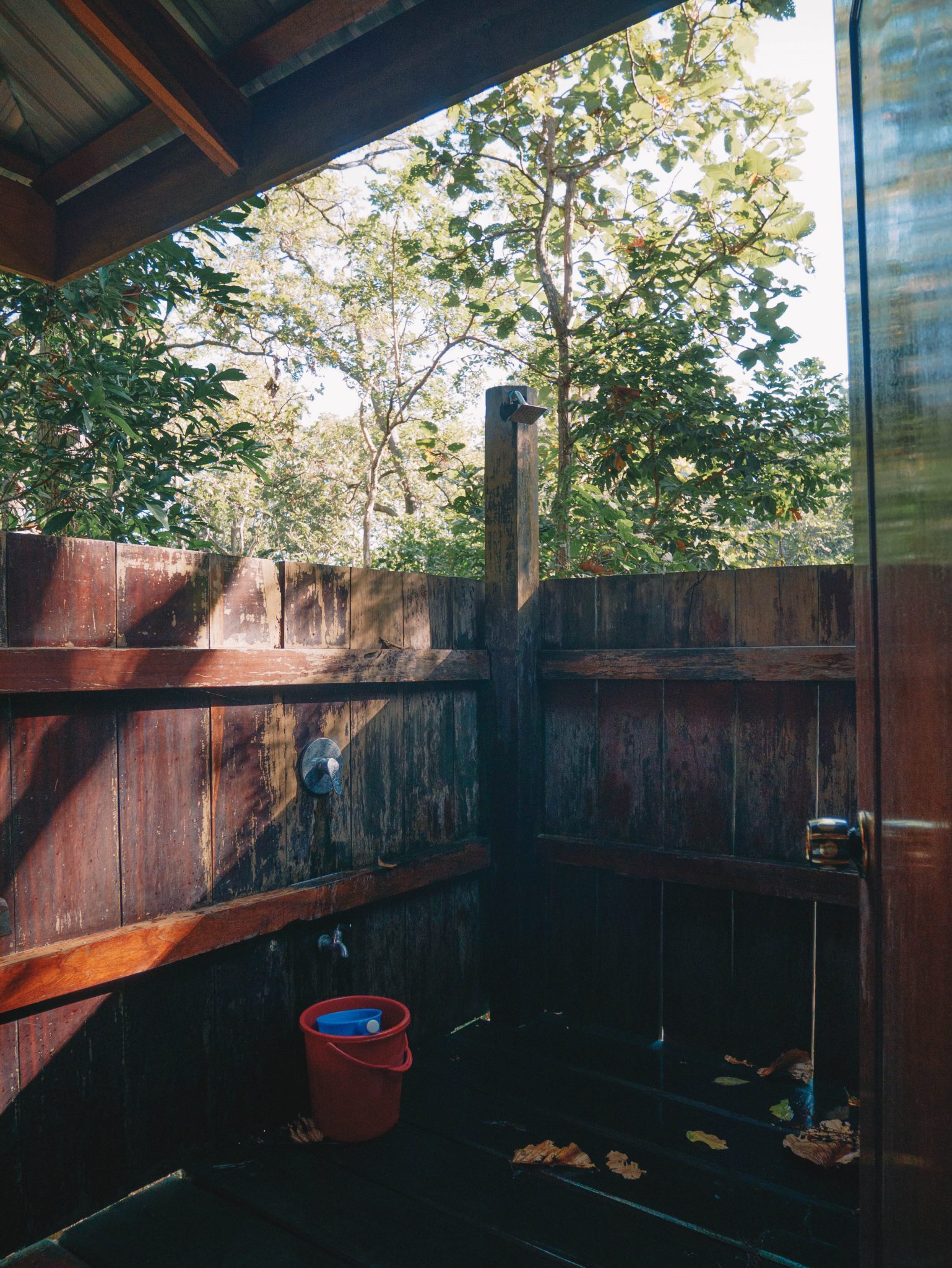 How often do you get to look at the moon while taking a shower or pooping? Haha
Treehouse is 9 meters from the ground and can accommodate up to 4 people. There is a toilet and sink in the treehouse and a shower room at the base of the tree.
Day 1: Hiking & Sightseeing
Our first day started a bit later than usual as we needed a long, long rest after a tiring journey from Phnom Penh.
We went to the main house after breakfast and caught Ben playing his keyboard. Such a beautiful tone.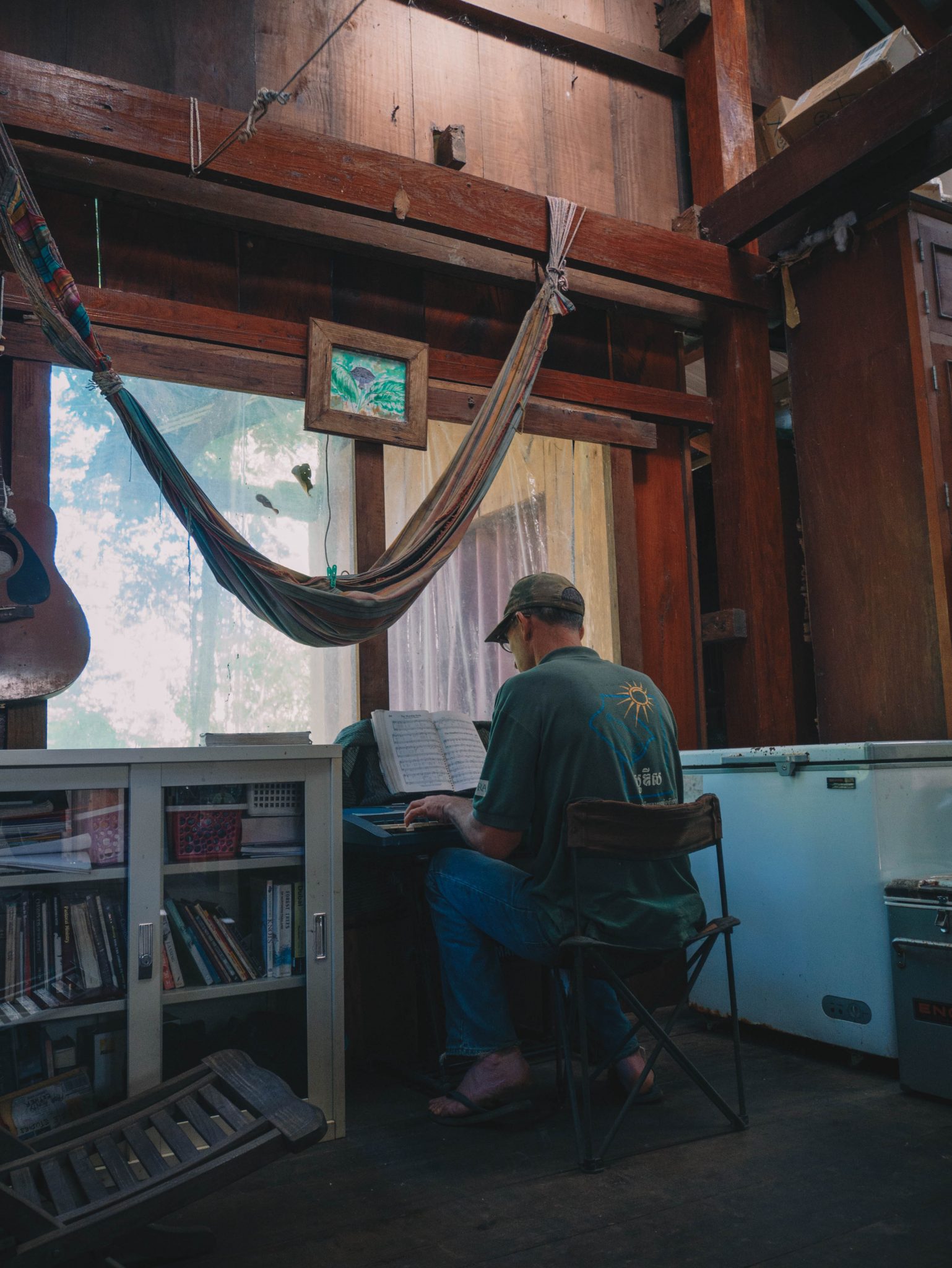 Here is one great way to start your day at BeTreed— hop on the swing like one of the monkeys at BeTreed.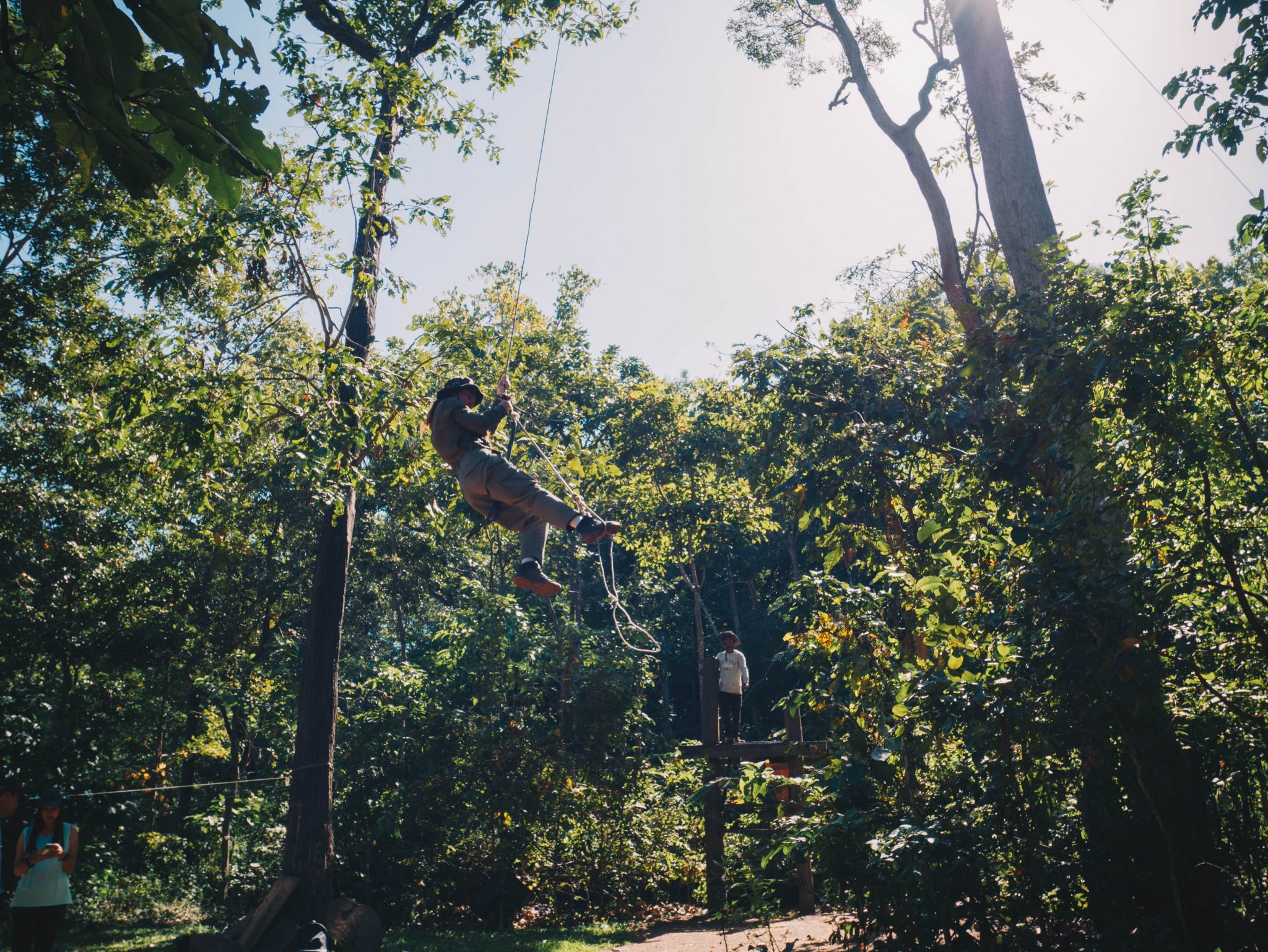 We started hiking at 9:50AM. One way hiking distance is 7 kilometers. The trail is easy, but could be slippery at some parts.
Be sure to look up as there are a lot of eye-catching huge trees along the way to your lunch spot.
If you're lucky, you would be able to spot some wild animals along the way to the stream. But luck wasn't on our side, we only got to see some footprint of the wild cows.
We finally got to the stream after a 1h20mn hike.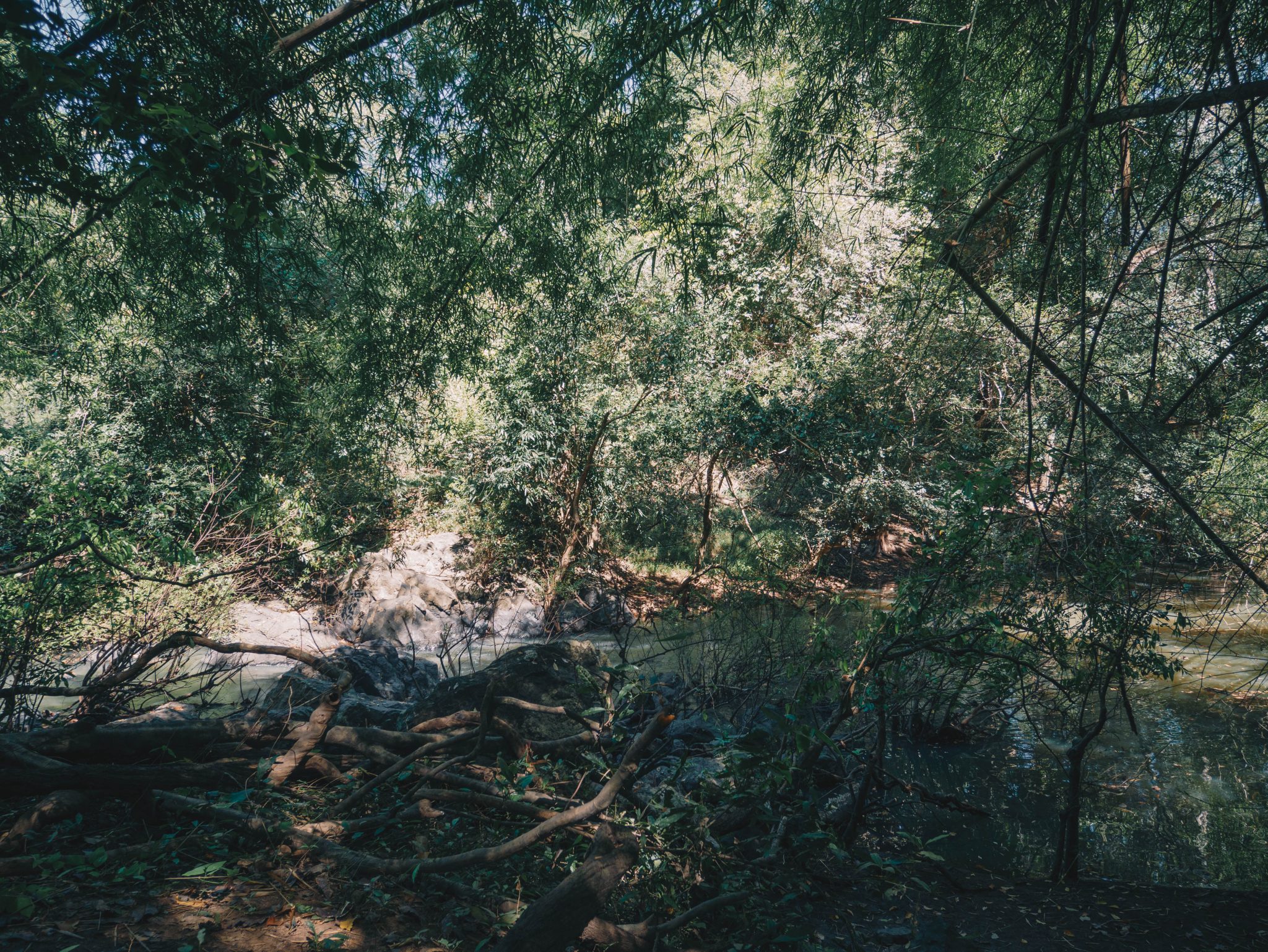 No matter what you eat, no meal tastes better than a meal in the middle of the forest.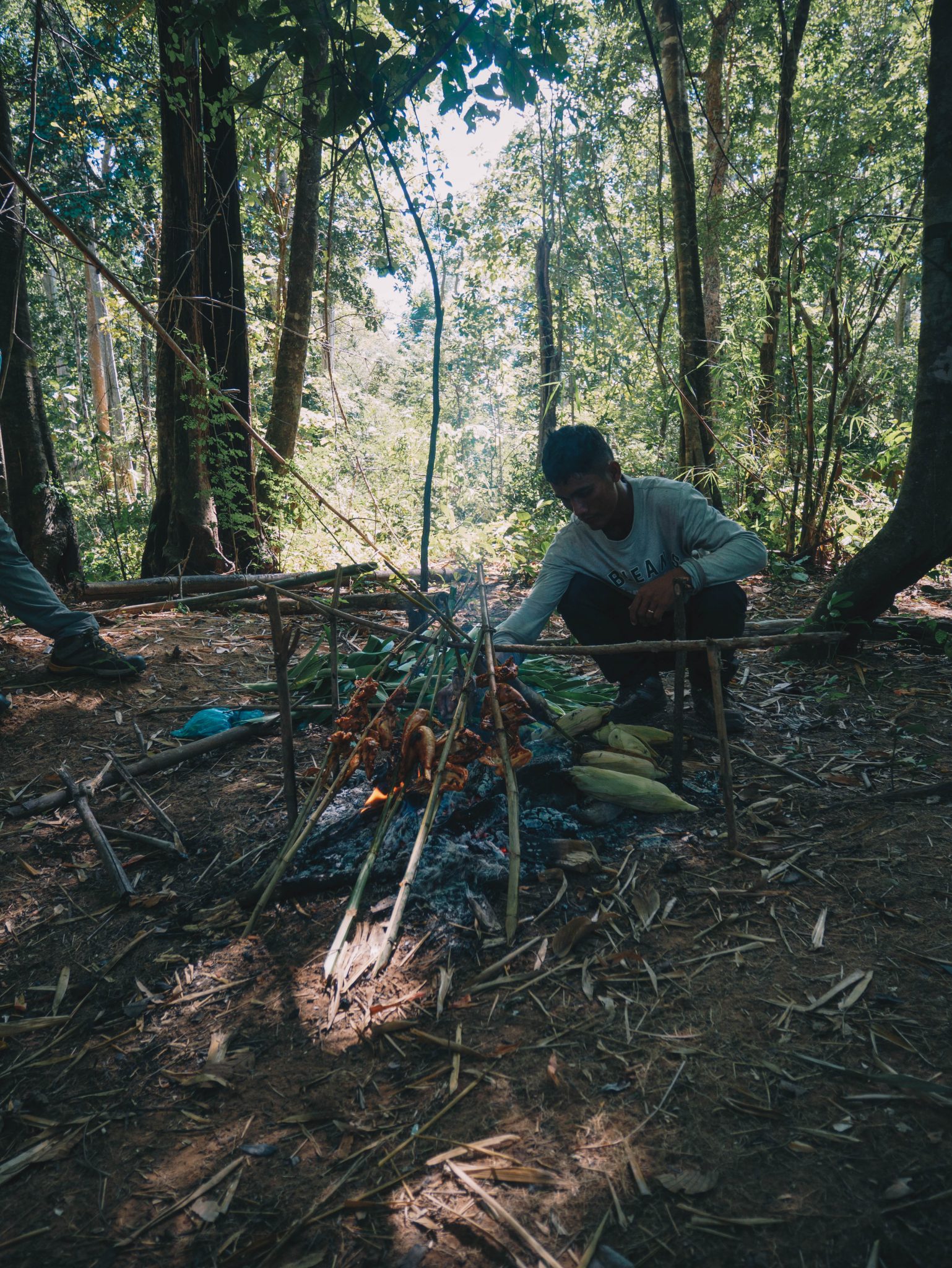 Yummy, yummy! Here are what we had for lunch.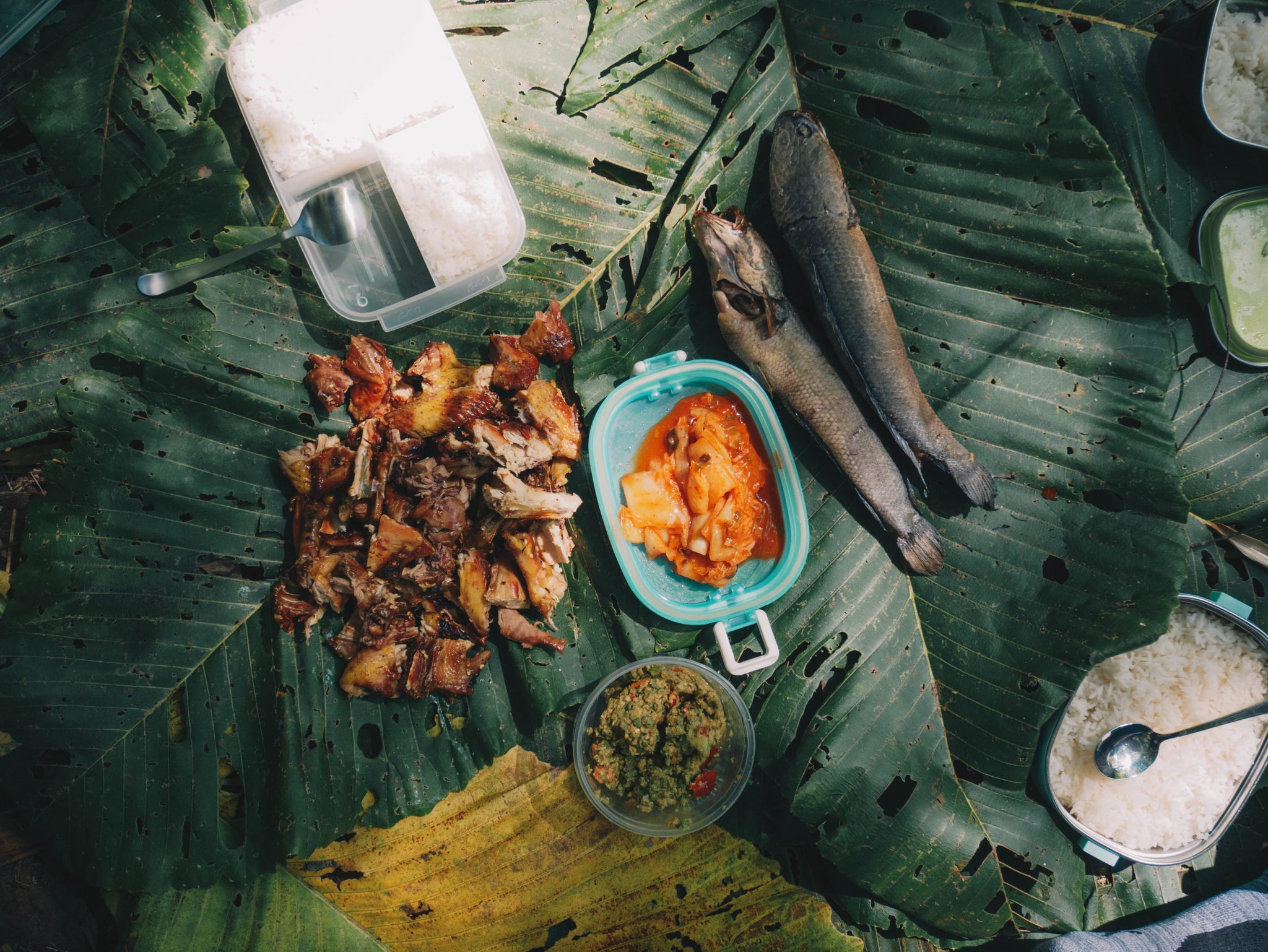 We left back to BeTreed after a 2h rest at the stream. Our organizers were afraid we'd be too tired so they asked Ben to pick us up from the middle of the trail.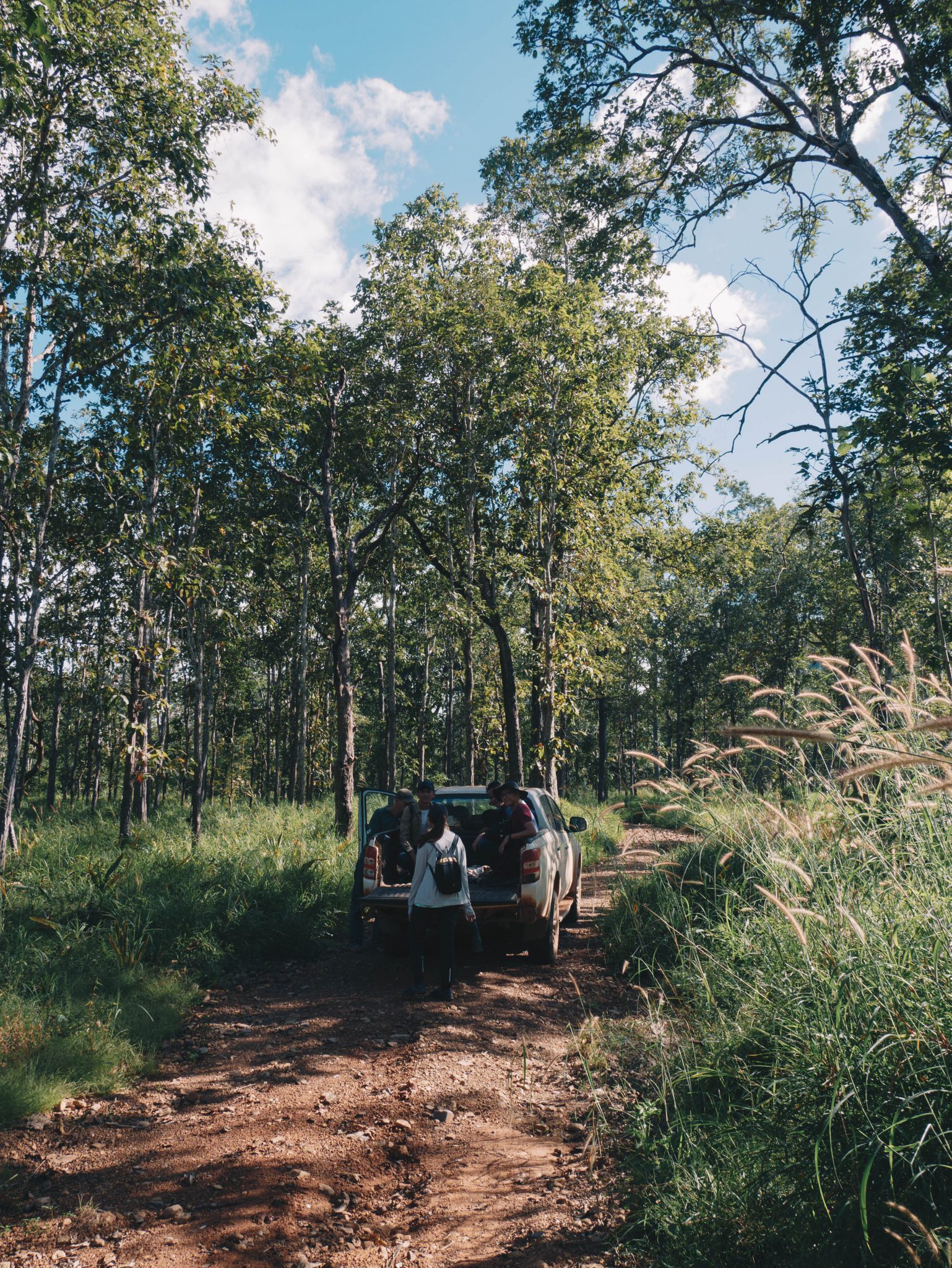 Here we are at the main house.
We were welcomed by the friendly wildlife when we got back. I still can't believe I got to see the healthy and lively version of them in real life in their natural habitat.
Let's get to know each one of them we met. Please note that this is not the complete list, there are actually more of them we didn't get to see during our visit.
Meet Molly
Molly is the pileated gibbon and the main actress of every photo we took at BeTreed.
She usually visits the main house or the dining area for some food once or twice a day. There is also period she only comes to the house once or twice a month, usually during wet season when she has a lot to eat in the forest.
It's very funny how she kept swinging from trees to trees and posed for me.
Molly is cute and all, but please beware of her as she can bite. If you don't want her close, you can also use a stick to keep her at bay.
Meet Peabrain, Solomon and Harem
I love how Ben and Sharyn are very good at naming their wildlife. Peabrain, Solomon and Harem are the curious green peafowls. They come visit very often and you'll find them around the main house or at the guest house.
I can't tell which is which, but there is one peafowl that was hand raised. Her real name is Little Pea and she likes chasing little kids and adults who are scared of her.
Meet Painted Stork
Sadly this painted stork doesn't have a name. I first saw him around the main house and thought he was a statue. I realized he wasn't when I saw him moved in the evening after we got back from the hike.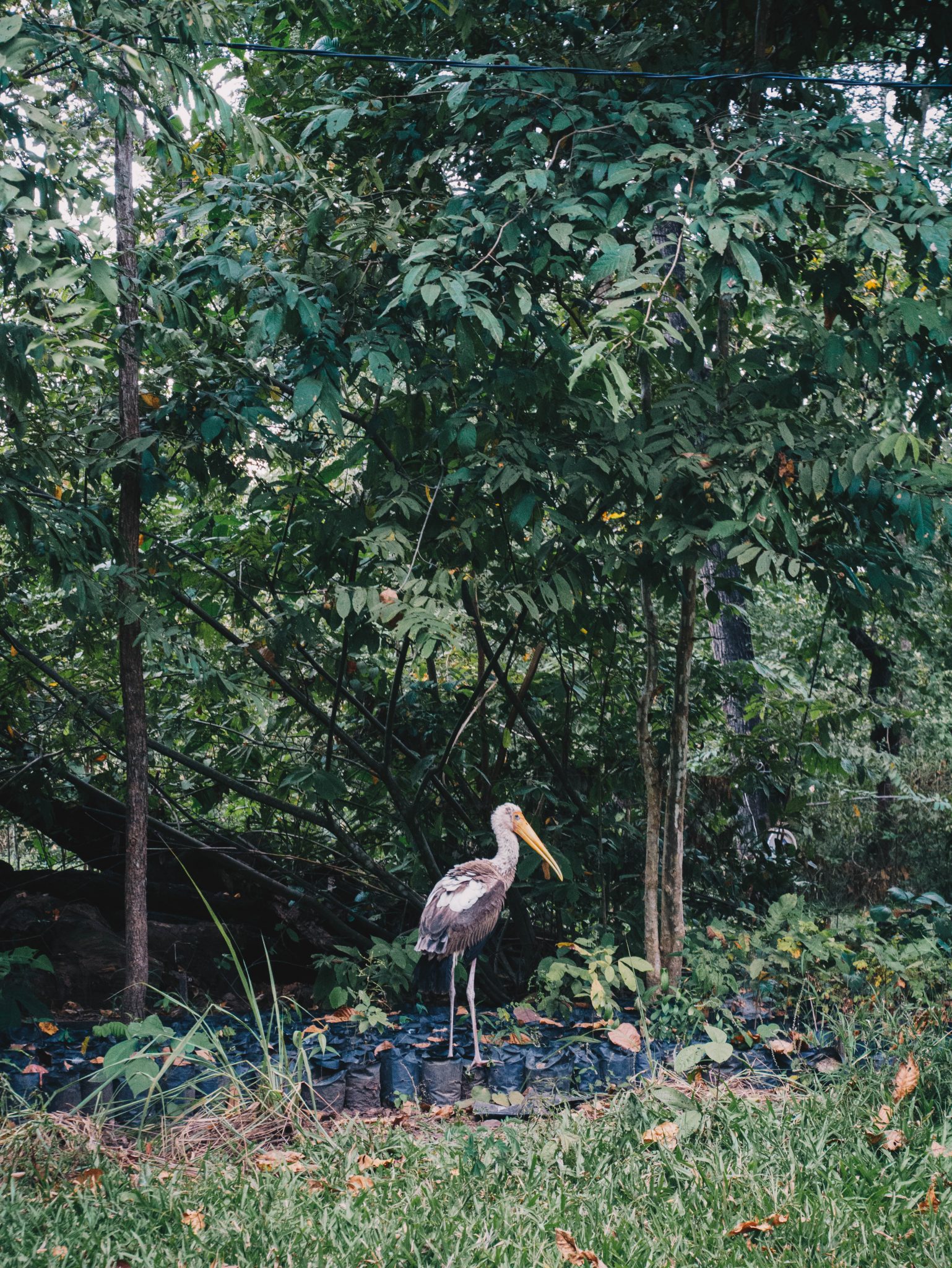 I didn't get to interact with him so I don't really know what he's like.
Meet Porkie
Porkie is the porcupine that usually comes visit in the early morning for food. He moved so fast and this is the only least blurry photo I have of him.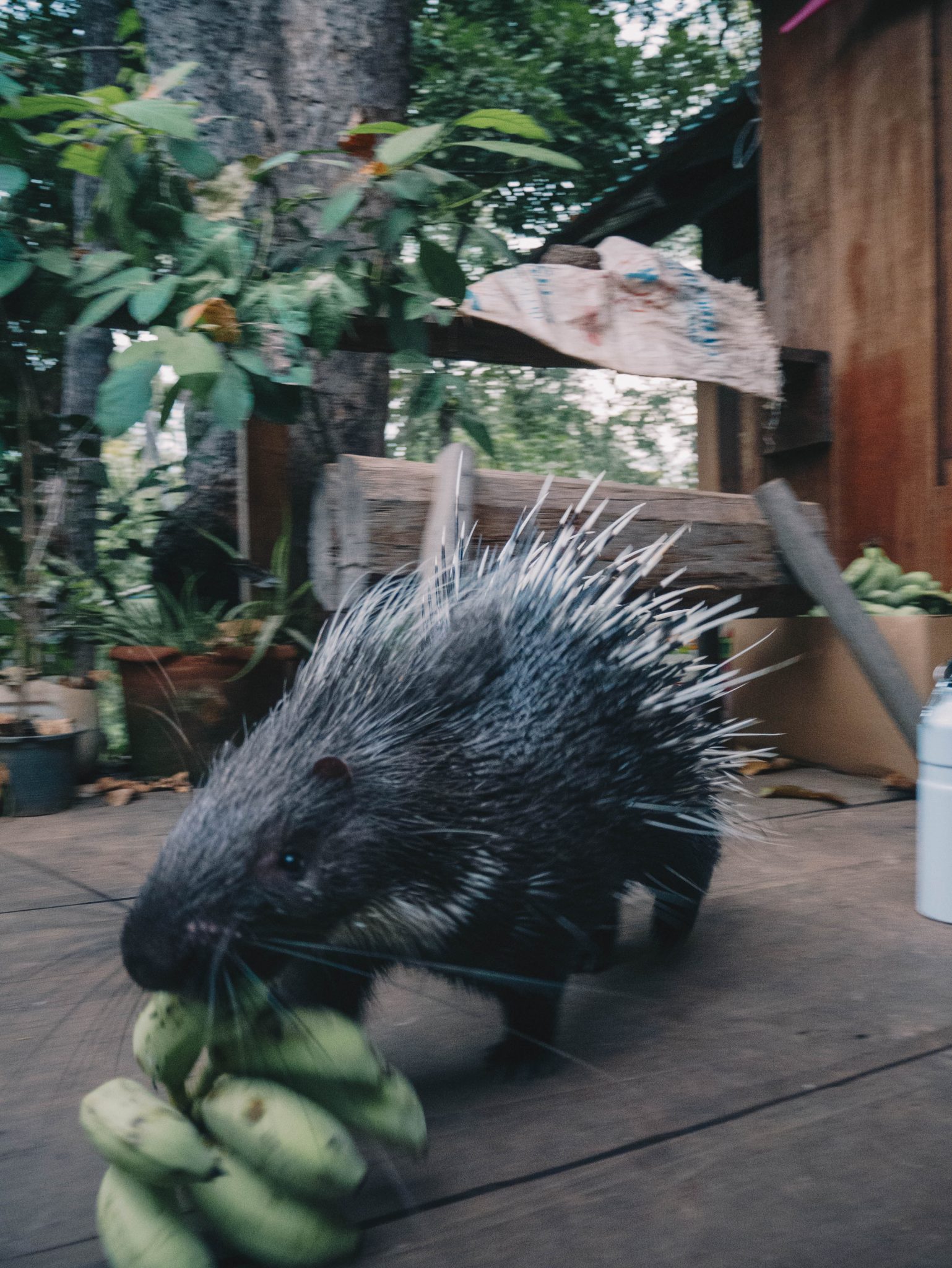 He likes you petting his neck gently, but please also be careful around him.
Meet Buggy and Flu-fy
There are a lot of squirrels at BeTreed. You'll find most of them on the trail, but they usually run away when they see you. If you want to get a closer look, go to the main house.
Buggy and Flu-fy are the two squirrels that usually hang around the main house. Ben and Sharyn always leave food for those adorable little ones every day.
Meet Whitey
Whitey is the attention-seeking fluffy white chicken.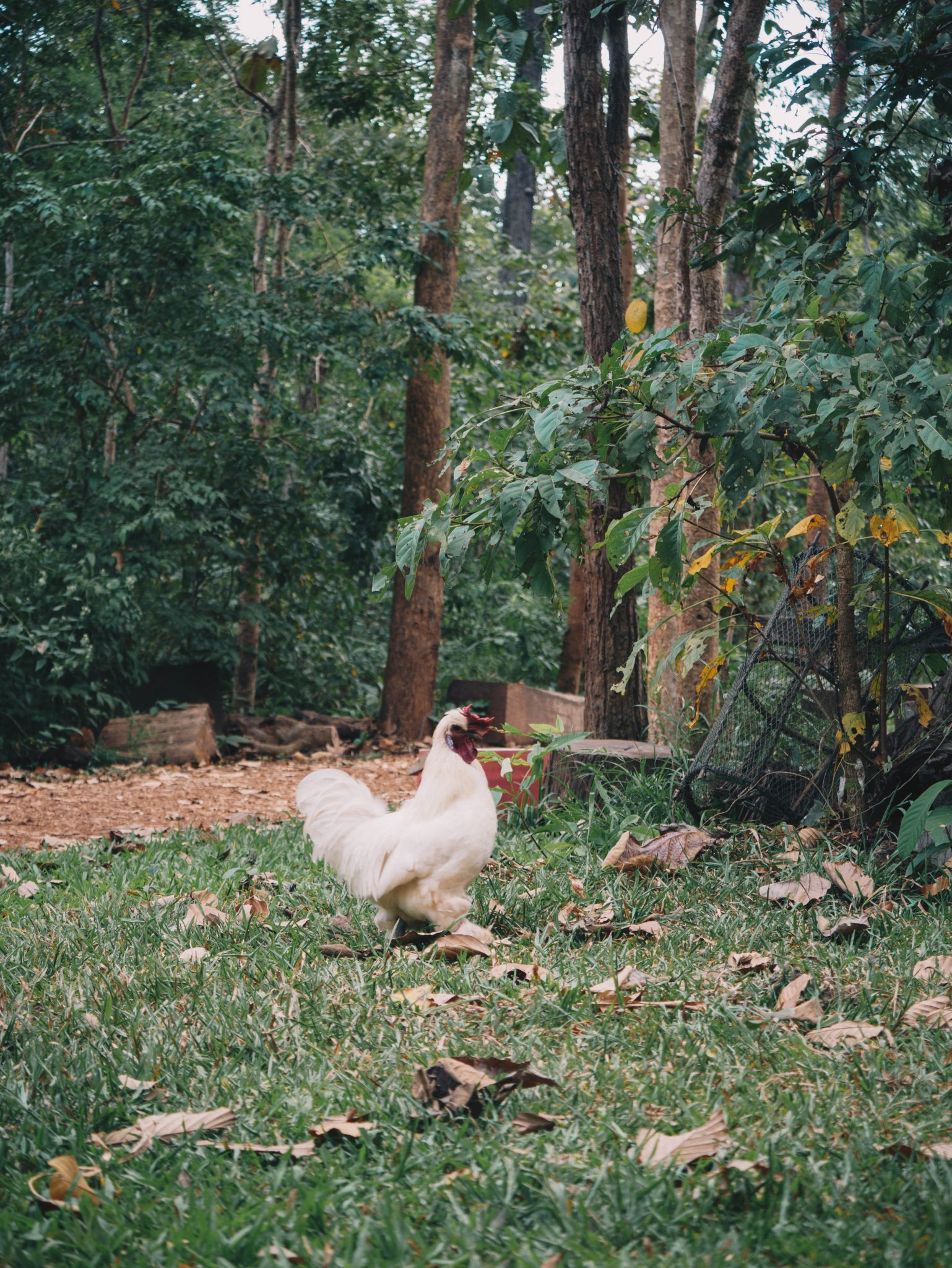 Wherever you are, he's always there. We were told he likes to be around pretty girls.
Meet Mikey
Mikey is the 3-legged-dog at BeTreed. He only comes to you and acts cute when you have something to eat. You're basically a no one to him when you don't.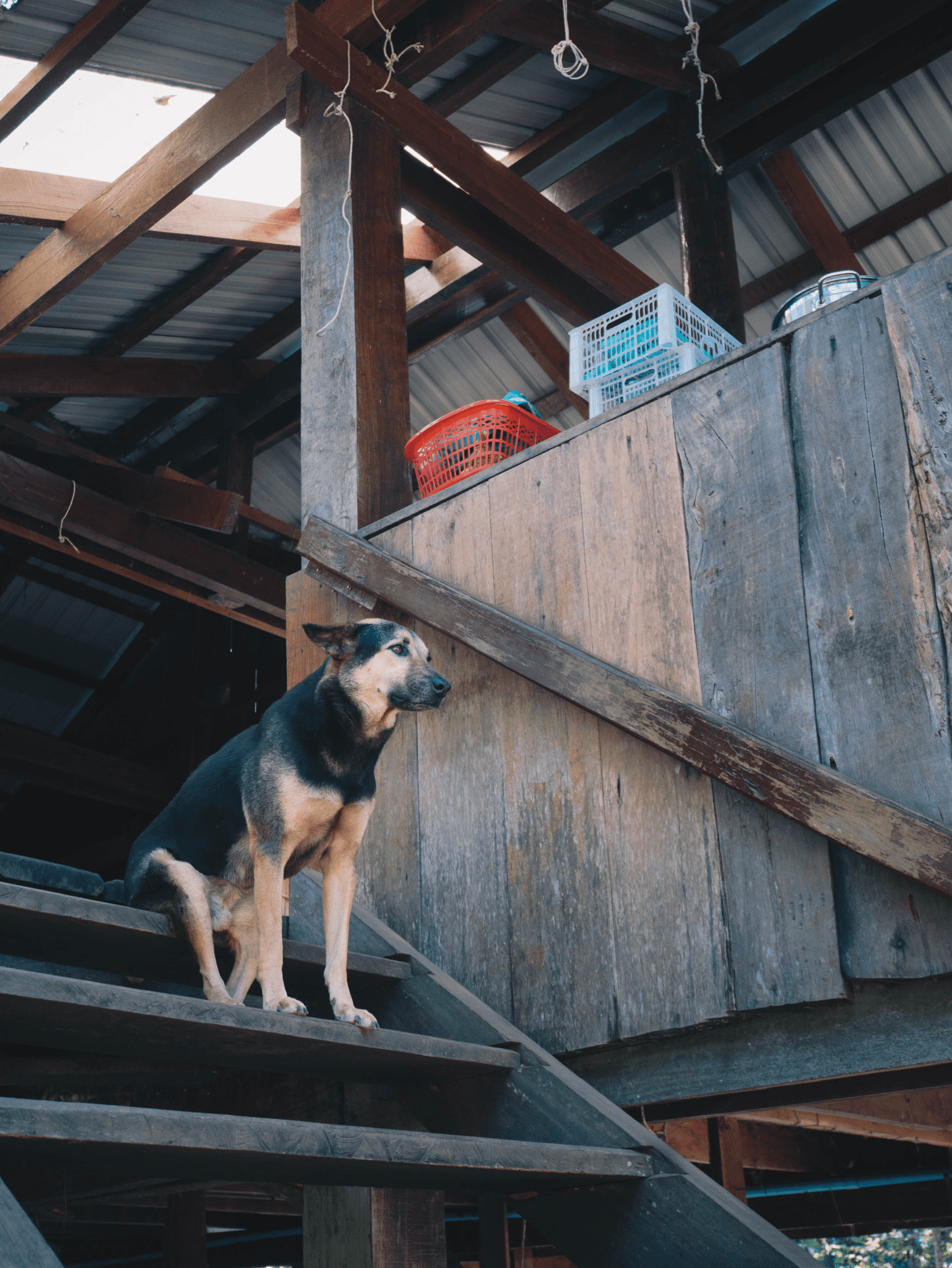 Dinner Time
It was time for dinner after the bonding game Ben prepared for us. We helped Sharyn make pizza, spaghetti and salad for dinner.
They're trying to promote a healthy and sustainable lifestyle here at BeTreed; therefore, they only provide you healthy and vegetarian meals. Beverage selection is also limited. Herbal tea, black tea, coffee and fruit juice are all they have. They don't provide bottled water, make sure to bring a reusable water bottle with you to refill.
The night didn't end after dinner. Ben and Sharyn showed us camera trapping footages and we stayed a little while longer to talk, discuss and ask them questions.
Day 2: Zip Lining & Temple Hopping
Our second day started very early. We were supposed to go on a zip line at 6:00AM, but all of us weren't ready until 6:40AM.
You don't have to shower before the zip line because you'll end up all sweaty after the 2 kilometers hike to the platform.
Zip line at BeTreed is over 300 meters long. The ride is $10/Person, but it was already included in the package we bought.
You'll see an amazing panoramic view of the surrounding forest during your ride. Unfortunately, I wasn't able to capture it as I'm not a pro at holding camera during the ride.
Here's the real footage of me getting stuck on the zip line and struggling to get to the platform.
We came back to our house for a quick shower, packed everything and had breakfast at BeTreed one last time before heading for temple hopping.
Chaktomuk Temple
Chaktomuk Temple was our first stop.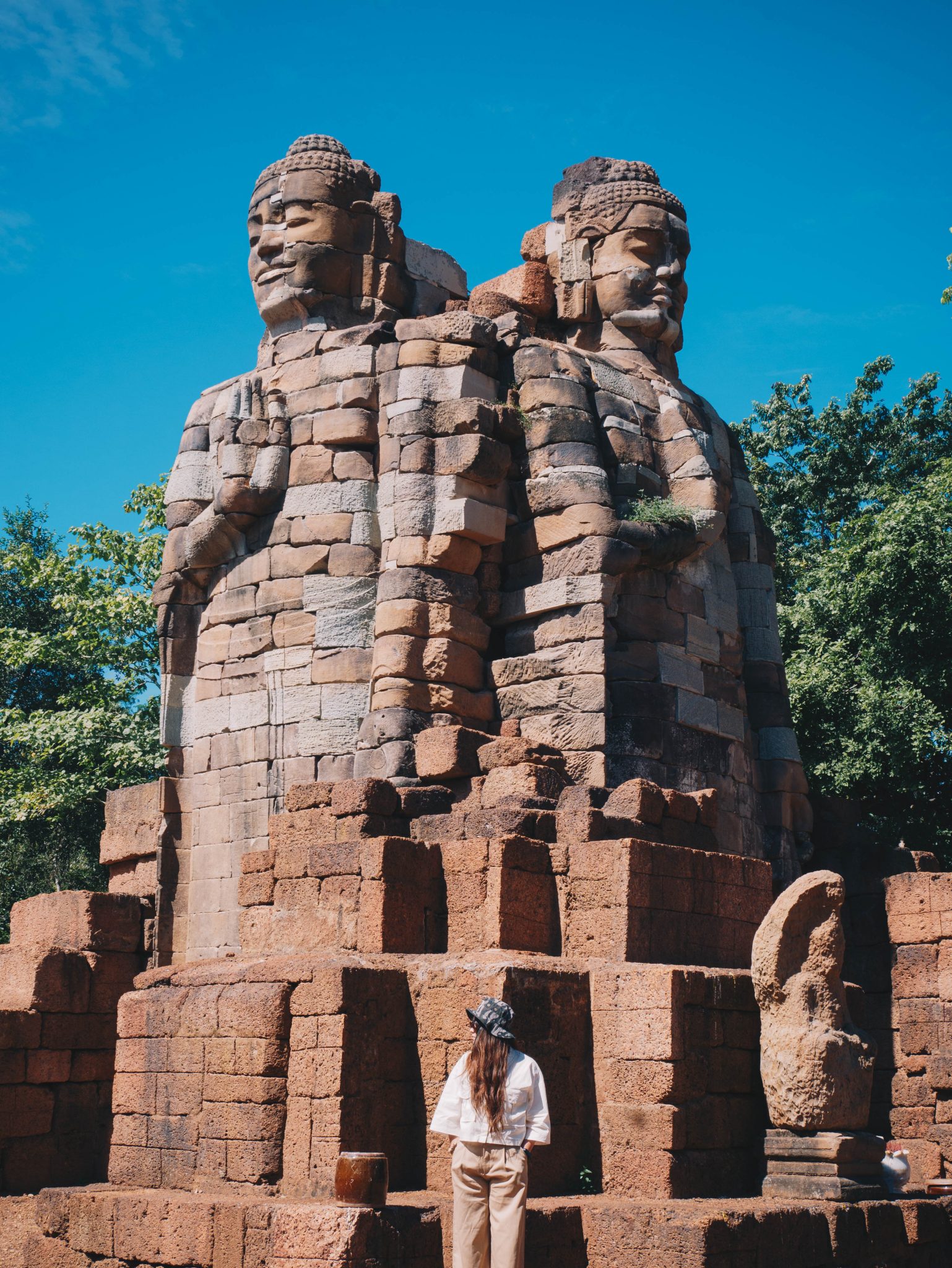 Chaktomuk Temple is one of the temples in Bakan, aka Preah Khan Kompong Svay Archaeological Complex.
According to the information board, the upper half of the temple had collapsed many years ago and covered by overgrown plants before restoration. The temple has now regained its popularity after the restoration in 2018.
Preah Steung Temple
Preah Steung Temple is only a few minutes away from our first stop.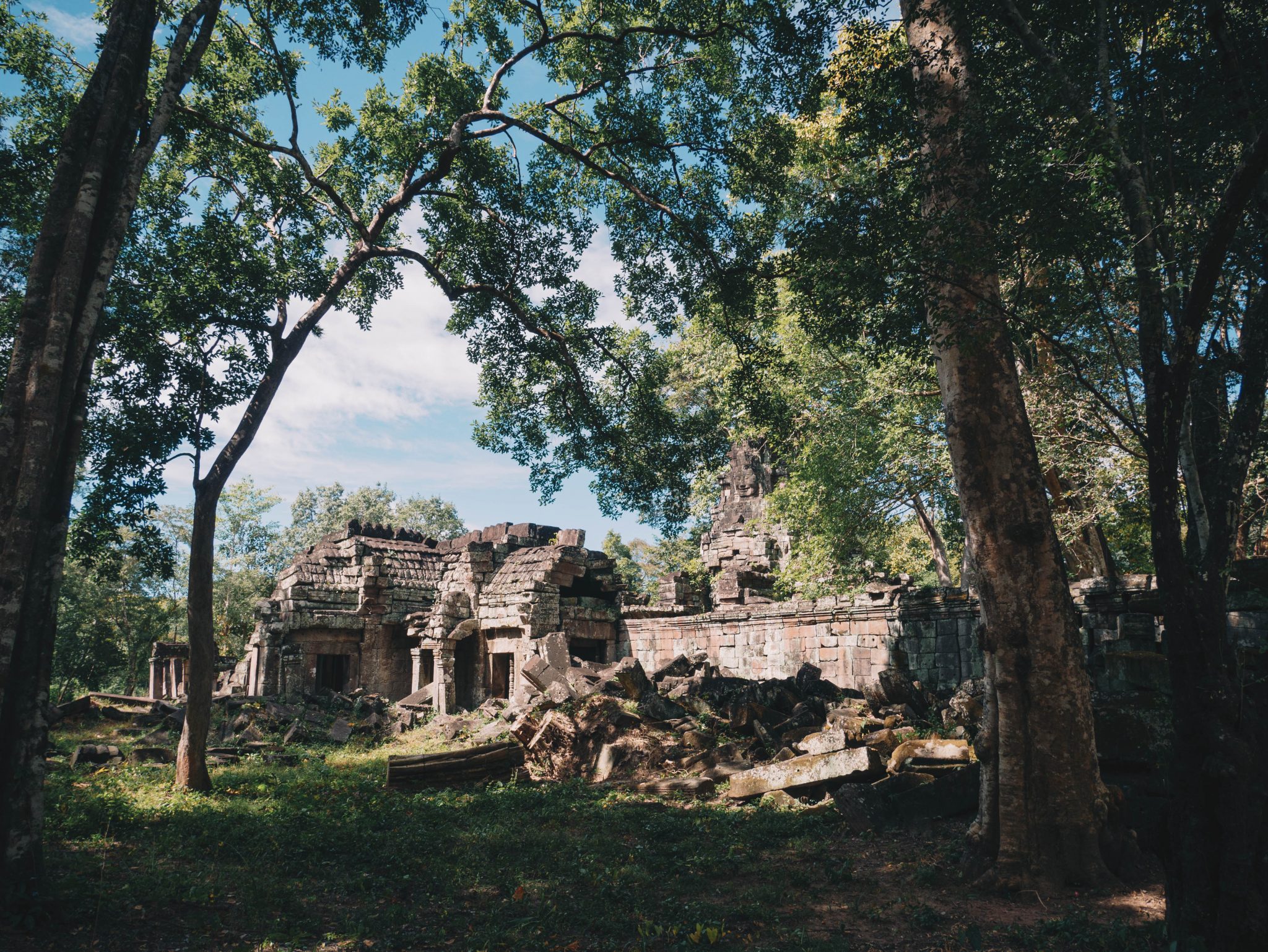 The main highlight of this temple is the four-faced Bayon.
The temple isn't so big and some parts already came crumbling down. You can spend less than 30 minutes here.
Bakan, aka Preah Khan Kompong Svay Temple
Bakan Temple, also known as Preah Khan Kompong Svay, is one of the least visited and also one of the best ruins in Cambodia.
Due to its remote location, they don't really get a lot of visitors. We got all the temple to ourselves during our visit.
The layout of the temple is very unique. I felt like I was in a park rather than a temple complex after the first gate.
I love how it's surrounded by big trees. The atmosphere here is incredibly peaceful.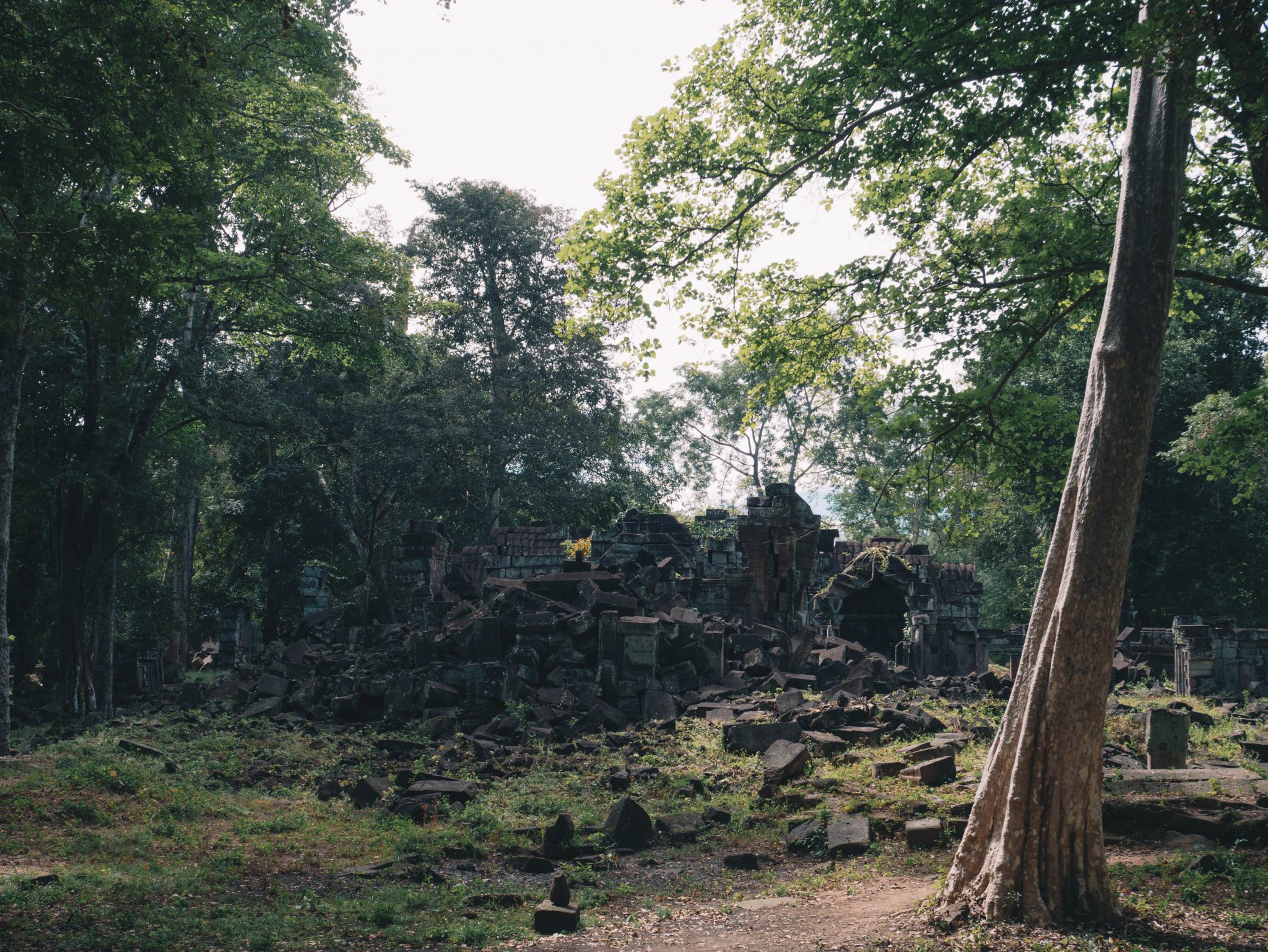 There used to be a moat around the temple, but it's all dry now.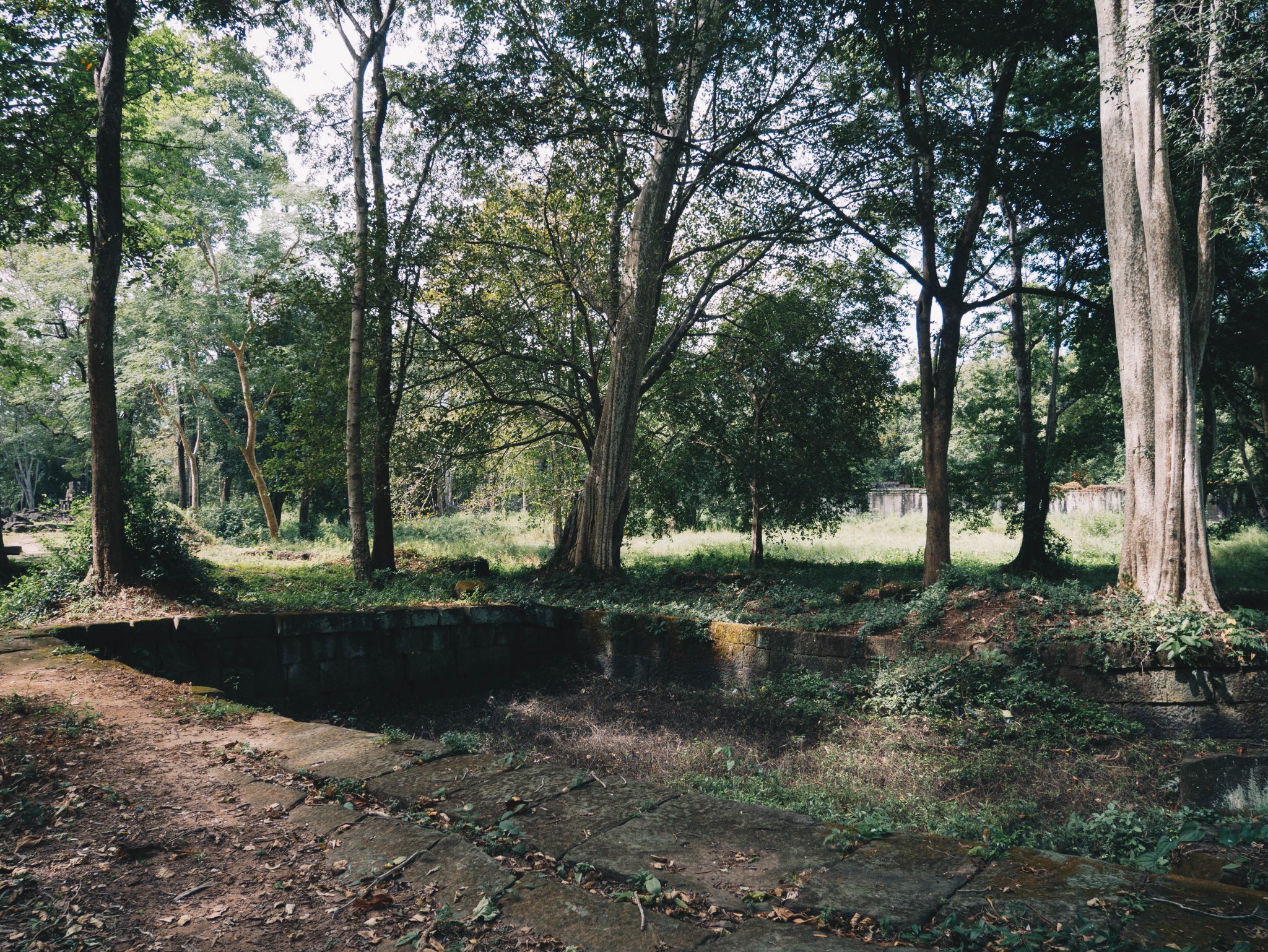 There's nothing more upsetting than seeing such enormous temple complex almost completely collapsed.
Though you won't see much of Preah Khan Kompong Svay nowadays, it's still worth a visit.
Things to Know
Reconsider your visit if you're looking for something luxurious. BeTreed Adventures isn't made for everyone. It isn't a 5-star resort but a homestay. Don't expect anyone to serve you here. You have to wash your own dishes and sometimes cook your own food.
You'll find all sorts of bugs here. Please expect bug bites, bee stings and chigger bites.
BeTreed runs on solar system and power generator. Do not bring high wattage devices like hair dryer, hair straightening or curling iron with you. Please also remember to turn off the light when not needed or before leaving the house.
We went to BeTreed Adventures with Solo Landscape for 2 Nights and 2 Days. The whole trip costs us $85/Person and it includes a round way van from Phnom Penh, accommodation, 5 meals, refill water, guided hike, zip line and conservation fee.
You're helping Ben and Sharyn conserving Phnom Tnout Phnom Pok Wildlife Sanctuary immensely through your visit at BeTreed. However, if you're looking for other ways to help them, you can do as below.
Buy a Resin Tree
Resin tree is becoming more and more scarce nowadays. Villagers often sell these trees to loggers for a small amount of money. An average of $15 purchase will stop the villagers from tapping and selling to loggers.
Buy a Camera Trap
Camera trapping is important to help monitor wildlife activities. $180 will buy a camera trap, batteries and an SD Card.
Sponsor a Ranger or Community Patrol Team Member
$225 will support one ranger/patroller a full month of patrolling.
If you're still looking for more ways to help them, you can talk to Ben and Sharyn directly.