Nha Trang: Where to Go and What to Do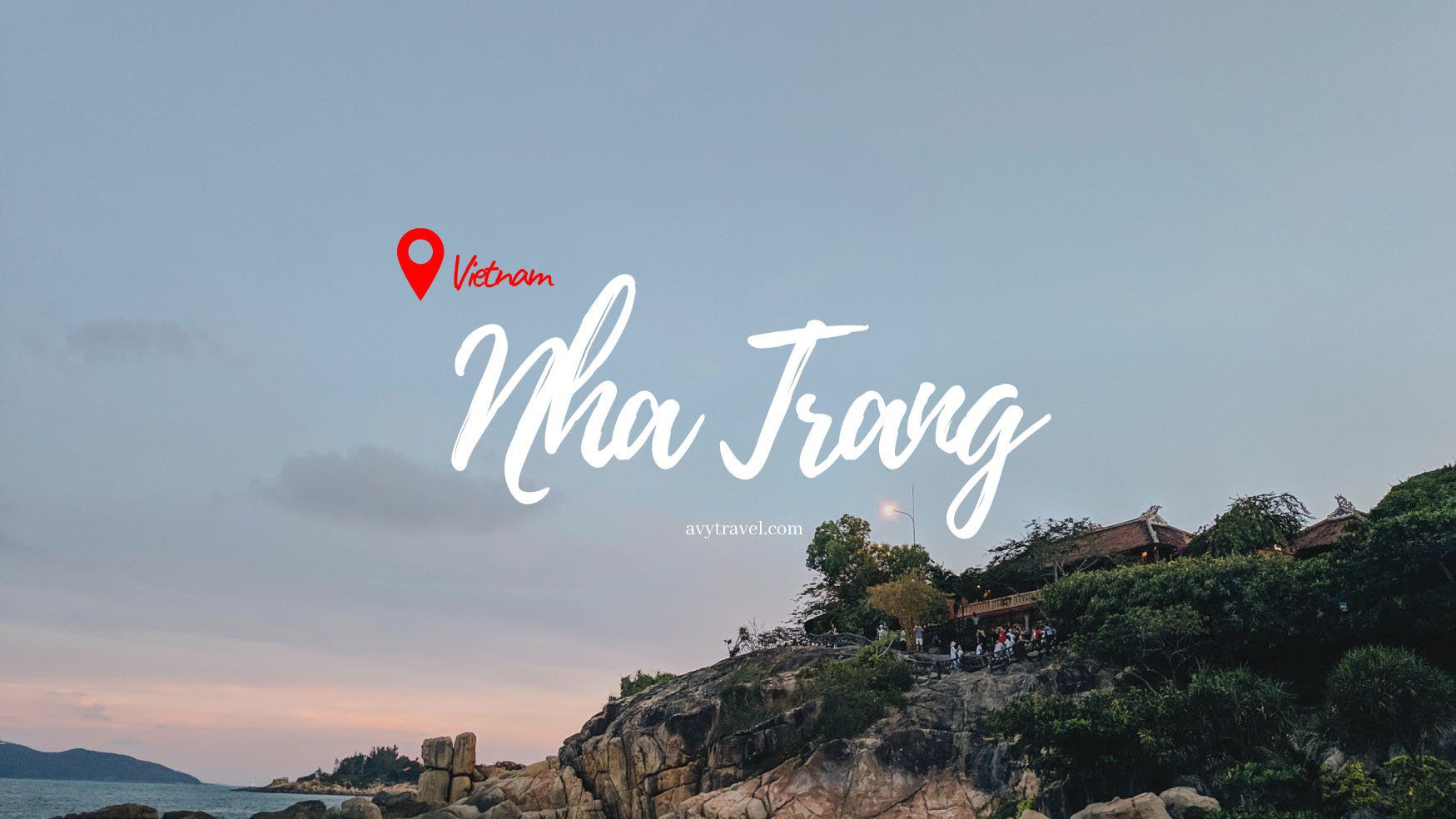 "Avy, it's Khmer New Year! Where are you going for this long ass holiday?"
"Huh, Nha Trang? Where's that?"
"Oh come on! For god's sake, why not Da Nang? Ba Na Hills, that golden bridge supported by the ginormous hands over a mind-blowing mountain view you know?"
THAT'S WHY. That's why I'm going to Nha Trang instead.
My boyfriend and I spent 3 days and a half in Nha Trang- in case you're planning for your trip to Nha Trang, I'm just going to share our itinerary here.
ARRIVAL:
We took a bus from Phnom Penh to Ho Chi Minh then continued with an evening flight from Ho Chi Minh to Nha Trang. We were supposed to get to Nha Trang at around 5:25PM, but this damn Vietjet delayed our flight to 40mn later at the last minute, took extra 1 hour just to take off and finally landed at Nha Trang Airport at 7:10PM.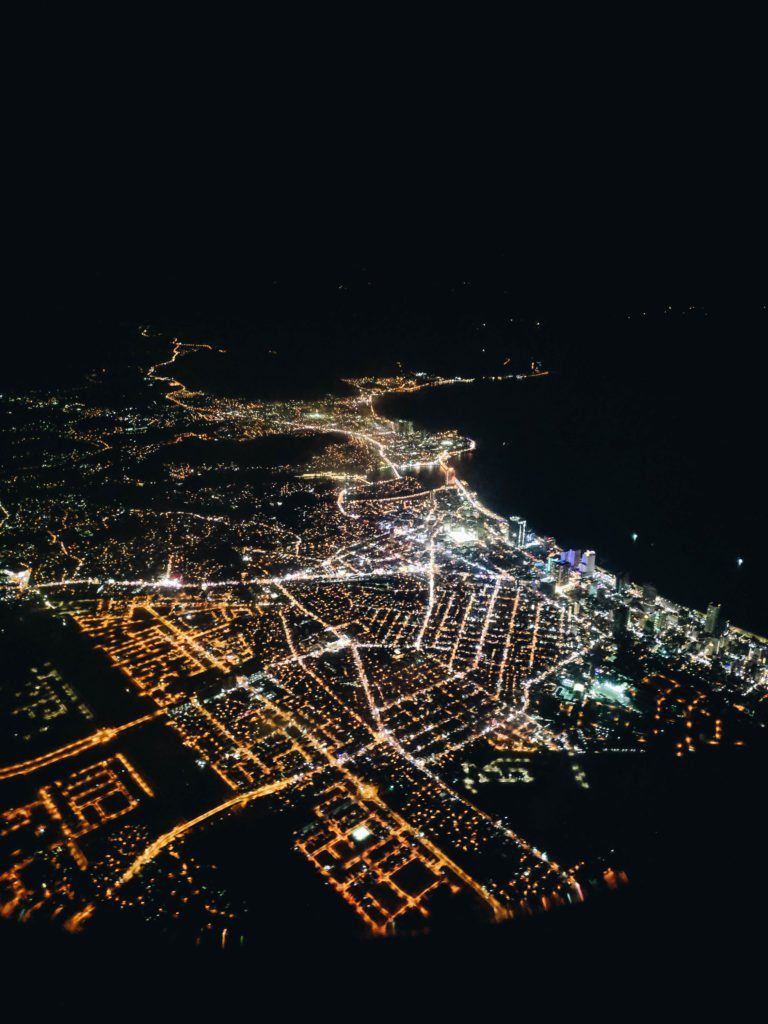 I mean what the actual eff!? Flight never gets so boring but with Vietjet, anything is possible- expect the unexpected horrible things.
We were so fed up with the delayed flight and long wait and rushed to go to our hotel immediately after we landed.
Our hotel is an hour drive from the airport; most of the hotels in Nha Trang are, keep this in mind while planning your traveling schedule.
We stayed at Rex Hotel and Apartment. We got a very good deal of 87USD for 4 nights.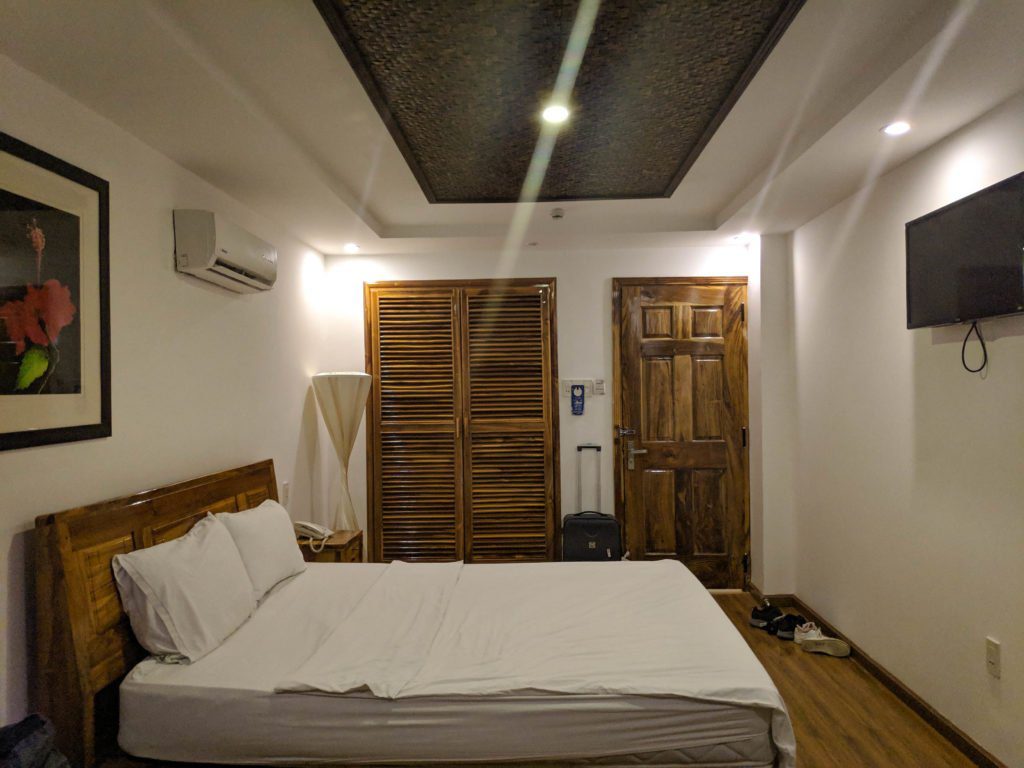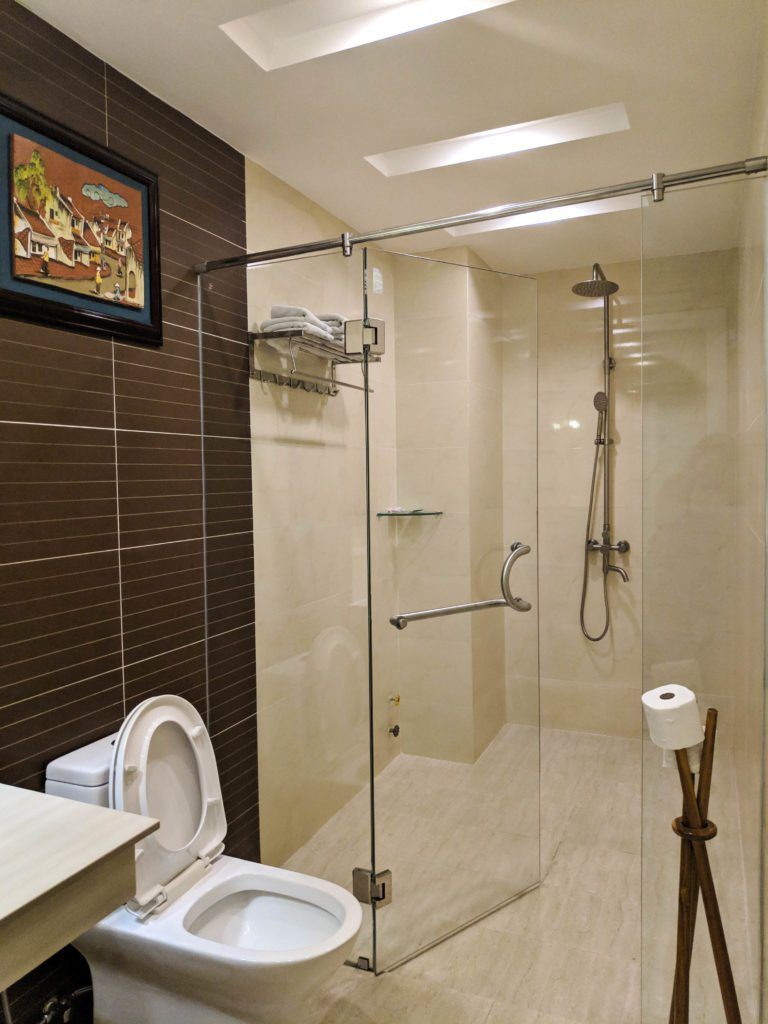 After we unpacked our stuff, we walked around our hotel area to find something to eat. It surprised me how I found cafes in every block of the street and all of them are still full of people at 10PM!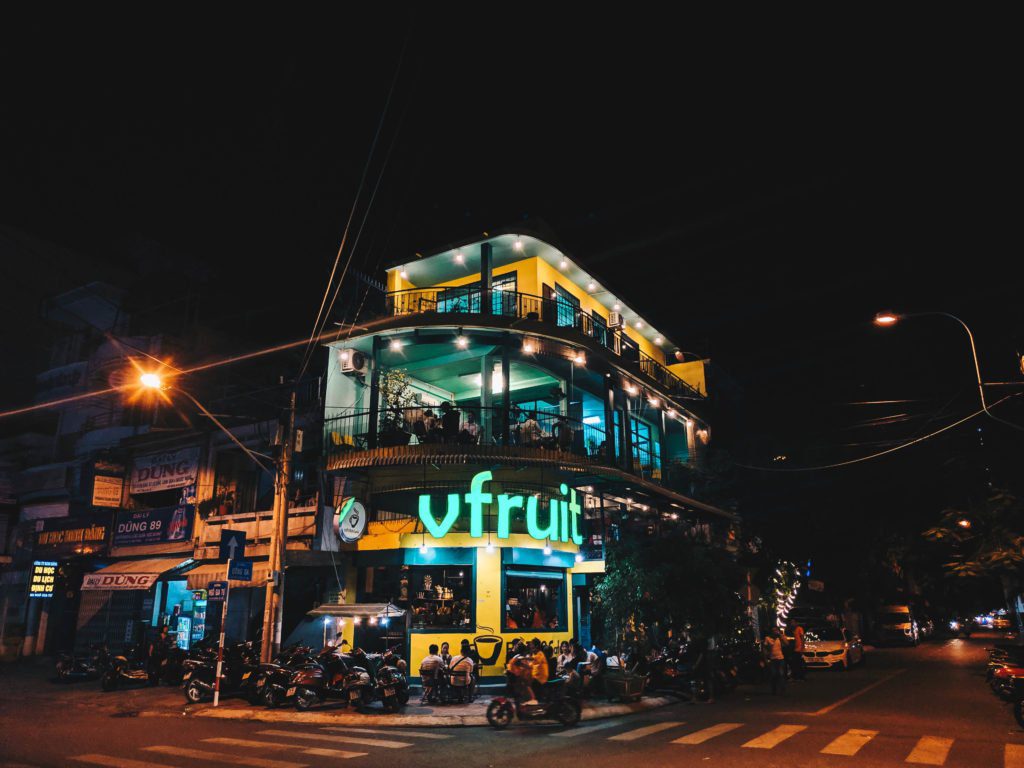 I doubt if they really are cafes or something else. You know what I mean? Hahah
DAY 1:
We were super exhausted from a long drive (Phnom Penh-Ho Chi Minh-Nha Trang) and it was already 9:30am by the time we got up.
We started off with Ba Ho Waterfall.
#1. Ba Ho Waterfall
Ba Ho Waterfall is 25km away from the city center which normally takes approximately 45mn on motorbike.
It took us more than an hour to get to Ba Ho because we couldn't help but stopped to admire the astounding view along the way.
We went past this aesthetic place and weren't sure what it was until our last day in Nha Trang. It is actually a port to other islands owned by Long Phu.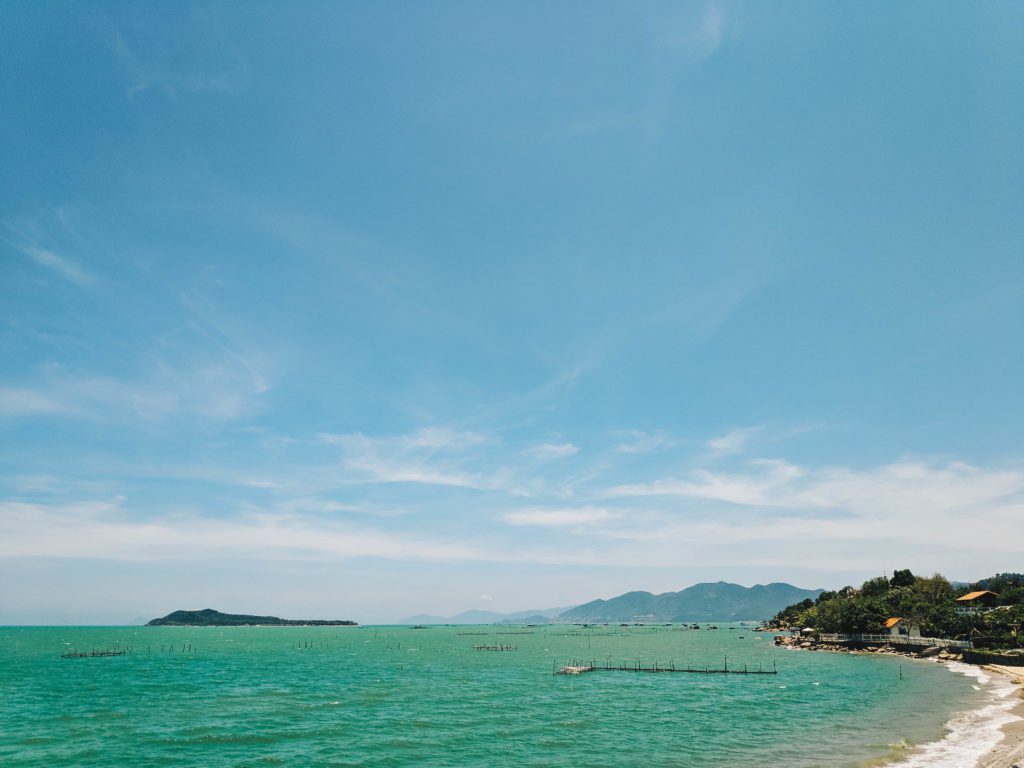 We rested for a short while and captured some photos before we were back on track.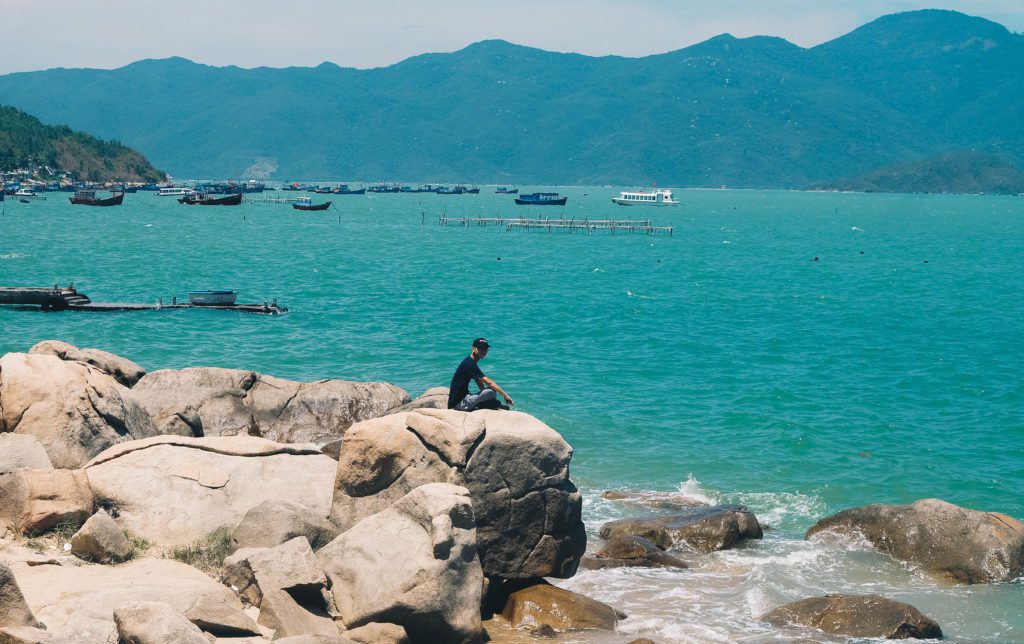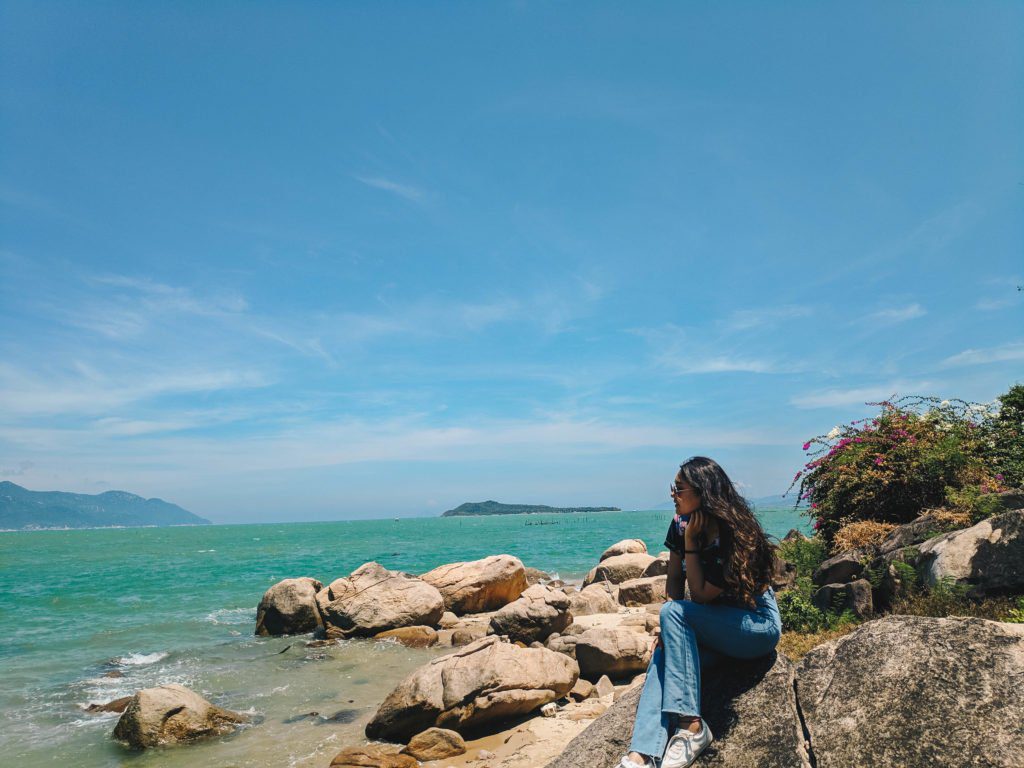 We almost got there.
Find this railway and you'll know you're on the right way.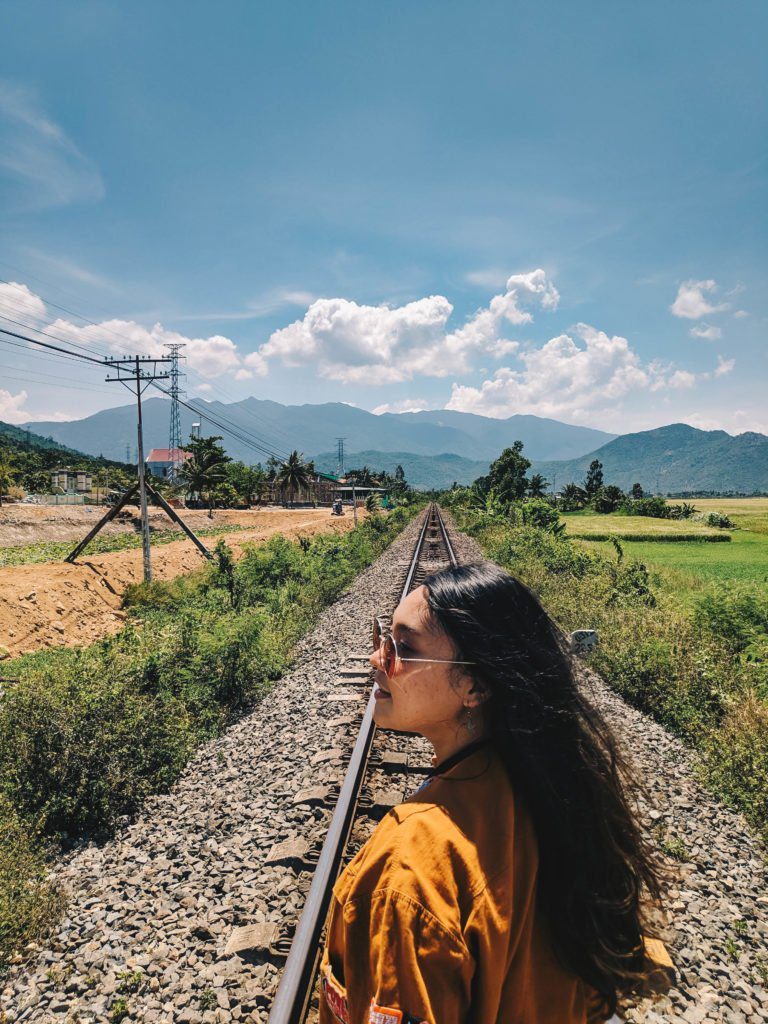 We finally got to Ba Ho at 11:30AM.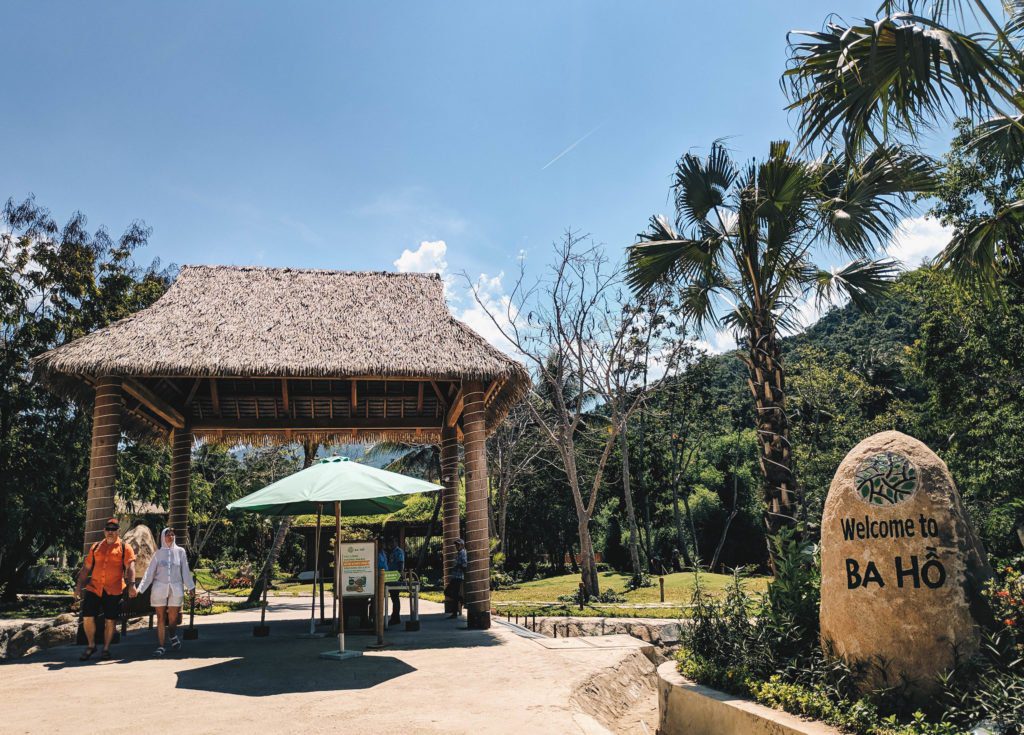 I didn't expect Ba Ho to be this big to be honest. I thought it's basically just waterfall and nothing else here. But look- there are bungalow, swimming pool, restaurant and also other activities you can do.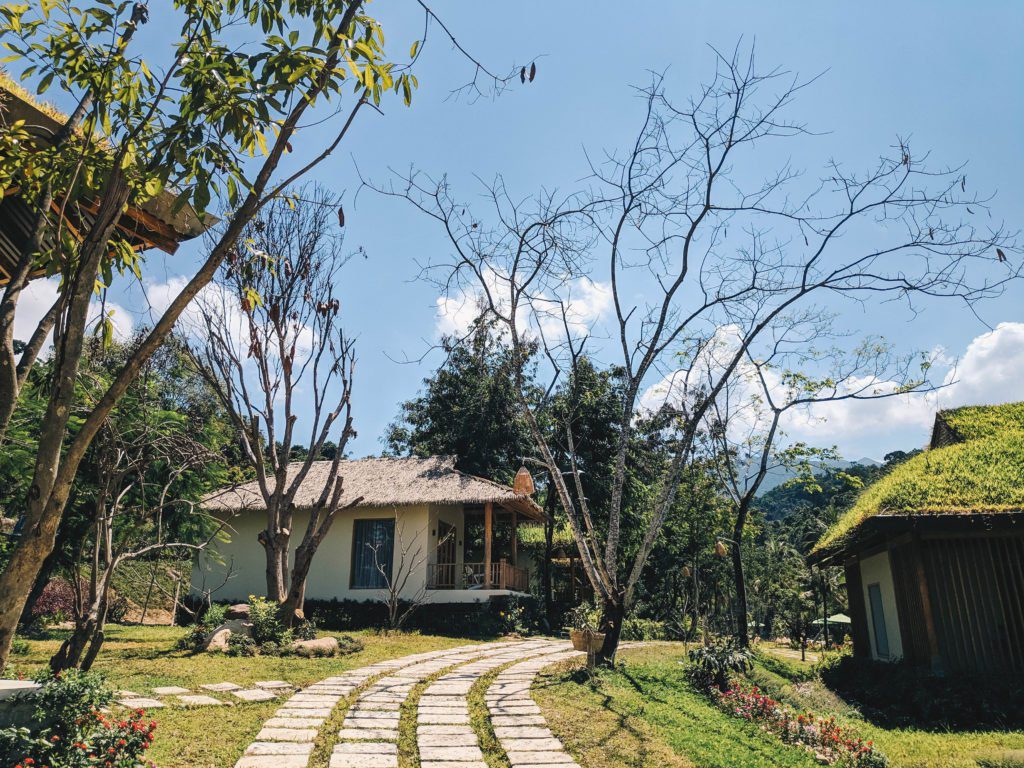 To get to the waterfall, you'll have to walk a few extra kilometers.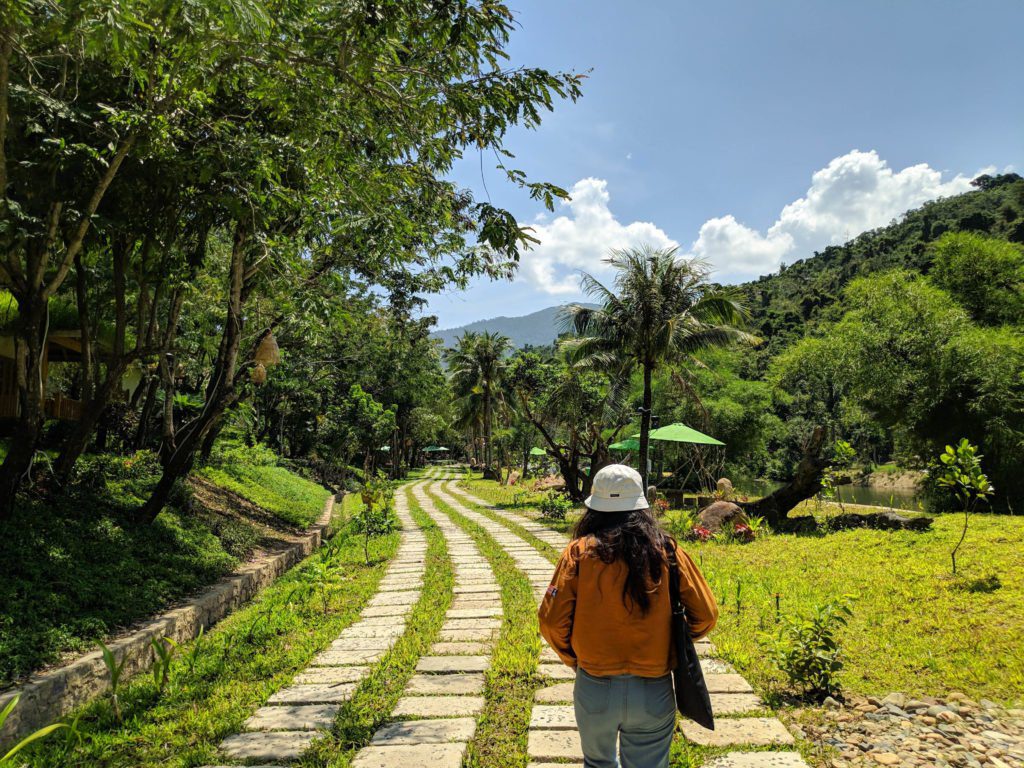 There are 3 waterfall tiers and it isn't easy to get there.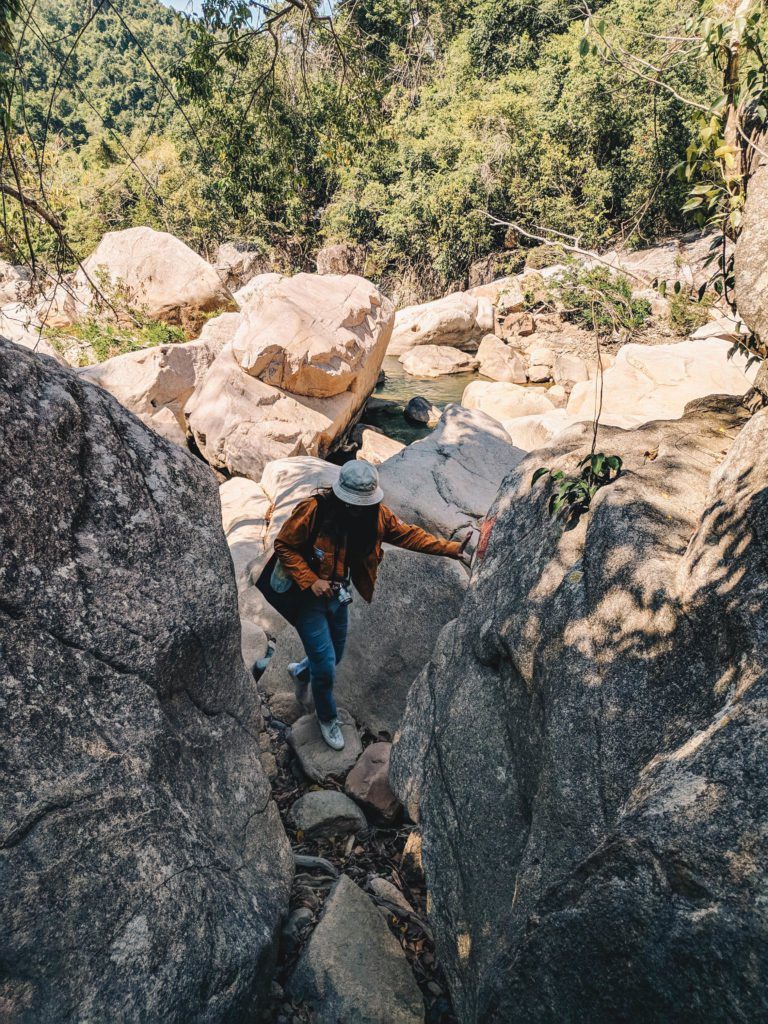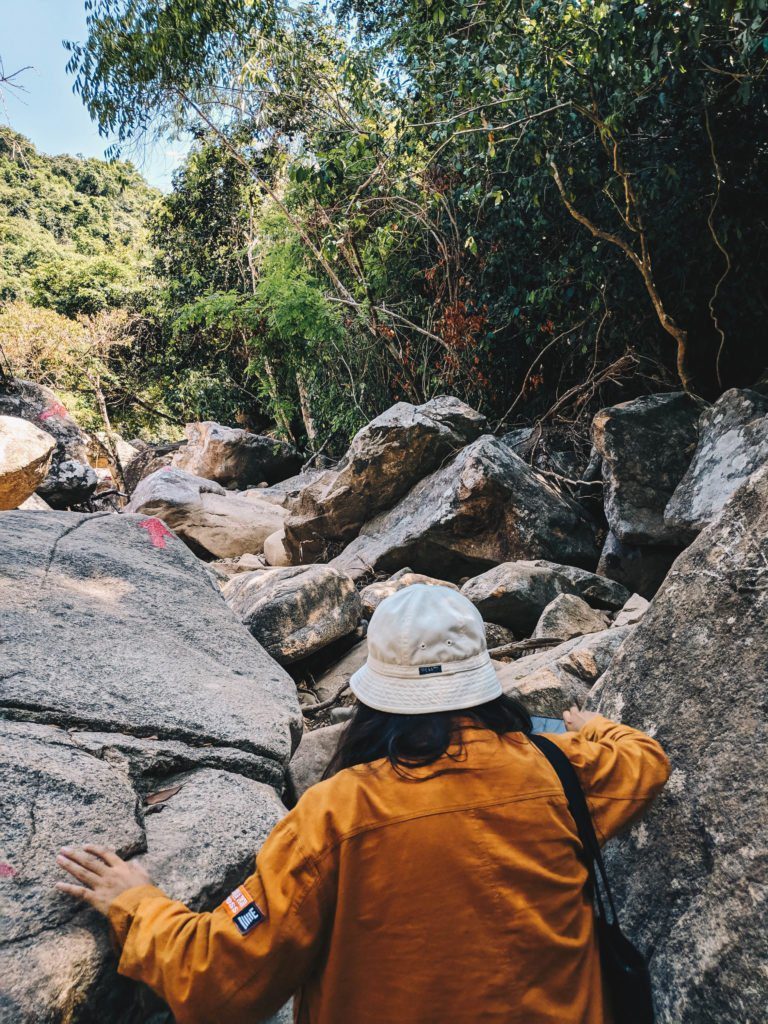 I chose the wrong outfit and shoes and couldn't even get to the first one. *silentlycrying*
But I was glad to have found this rocking rock sofa to rest.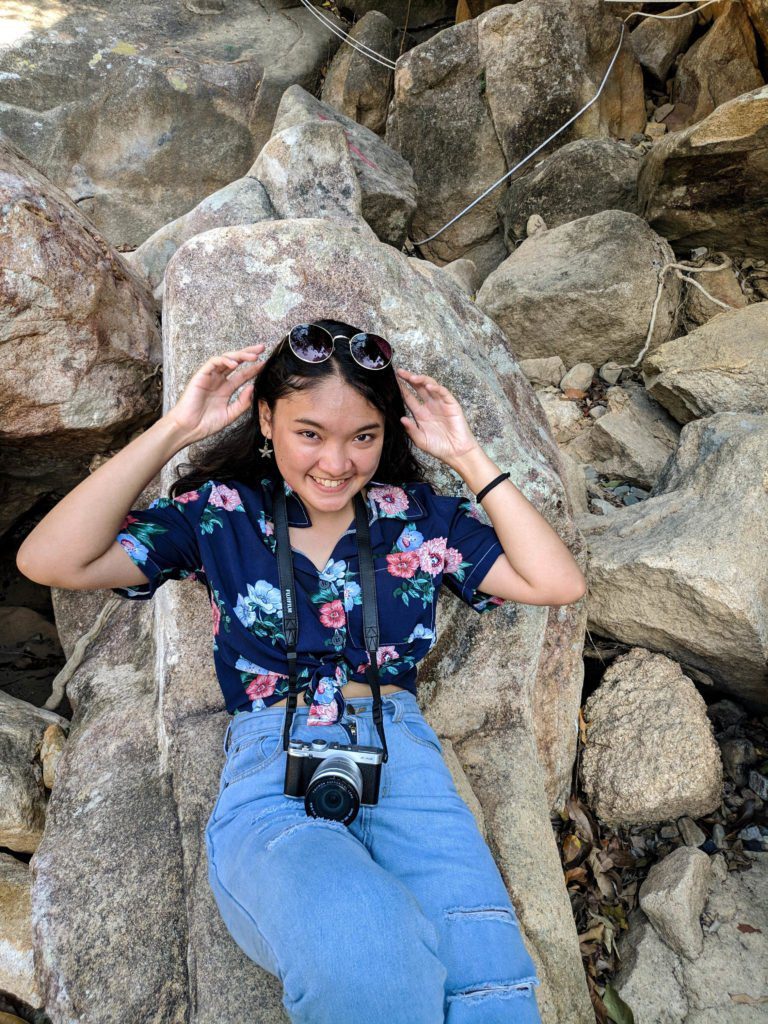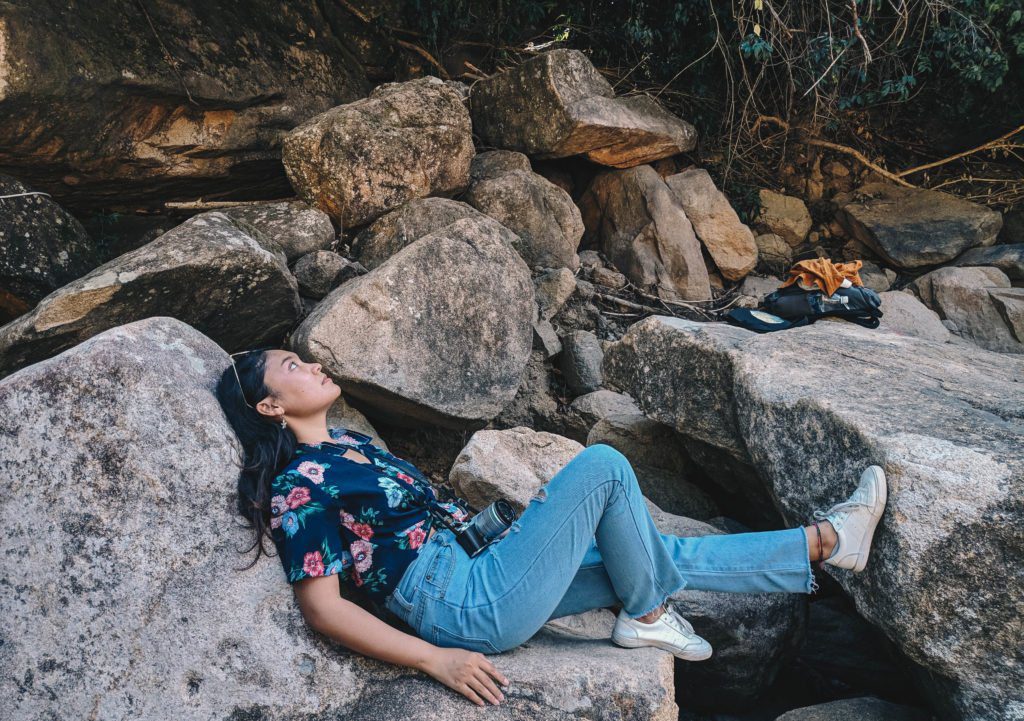 This was taken at the-almost-first tier.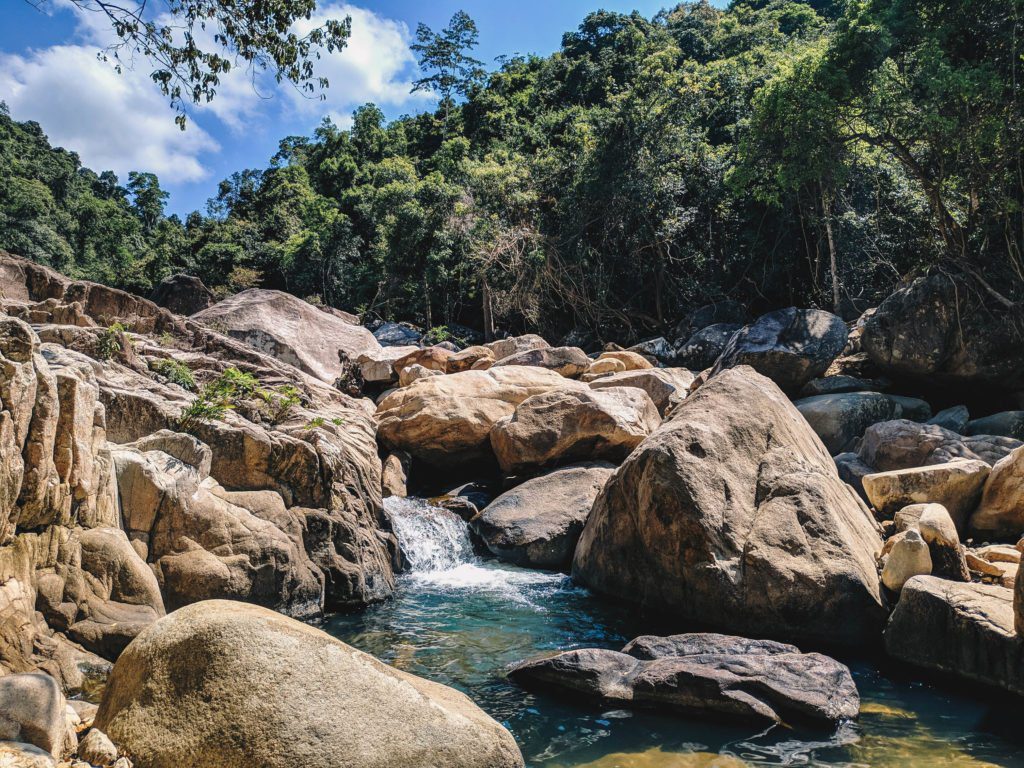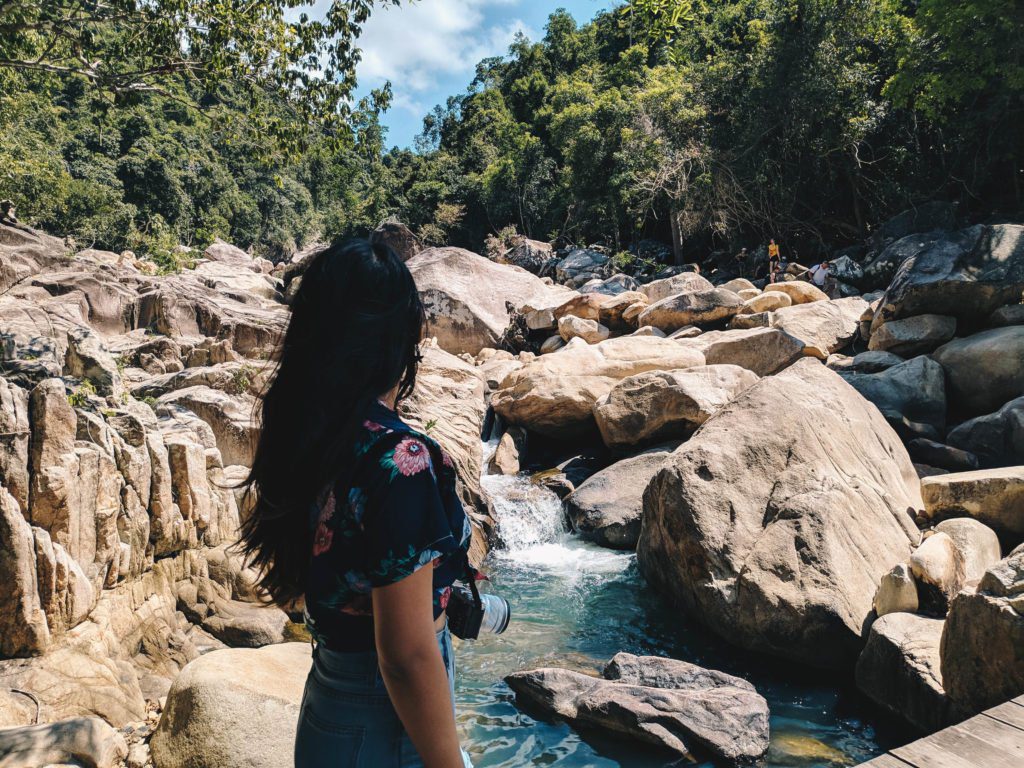 The rock formation is out of this world.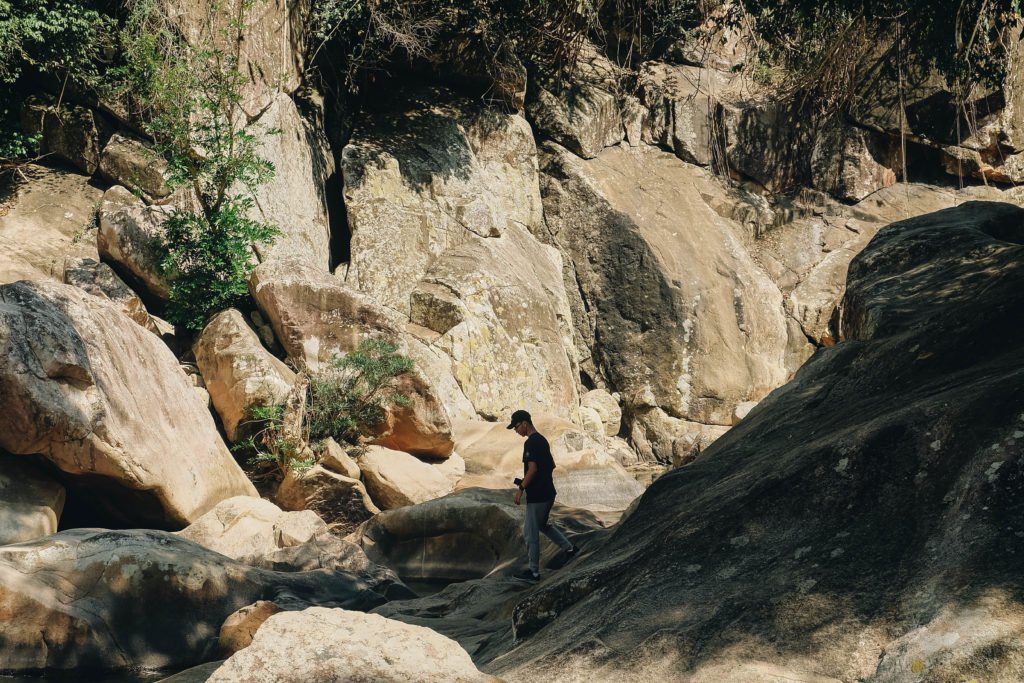 We were super hydrated and stopped for lunch and some drinks at Ba Ho Restaurant after we were back from the waterfall.
Watermelon juice is recommended. It really is something in a boiling hot day.
The food is good and really affordable. All these are for 220.000VND (9.5USD).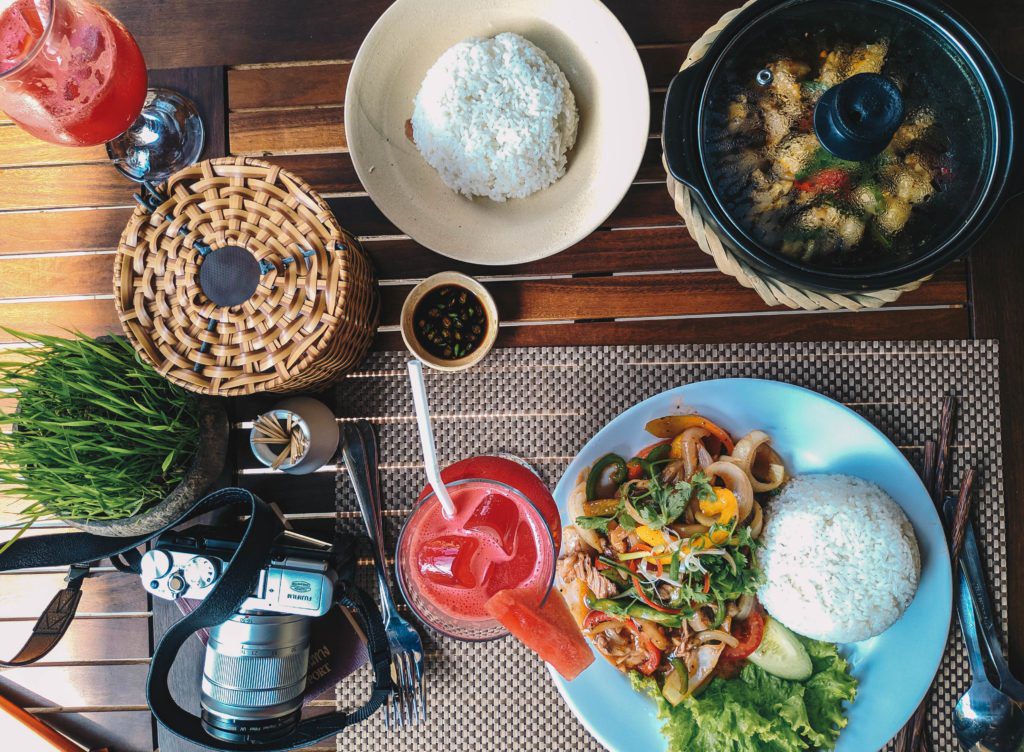 Entrance Ticket: 100.000VND (4.31USD) a person. The price includes waterfall visit, pool swimming and other activities.
Tips:
Wear comfy clothes/sportswear since you have to do a little rock climbing.
Have your hiking shoes ready.
Also bring your swimsuits/bikini for cliff jumping.
Spend half day to one day here.
#2. Hon Chong Promontory
I've found Hon Chong Promontory online while planning my trip to Nha Trang. Having seen all the photos, this place didn't really catch my attention. On second thought, I thought it wouldn't waste my time just to check it out.
We left Ba Ho at around 4PM and got to Hon Chong a bit before sunset.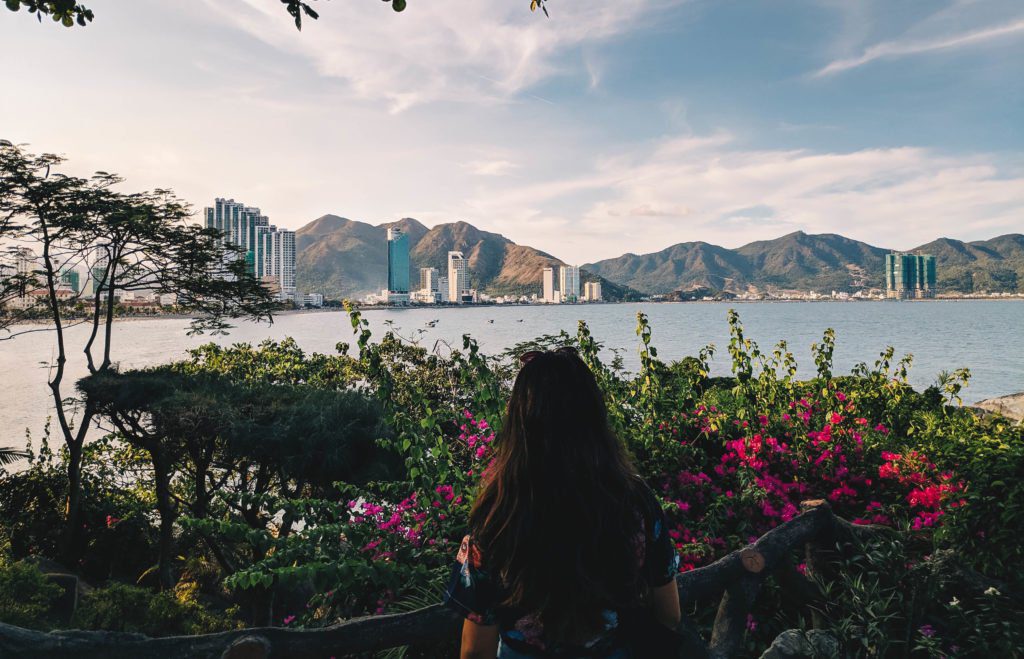 It would have been the biggest mistake hadn't I been there. My boyfriend and I spent hours here and couldn't stop ourselves from capturing photos from different angles.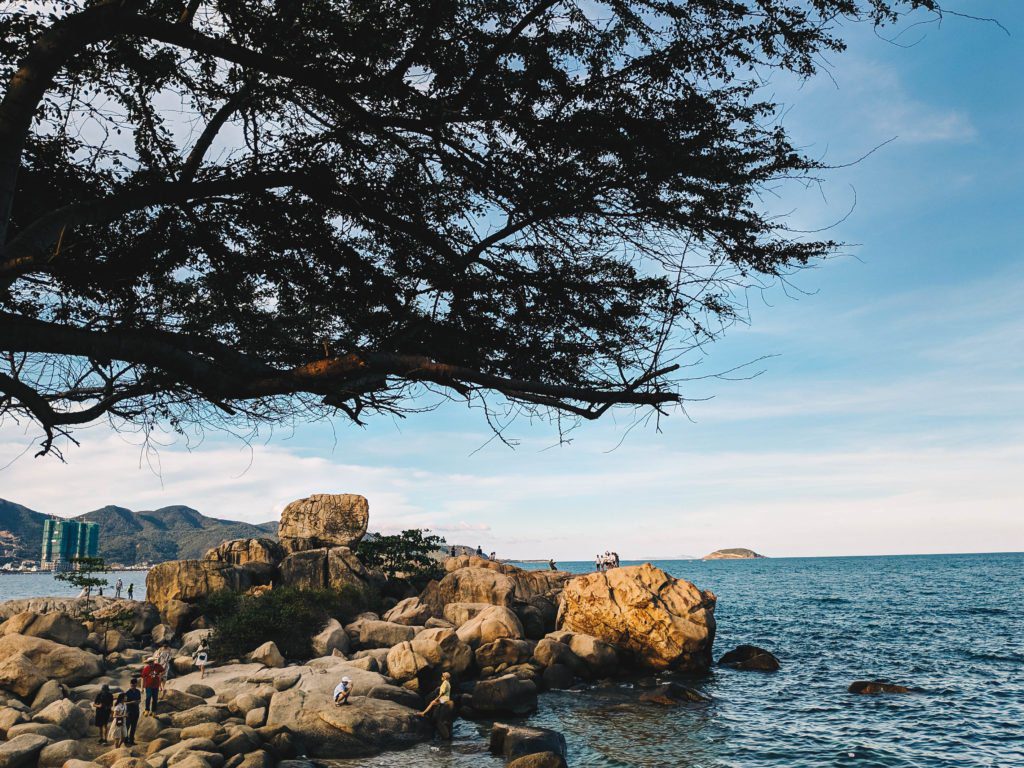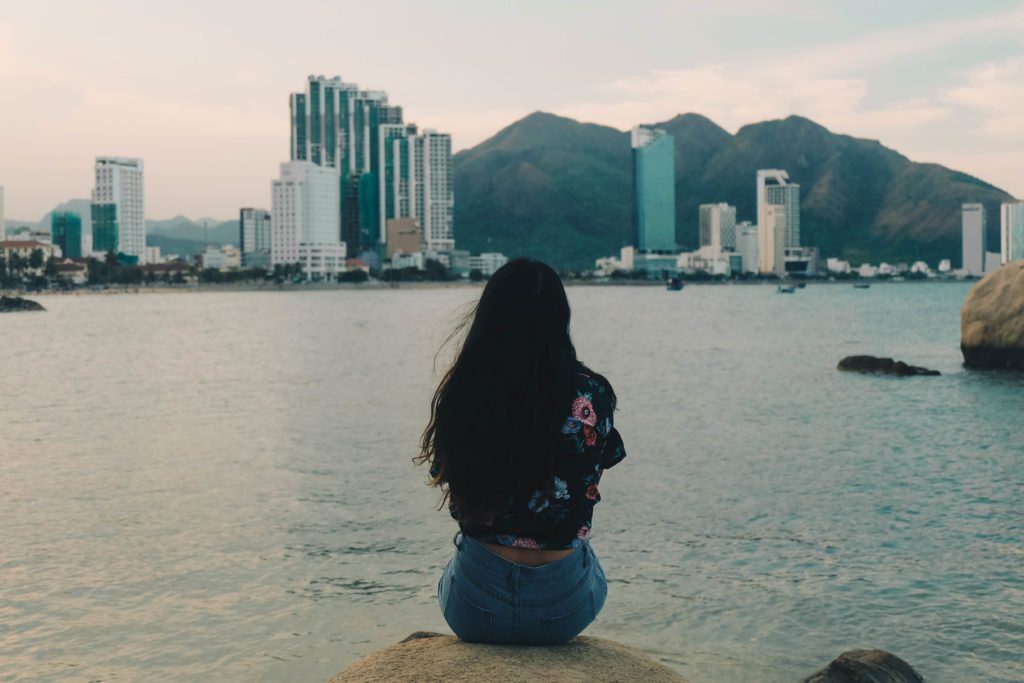 The best time to visit Hon Chong is during sunset, but bear in mind that you'll have to share your spot with so many tourists. It's really hard to get the best photo without any interruption.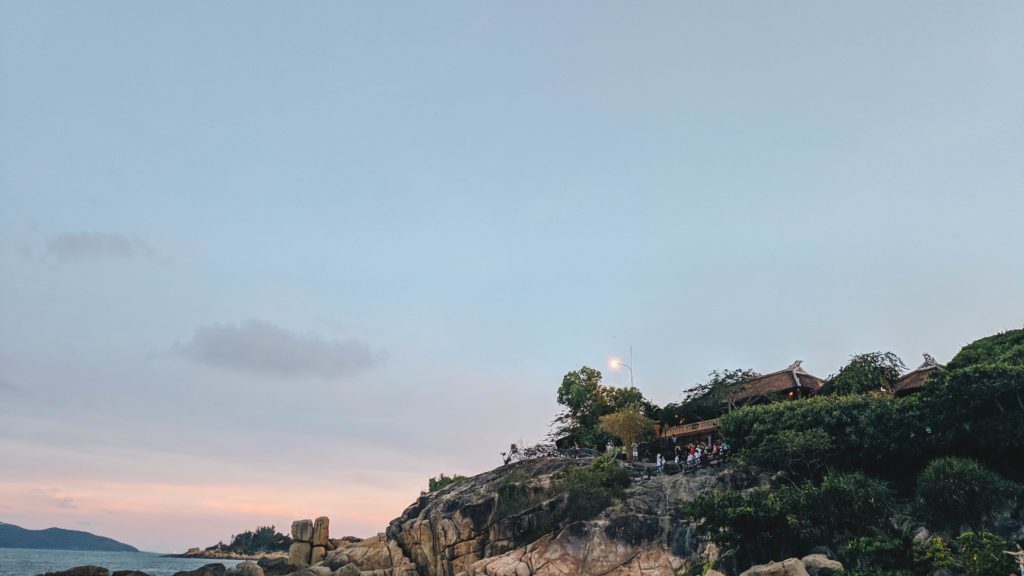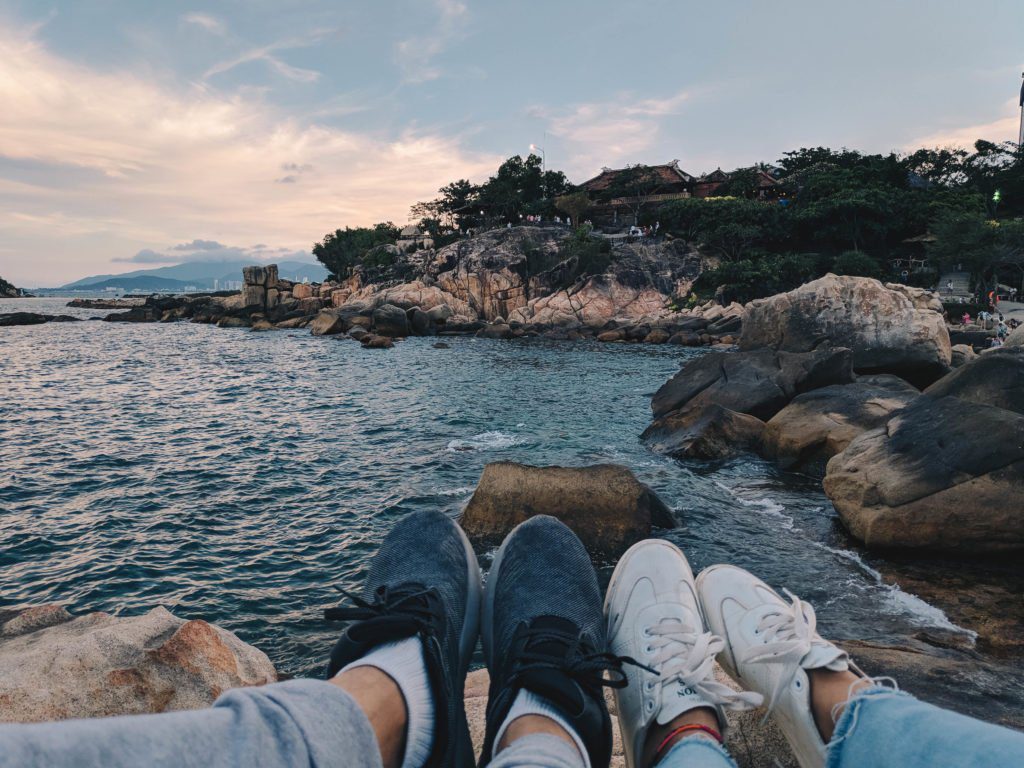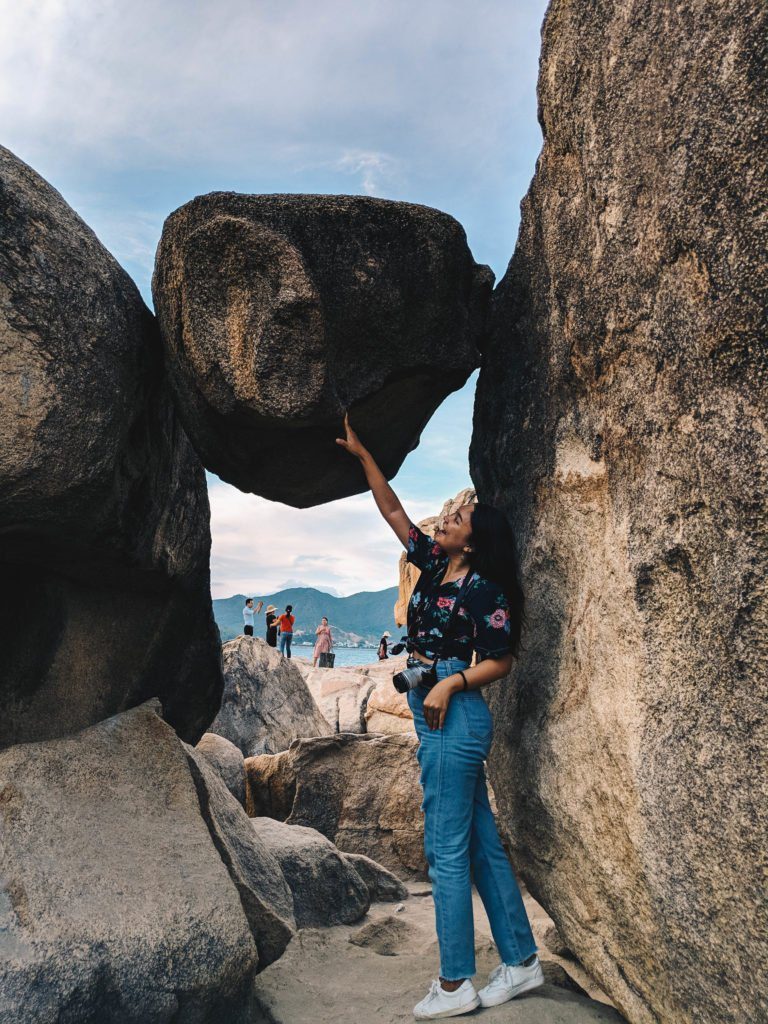 Entrance Ticket: 22000VND (0.95USD) a person
#3. Drive Around Nha Trang City
We only spent 3 days in Phu Quoc earlier this year and we'd already driven around the whole city, but Nha Trang? Golly gosh, this city is wayyyy too big!
Every block we've been to feel different, I couldn't even begin to describe how different it made me feel. Lively local food neighborhood, fancy Russian restaurants, wild pub street, expensive ass hotels along the beach- you'll find just everything!
We didn't know what else to do after driving around and also didn't want to chill at pubs, so we decided to drop night markets a visit.
I'm so effing disappointed!
I thought the night markets here are at least the size of the one in Phu Quoc, but nah.
We've been to a few night markets in Nha Trang and there are literally nothing to shop and eat. If you wish to shop until you drop or eat until your stomach explodes here then you'd better lower your expectation.
Hey hey, I'm not saying you shouldn't check it out. You should go see it yourself!
#4. Try a Giant Seafood Plate at The Mix
I've read that The Mix is one of the best places to eat in Nha Trang. It wouldn't hurt to try, would it?
We went there for dinner and saw everyone ordered a giant seafood plate on their table. We assumed it must be their best dish then followed the crowd and ordered the same one. It cost us 490.000VND (21.16USD) for this.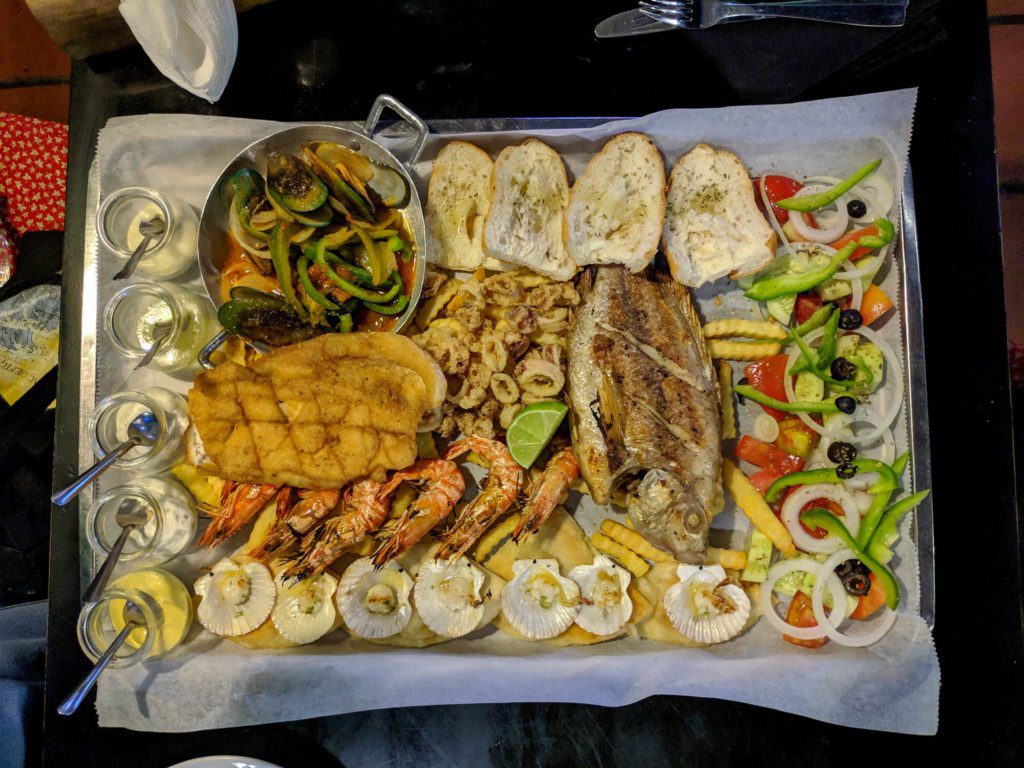 I'm not sure if it's just me, but I don't think this giant dish tastes that great. I feel like it could have been much better with soy sauce or spicy fish sauce. Maybe I'm being too Asian for this.
If you're going to Nha Trang, go to The Mix and order this same one and let me know what you think.
DAY 2:
It was our Nha Trang-in town-day and here are the places we've been to:
#1. Mud Bath at Thap Ba Hot Spring Center
Mud bath sounds just perfect after spending a loooong day under the hot sun, doesn't it?
My boyfriend has read somewhere that Thap Ba is crowded in the afternoon, so we decided to have our mud bath in the morning.
The place isn't far from the city center and it took us only 15mn to get there.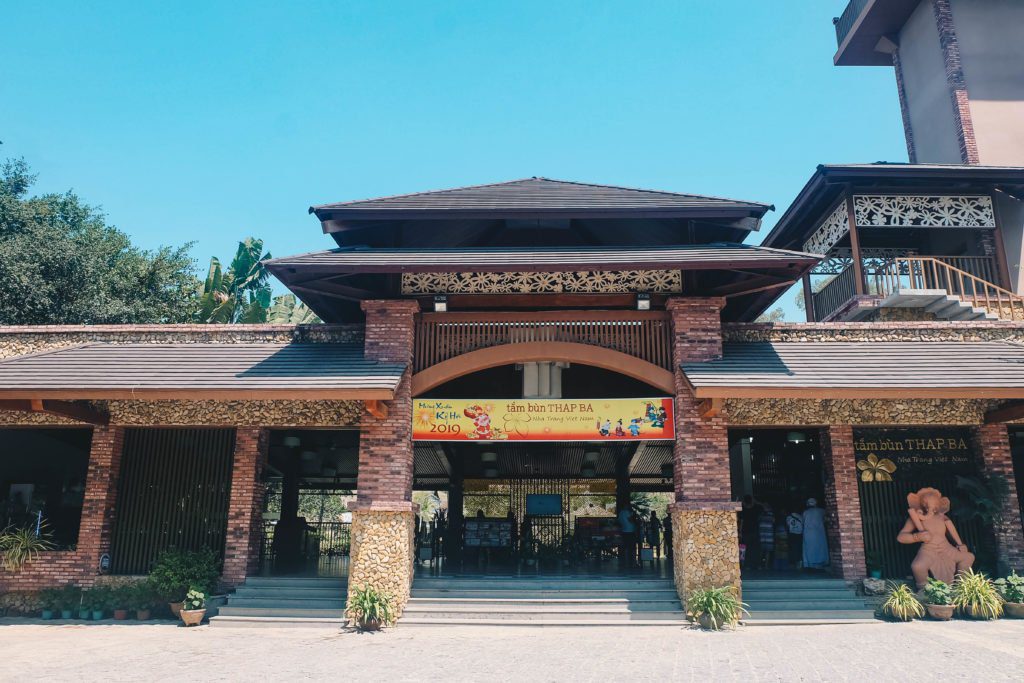 Thap Ba is really big. Now I understand why it stands out among the other mud bath places.
We spent 850.000VND (36.1USD) for our package which includes outdoor private mud bath, jacuzzi, mineral water spa and hot and cold pool. NOT CHEAP, BUT WORTH A TRY!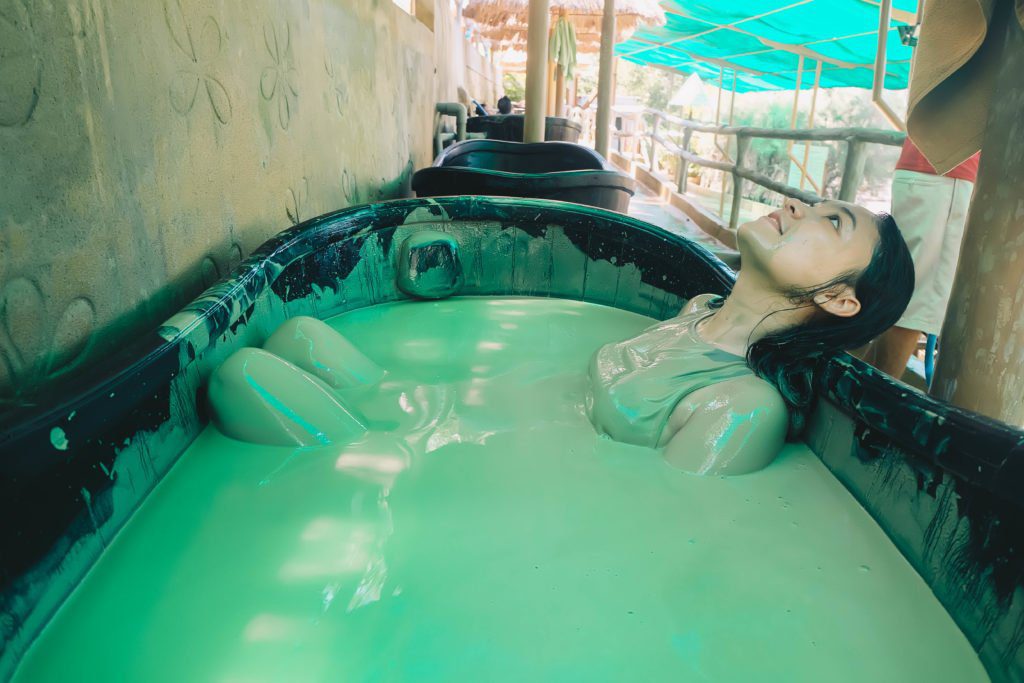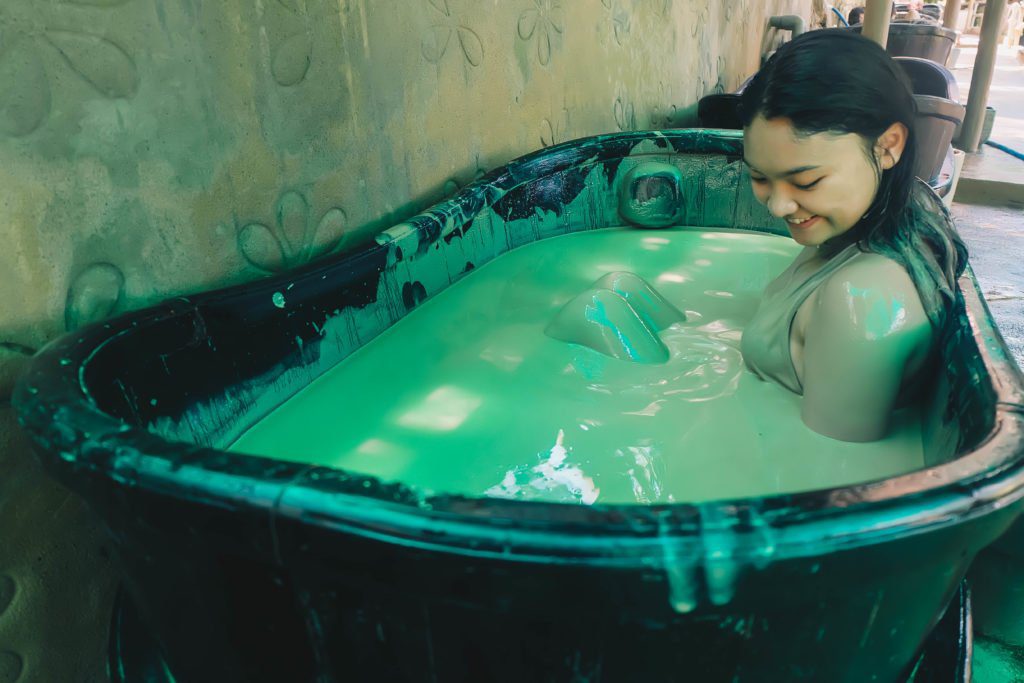 Mud bath-only package is also available for 350.000VND (15.11USD).
My suggestion? Just add extra 75000VND (3.23USD) and go for the full package one for 425.000VND (18.35USD) a person.
#2. Ponagar Tower
It was our lazy day so we went back to our hotel, had our lunch and took a few hours rest after we came back from our mud bath.
We left to our next destination, Ponagar Tower, at 2PM and holy cow- the place was packed!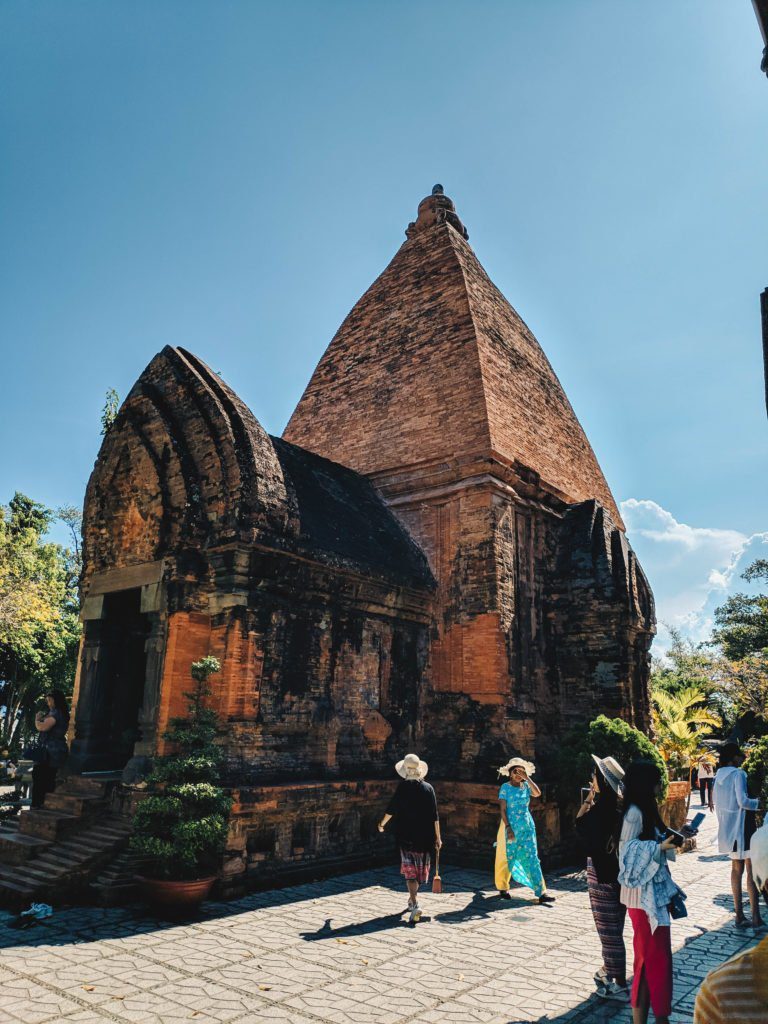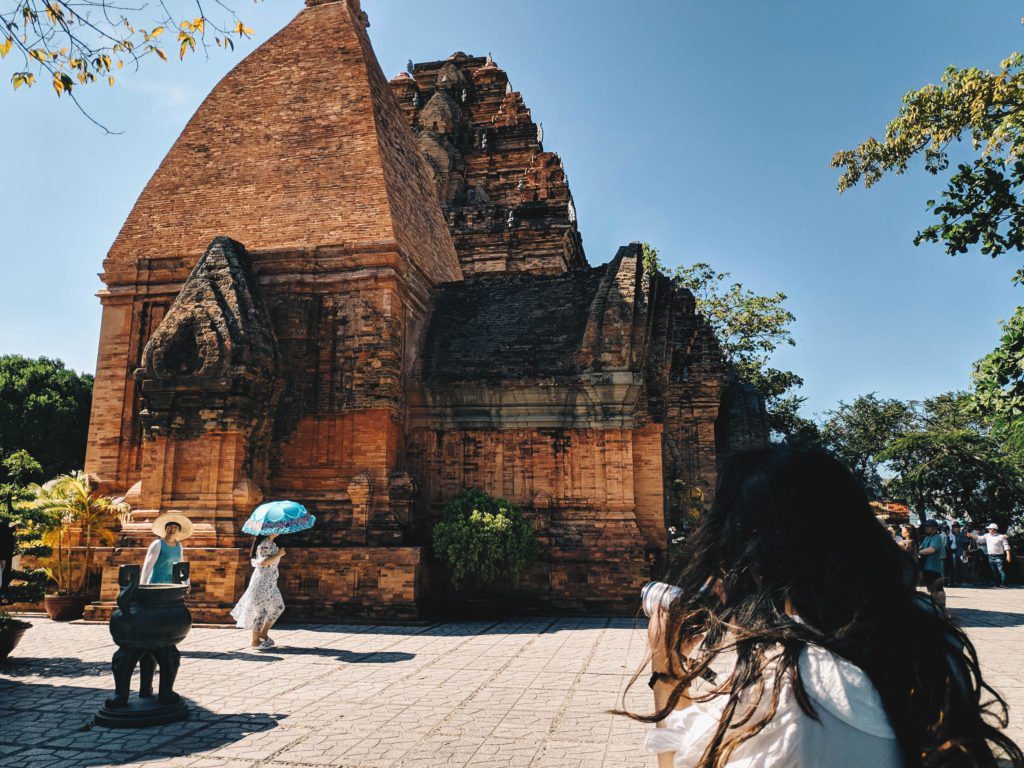 If you're lucky enough, you'll be able to catch a live performance at the temple.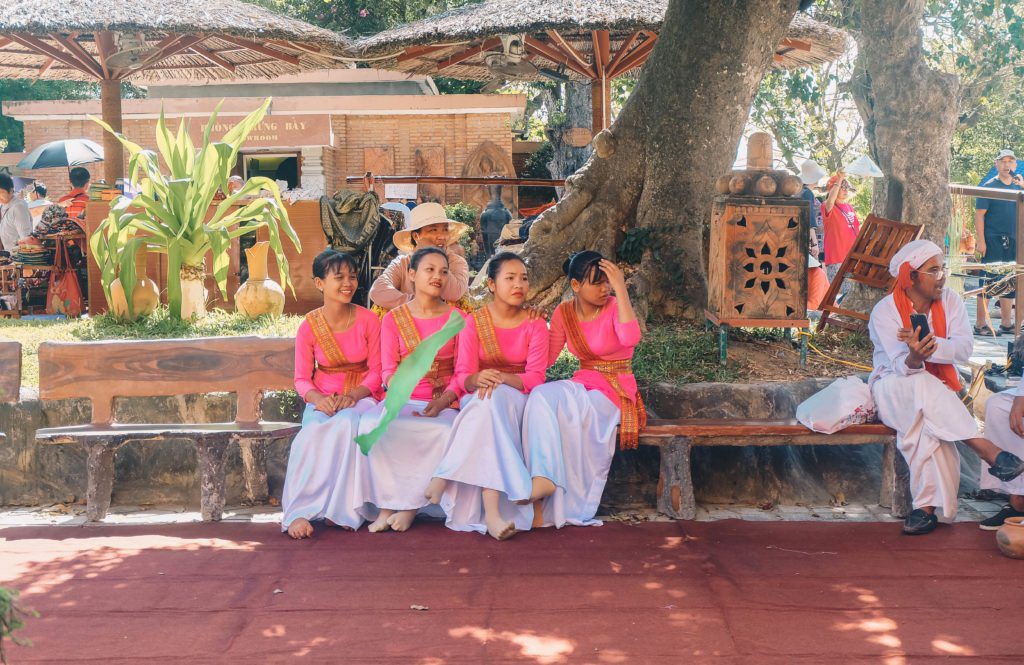 This is the only photo I've got at Ponagar without anyone else in the background. I was actually trying to pose at another better looking background but what's funny is that there was this guy who appeared out of nowhere and just stood right behind me in my frame. I mean duuuuude, can't you see I'm trying to make a greaaat photo here!?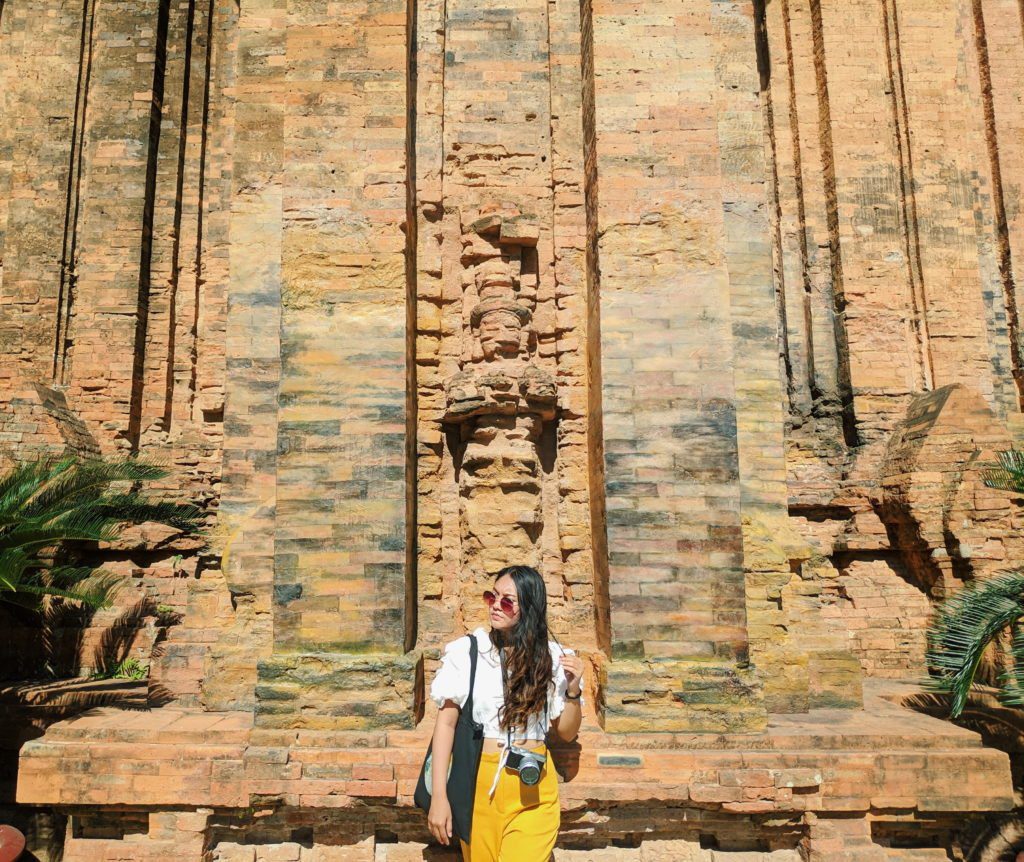 Entrance Ticket: 22000VND (0.95USD) a person + 4000VND (0.17USD) Parking
#3. Nha Trang Cathedral
We had no idea Nha Trang Cathedral closes on Sunday. No one has written about that online. *sobsob*
Poor us, we only got to take photos from outside and it's not even good.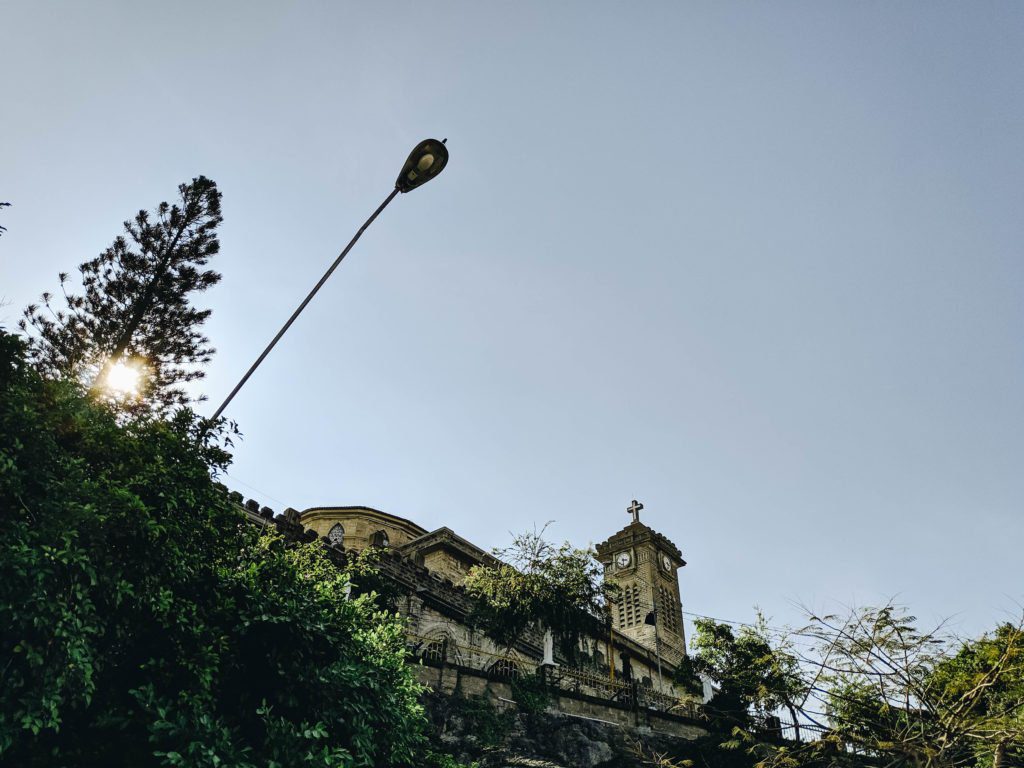 Share us your photos at Nha Trang Cathedral to make us even sadder if you get to go inside! :')
#4. Long Son Pagoda
This is all in the same area. We headed directly to Long Son Pagoda after our failed mission to enter the cathedral.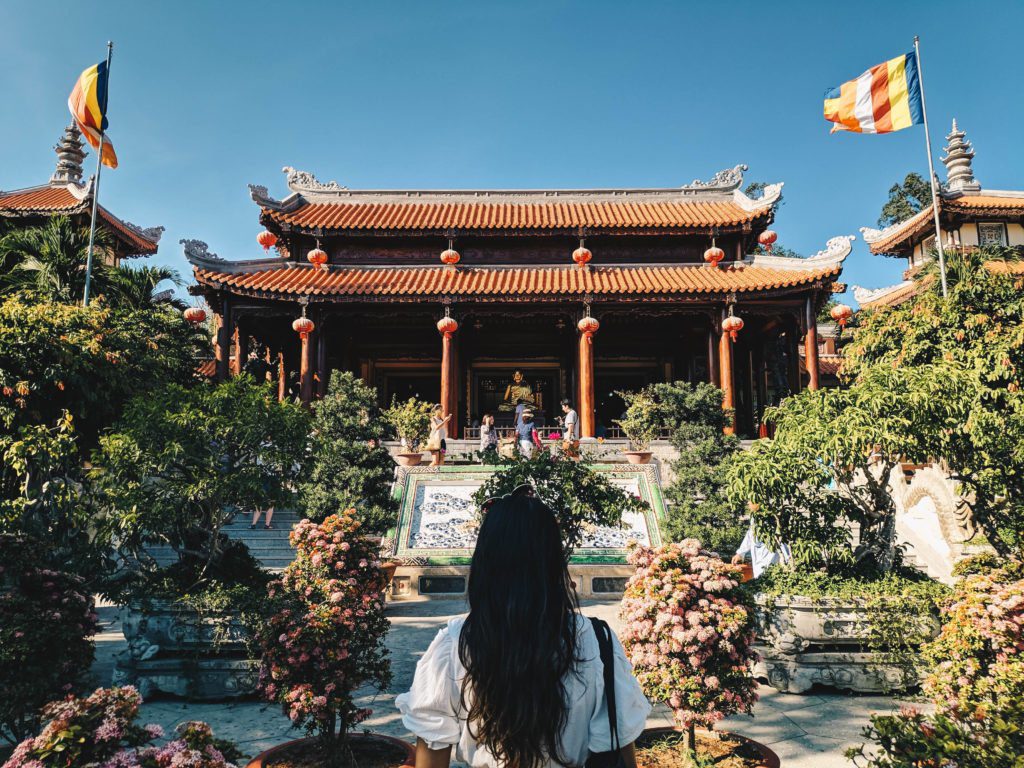 There's no entrance fee to the pagoda but you'll have to pay 10000VND (0.43USD) for parking if you bring your motorbike.
Do take the stairs to see big buddha statues and share me photos. I didn't go up there because the statues are too big that they scare the shit out of me. :')
Long Son is open until 16:30. Make sure to drop a visit before that or you'll have to go back again the next day.
#5. Reserve a Table at Kiwami
We actually came here the night before, but it was all full that we needed to make a reservation for the next day.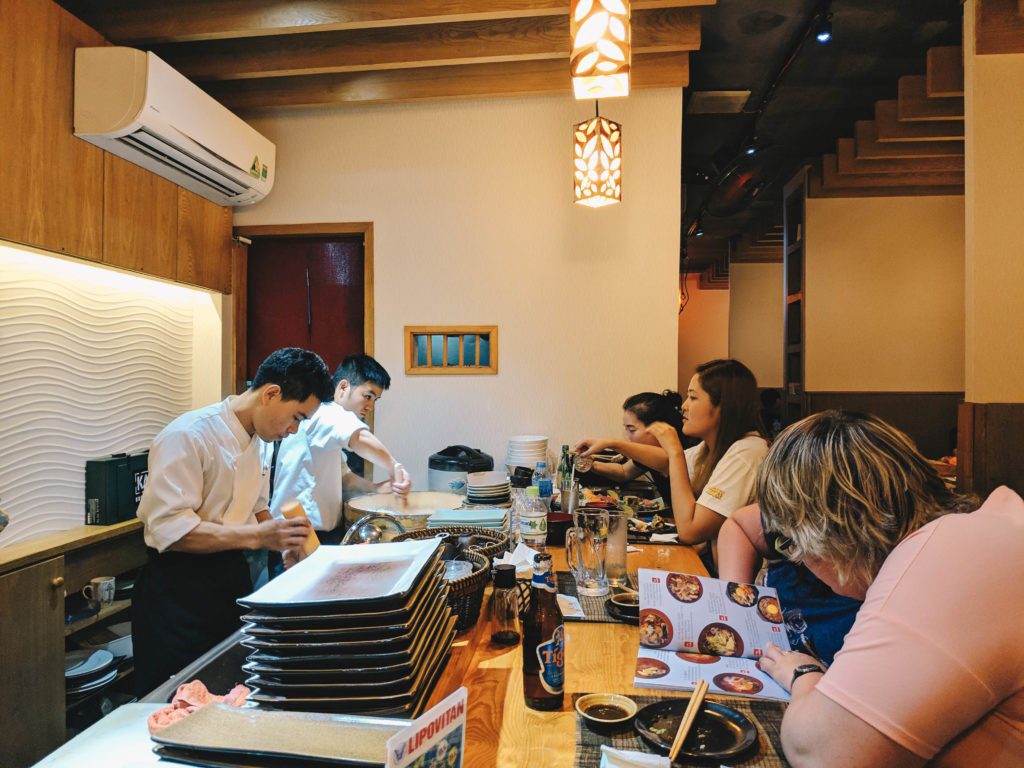 I now understand why people queue up for this place. Their sushi are really fresh and instantly made. It's a good value for money!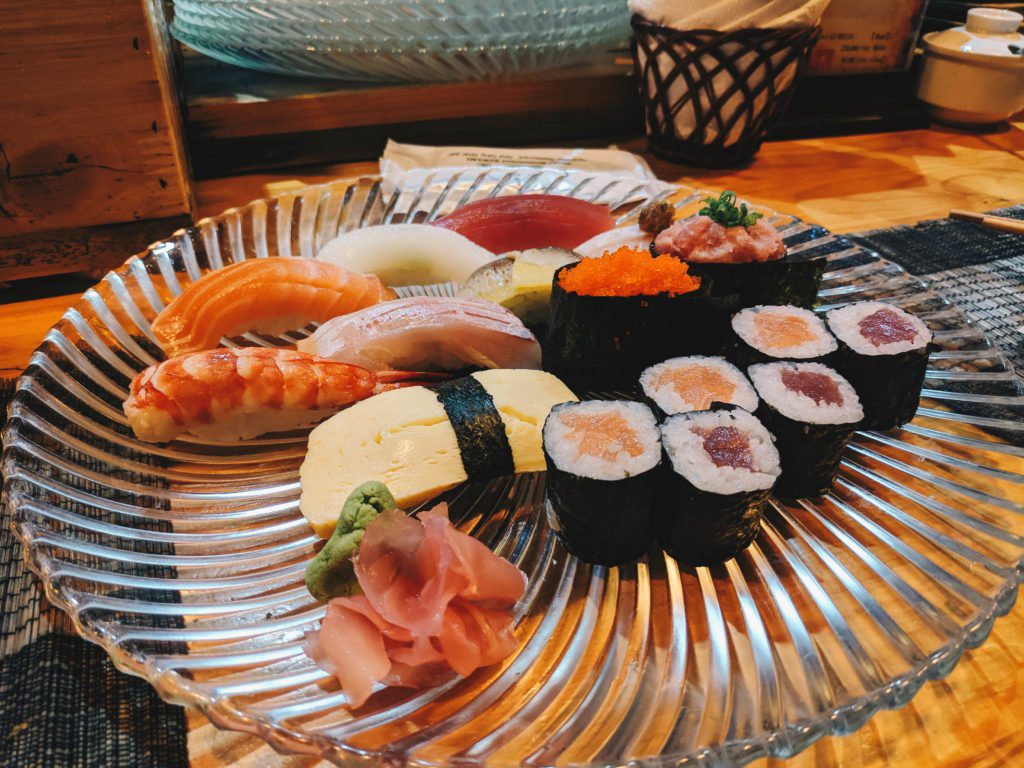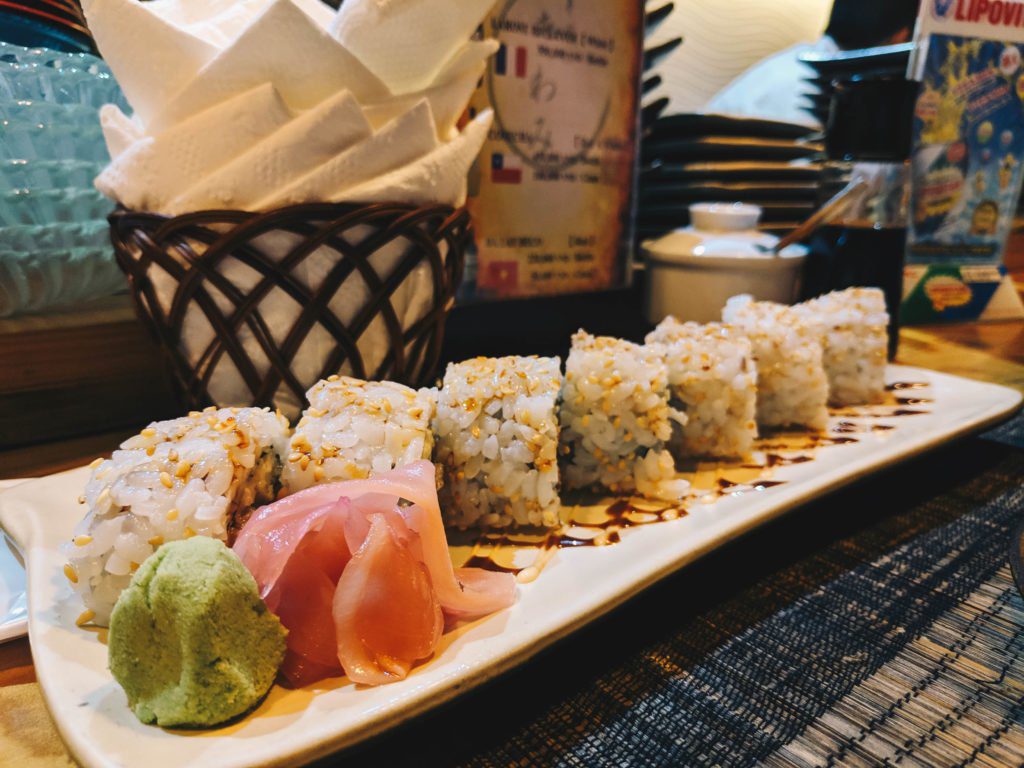 Kiwami is a must eat in Nha Trang. Do not miss such good sushi and thanks me later for reminding! *winkwink*
DAY 3:
Originally, we were planning to go to Hoi Noi of Yen; unfortunately, we couldn't book for the tour, so Orchid and Monkey Islands Tour was our best bet.
We spent 600.000VND (25.91USD) each for the tour. The tour includes an English speaking guide, pick up and drop off at our hotel, roundway boat transfer to both islands, hat, water, lunch and animal shows.
#1. Orchid Island
Orchid Island was our first stop.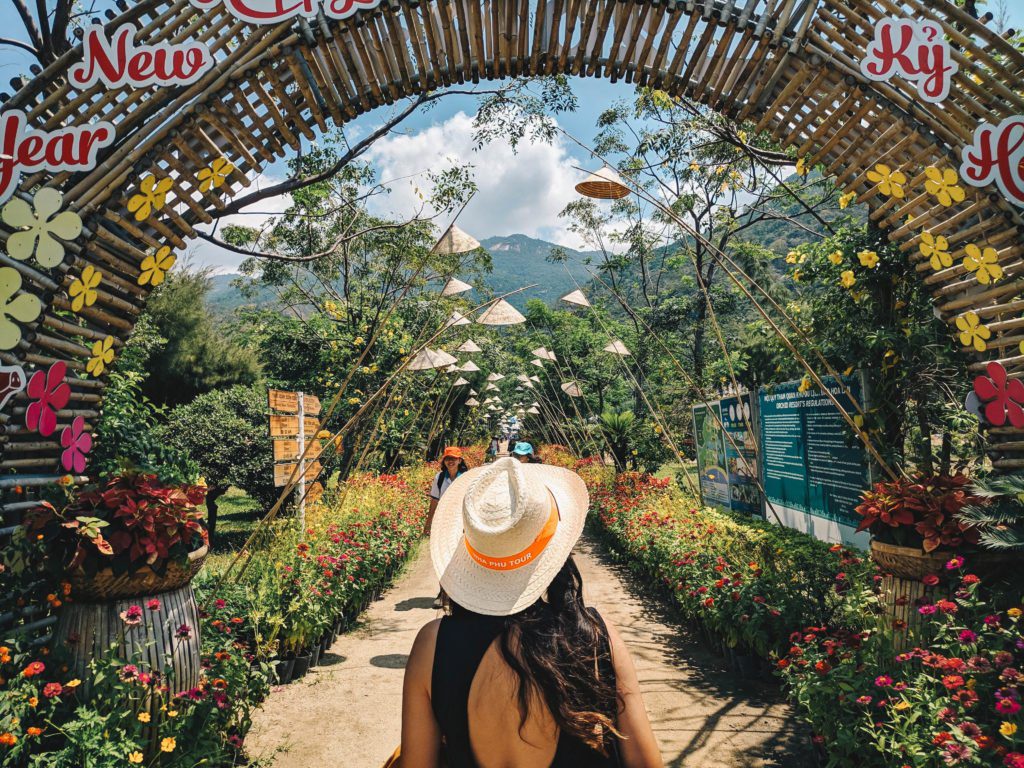 Things had been pretty good until …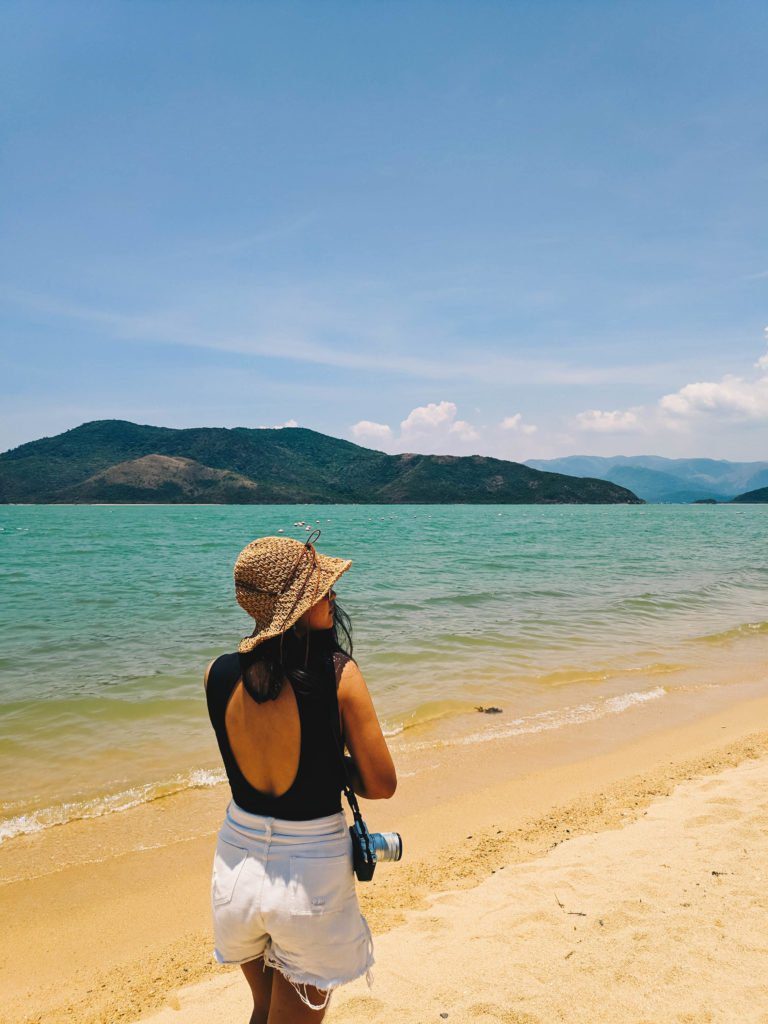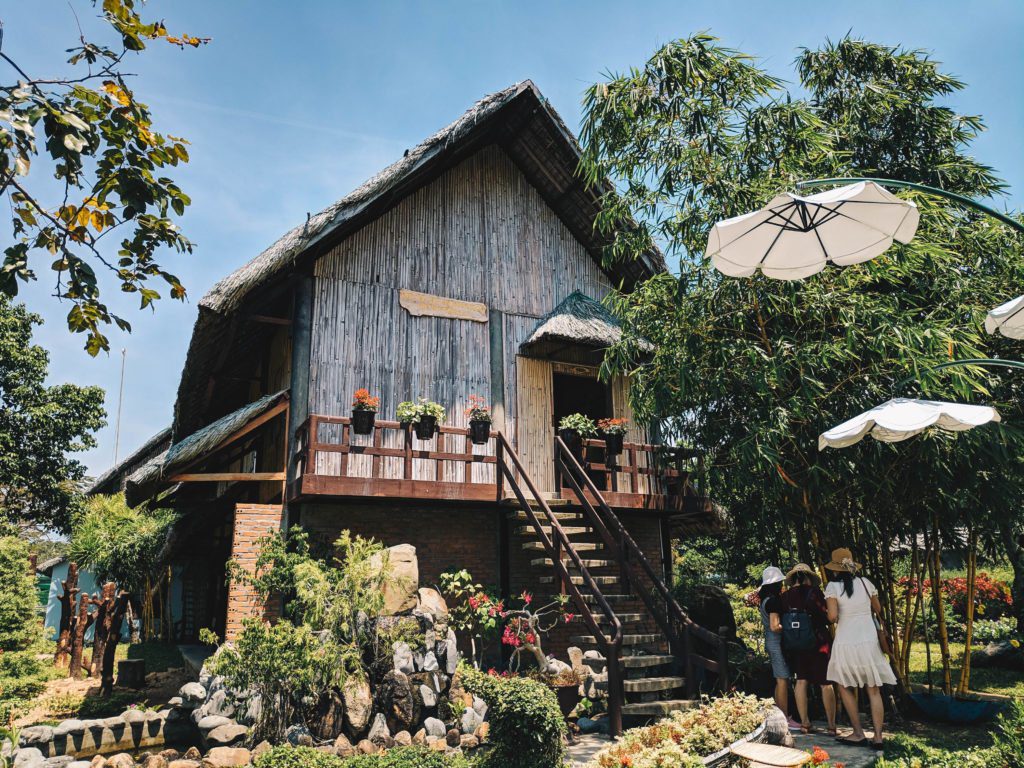 … until I saw one elephant and one bear being used to get extra money from elephant riding and photo taking session.
I didn't have the courage to take photos of the elephant while being ridden on. I don't want to sadden myself. Maybe I mind too much, but I feel awful seeing that. I couldn't help but bursted into tears.
Look what the bear has to wear. I know, I know it's dangerous to let loose but this is pathetic.
And SERIOUSLY? Only 1 elephant and 1 bear?
They must be so lonely!
We were then taken to see the bird show before we moved to another island for lunch and more shows.
#2. Monkey Island
I was surprised the tour food are actually good and enough for everyone!
They let us rest for a while before seeing the next monkey and dog shows, so I just walked around to see what's on the island.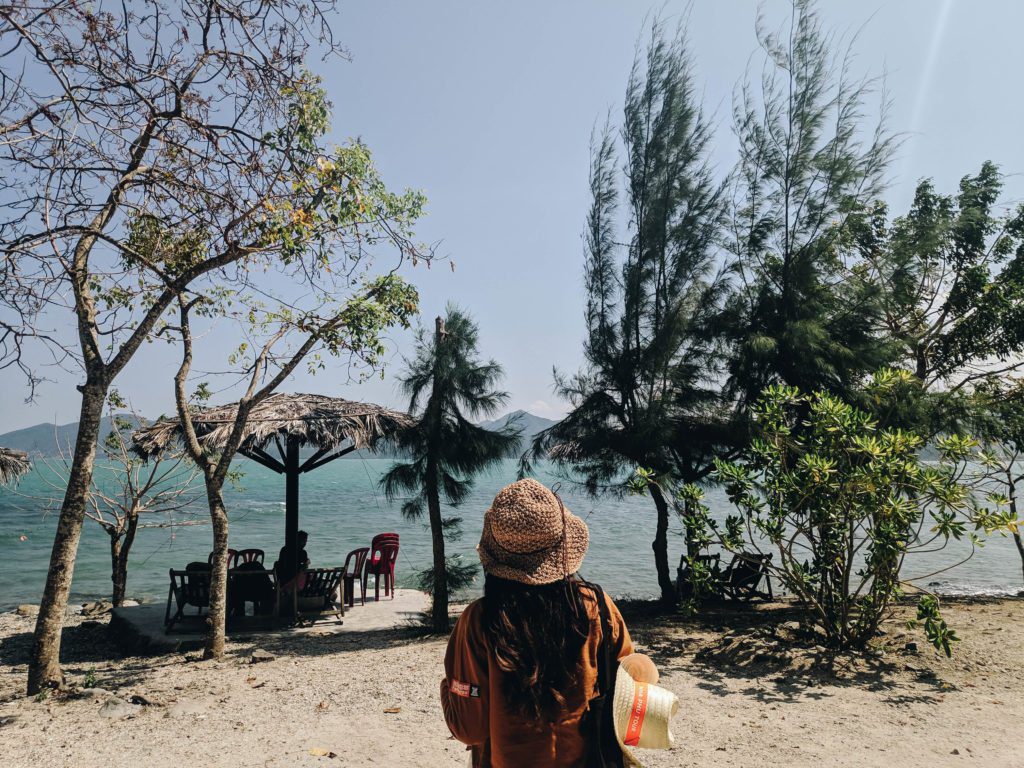 A part of me enjoyed the show but another part of me hated it because I kind of feel bad for all the monkeys and dogs. They have to perform 3 times/day and I wonder how harsh they've been trained to be able to perform like that.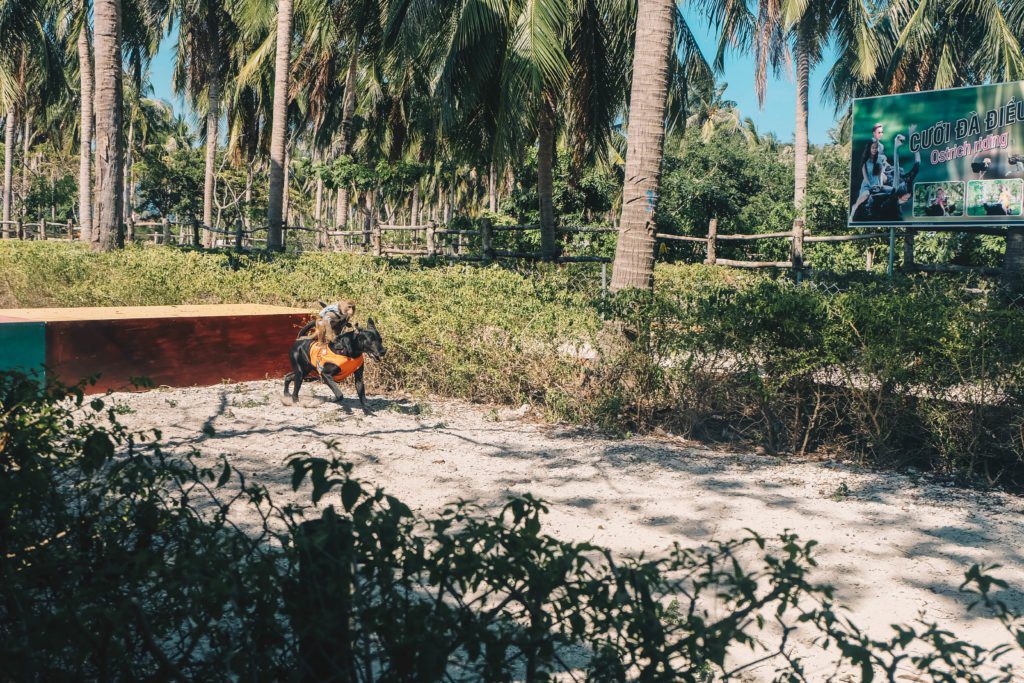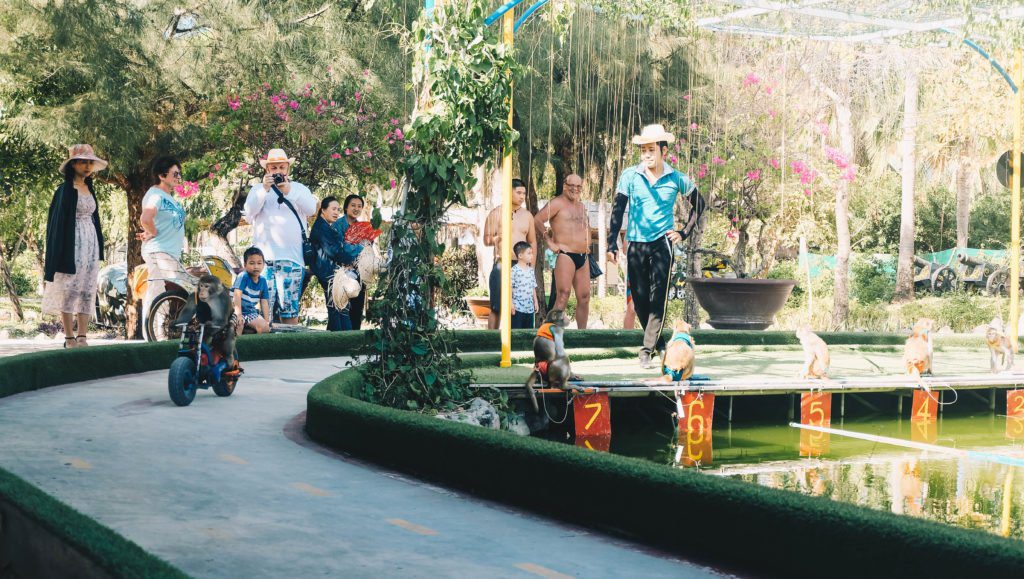 We left the island at 3PM and were dropped off at our hotel at 4PM.
It's a good deal for money but I really shouldn't have supported the kind of business that involve the use of animals as entertainment.
If you're an animal lover, I WOULDN'T SUGGEST THIS TOUR.
#3. Eat and Drink at Alpaca Homestyle Cafe
We've been wanting to go to this place since the first day we got to Nha Trang but it was closed for a few days and I thought we had no luck eating here.
Gladly they were open a day before we left. Alpaca was our last stop.
I looooooooooooove this cafe. My goodness, how could a cafe be this perfect?
Alpaca's staff are super friendly, their food and drinks are great and their interior design is homely-cuuuute.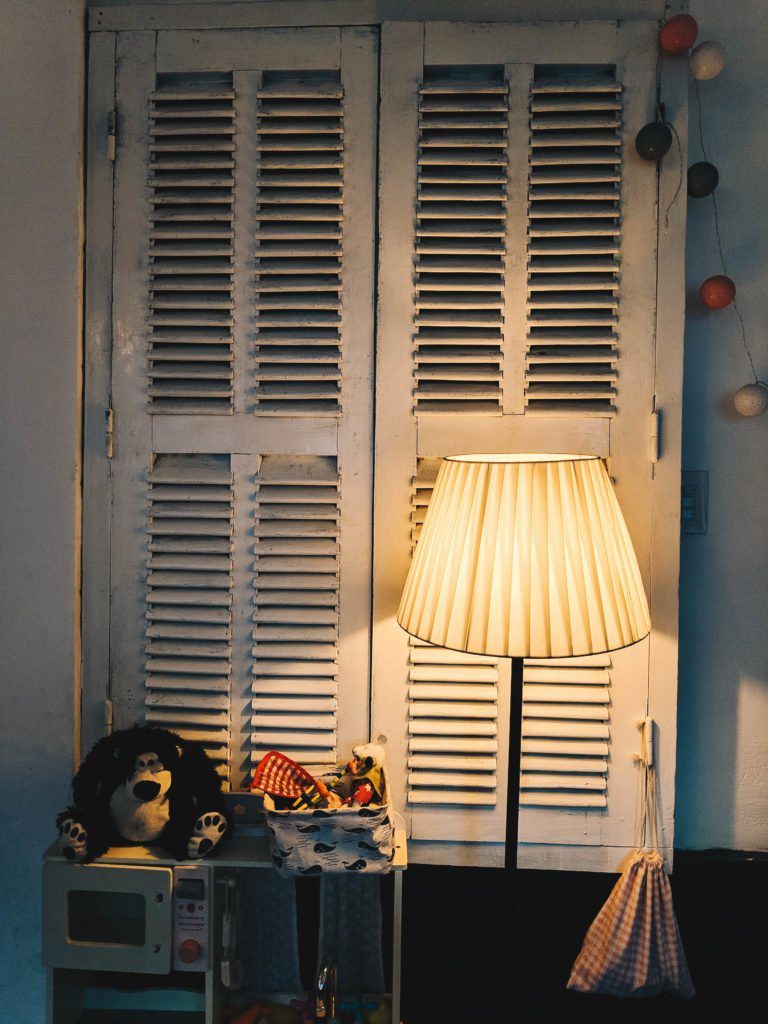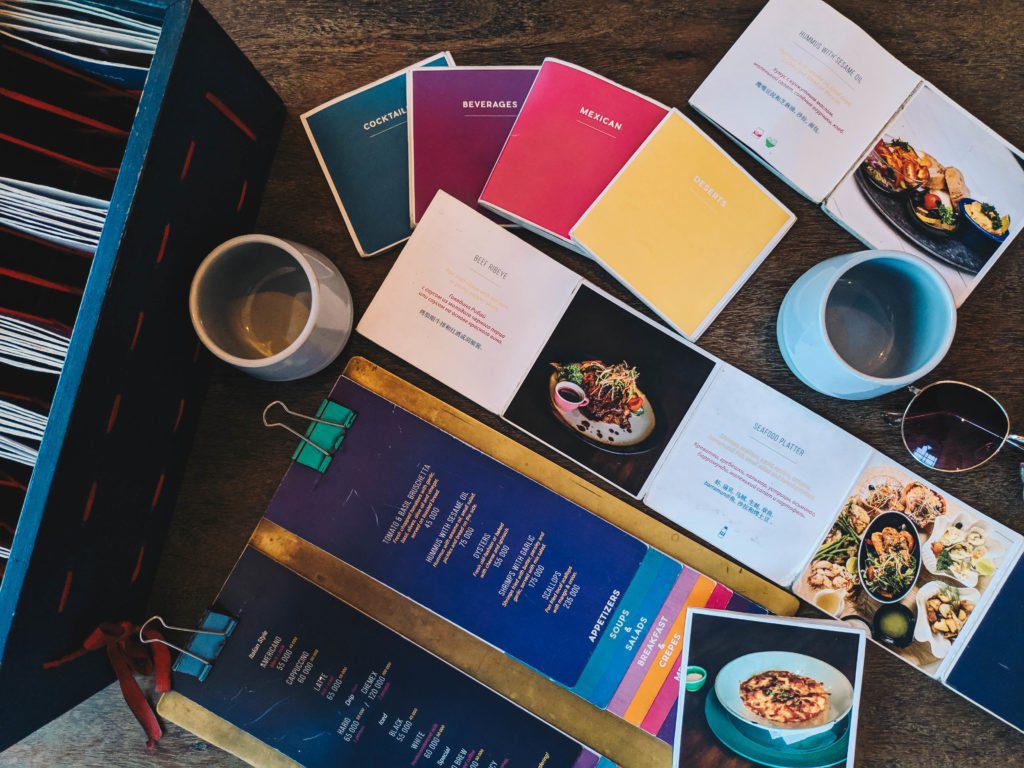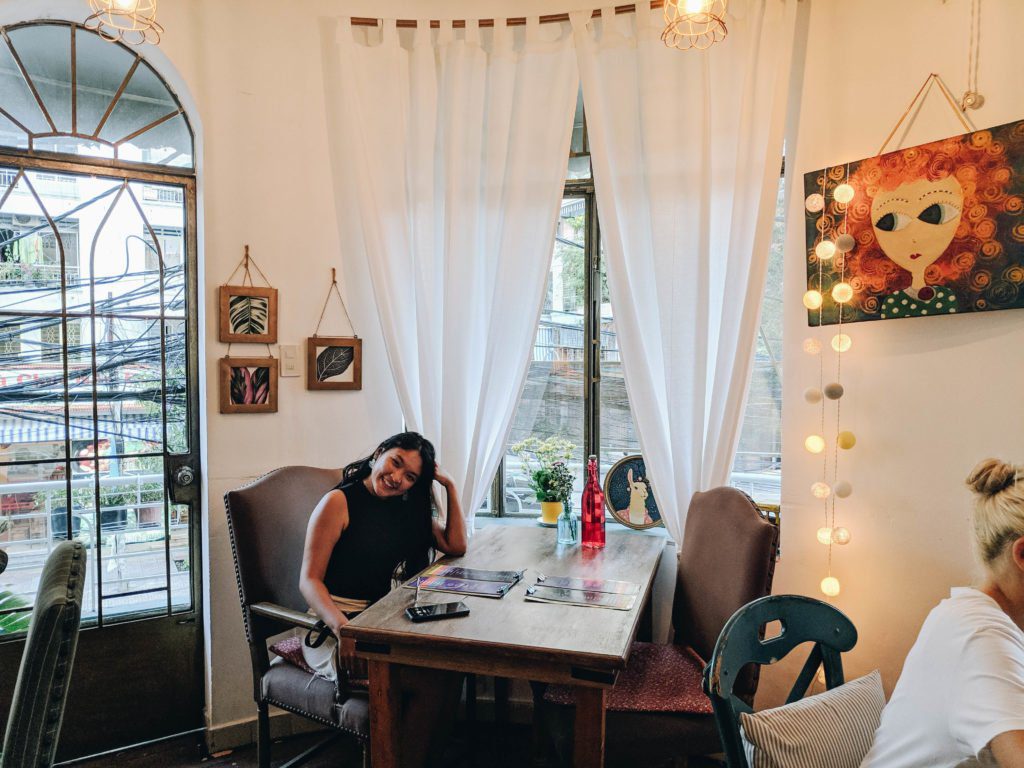 We had their seafood spaghetti, chicken breast served with baked potato, watermelon juice and iced latte and WE LOVE IT!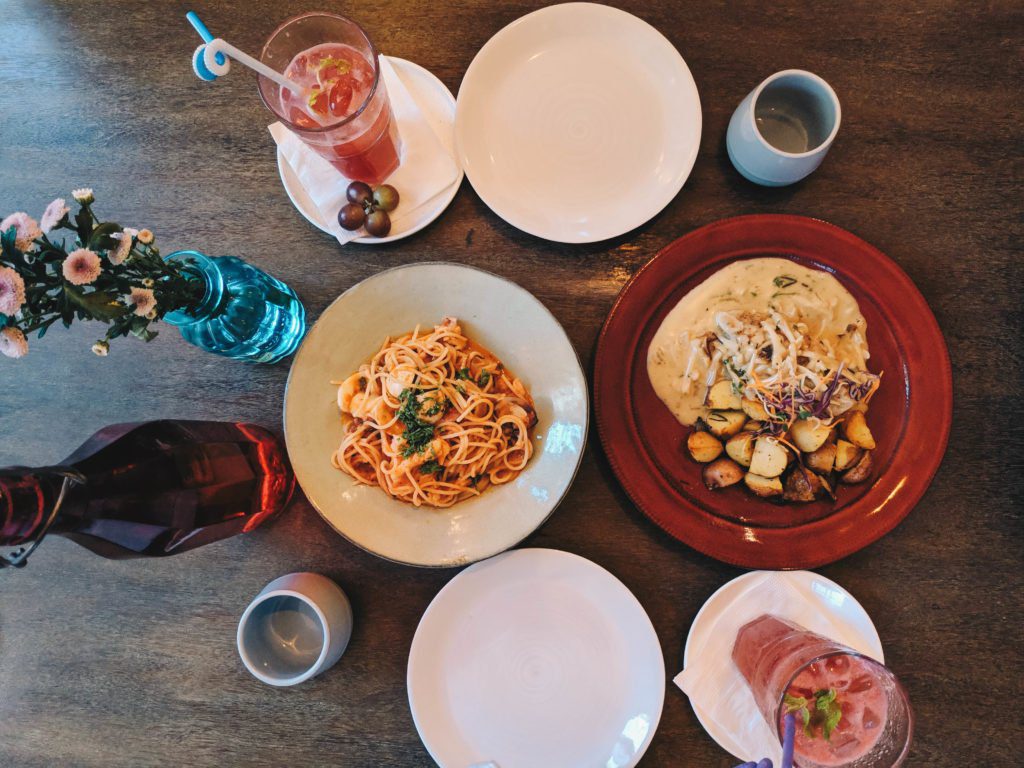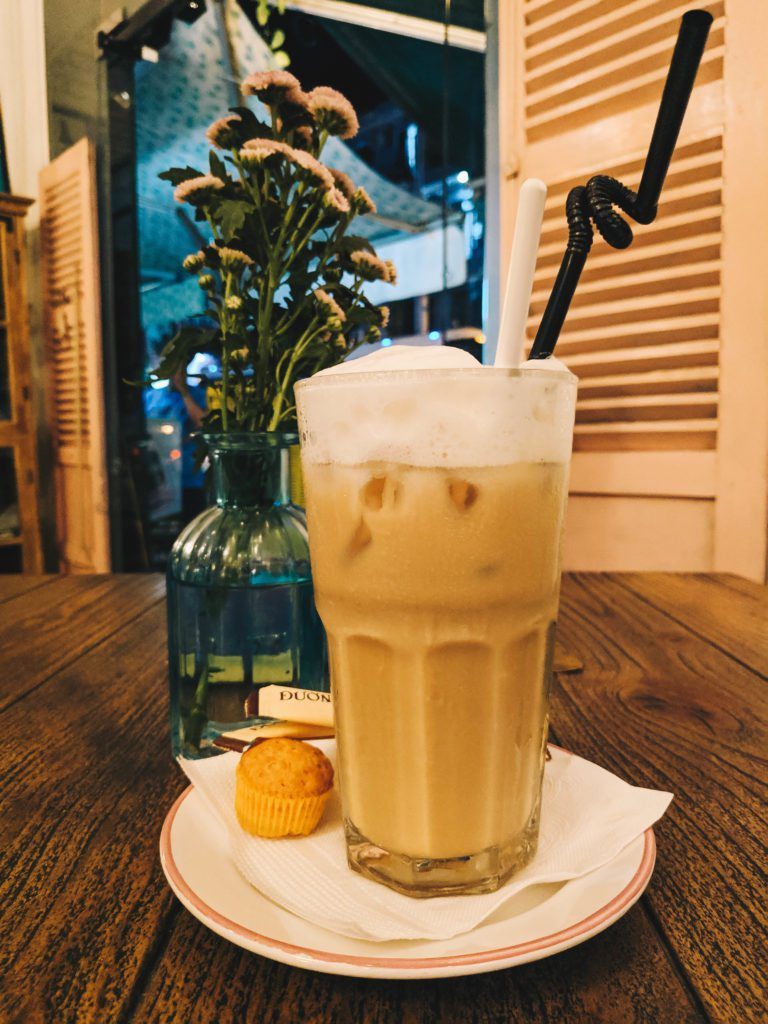 That's it. That sums up our trip in Nha Trang.
Here is how much we've spent EACH for our Nha Trang trip:
Roundway Flight Tickets (HCM-Nha Trang-HCM): 82.5USD
Roundway Airport Transfer: 15.11USD
Accommodation: 43.2USD
Food & Drinks: 66.86USD
1 Day Tour: 25.91USD
Motorbike Renting + Gas: 11.49USD
Other Activities: 29.2USD
Total: 274.27USD/Person