Koh Rong: Twin Beach (Koh Thansour)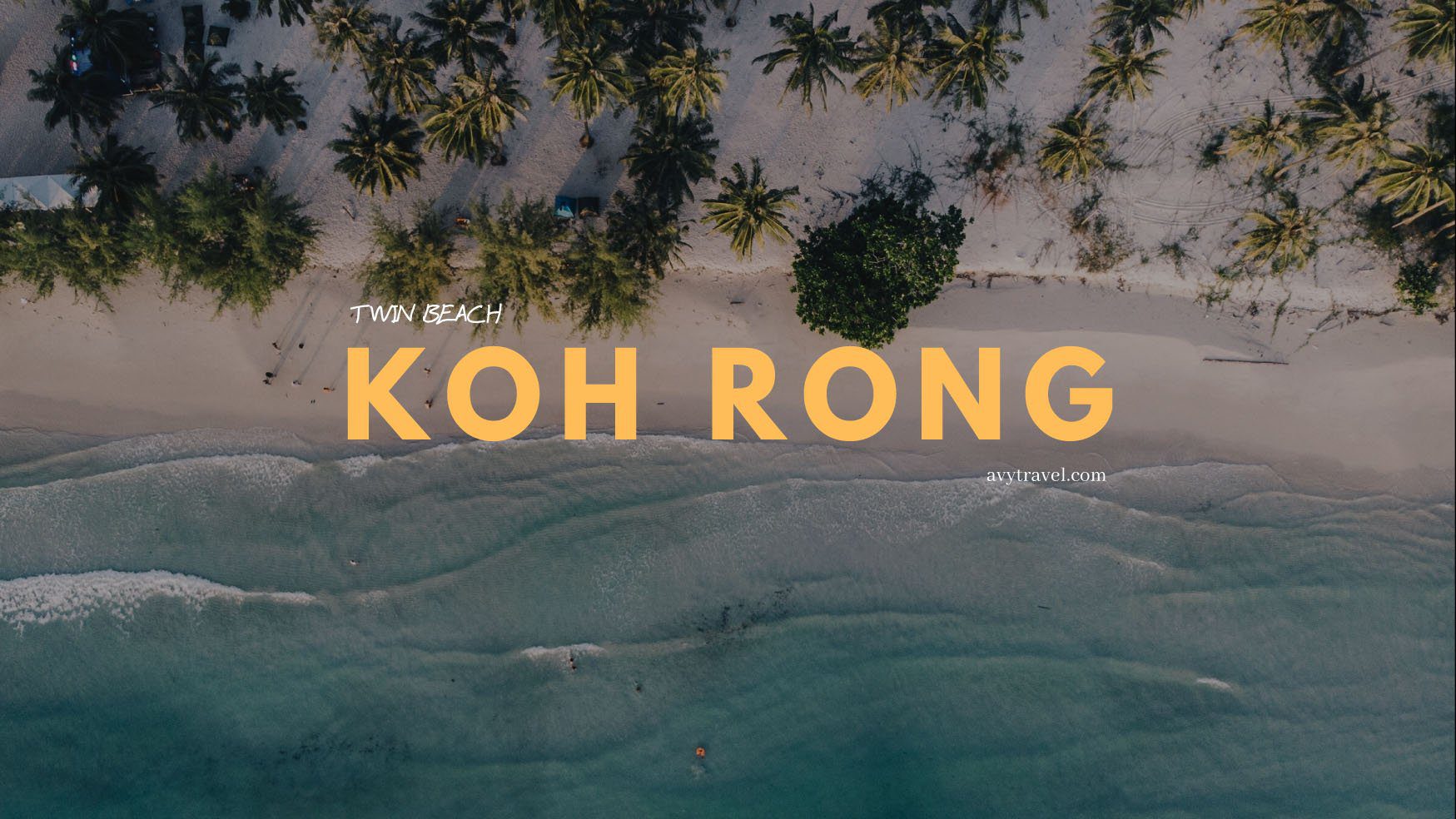 "Avy, have you been to Koh Rong? No? My goodness, you HAVE TO!"
"Avy, Koh Rong is like a paradise on earth- get your ass there ASAP before it's spoilt!
I've had enough of hearing my friends babbling how dazzling Koh Rong is every time they're back from their tropical island journey and I think it was time I packed my bag to leave to such so-called paradise.
I took a trip to Twin Beach, Koh Rong (ឆ្នេរភ្លោះ កោះរ៉ុង) two weeks ago and I loooooooove it. Physically, I'm already back at work but mentally, I'm still stuck somewhere on the island.
I mean who would be able to get over this island and stop bragging about it if it's this serene and pristine?
I left Phnom Penh at 8:30AM, got to Sihanouk Ville at 2:45PM and almost missed my 3PM ferry. Normally it would take only around 4h30mn-5h to Sihanouk Ville, but the traffic was bad and the route is bumpier and harder to travel.
I almost went nuts because I had only 15mn to get to the port and no tuk-tuk could be found around the area. Luckily, there was a pick up van at the station so my friends and I paid them 5USD to get us to the port. Of course, I knew it could have cost less but we had no choice.
I'll take the word "luckily" back. Bad luck usually comes in three, doesn't it?
My friends and I were sitting in the van for almost 10 EFFING MINUTES and the friggin' driver didn't leave! He said he needed to wait for the other passengers, too which left us around 5mn till the ferry departed. I was soooo mad at the driver but there was nothing I could do.
We called the ferry and informed them we might have gotten there a few minutes late, but they didn't want to wait for us. I rushed the​ heck out of the driver and we finally got to the port perfectly at 3PM.
One advice from my experience is to choose the earliest time to travel to Sihanoukville and book for the the last island ferry of the day. You'll never know how long it's gonna take you on the way. It can be later than usual and your ferry isn't happy to wait.
But all my madness had suddenly gone once I had my foot set on the private boat from Koh Rong to Koh Thansour Resort Twin Beach (កោះឋានសួគ៍ឆ្នេរភ្លោះ).
We didn't expect to be picked up by such luxurious rich-ass private boat to be honest. It was almost like living a crazy rich Asian life for 25mn. Hahaha
We were picked up by our resort electric cart from the port and got  to our resort, Koh Thansour Resort Twin Beach (កោះឋានសួគ៍ឆ្នេរភ្លោះ) at 4:30PM.
It was the perfect time for sunset.
We spent our first night in the tent.
There are two types of tents at the resort.
The big one is 70USD/night for 7-8 guests.
The small one is 20USD/night for 2 guests.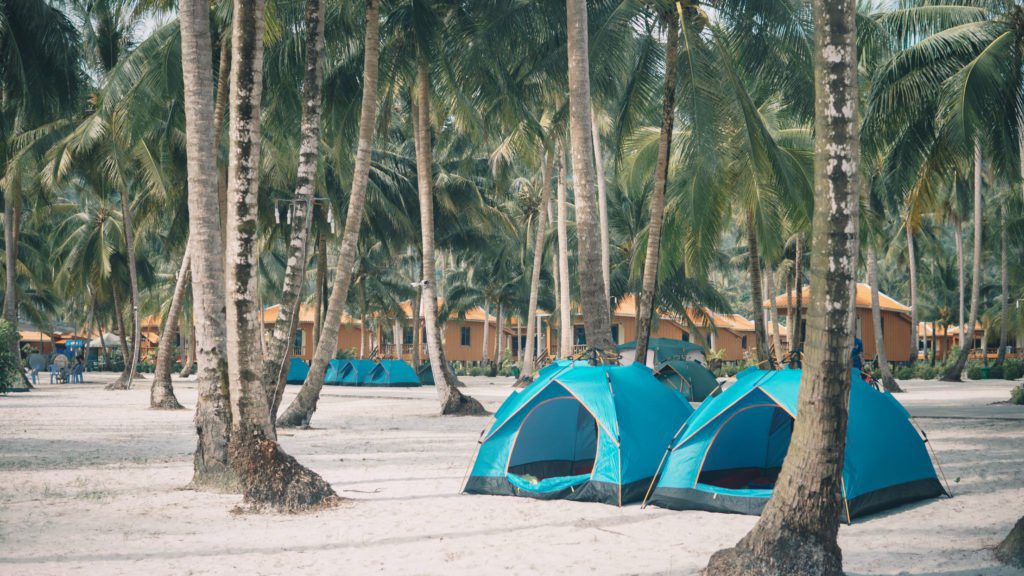 There are several shared bathrooms for tent-guests, so you don't have to worry about having nowhere to shower and doing big job. Hahah
Bungalow and boutique are also available at the resort.
The price of the bungalow is 100USD/night for 4 guests. 
The boutique is 120USD/night for 4 guests and a free breakfast is included. To save the cost, it's best to go in a team of 4.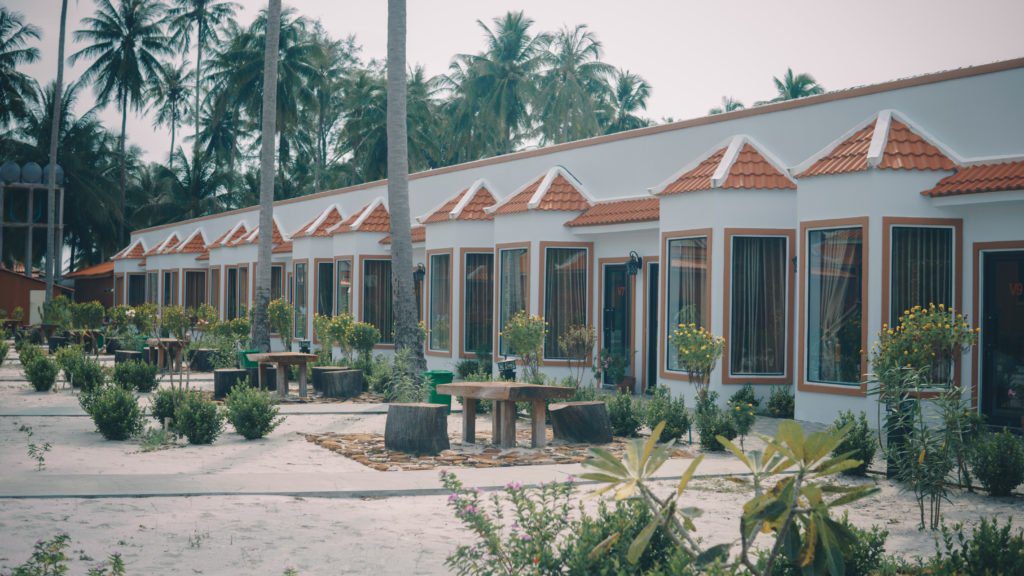 We stayed in the bungalow on our second night.
It surprised me how one side of the bungalow is to the ocean view while another side is to the mountain and natural stream. I mean how could it be ocean view on one side and stream on another side? Mother nature can be really weird sometimes.
There is an island cafe which serves 3 drink-categories and they're open from 8AM-8PM. The price of the drink starts from 2USD to 3USD. The mart can also be found right next to the cafe.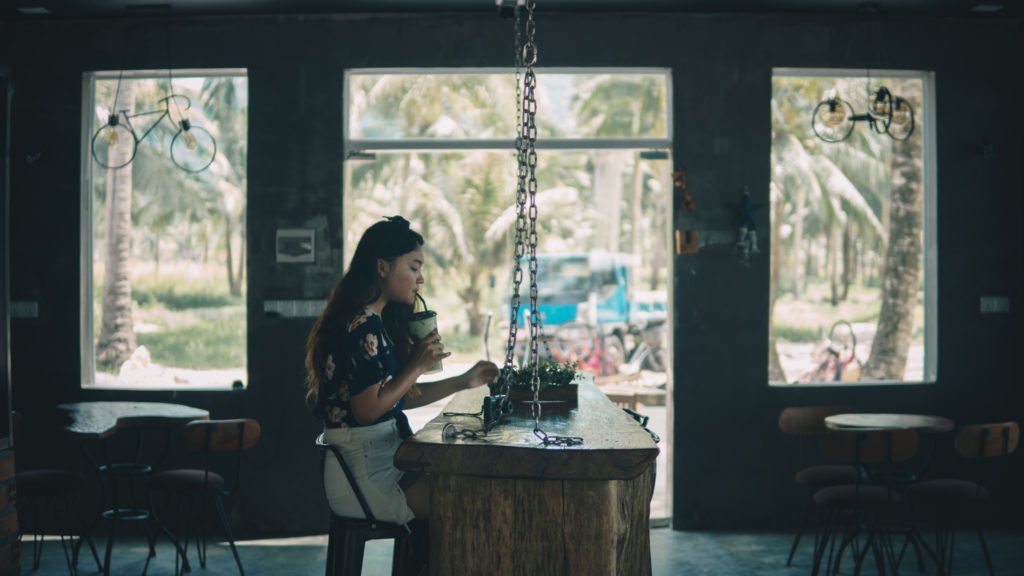 There's also a resort restaurant where you can enjoy variety of meals. The price starts from 3USD to 25USD.  My most recommended food would be their deep fried pork ribs. I know it doesn't fit the vibe having ribs on the island, but THIS IS THE BEST!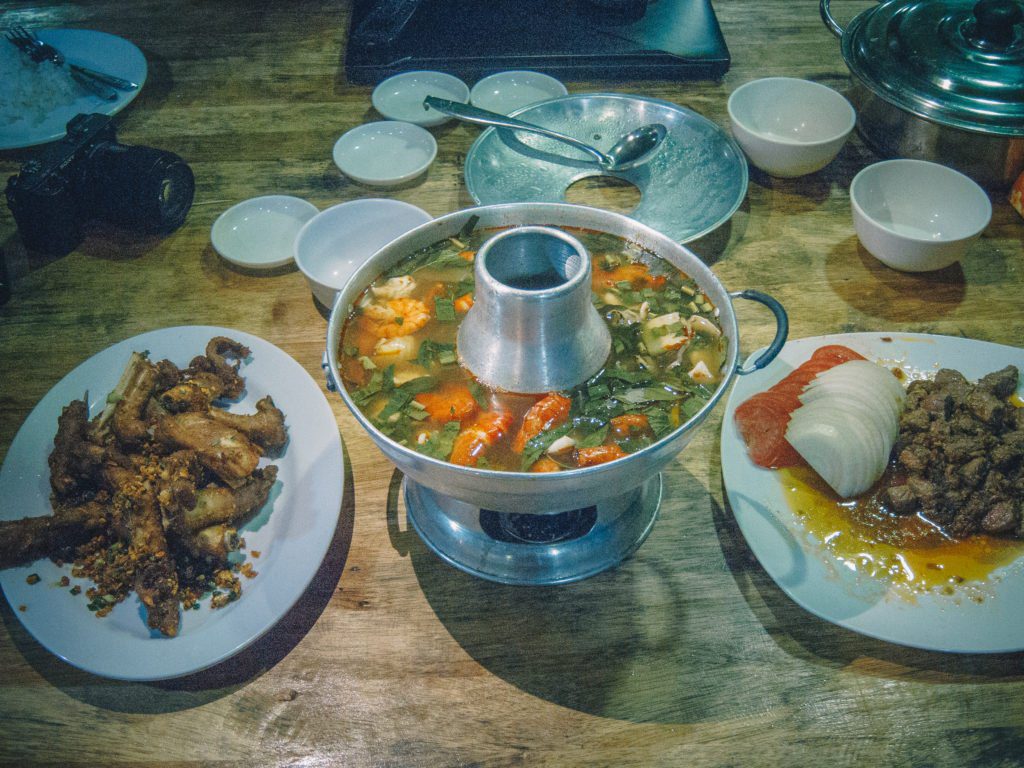 There's also a free use of bicycle in the resort. Koh Thansour Resort is quite big, just take the bike and cycle around.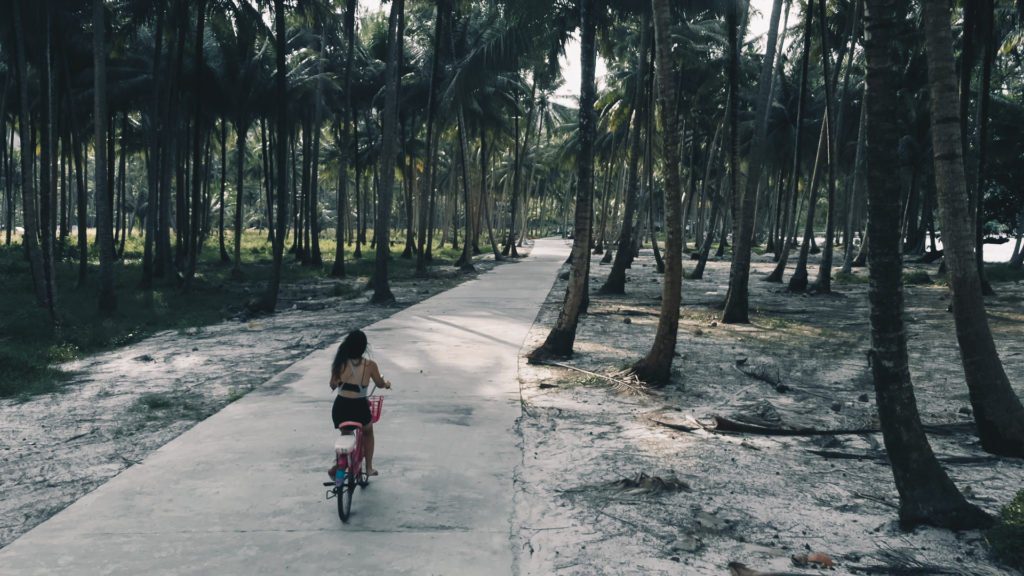 Thinking what else can you do besides swimming? Keep on reading!
Here are a few things you can do on this beautiful island.
#1. Snorkeling
The snorkeling price is 6USD/person– life jacket, snorkeling gear, and boat are included. You can have 1-1.5hours to enjoy the coral reefs.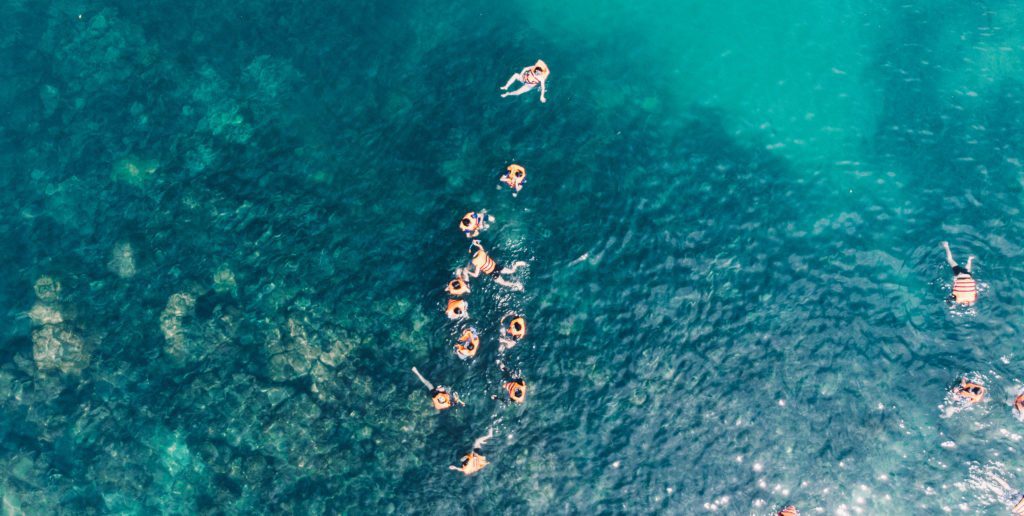 There's no specific schedule for snorkeling, you can just contact people at the information counter and arrange your snorkeling tour accordingly. But bear in mind that your snorkeling tour cannot be done if the weather is bad. One tip is to bring your snorkeling gear if you have one for the provided gears are not so clean.
#2. Kayaking
Nooooooo, of course not kayaking on the sea! But if you want to try, it should be alright too. Hahahaha
There's a natural stream on another side of the resort which you can go kayaking. Kayak renting is 5USD for 2 people. There's no time limit, you can kayak as long as you want.
#3. Visiting the Waterfall
Beach, natural stream and now waterfall on the island! Odd, isn't it?
My friends and I were thinking of going to the waterfall as well, but then we decided not to after being told that there's no water at the waterfall during this time of the year. So if you plan to go to Koh Thansour Twin Beach some times later, do visit the waterfall and share me the photos. *winkwink*
#4. Leaving to Koh Toch, Koh Rong
Koh Toch is the main tourist area on Koh Rong or you can simply call it backpacker area. This island is 20mn away from Twin Beach (ឆ្នេរភ្លោះ). Bars, restaurants and guesthouses can be found everywhere here​ and they're of affordable price.
The boat leaves from the resort every day at 9:30AM and comes back at 3PM. You have to be really strict on time if you're planning to do an island hopping to Koh Toch. 
Here are what to prepare:
Seasick pill: It's never easy to throw up on the boat. If you know yourself well enough, take the seasick pill 30mn before you board.
Snorkeling gear: A clean freak? I feel you. I was super disgusted by the gear provided. They don't really have the time to clean it after being used. It's better you spend once on your own snorkeling gear and reuse it later.
Swimming goggle: Unless you can bear the pain of salty water in your eyes, then bring your goggle.
Swimsuit: Bring your swimsuit unless you wanna go skinny dip. Hahaha
Sunscreen: Of course you don't want to be burned as red as the carpet. Bring your sunscreen!
Sunglasses
Mosquito repellent
Towel & Toiletries: If you wish to stay in the tent, bring your own set of toiletries and towel.
Metfone Simcard: If you know yourself well enough that you can't live a day without internet, don't forget to have Metfone simcard ready. Metfone is the only phone network that works on the island.
Special thanks to Koh Thansour Resort for this amazing trip. To book for the accommodation, click here.
Also thanks to Mekong Express for the van tickets. To book your van ticket, click here.