I've already mentioned places to visit in Mondulkiri in my previous article. If you haven't checked it out yet, click here.
Now I'm back with another article about 3 most interesting things you shouldn't miss doing during your time in Mondulkiri.
1. Spend a Night with Pnong Family
To know how one truly lives, you have to dwell in, delve into their life and experience it yourself.
I know the thought of living in someone else's house can be intimidating and it had never appeared to me that I would have done what I've done, sharing a stranger's house for a night. But through living with the local, especially the indigenous group, I've got to learn something I would never have learnt staying in the hotel room.
We got to our homestay in Putang Village at around 10:30AM, unpacked our stuff and helped my host mom cook our lunch. We took a short rest after lunch before we headed to our host family's farm.
Farming is one of the things Pnong people do for a living. Our host dad took us to his farm during our stay and I suddenly regret wearing shorts. When someone from the indigenous group says FARM, you gotta go prepared and avoid making the same stupid mistake that I did.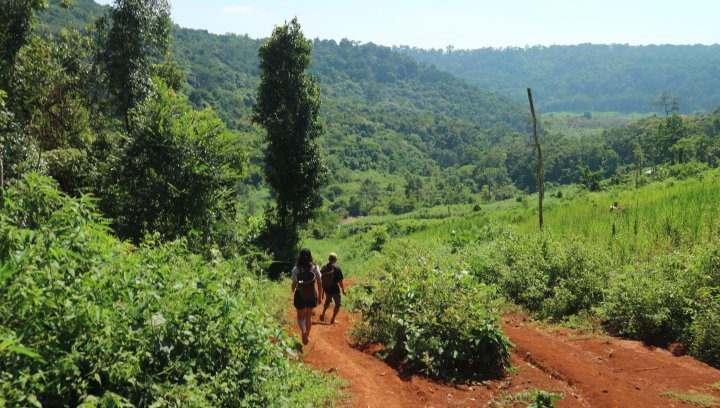 Their farm isn't at the back of their house, but a few kilometers away on foot to the mountain slope and the path isn't easy.
Unlike the jungle trekking tour I went to the other day, there isn't any walking trail to my host dad's farm so we had to push away all the tall grass and plants to make a way for ourselves.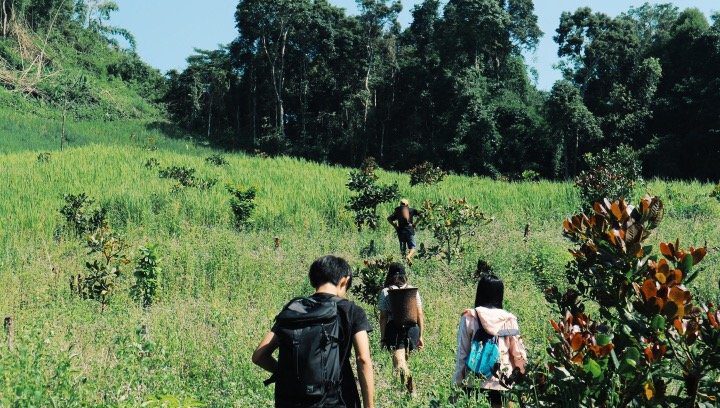 The crop is as tall as my height.

It was like a completely different level of jungle trekking. One simple tip from my silly mistake you guys, wear LONG SLEEVED T-SHIRT AND LONG PANTS when you're going to the farm with Pnong family.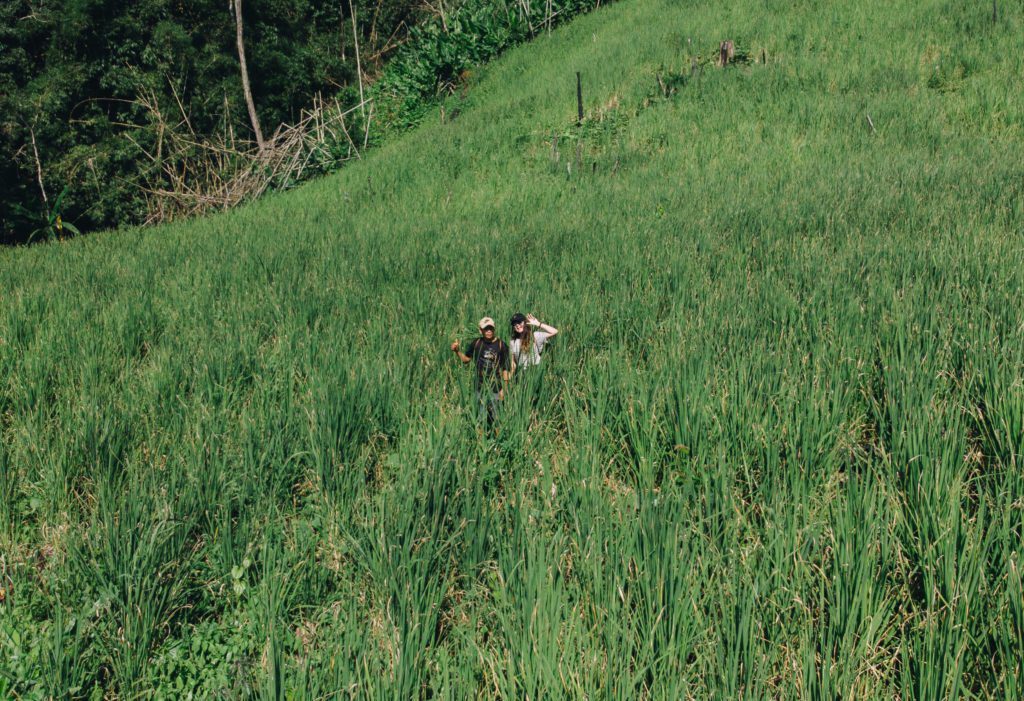 On the way back from the farm, I asked my host dad about the indigenous people signature drink, Sra Ovten, and he took me to the traditional house where this is made. What's interesting about it is that they dedicate a house just for that- they've got the jars of all sizes, from the smallest to the biggest ones.
I thought this Sra Ovten would taste so weird but it surprised me that I LIKEEEEEE IT!
I got the smallest one back home and it cost me as little as 20000Riels (5USD).
We came back from the farm at around 4:00PM then started to cook Pnong people's cuisine that we've been wanting to try, Samlor Bok, for dinner.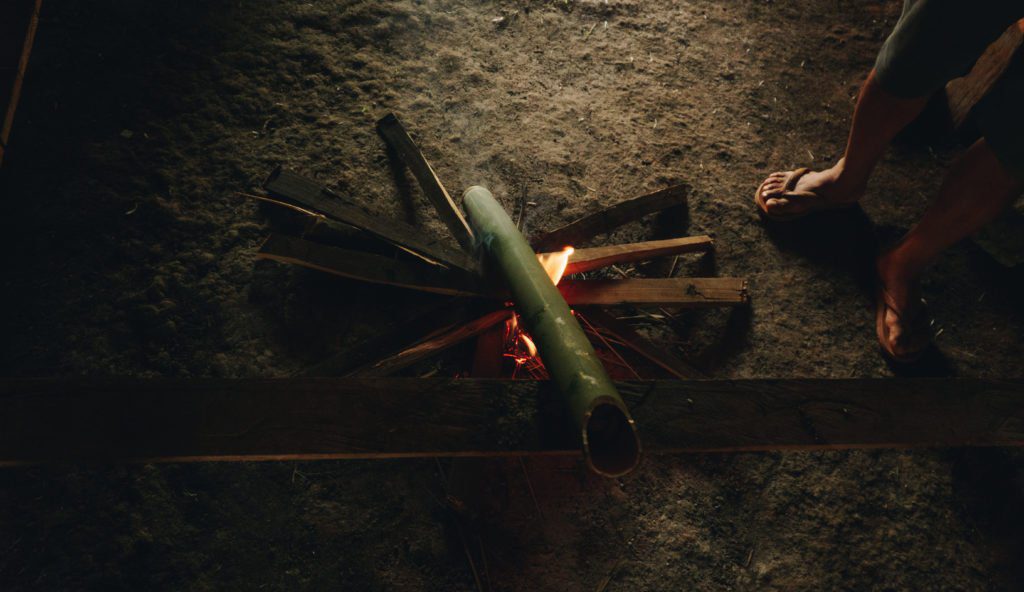 We also got to cook their other signature dish, Samlor Masav (Flour Soup). I've never heard of this dish before until my host mom told me about it.
She said Pnong people usually eat this for they don't need to spend anything, but only need to grab some vegetables from their farm and cook it.
I guess you might have already known that Pnong's got their own language.
You can say I'm slow, but I've only got to learn a few words during my stay. It's really hard to catch up- the pronunciation is so different from Khmer and the word is nothing similar. It's really fun to learn and I looooooove how they've got their Pnong accent on when they speak Khmer. It's SUPER CUTE and FUNNY!
I'm super glad I've decided to spend a day with them. Homestay is actually the BEST PLACE to help you experience new cultures and to travel more responsibly. Spending your time and money at the homestay means contributing to the livelihood of the local community as well as supporting your host additional income. I'm happy I got to be a part of this.
If you wish to spend a night with them, let me know. I've got their contact and I'll set it up for you.
Now you might question what should be prepared before staying at the homestay- let's take a look at it.
What to Prepare:
Bring your own blanket. Of course they have a blanket for you, but it's too thin. It's better you bring another thicker one.
Wear long sleeved t-shirts and long pants at night. It could get colder.
Bring your hiking shoes. This is for when you want to go to the farm with them. Normal shoes wouldn't work and would be too dangerous.
Also have a pair of slippers to walk around the house.
Torch. There's electricity but in case the electricity is cut off, torch is your best bet.
Mosquito repellent.
Hon, this isn't a hotel. Prepare your own toiletries.
Price: $30/Person
2. Jungle Trekking and Elephant Tour
It must be all cool and powerful to have a photo of yourself sitting on top of the elephant in the middle of the jungle to share on your social media accounts, isn't it?
But has it ever come to your mind that using elephants as some sort of entertainment like elephant riding is one of the most wicked things a person can do?
Think about this- imagine yourself having to carry a bag as heavy as a human weight of 50kg or more, how would you feel?
No matter how big or heavy you are, carrying a human-weight thing on your back a whole day isn't fun- it'll exhaust you, weaken your spine and will eventually break it. THIS IS THE SAME TO ELEPHANTS.
So what now? Other than riding on them, you can TRY JUNGLE TREKKING AND ELEPHANT TOUR instead.
There are so many NGOs in Mondulkiri as well as in other parts of Southeast Asia which currently try to help elephants to be free from being tortured and used for physical hard work.
They do this by offering tourists and travelers a day or an overnight jungle trekking and elephant tour.
Since my friends and I didn't have much time, we decided to go on a day tour which usually starts from 9:00AM-4:30PM.
The tour costs $40/Person and the package includes a free pick up from your hotel, an English speaking tour guide, 7km jungle trek, lunch, feeding and bathing the elephants.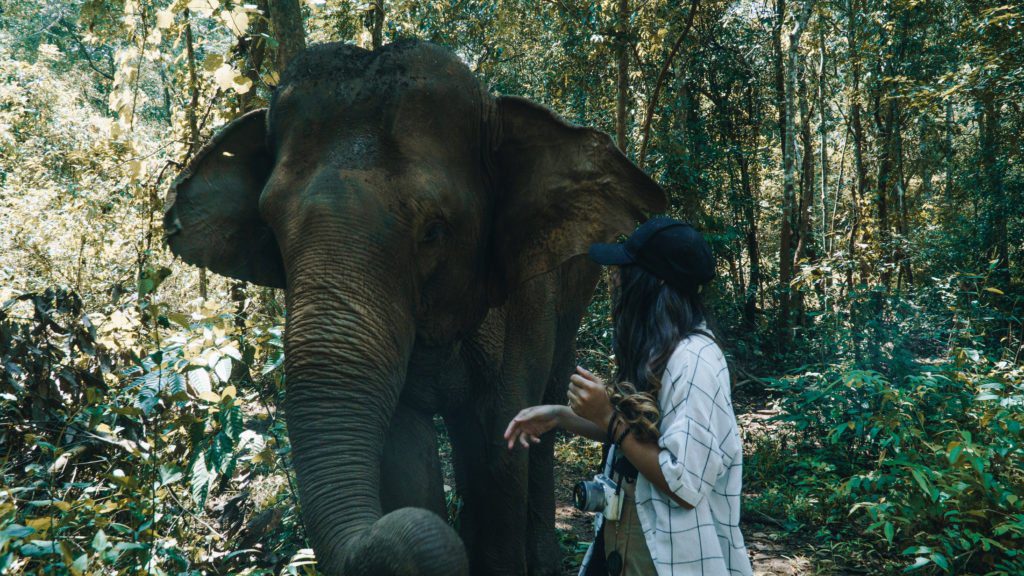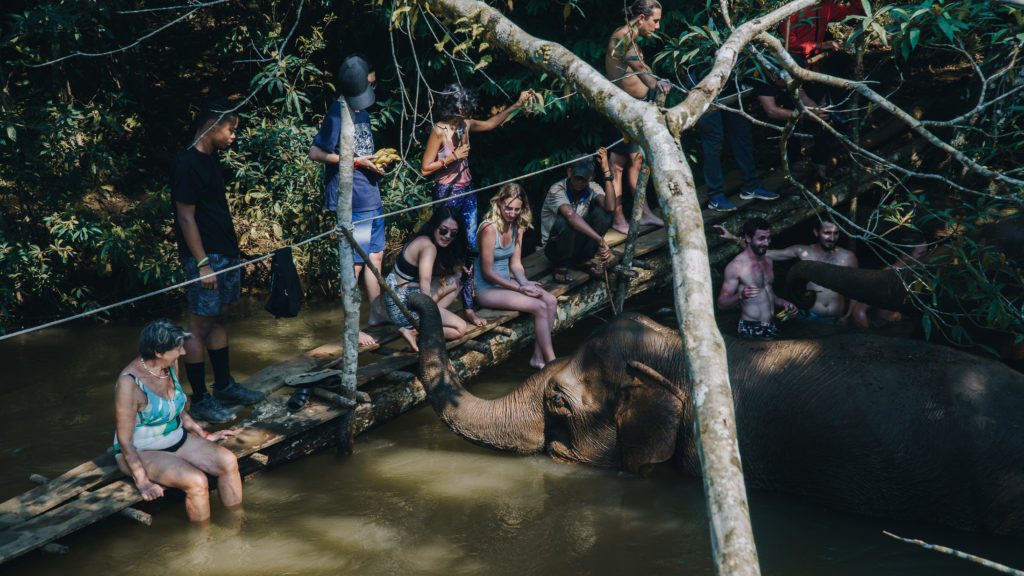 During the tour, we were told that one elephant is usually owned by at least eight families. Before the rescue, these families would always take turn using the elephants all year long for their income through physical hard work and elephant riding.
Now that some of the elephants have been rescued by the NGOs, elephants' lives get easier and their owners also get to earn better. In simple words, not only does it benefit the elephants, but also the local who own the elephants living in the area.
In the sanctuary, elephants are well-cared for and they are free to walk around, eat as much bamboo as they want and swim in the mud as long as they want.
Your money in the tour is like a contribution for their well-being. Let's do what's humane and spread out this information together!
What to Prepare:
Wear long-sleeved t-shirt and long pants. You don't want those small forest insects biting your ass like it did to mine.
Hiking shoes. This is IMPORTANT. Prepare your best hiking shoes because the path can be slippery.
Bring a small backpack. Make sure not to put anything heavy in it because it's a long way to go.
Have your swimming suit ready. You'll be taking a bath with the elephants.
Mosquito repellent. Apply this once in a few hours.
3. Try Mayura Zip Line
Ever been on any zip line before? Tell you what, this is a MUST-DO activity you don't want to miss during your time in Mondulkiri!
I've tried a few zip lines before and I swear Mayura Zip Line is where I've had my biggest adrenaline rush. I almost peed my pants but it felt like I've finally unleashed the tarzan in me screaming and swinging from one treetop to another. Hahaha
The experience costs $25/Person. There are 9 platforms with 5 single zip lines, and of course it starts with the easiest to the hardest and most exciting of all. The last ride is 300m long and 100m above the spectacular Bousra falls.
One tip is that if you're the lightest among your group members, DO KEEP THE CAMERA during your last ride across the falls. I won't tell you what and why because I don't want to spoil all the excitement, just know that it might get interesting! *wink wink*
I wouldn't be surprised if you're thinking I might have lost my mind going zip-lining here in Cambodia. Let me tell you one thing, I felt completely the same at first. But after seeing how professional and informative our two lovely guides are, I felt totally safe.
A SIGNED SAFETY AGREEMENT IS NEEDED before your adventure begins.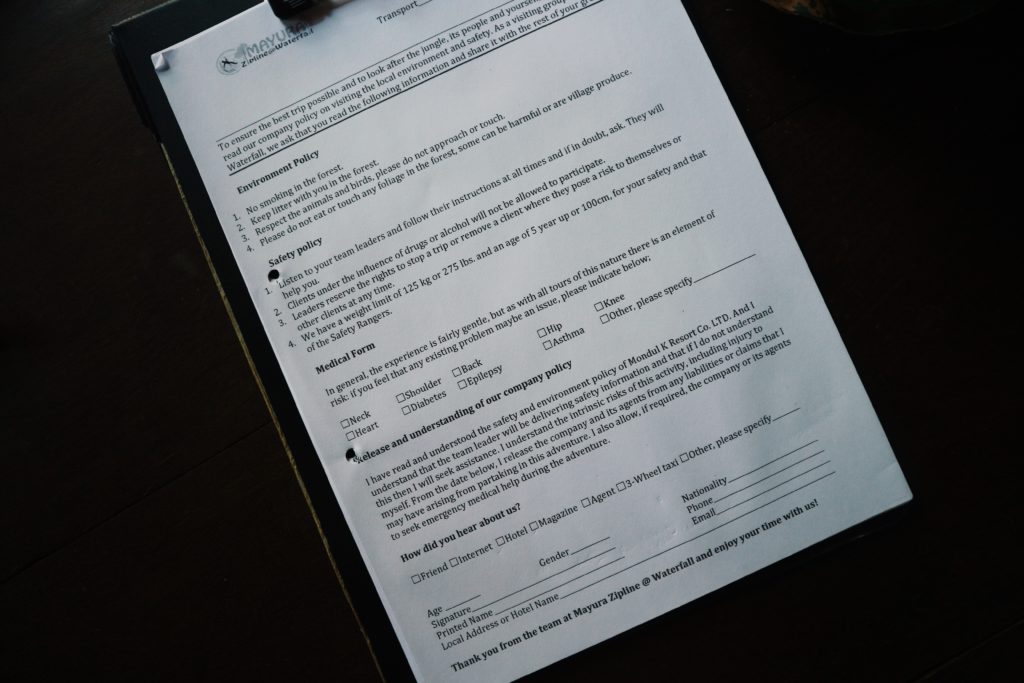 The equipment are really new.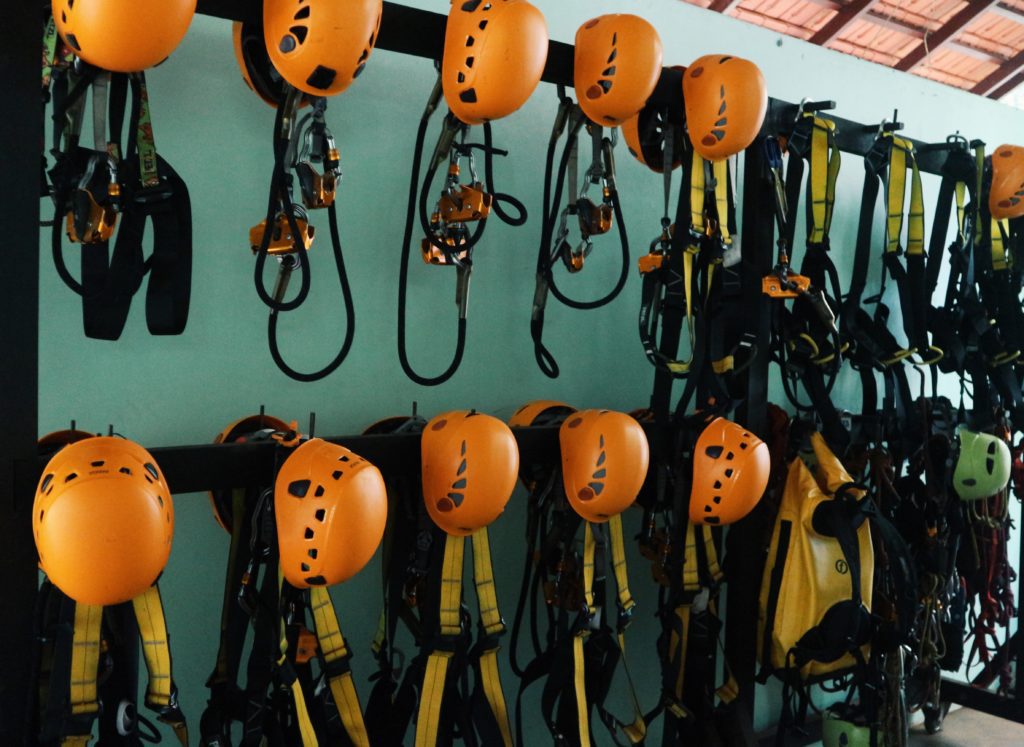 Before you are taken to the real platform, your guides will have a brief session to explain what you must and must not do during your ride. They even show you different ways of how to fly on their mock zip line. Your adventure begins right after that! And don't you worry about loose equipment, your guides will always check on you at each platform before you become a tarzan again.
For safety purpose, there's a weight limit of 125kg and age of 5 or height of 100cm up.
What to Prepare:
Wear something comfortable- sports outfits or t-shirts and shorts.
Sneakers, not flip flop. You don't want to lose your shoes into the waterfall.
Mosquito repellent.
Interesting enough? What are you waiting for? Pack your bag and book your bus ticket via BookMeBus now!