A Short Staycation in Kratie – A Less Visited Part of Cambodia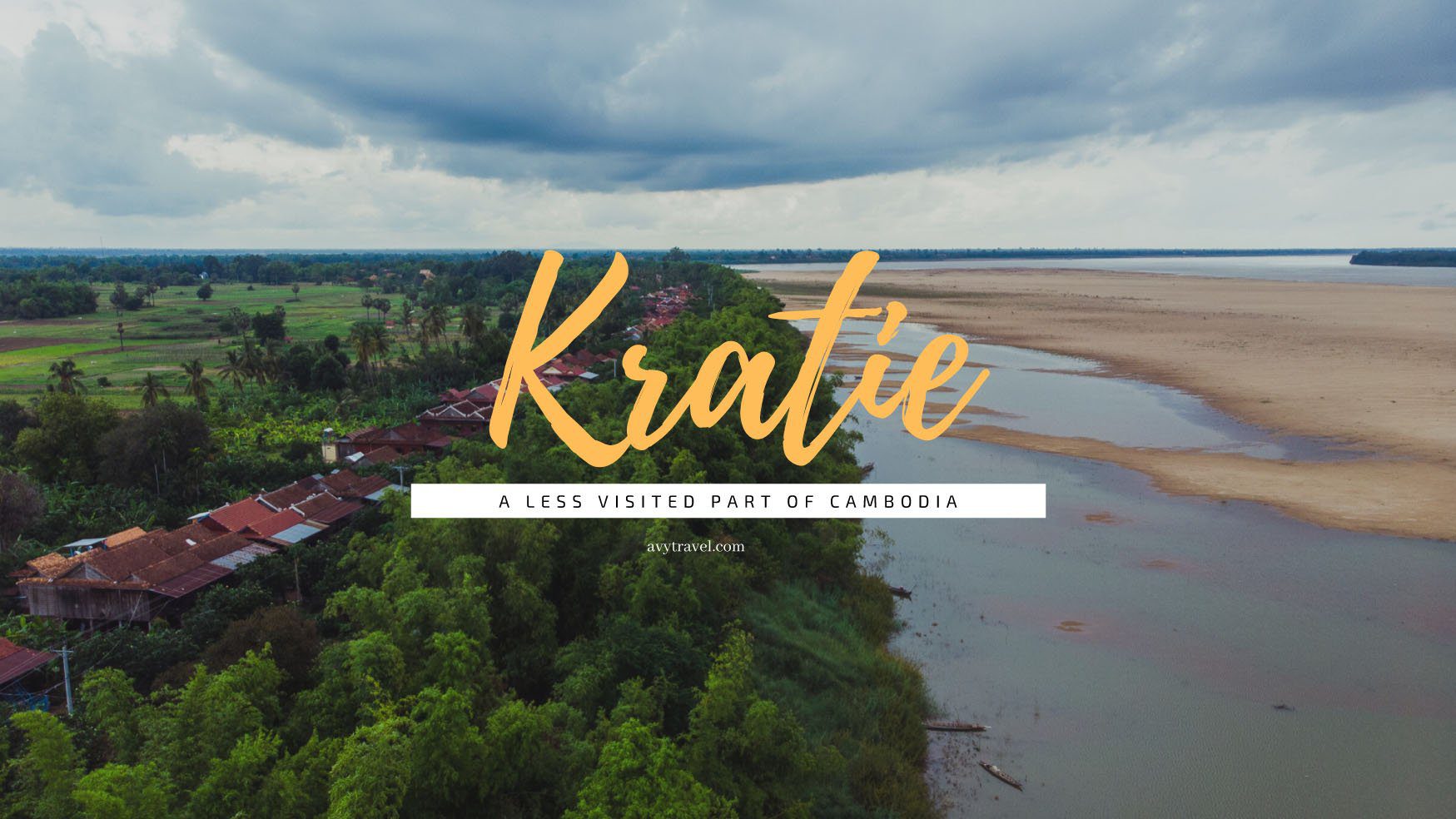 Where else in Cambodia other than Kratie can you spot such pleasing crystal clear sight of Irrawaddy Dolphins?
I guess there's no other greater place; therefore, Irrawaddy Dolphin is the top reason why everyone goes to Kratie. But is dolphin watching the only thing you can do in this less known part of Cambodia?
OF COURSE NOT.
My friends and I haven't been everywhere in Kratie due to our tight schedule, but we can guarantee you there are actually MORE THAN just dolphin viewing!
With this article, we want to help you spend a few worthwhile days in Kratie. Please be noted that this is also our first time in Kratie, so this guide should be best for a first timer.
DAY 1 – Arrival
We left Phnom Penh at 7AM and were supposed to get to Chhlong (a riverside town 35km south of Kratie) at around 10:30AM, but we took the wrong way and got there 1.5 hours later than expected.
#1. Strolling along Chhlong Market
To be honest, Chhlong didn't actually cross our mind when we were planning our trip to Kratie. We were thinking of going straight to the province, but as soon as we found some eye-catching buildings in this historic district through some information digging, we changed our mind and decided to stay.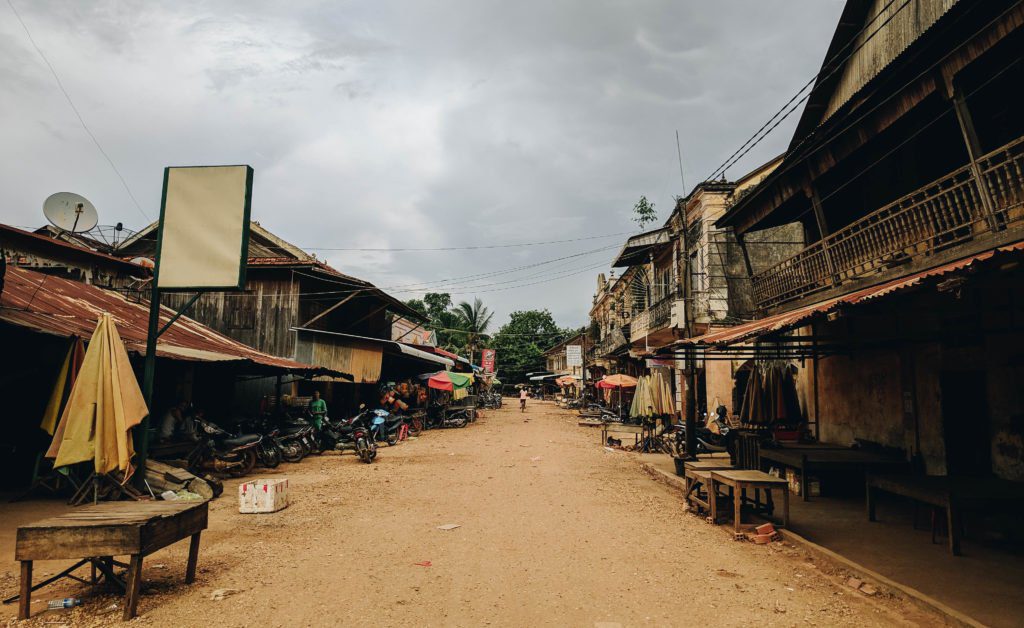 Unlike any other provinces or towns, not many tourists would set foot here in Chhlong. Therefore, the local would look at you as you're some sort of aliens walking around town taking photos.
Strolling along Chhlong market is like stepping into an early 1900 – a lot of Khmer traditional wooden houses still remain here in this part of Kratie. These wooden houses really reminded me of my 5 year-old non creative drawing. Hahaha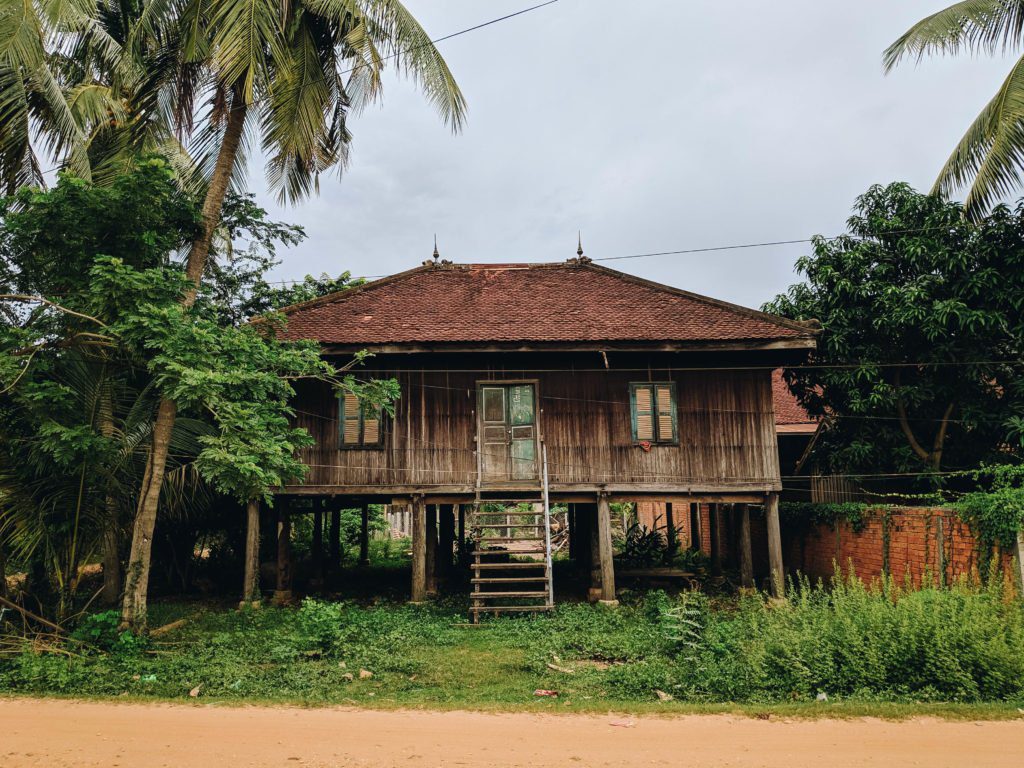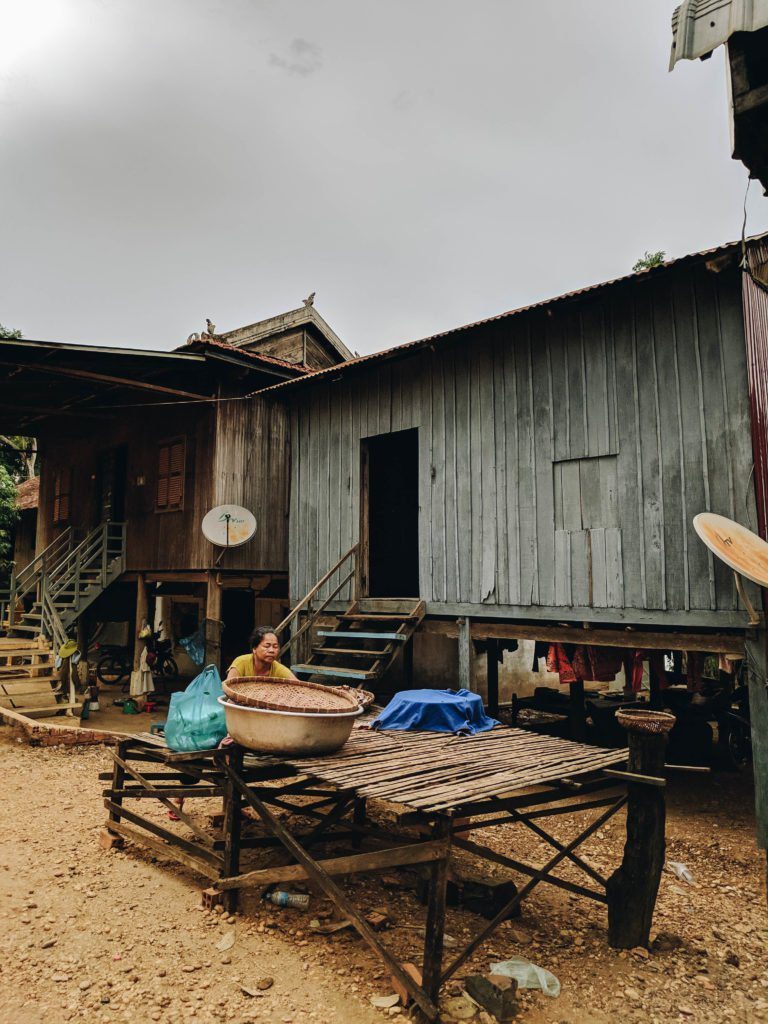 As you wander through the same block, you'll also find several remaining French style buildings.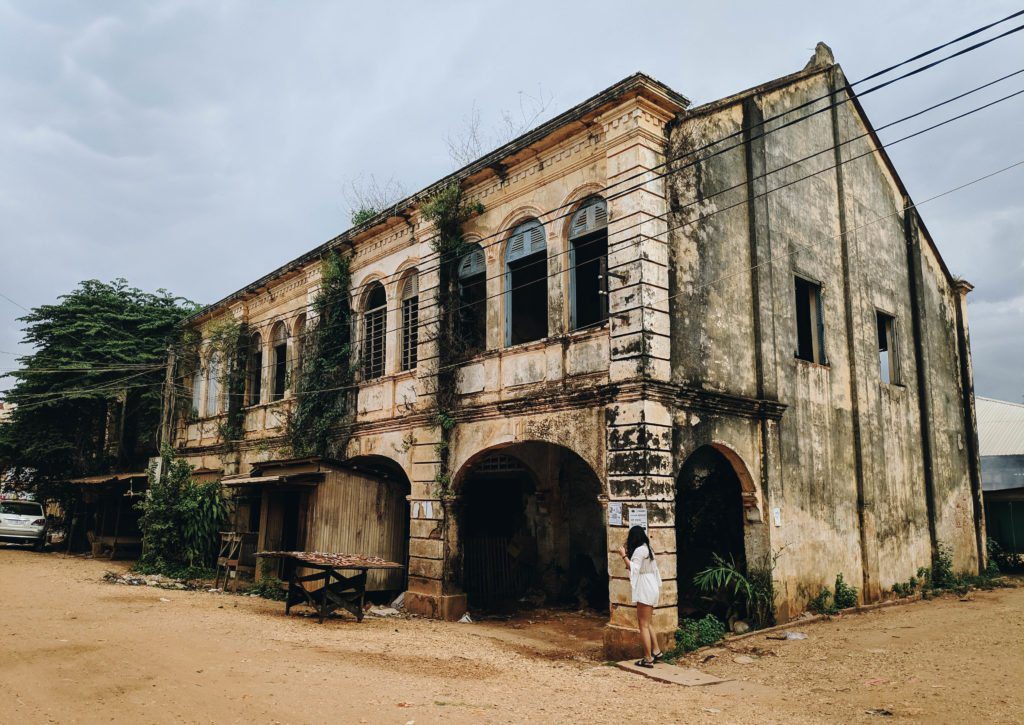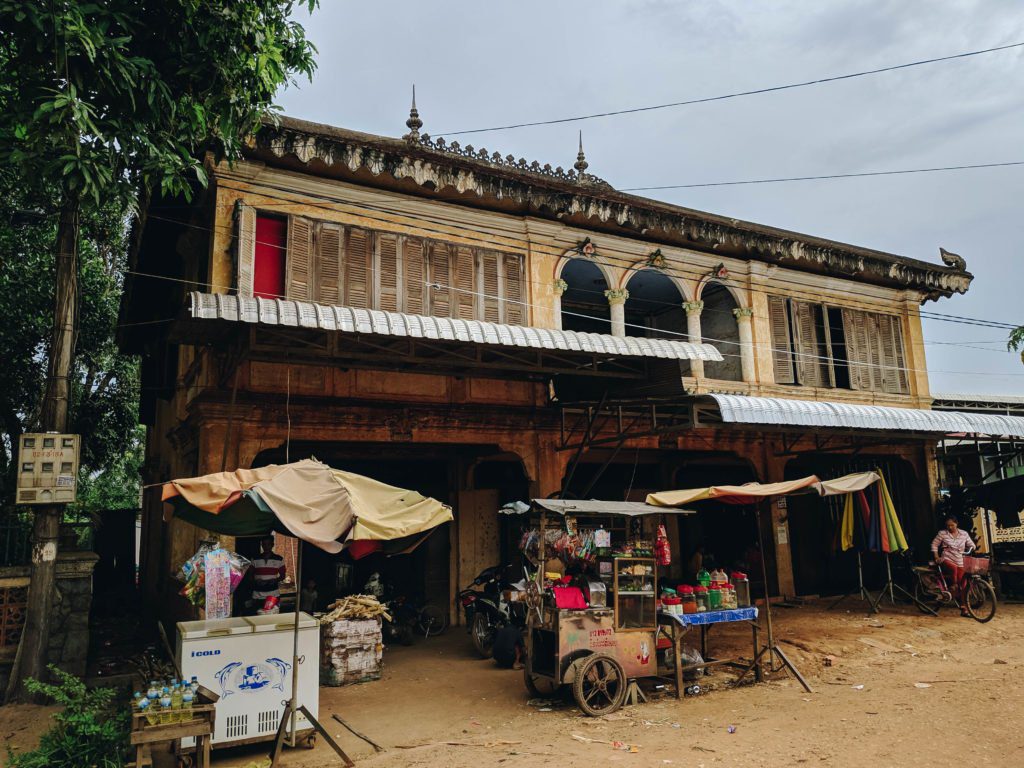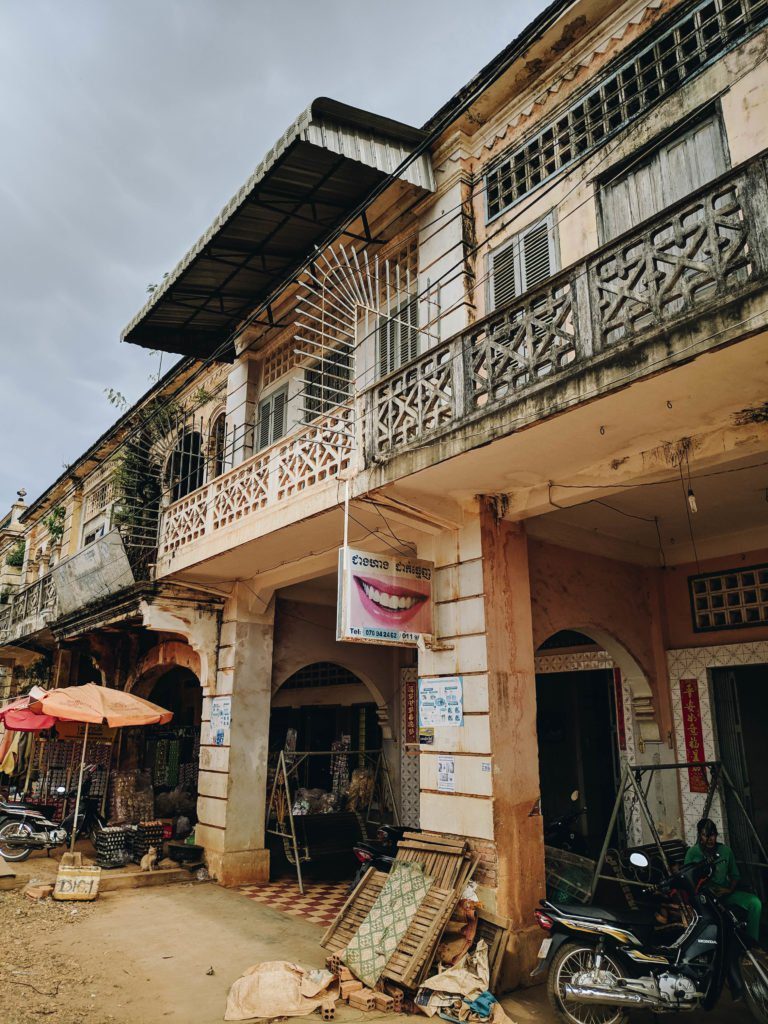 The only thing I hate about this area is that you literally find rubbish everywhere as the old buildings are transformed into some kind of local wet market.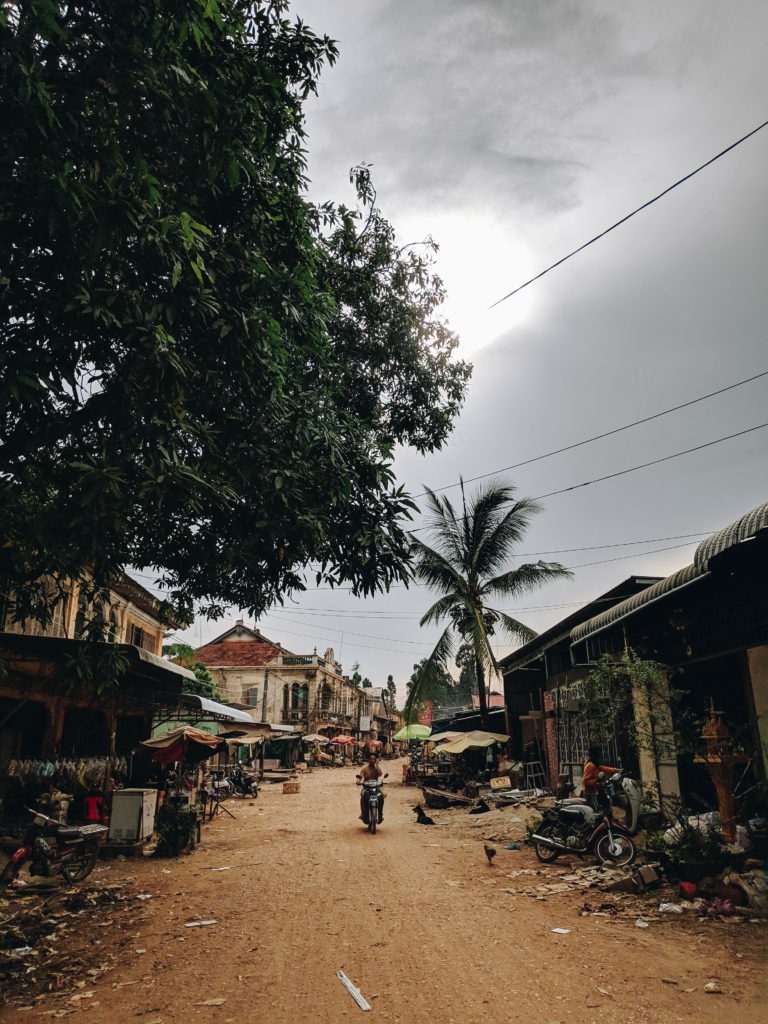 You know how every Cambodian wet market is like– unpleasant smell and tons of rubbish.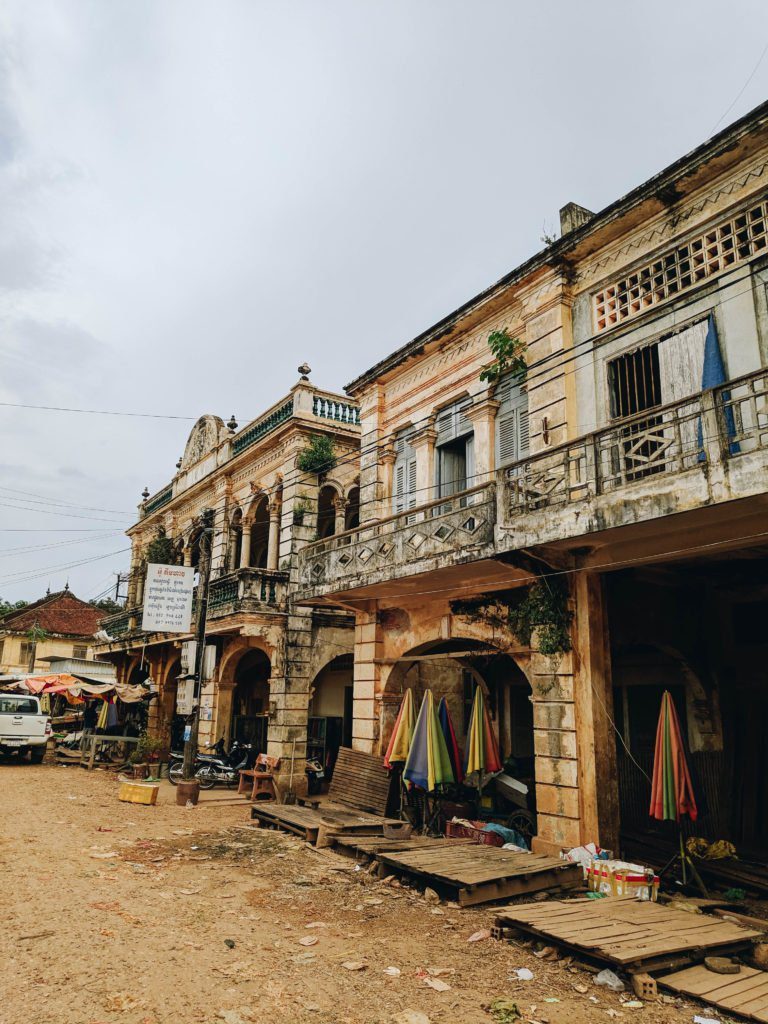 Wholehearted saying, Chhlong has a very strong potential to be one of the most attractive destinations if the buildings and everything else are well-preserved. I've heard the rehabilitation of this district will be starting soon. I really hope I can see a much better result in the next few years.
#2. Visit House of 100 Pillars
Besides Khmer traditional houses and French-style buildings, you should also drop House of 100 Pillars a visit. YES- you read it right, House of 100 Pillars NOT 100 Columns Pagoda.
This is how it looks like from the front.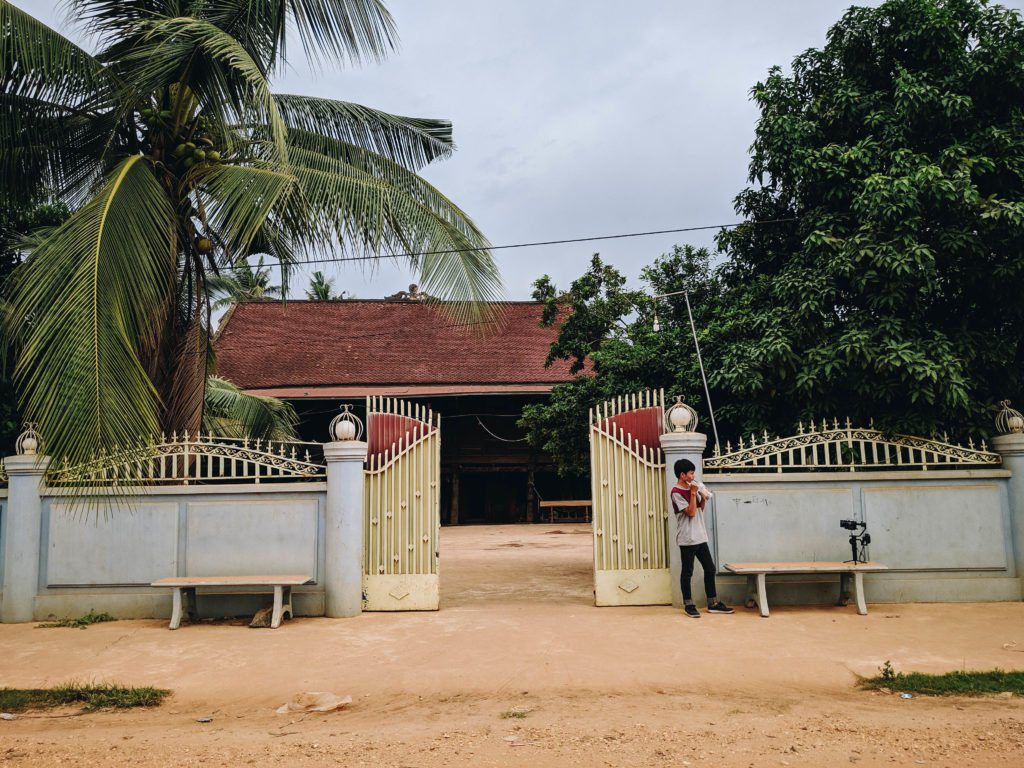 I've read somewhere that 44 pillars were removed after Khmer Rouge but I'm not sure if that's accurate.
I actually wanted to go in and play-count-the-pillars, but mission couldn't be accomplished as the house is not just some tourist site, but is someone's property. Plus, we didn't see anyone we could ask if we could go in.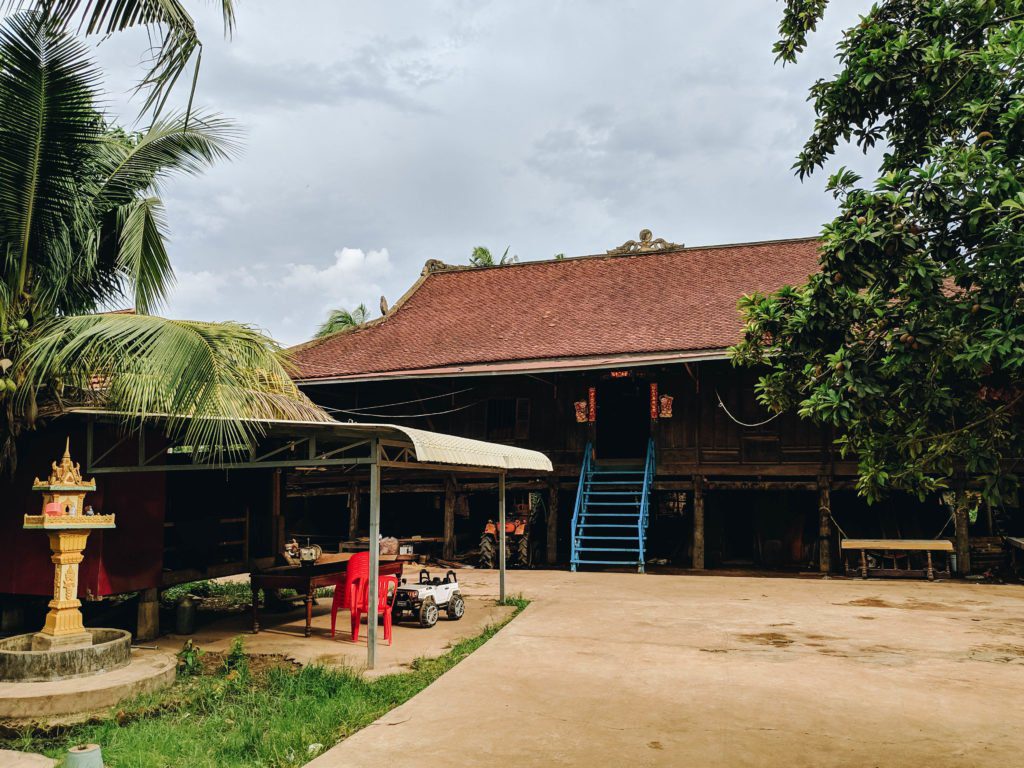 #3. Stay at the Majestic Le Relais de Chhlong
Decided to spend a night in Chhlong!? Then Le Relais de Chhlong has to be the first accommodation in your list!
Le Relais de Chhlong is so majestic that I wish I could spend every single day here.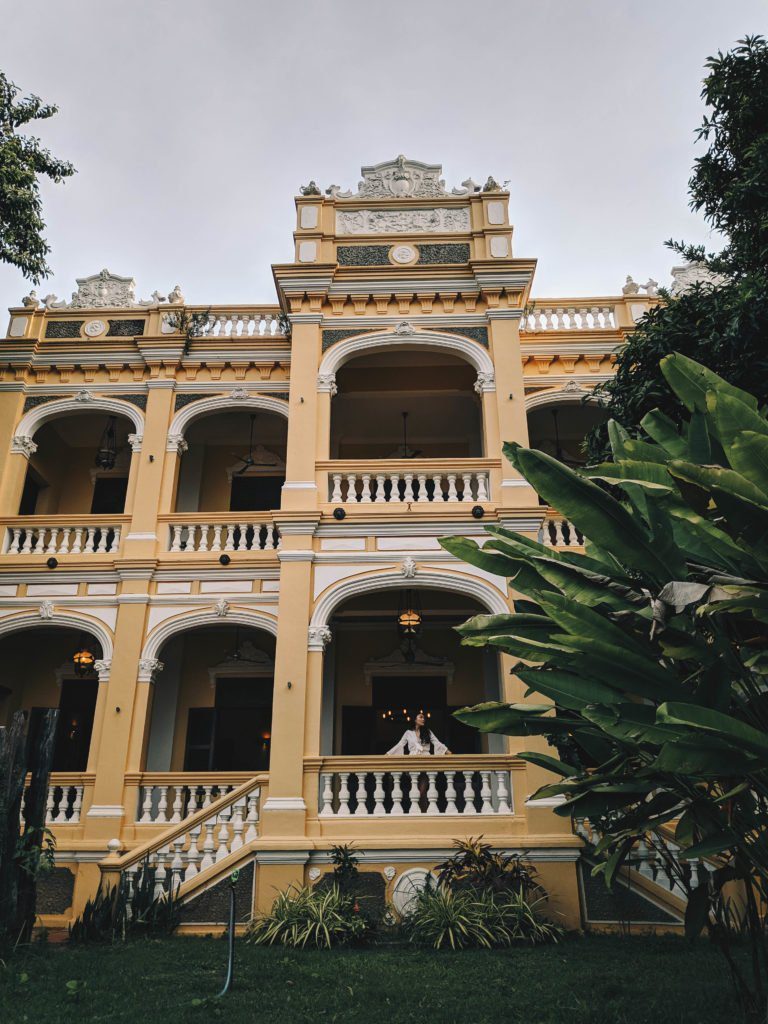 The hotel is set amongst lush tropical gardens that you can barely see the building from the front.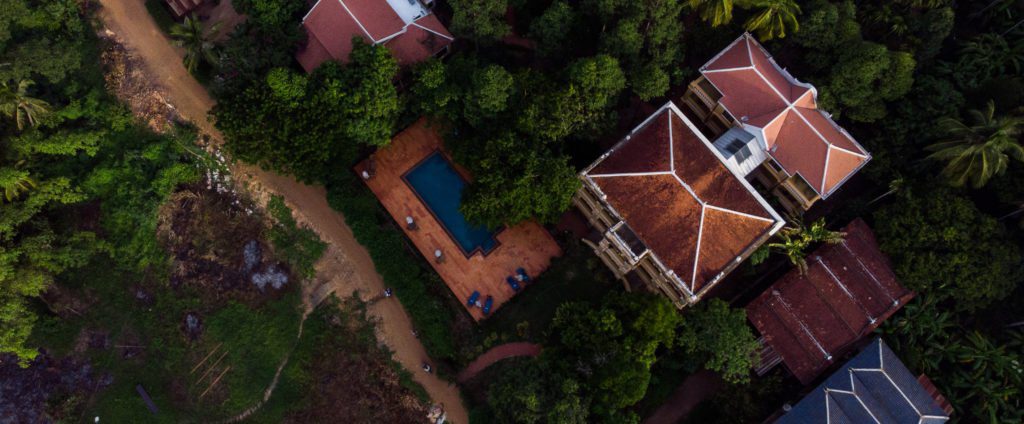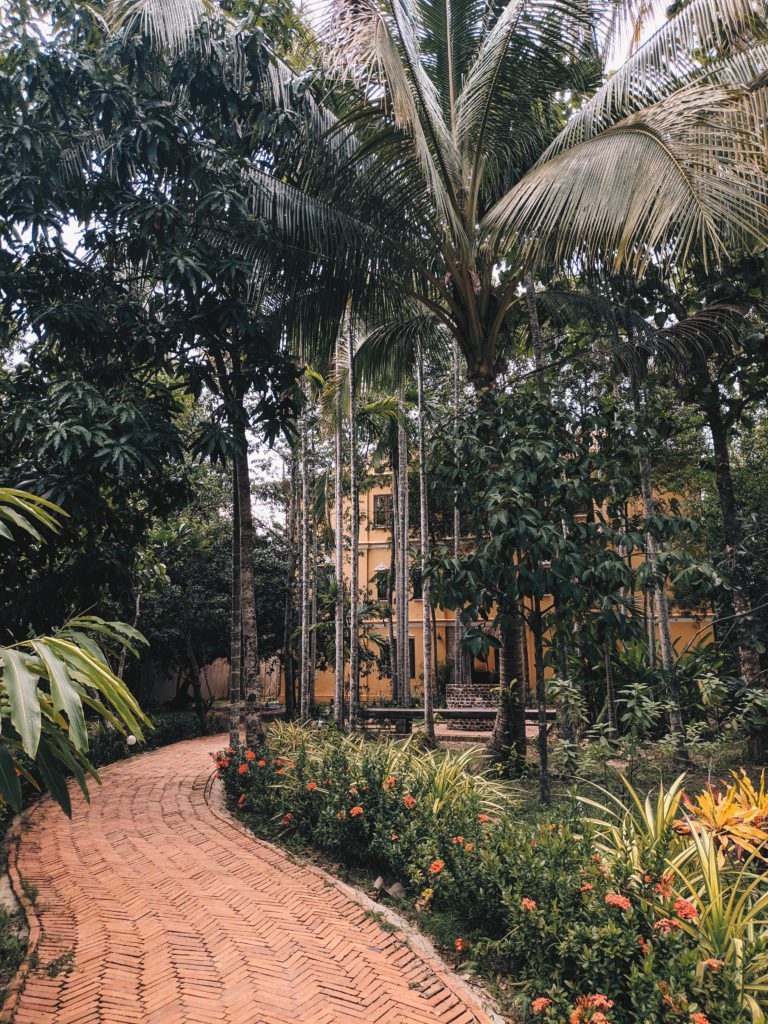 They had welcome drinks delivered to our suite as soon as we got there. How sweet is that? <3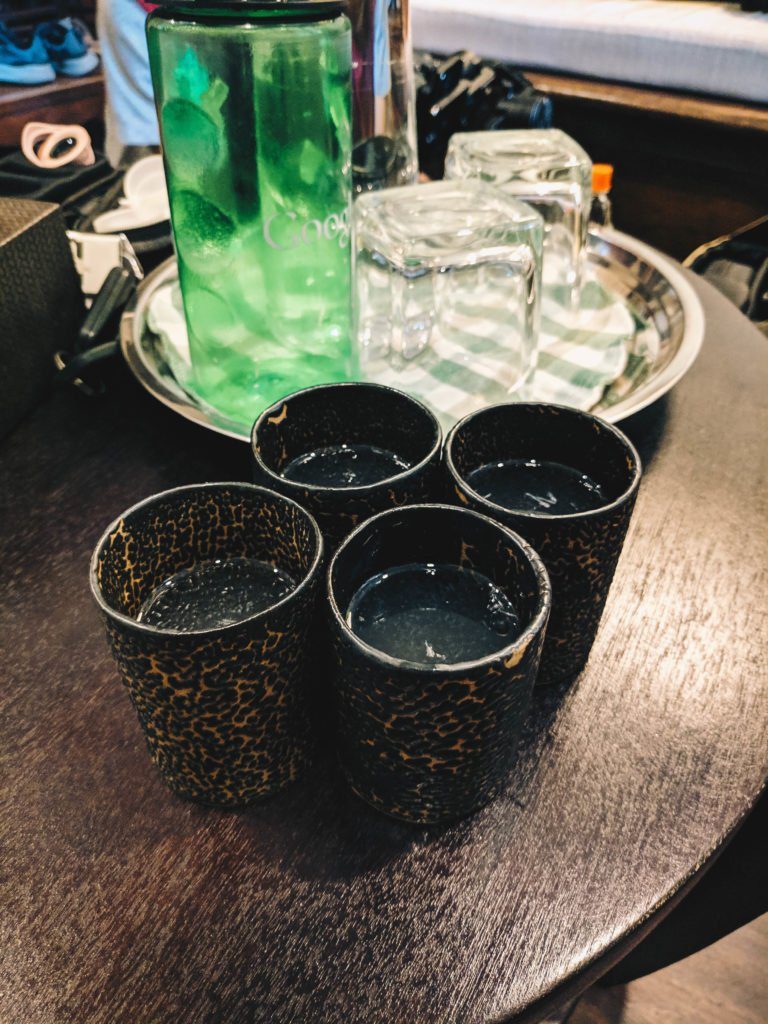 We stay in Garden Family Suite and we looooooooooooove it!
There's a king size bed in the master room and …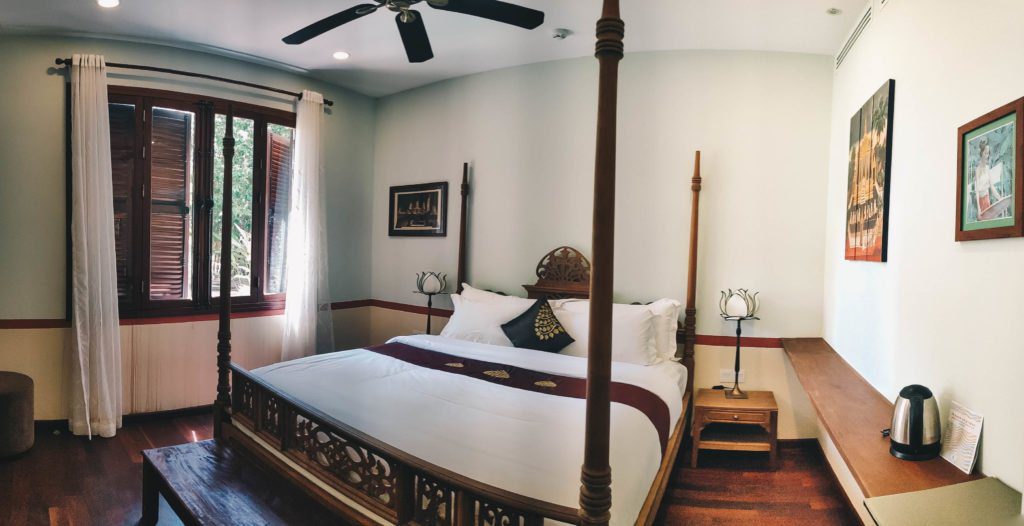 … and 2 double beds just behind the living room.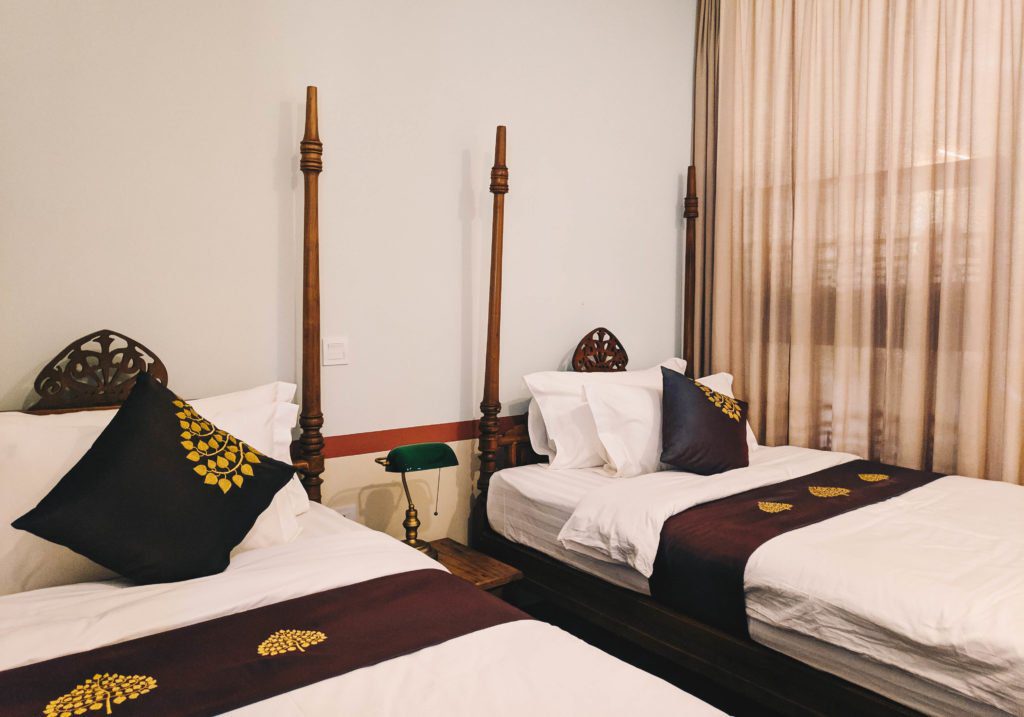 Guess what I love the most about our suite?
MATTRESS and BATHROOM!
Their mattress is soooo soft that you wouldn't mind spending all day in bed. Look, that's how much I loooooove my bed.
What about their bathroom? I bet you'd love it, too!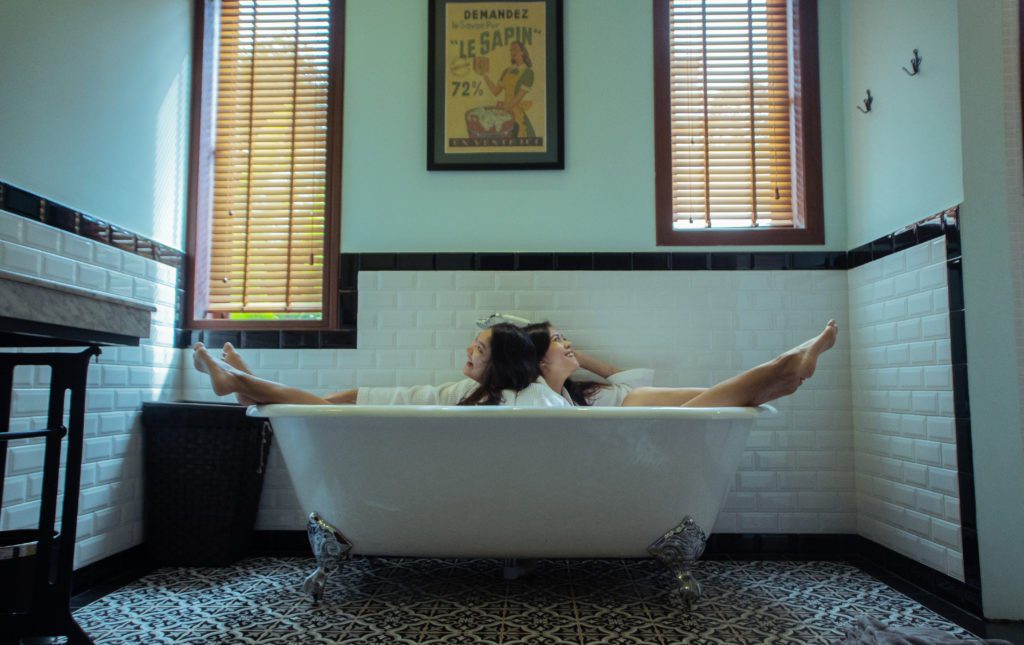 JUST LOOK! Who wouldn't be?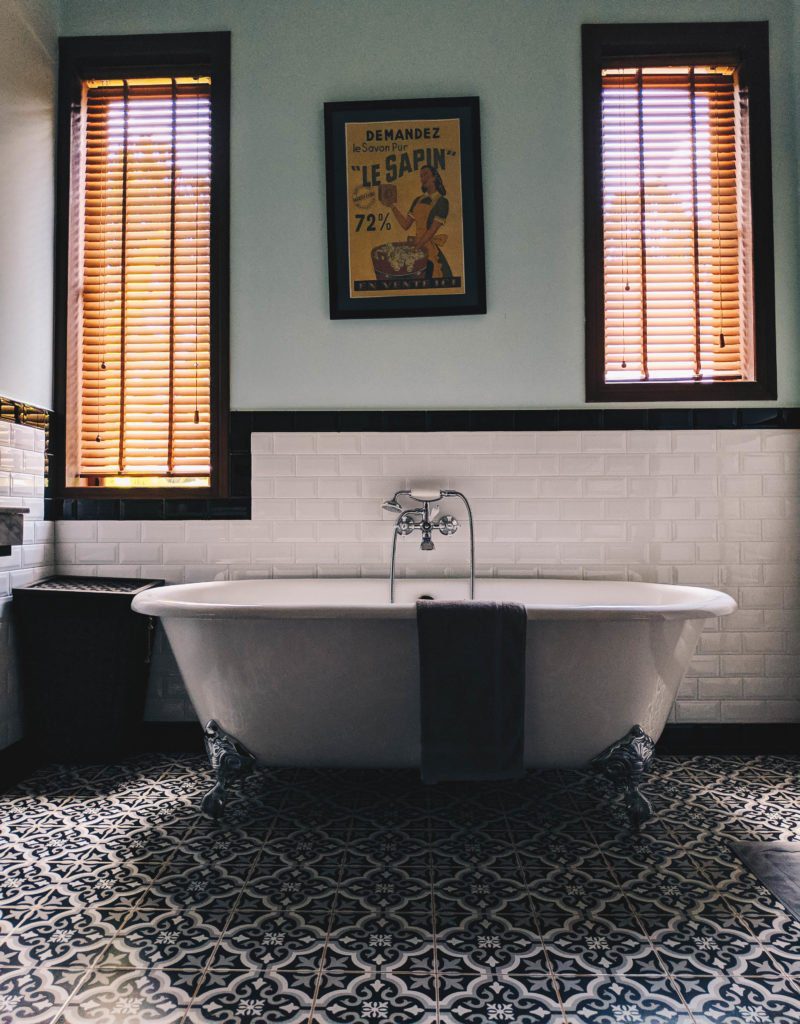 The tile is vintage, the painting on the wall behind the bathtub is just beautiful, the tub is placed at the perfect spot, the shower space is big and the mirror is wide. Imagine having this kind of bathroom at your house. T.T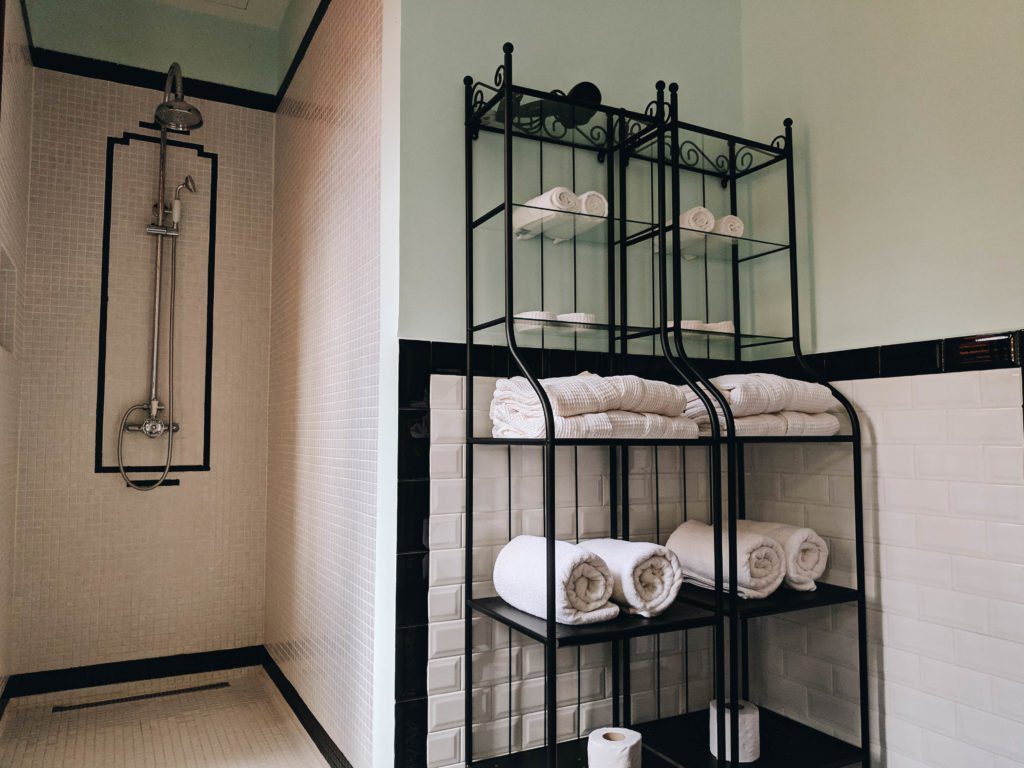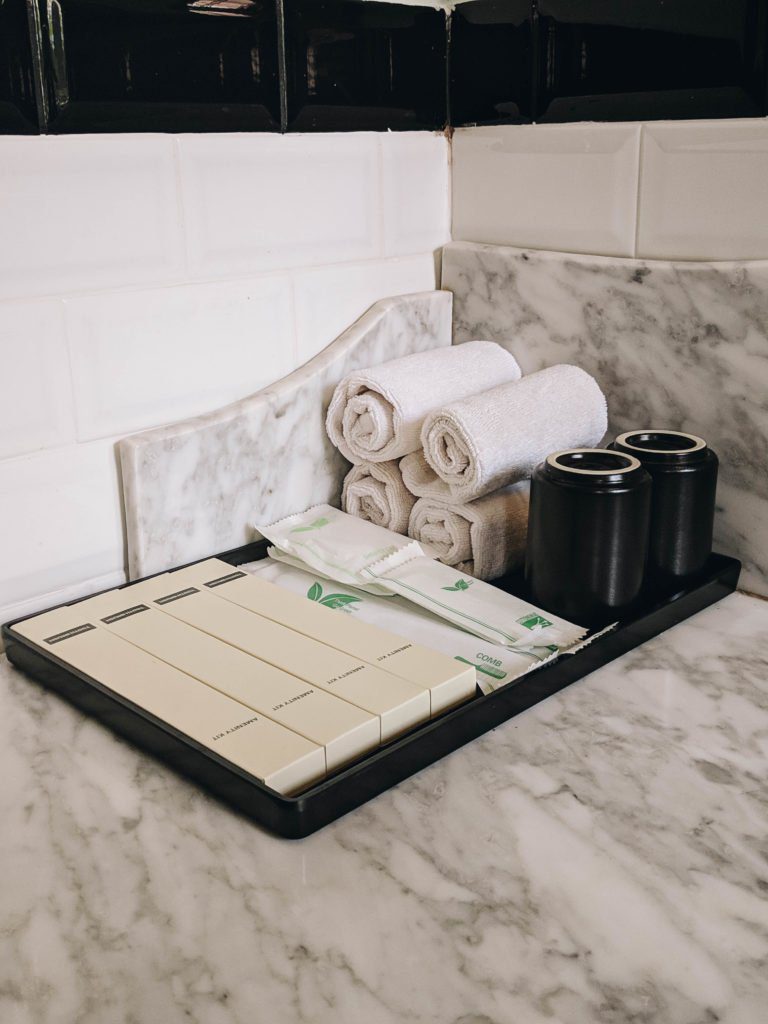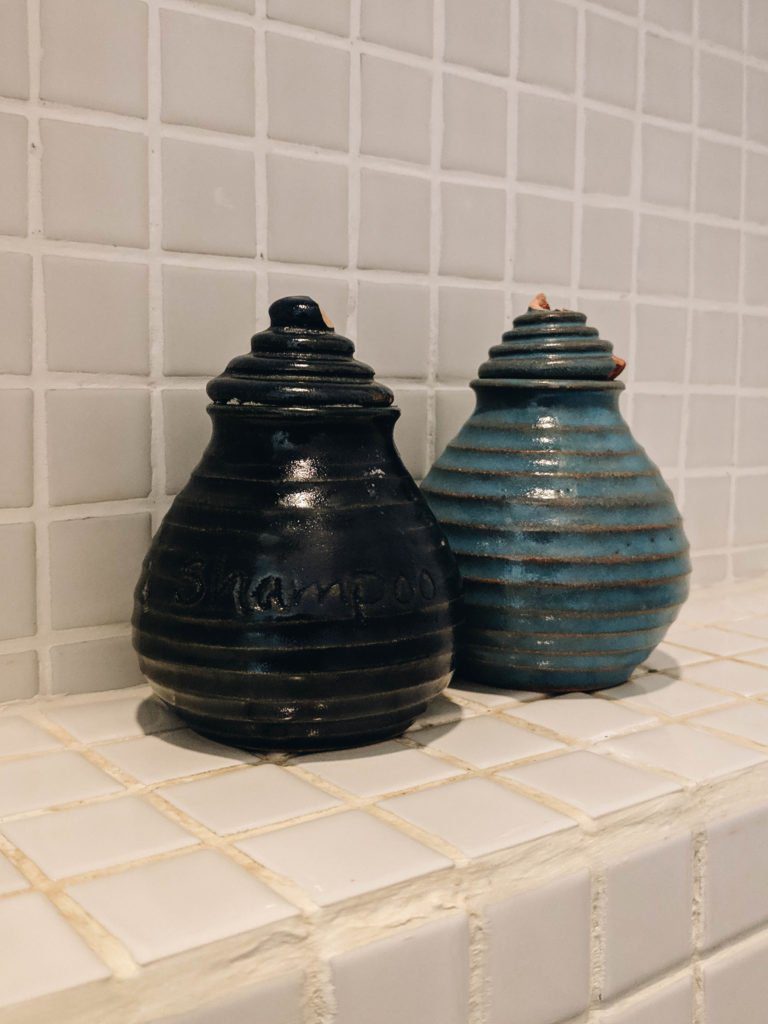 The only thing I hate about our room is its toilet's door. It's soooo heavy and really hard to close.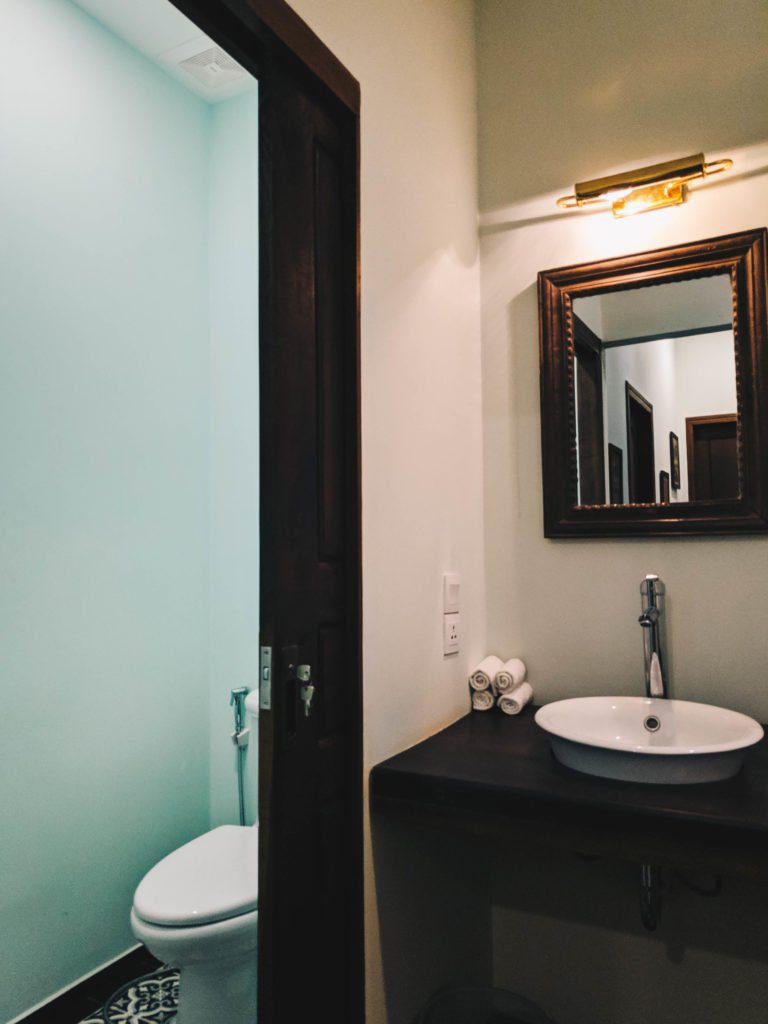 Now now, let me take you on a virtual tour at Le Relais.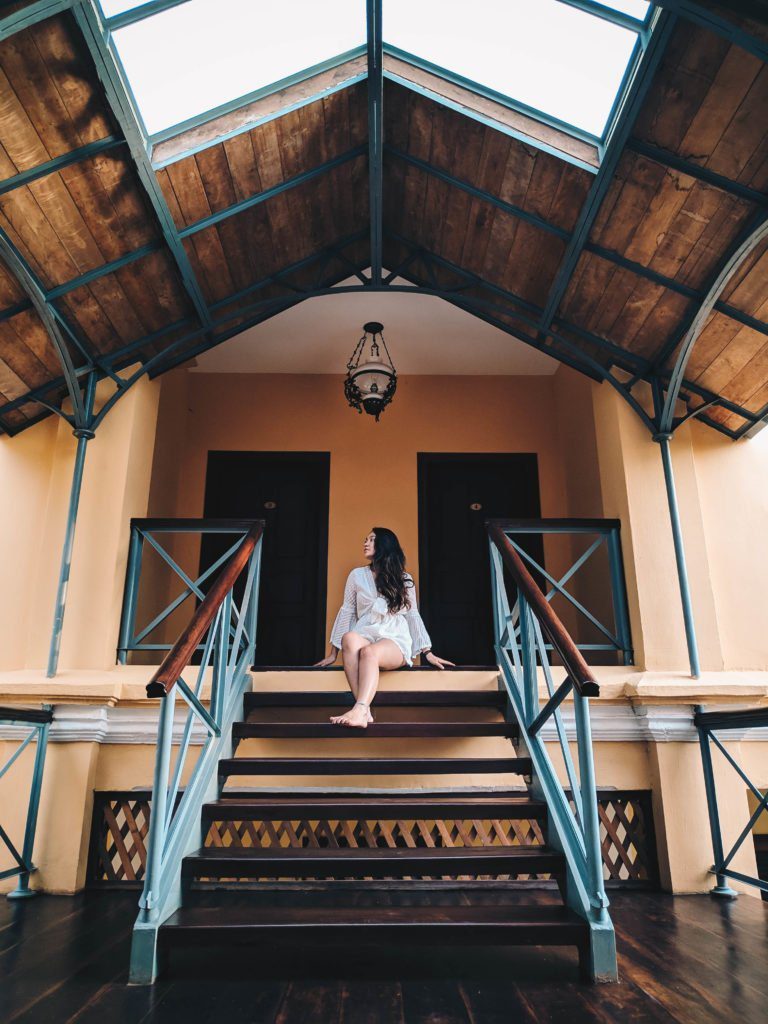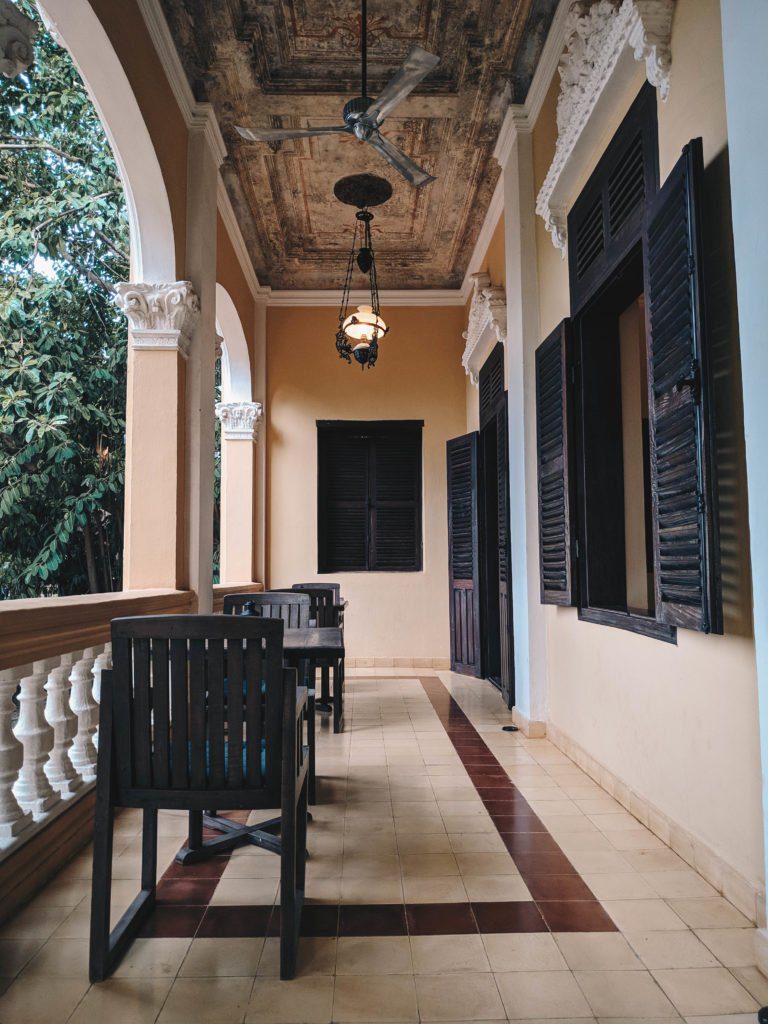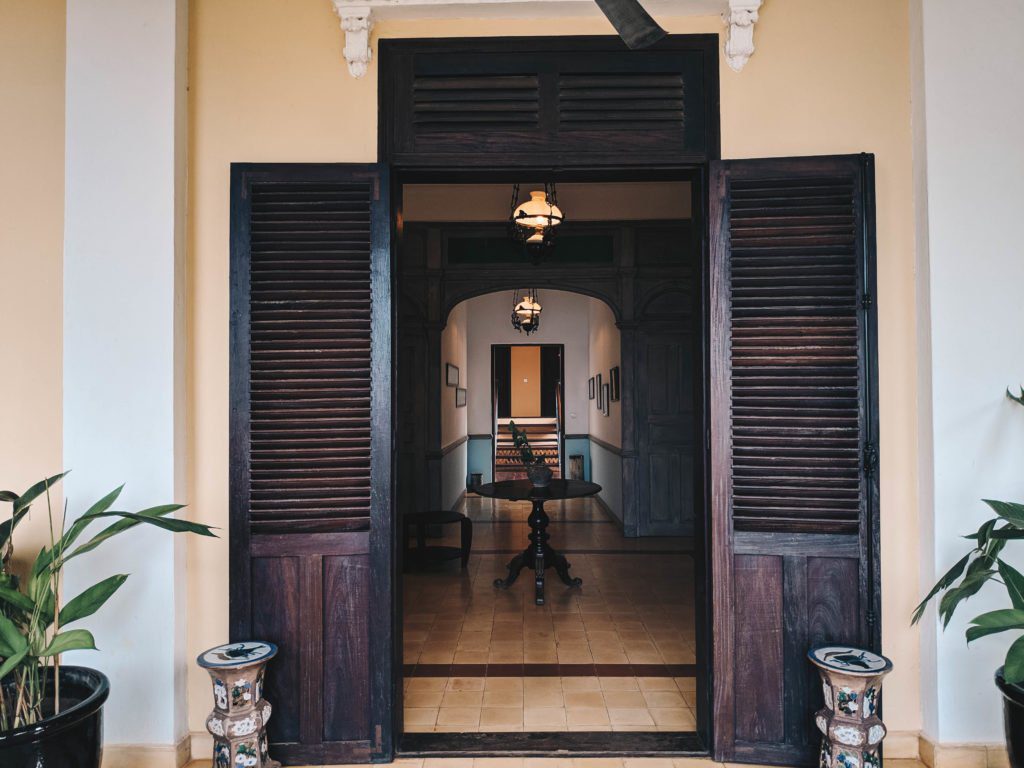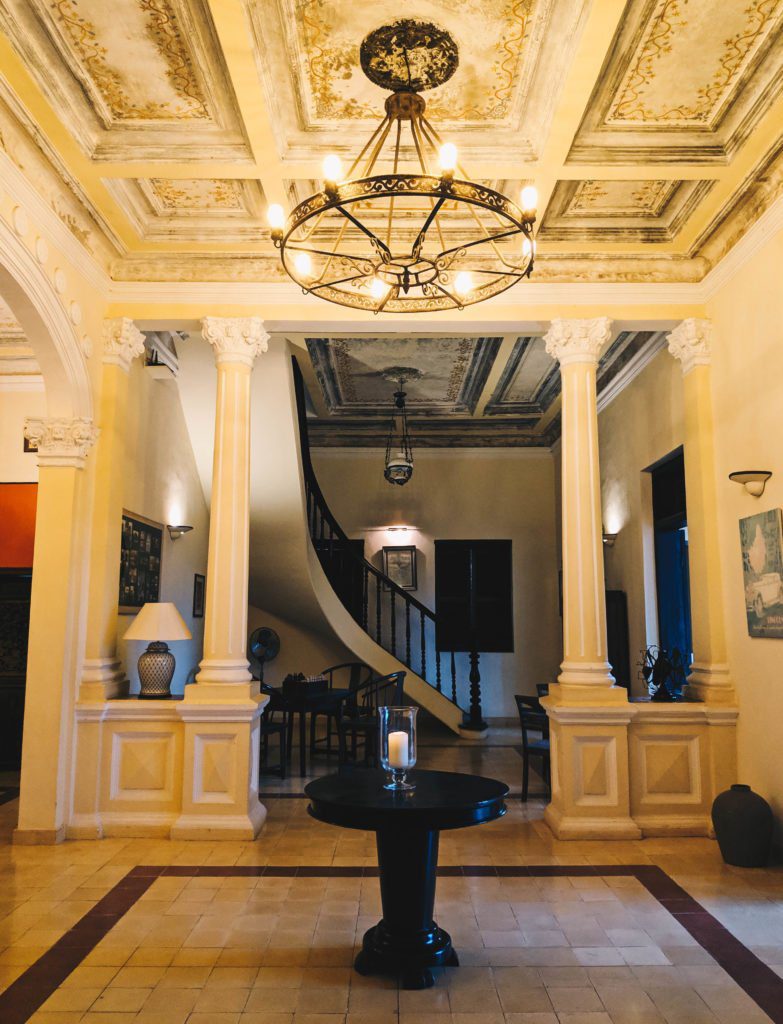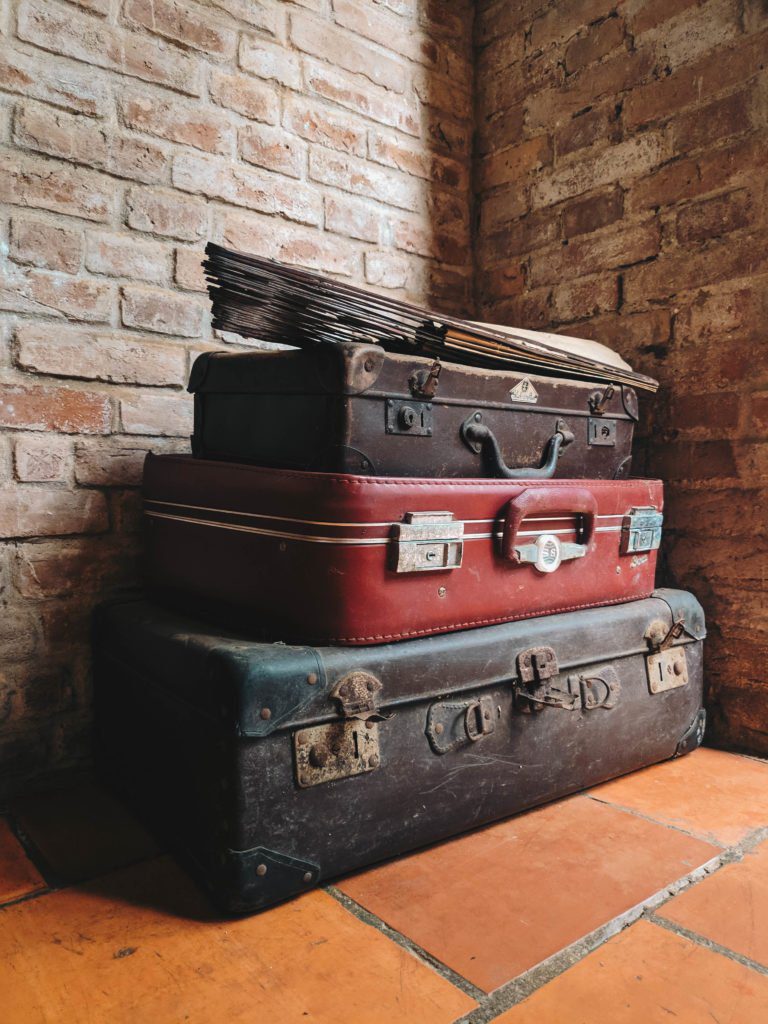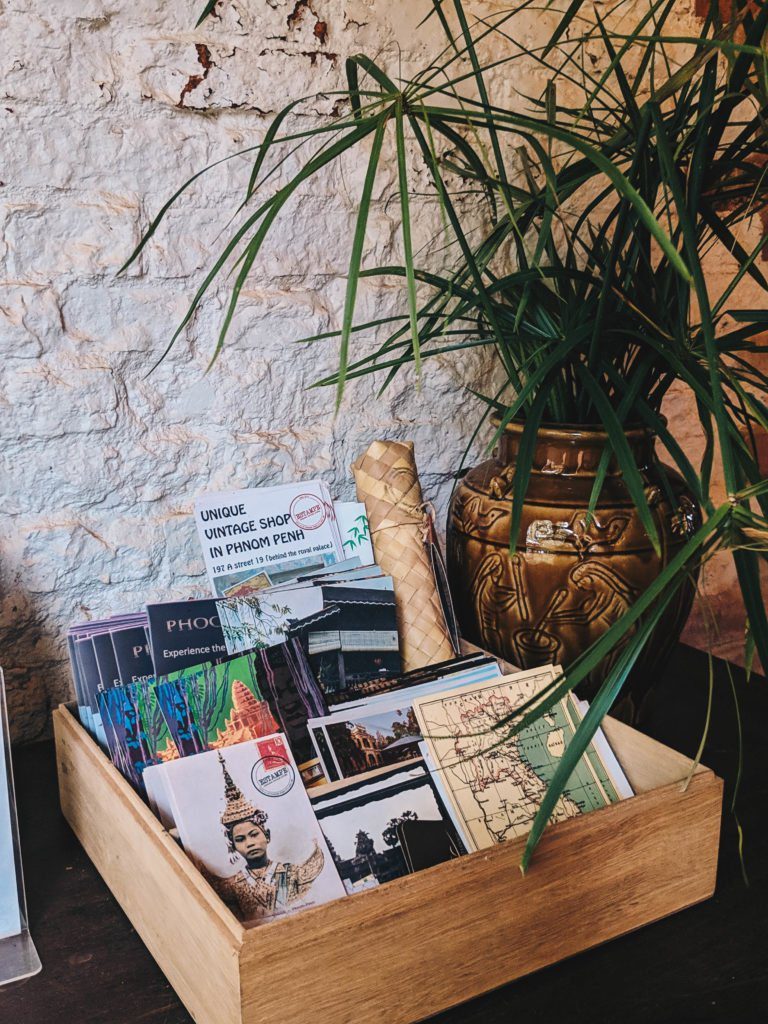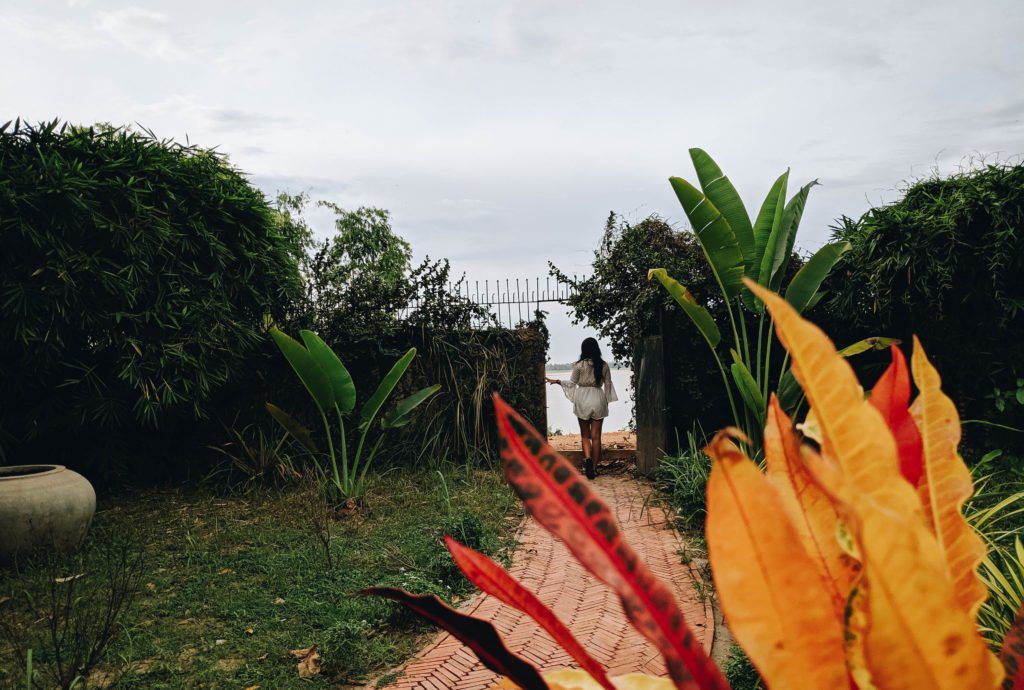 How is it? Isn't that nice?
In case you're in the mood to get a bit tipsy, you can find their bar in the main building.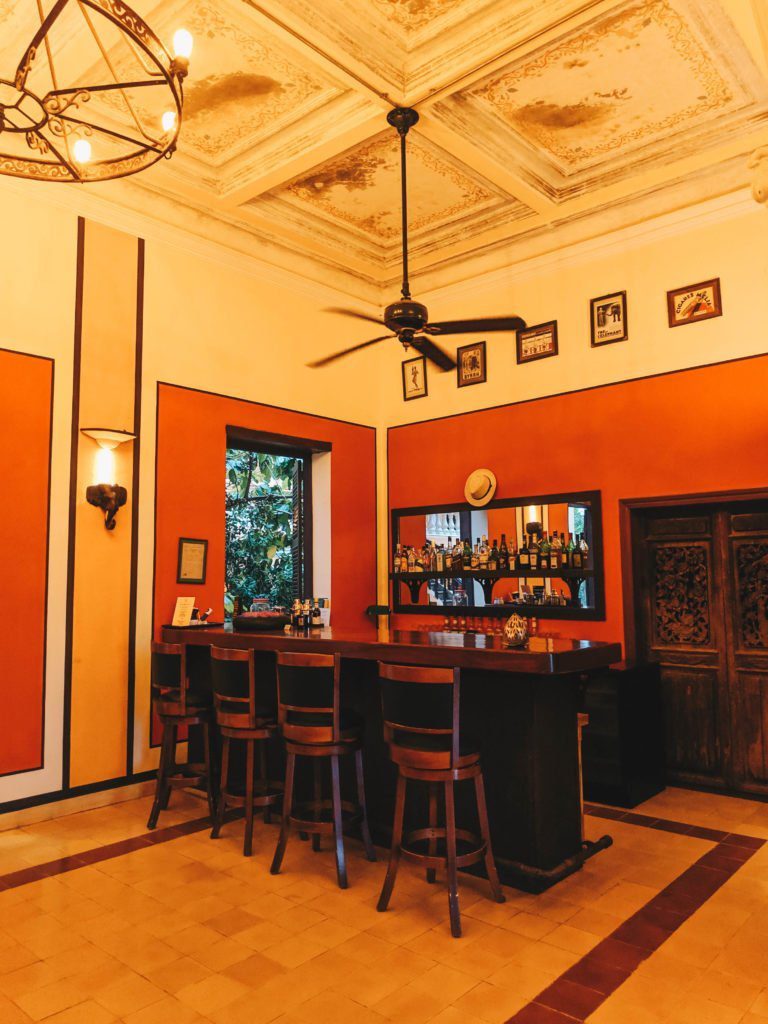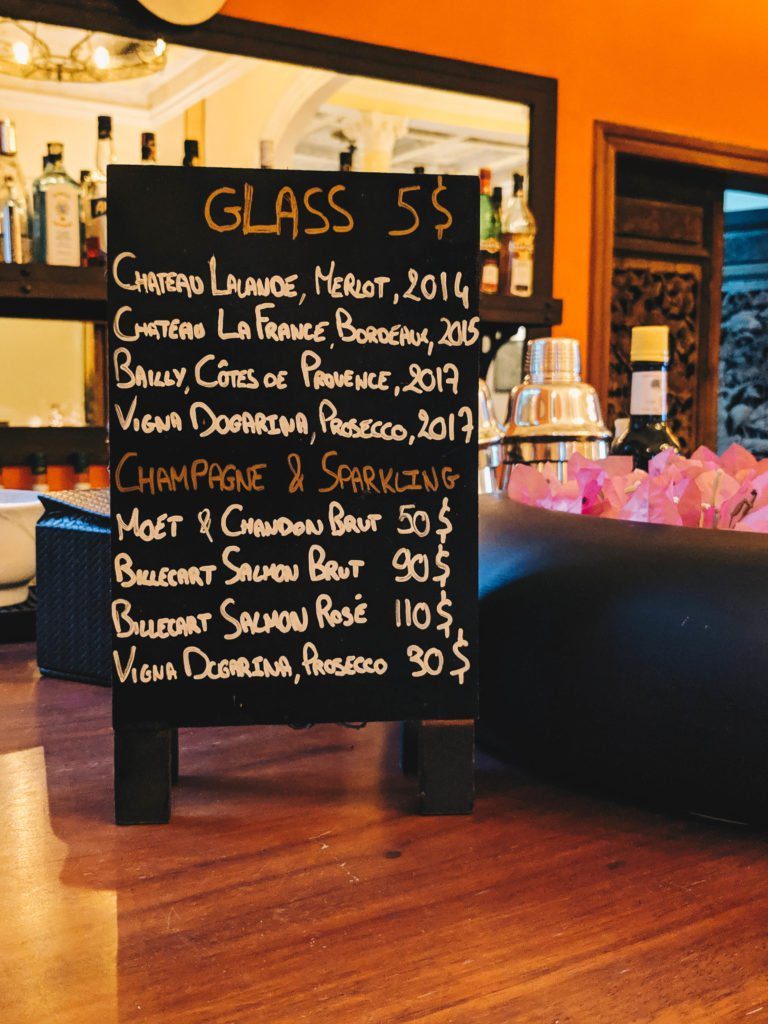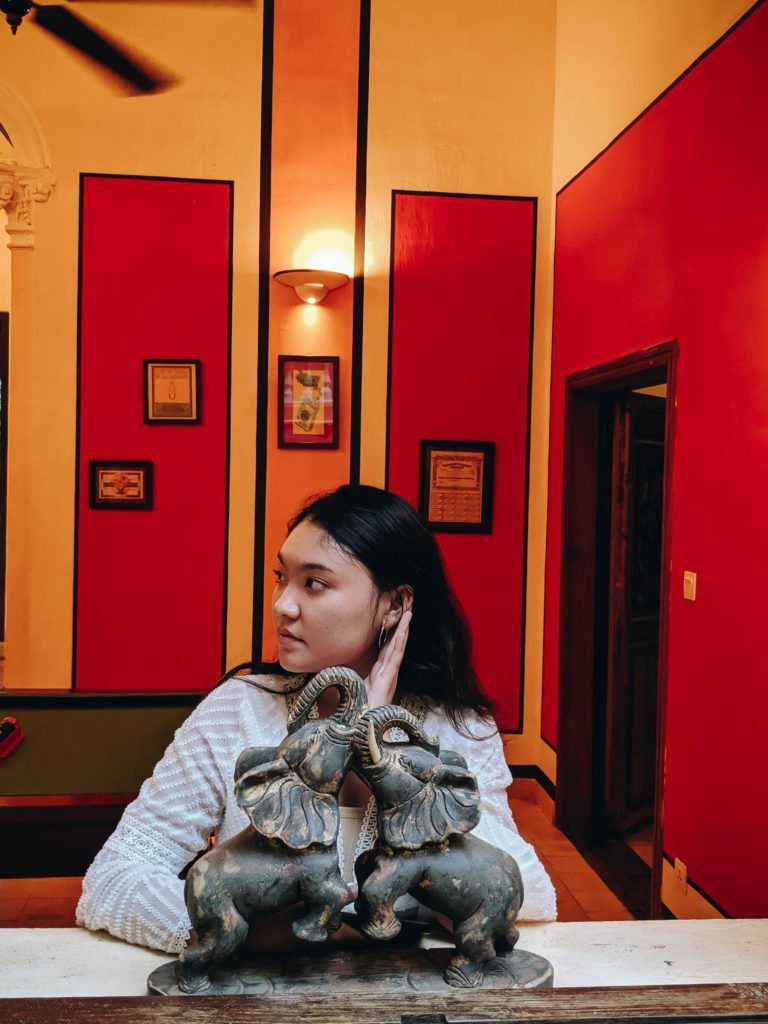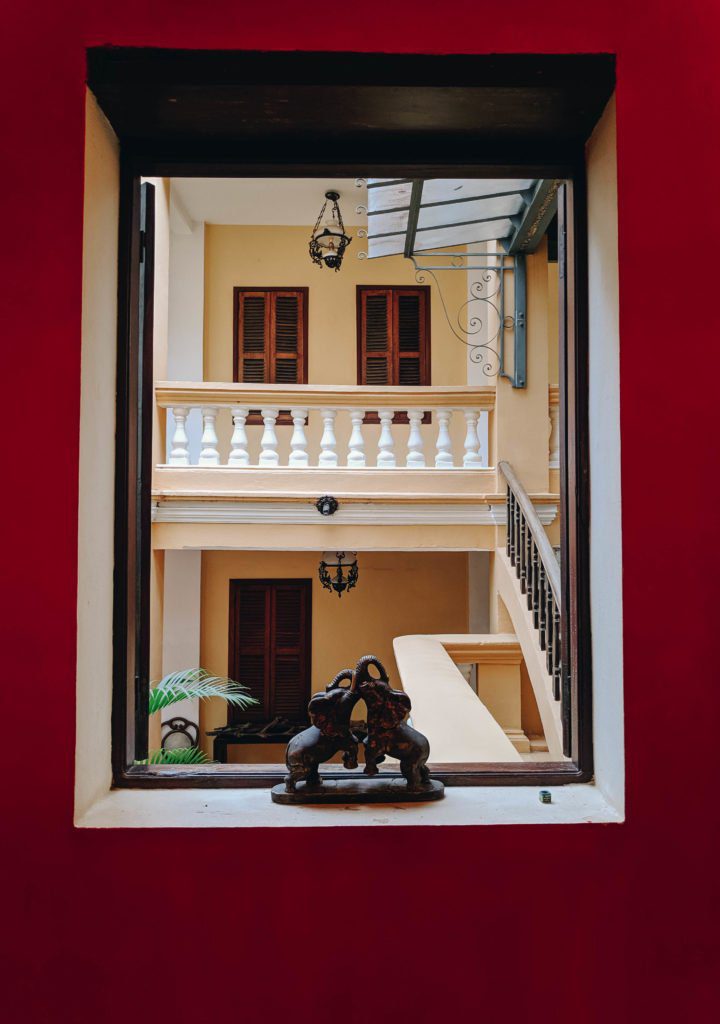 What's this traditional wooden house?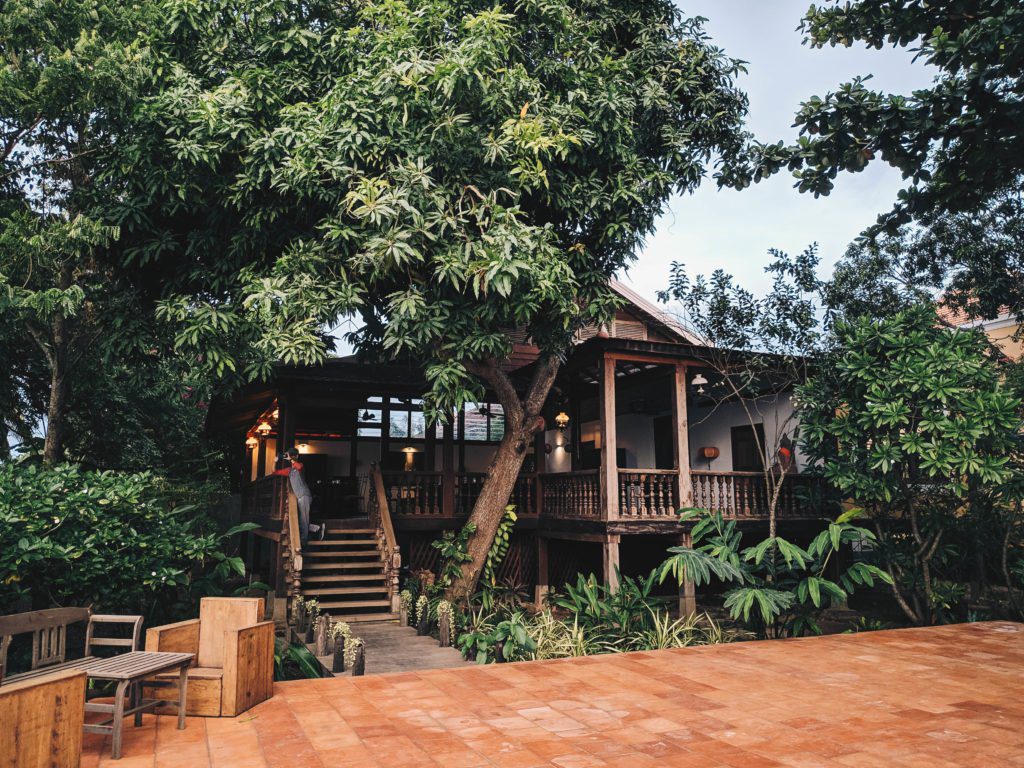 It's their restaurant, Le Terrasse. I love how you can eat and enjoy the beautiful sight of Mekong River at the same time. This is so pleasant!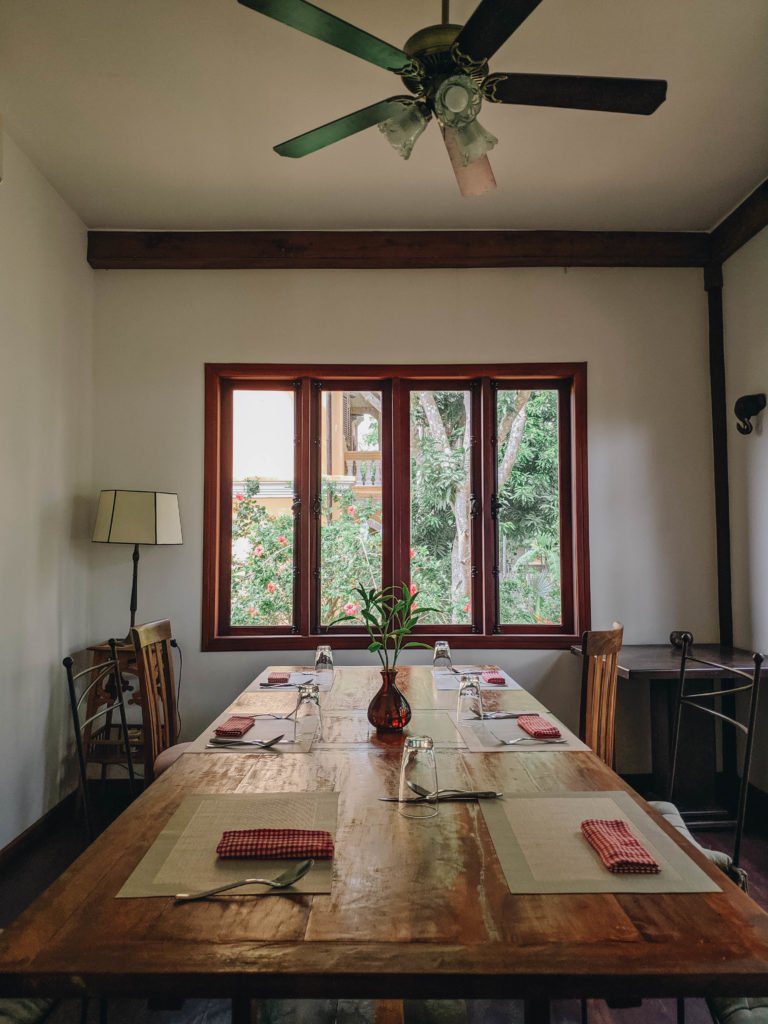 We spent hours in the swimming pool that we almost missed our dinner.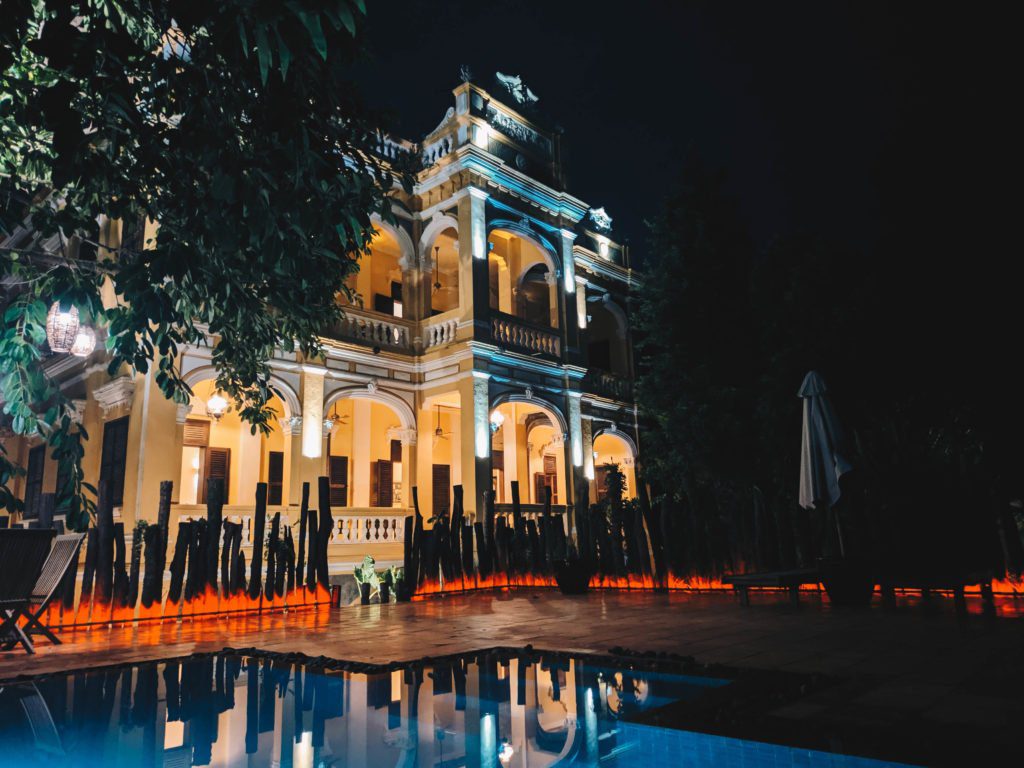 Food here at Le Relais are of affordable price compared to the taste and portion.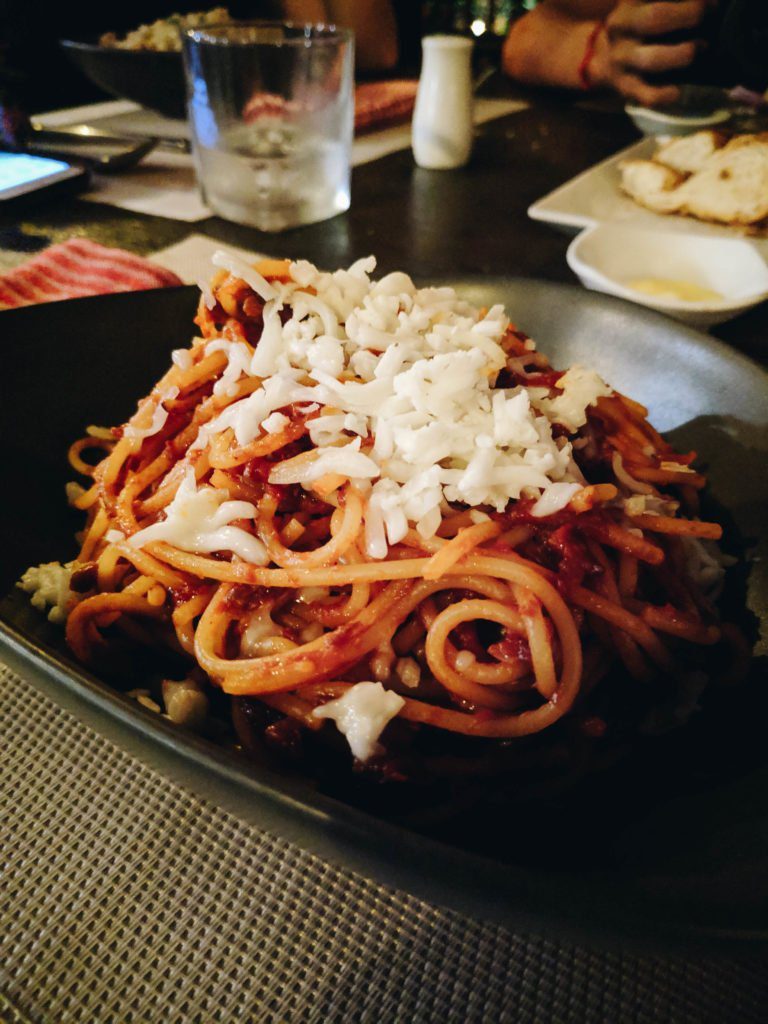 99% about Le Relais De Chhlong is magically and royally perfect. I've never stayed at any hotel and loved it this much.
Room Rate: 85USD to 126USD a night. Breakfast is included. Note that the price is subject to change.
DAY 2
We woke up late on our second day and finally left our hotel at 10:45AM.
As we were driving from Chhlong to Kratie, we found a very charming pagoda and decided to have a quick stop.
#4. Have a Quick Stop at Wat Roka Kandal
Wat Roka Kandal aka Vihear Chas wasn't in our plan- we had no idea this place exists!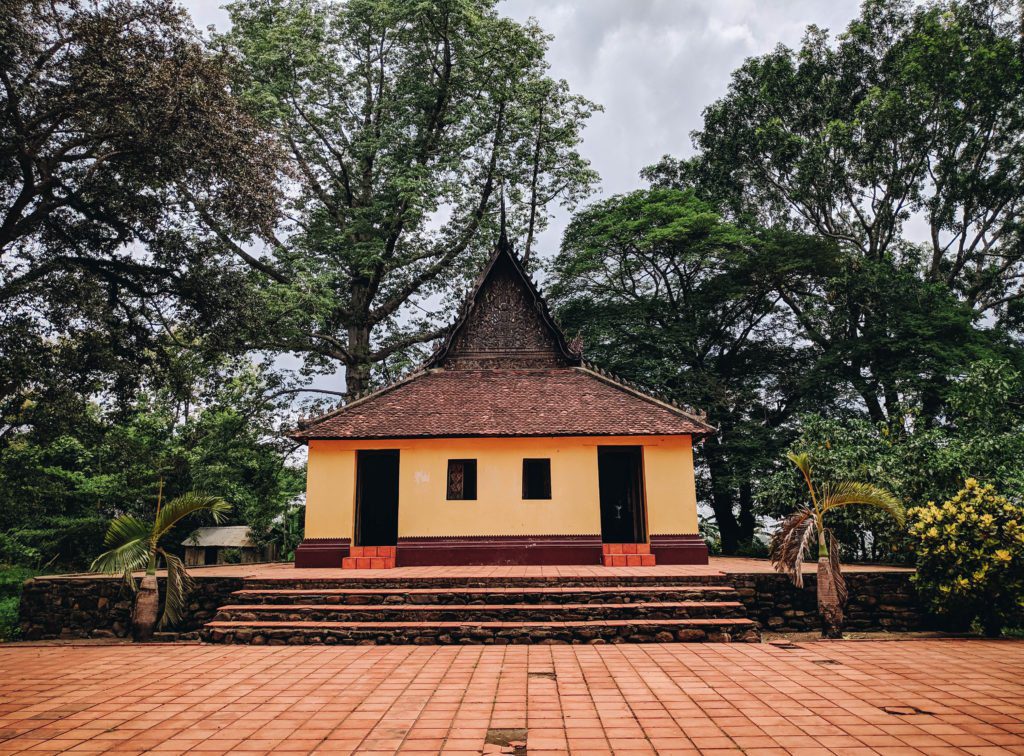 We're super glad to have found this place. I mean how could you skip something this interesting? And how come no one mentions it before?
The building looks quite alright outside, but things get interesting as you step in. The structure is crazy cool and it blends really well with the color.
Here's its back story.
#5. Eat at Le Tonle Training Restaurant
"Le Tonle functions as a training center for disadvantaged Cambodian youth to allow them to find a career."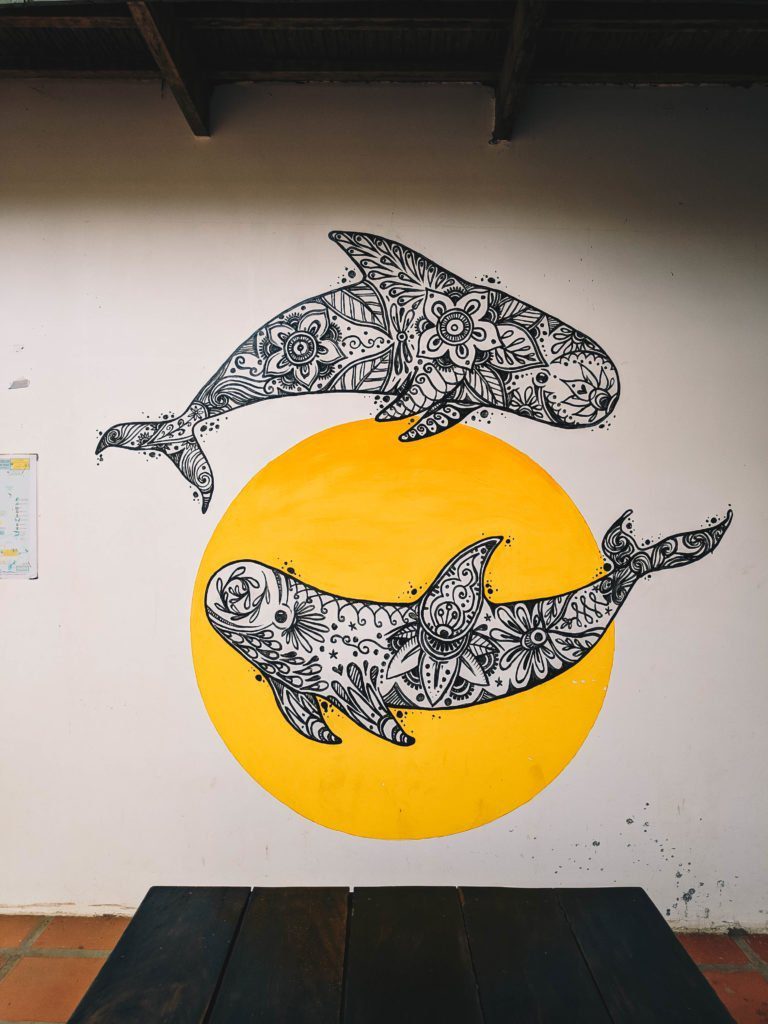 Having heard some information about how Le Tonle had started, we decided to eat there to help support them as well as to test their food.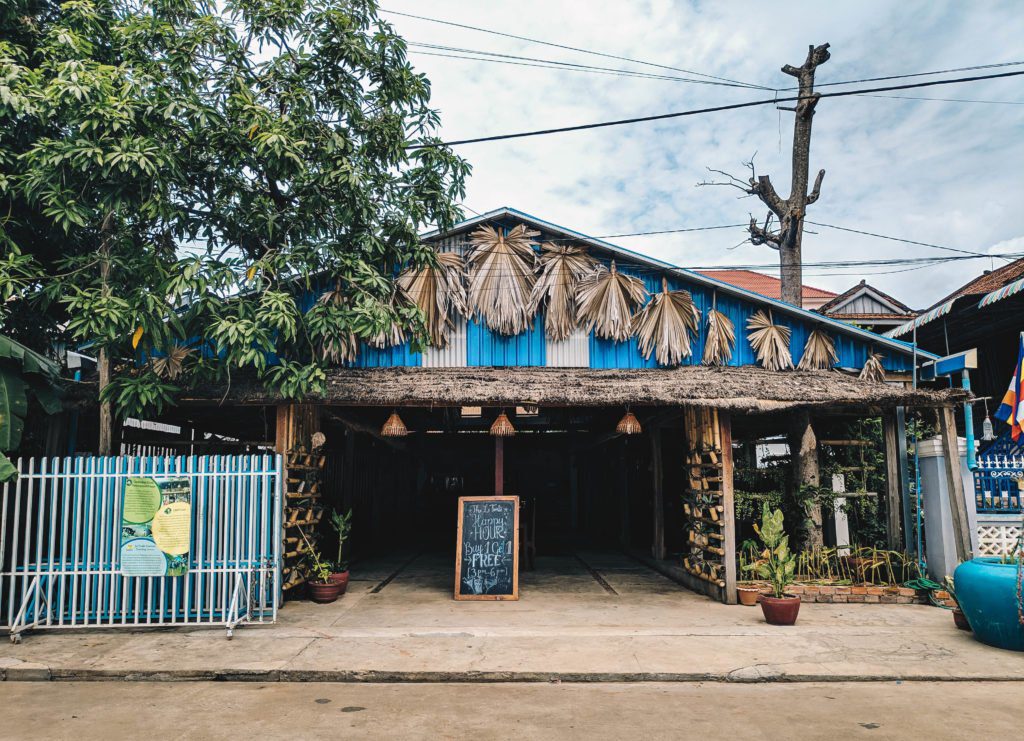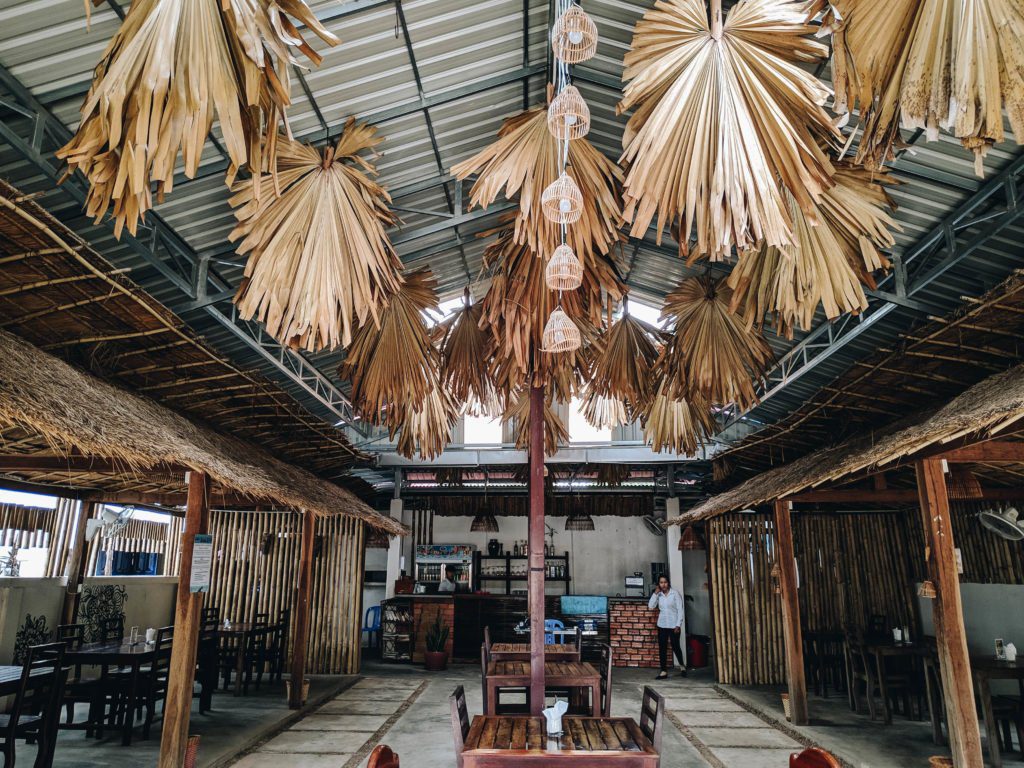 Their food are of reasonable price. The taste isn't that much of a wow but better than average.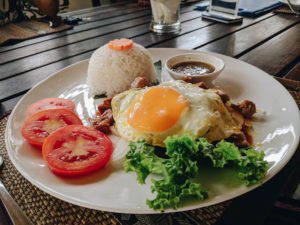 #6. Chill along the Riverside
It was already 2PM by the time we finished our lunch. We didn't have enough time to follow our original plan to 100 Columns Pagoda in Sambok as it's 2 hours drive back and forth from the center, so we just chilled by the riverside instead.
Though the riverside park is just next to the main road like those in Phnom Penh, Kampot or Koh Kong, it is much calmer and more relaxing here. You wouldn't find many cars or motorbikes driving past.
#7. Dolphin Watching at Kampi
A trip to Kratie isn't a trip to Kratie without making a trip to watch the famous Irrawaddy Dolphin at Kampi.
We thought Irrawaddy Dolphins viewing can only be done in the evening, but we were wrong- you can actually do it anytime from morning until 4:30PM during rainy season and until 5PM during hot season.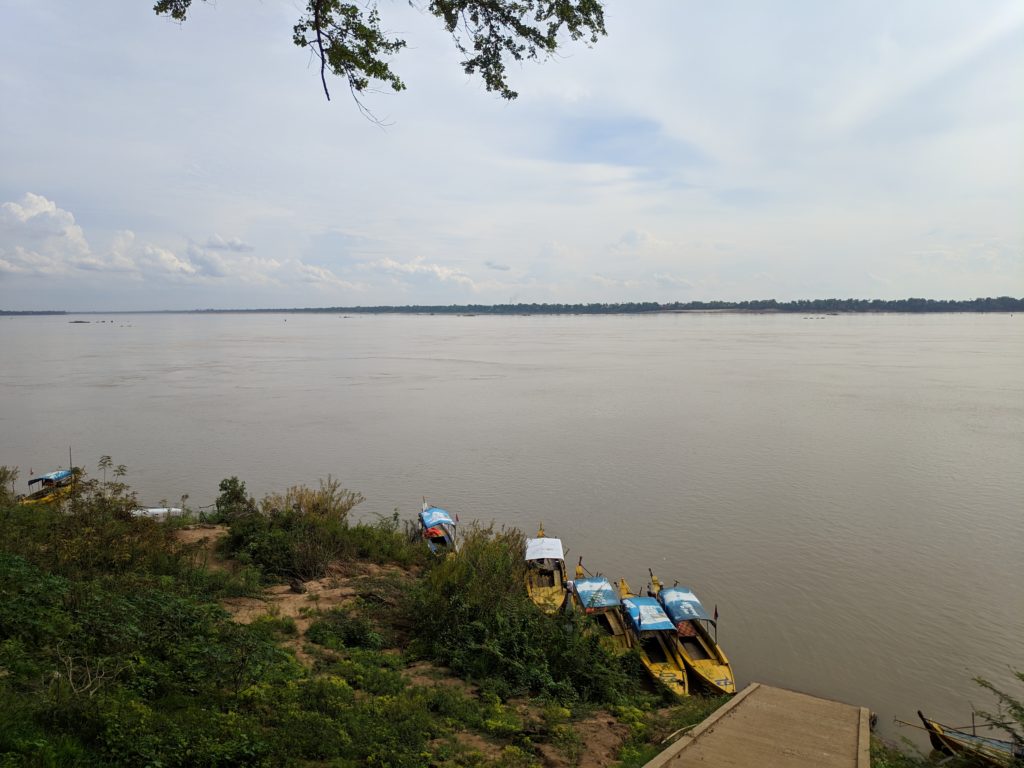 The whole trip takes 90 minutes from June to October and 60 minutes from November to May.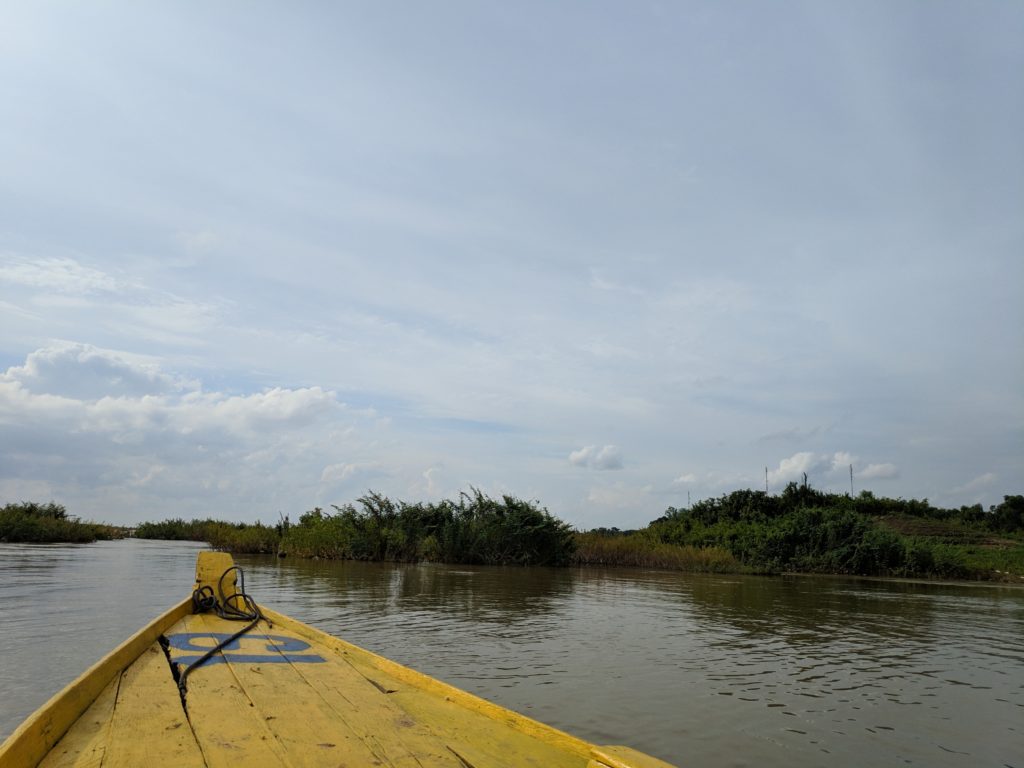 The price for dolphin viewing site is divided into 2 packages; national visitors package and international visitors package. It's not fair I know.
National Visitors:
1-5 People: 10USD/Boat
6 People: 10.50USD/Boat
7 People: 12.25USD/Boat
8 People: 14USD/Boat
Up to 6 People (Wait for the others to join your boat): 1.75USD/Person
International Visitors:
1-2 Adults: 9USD/person
Up to 3 Adults: 7USD/Person
Child under 12: 4USD/Person
I guess it wasn't our lucky day because we didn't see that many dolphins. Our boat driver decided to take us to one island to wait for them to show up.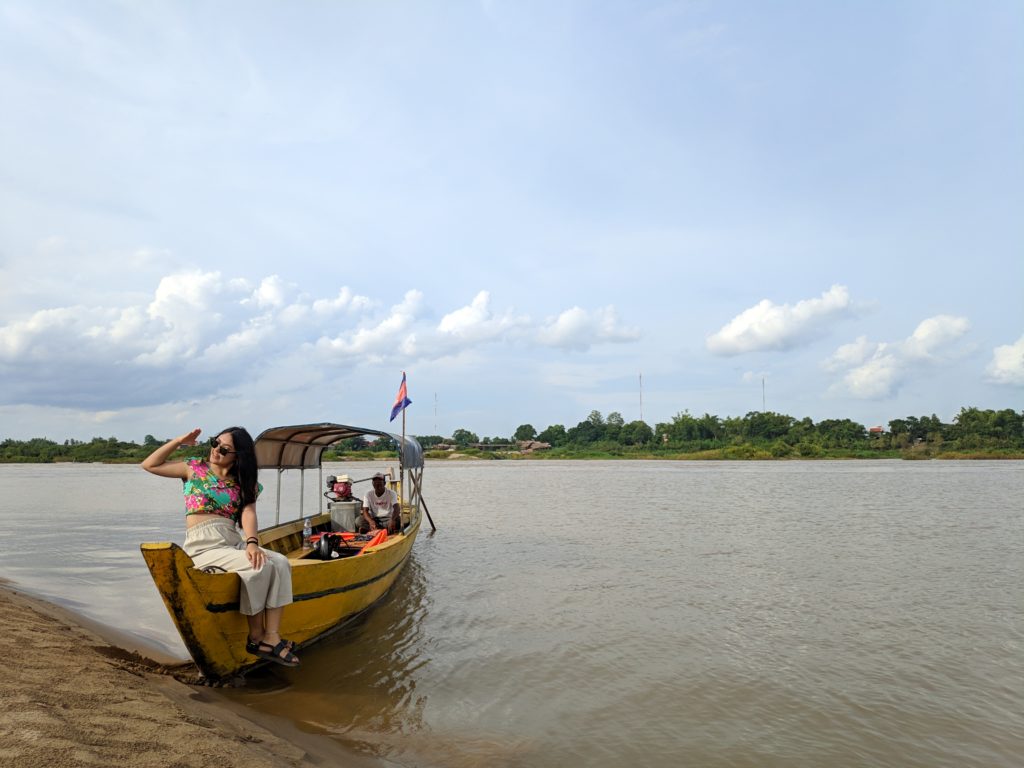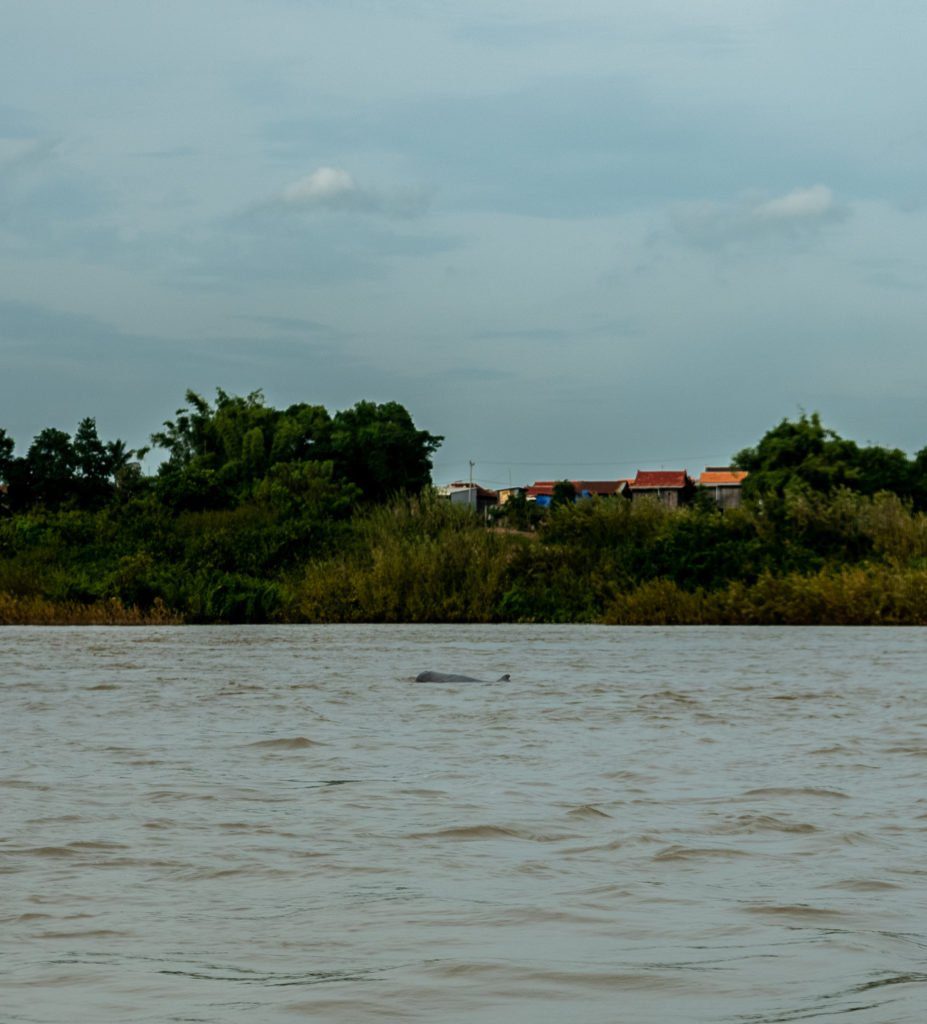 If there's one piece of advice I can give you, I think it's better to expect less because it all depends on your LUCK for dolphins to show up.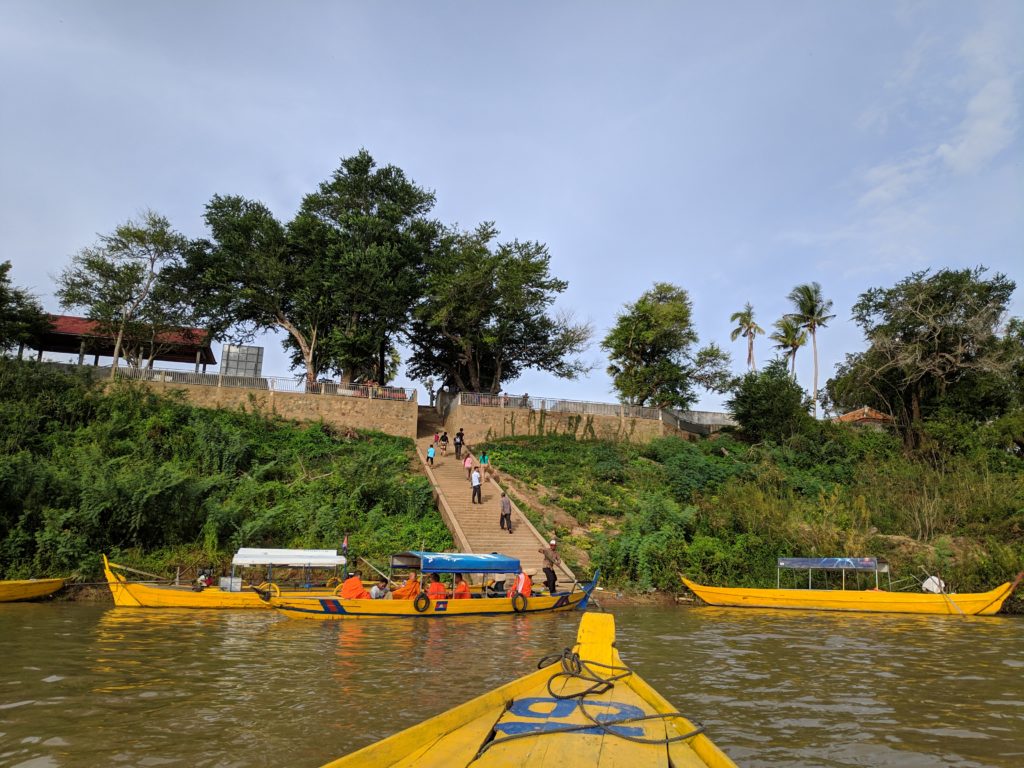 Getting to Koh Trong
Koh Trong is that long island that can be seen from Kratie riverbank.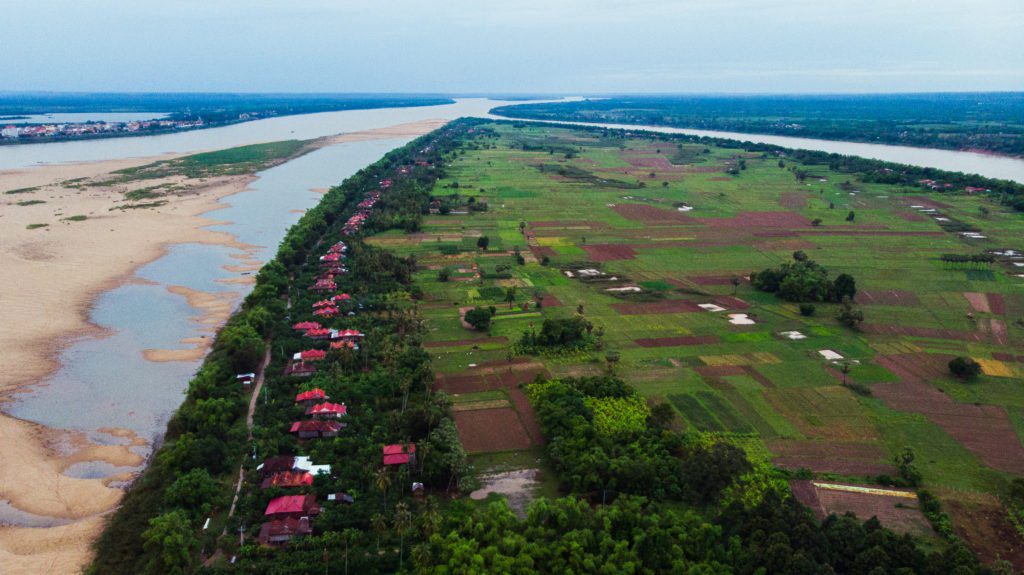 We've heard so many good things about Koh Trong from everyone who's been there so we decided to add this island to our list.
If you're planning to make a visit to Koh Trong, make sure to be at the port latest by 6:30PM as the boat may not be there later than that. The price is 0.25USD/person for the boat transfer.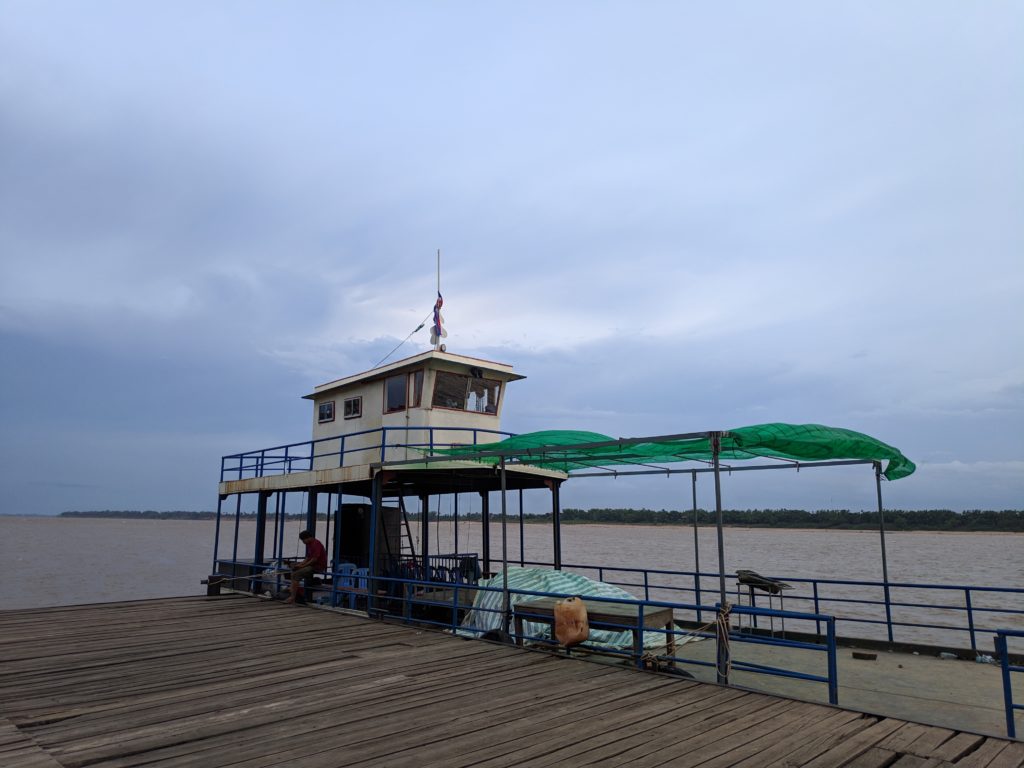 It was already dark by the time we got to Koh Trong.
We paid the motorbike driver 1USD/Person to take us to our resort, Rajabori Villas.
#8. Stay at Rajabori Villas Resort
Rajabori is the ONLY resort on Koh Trong. We got there after dark and couldn't see how anciently beautiful the resort is until the next morning.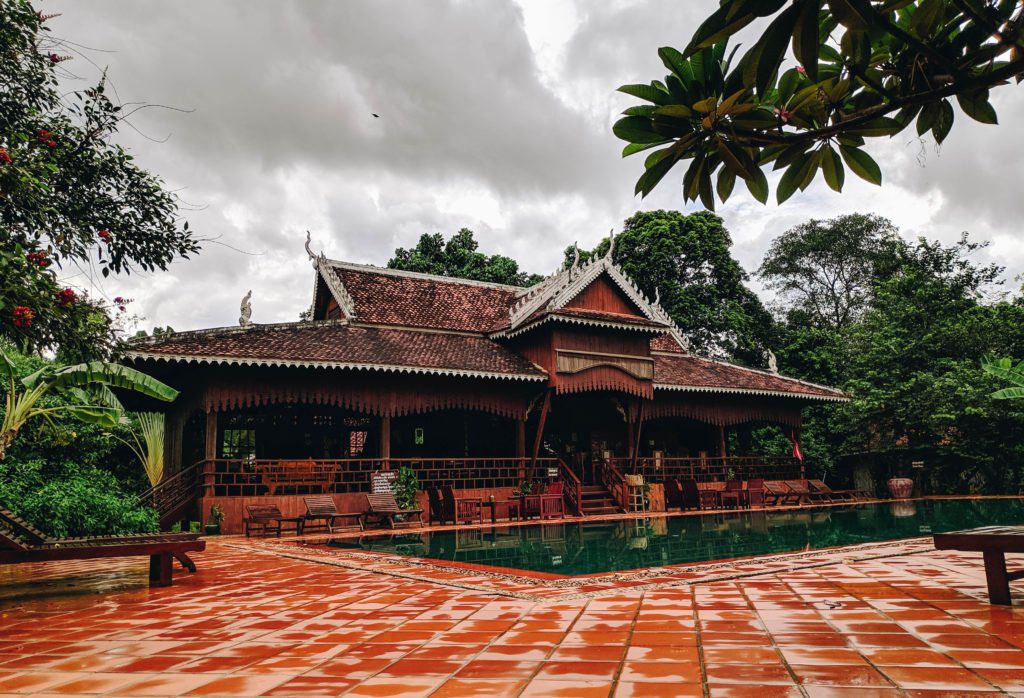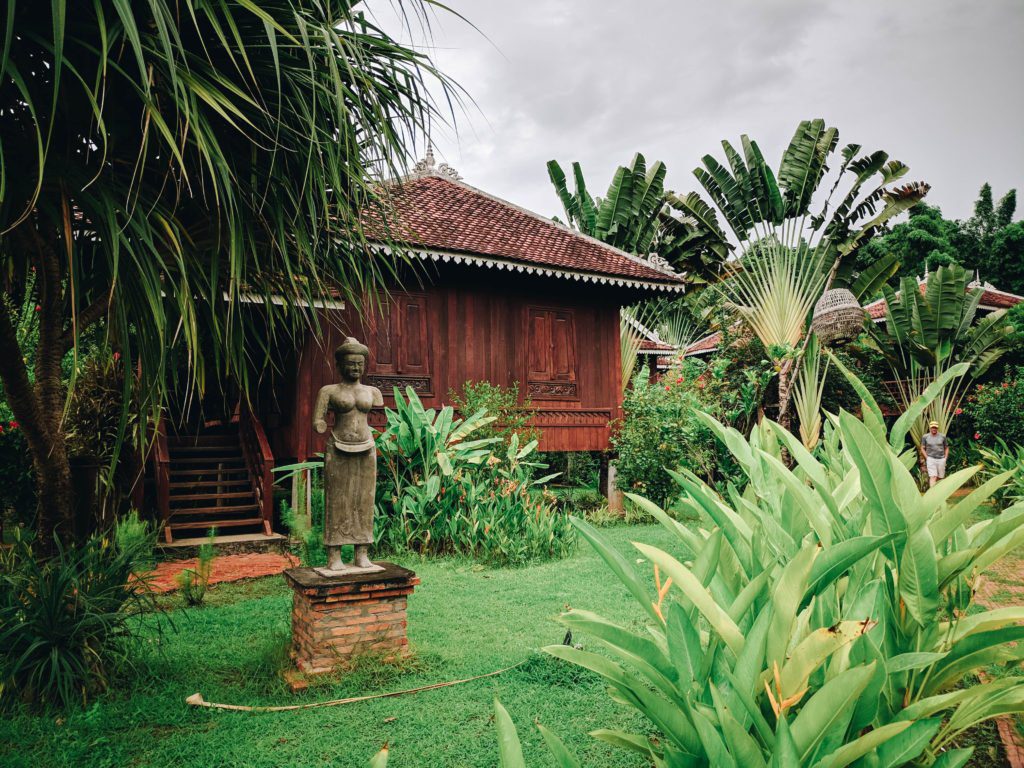 We spent 2 nights in Rajabori Boran Villa (Ancient Villa in English) and we really feel like "dongkhao" (an old Khmer word for a very rich person) staying here.
As the name suggests, the decoration is so "boran" that I started to wonder how long it took to collect and where they got all those decorative paintings, statues and other things from.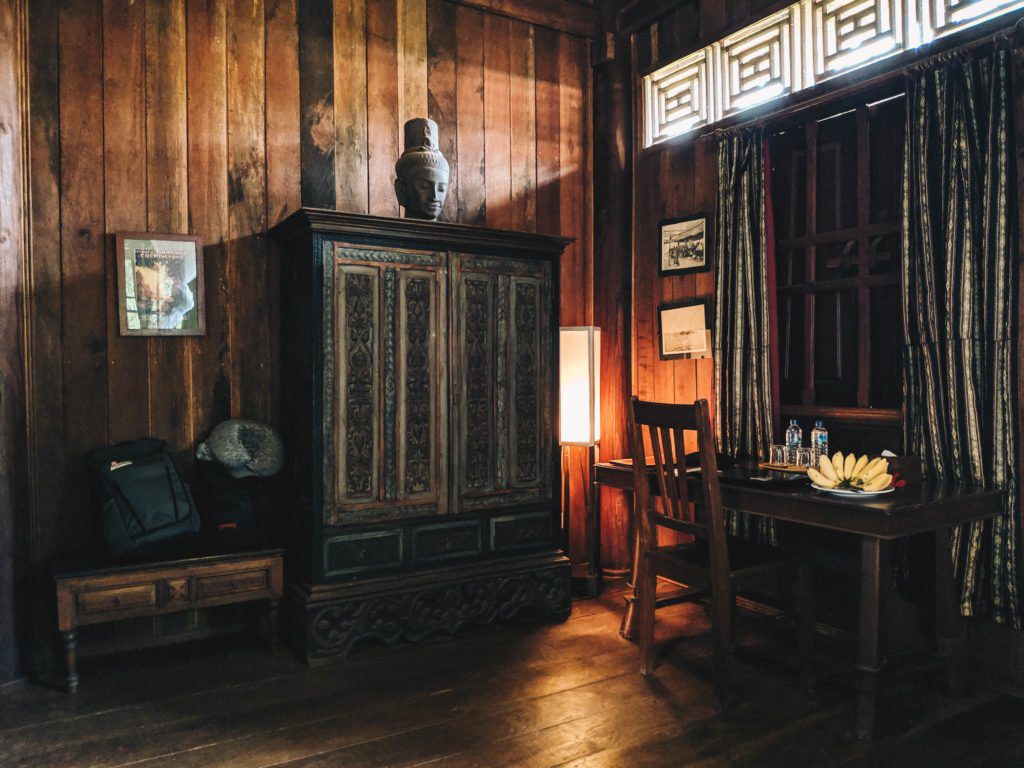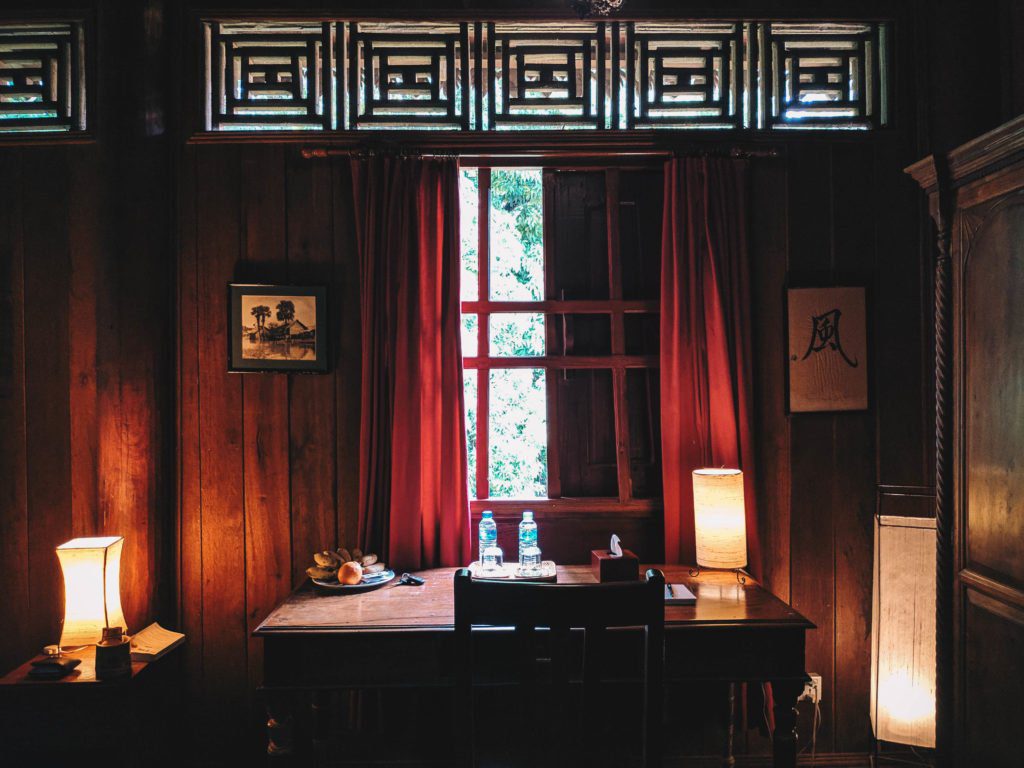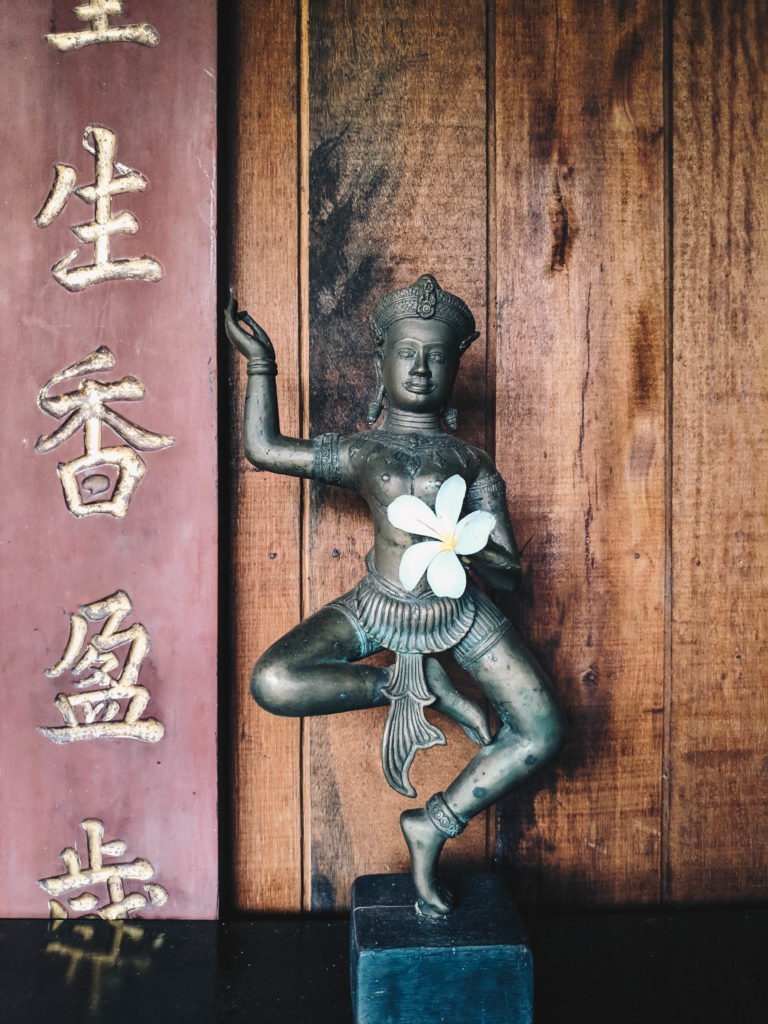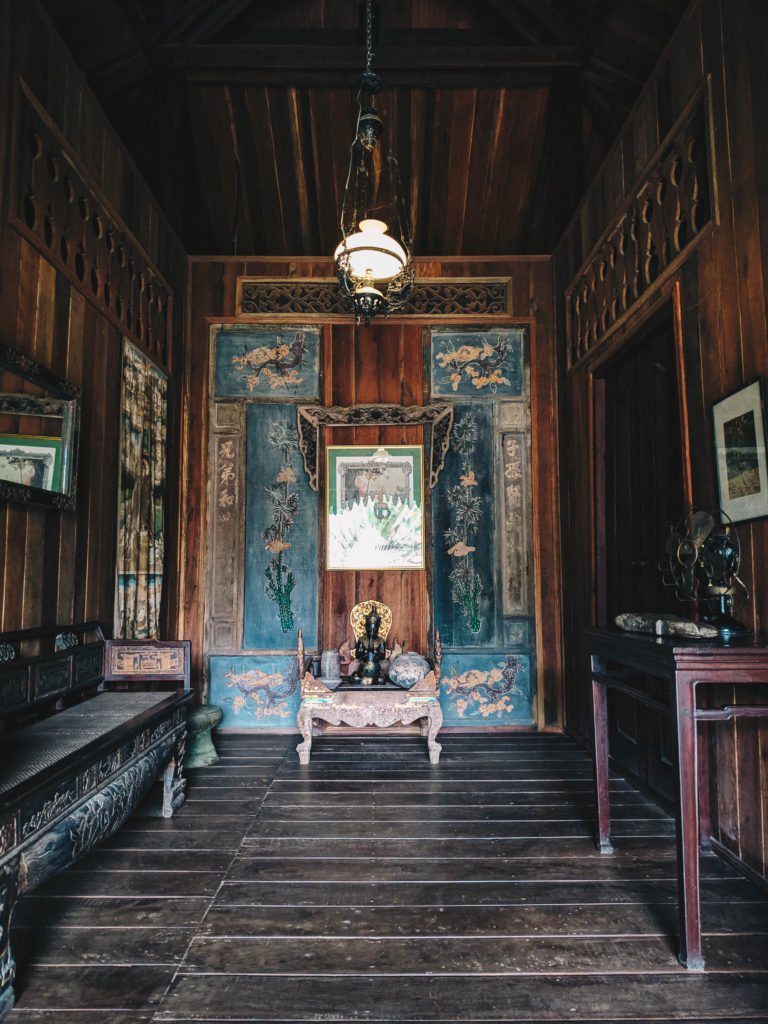 Our Boran Villa is soooo big that you can find 2 bedrooms, 2 bathrooms, a chitchat corner within the villa, and 2 other sitting areas on the house balcony.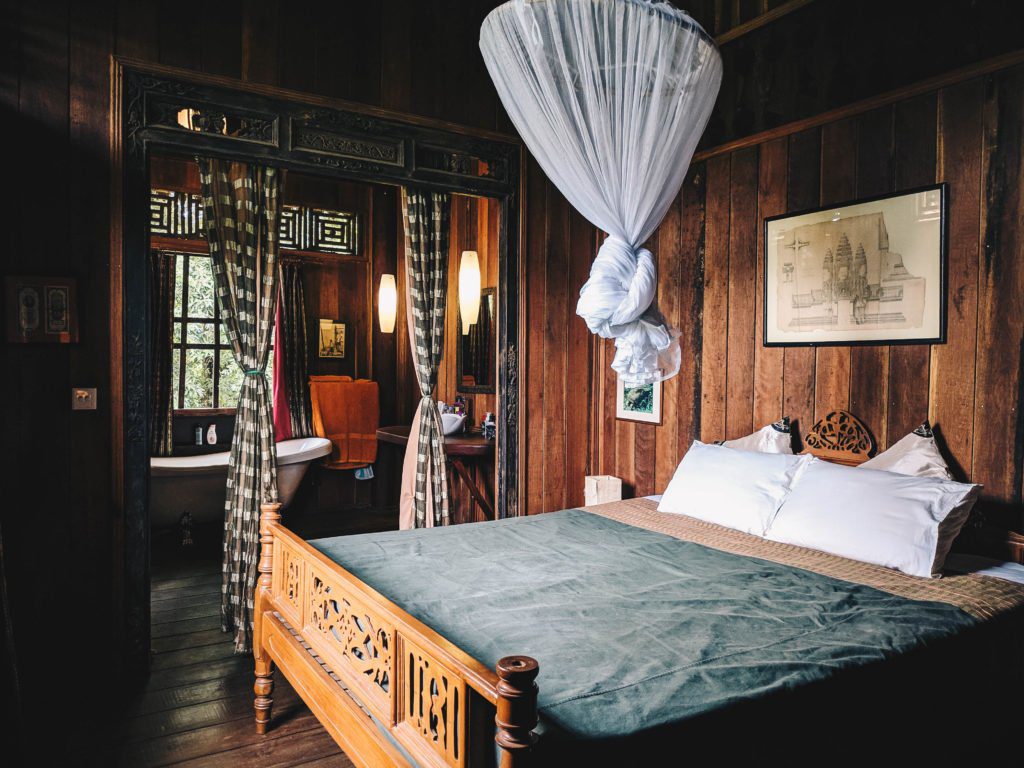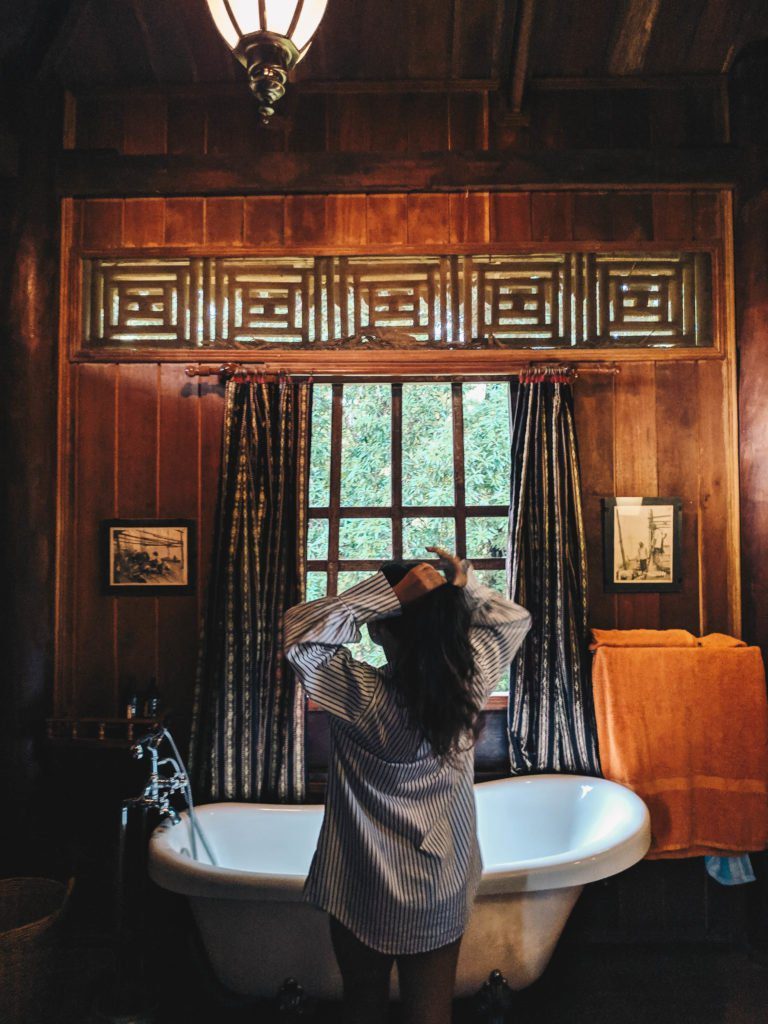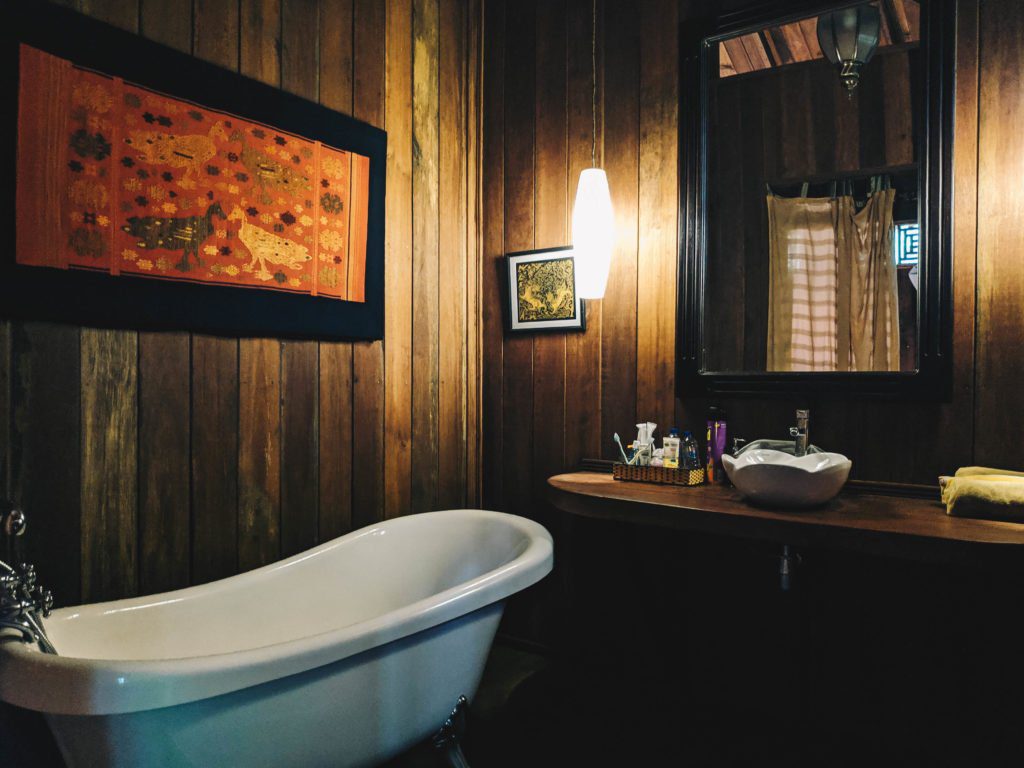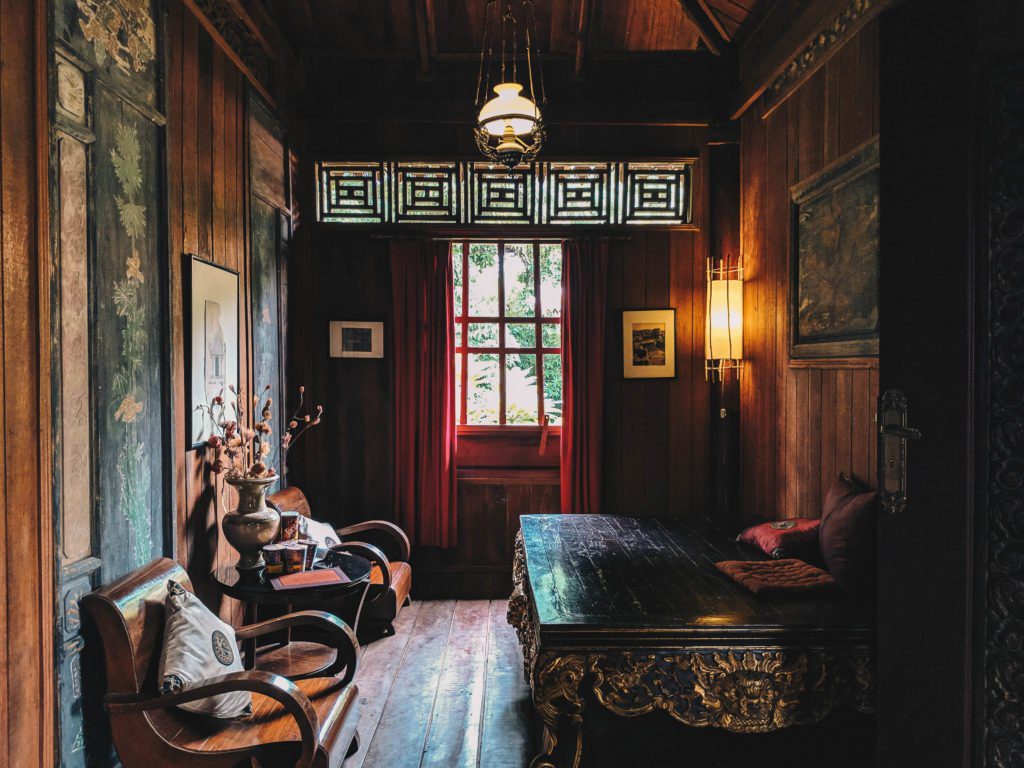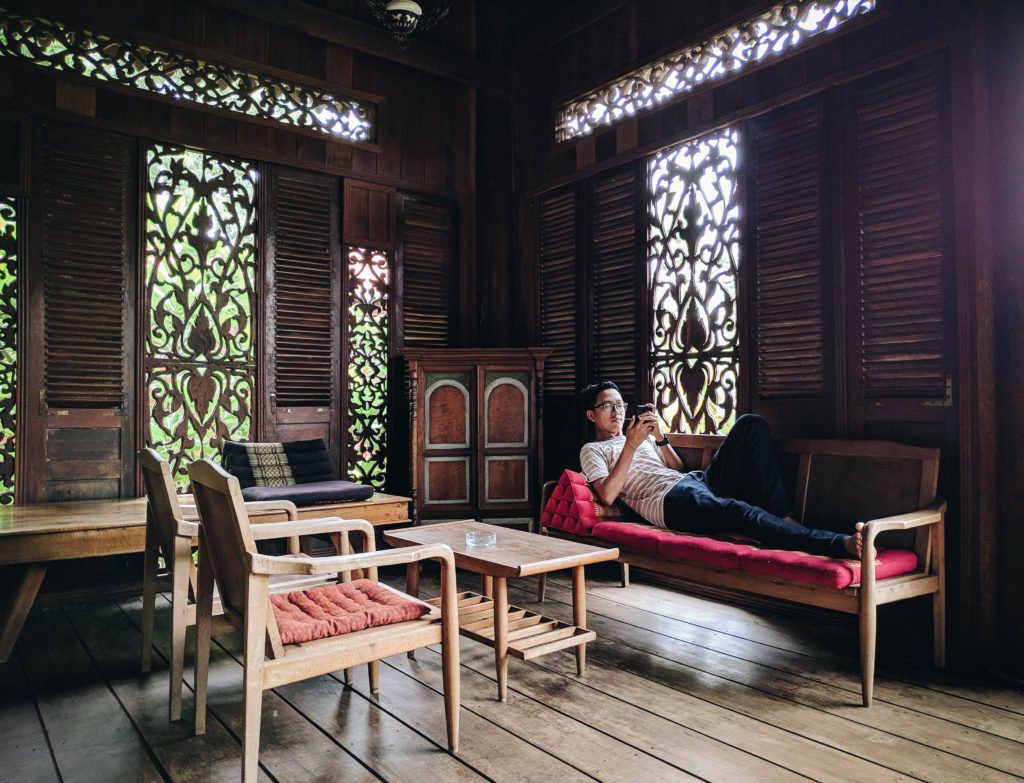 That's not all- what's more interesting about this Boran Villa is that they have a free space under the house; another sitting area, a massage room and a small garage.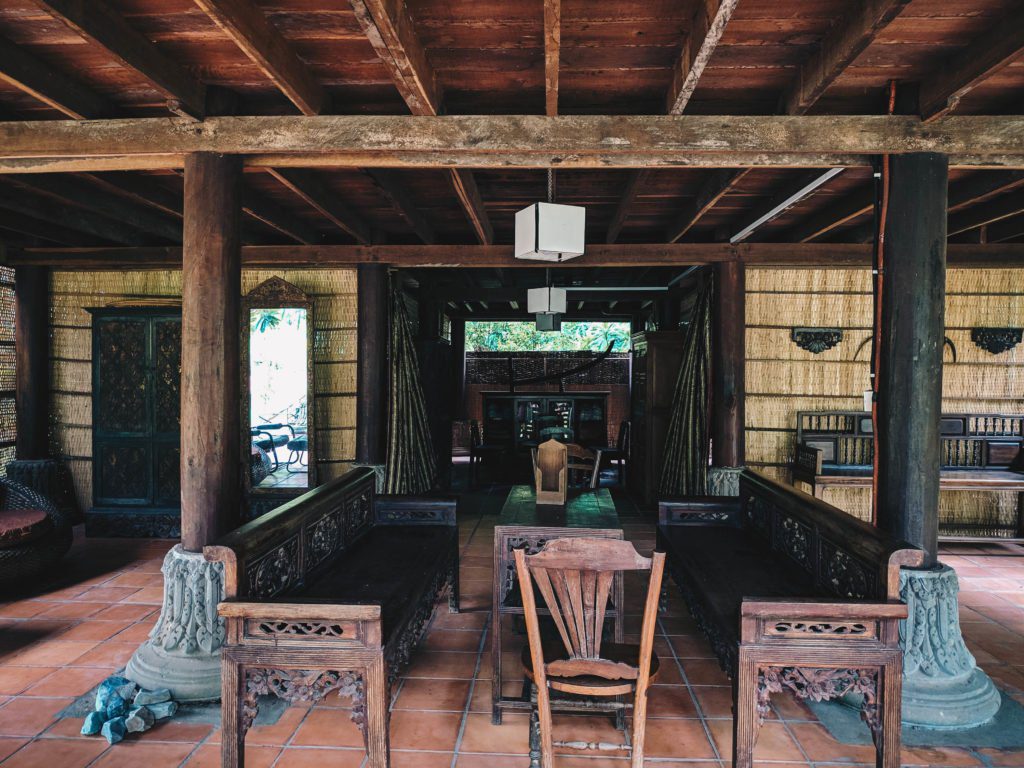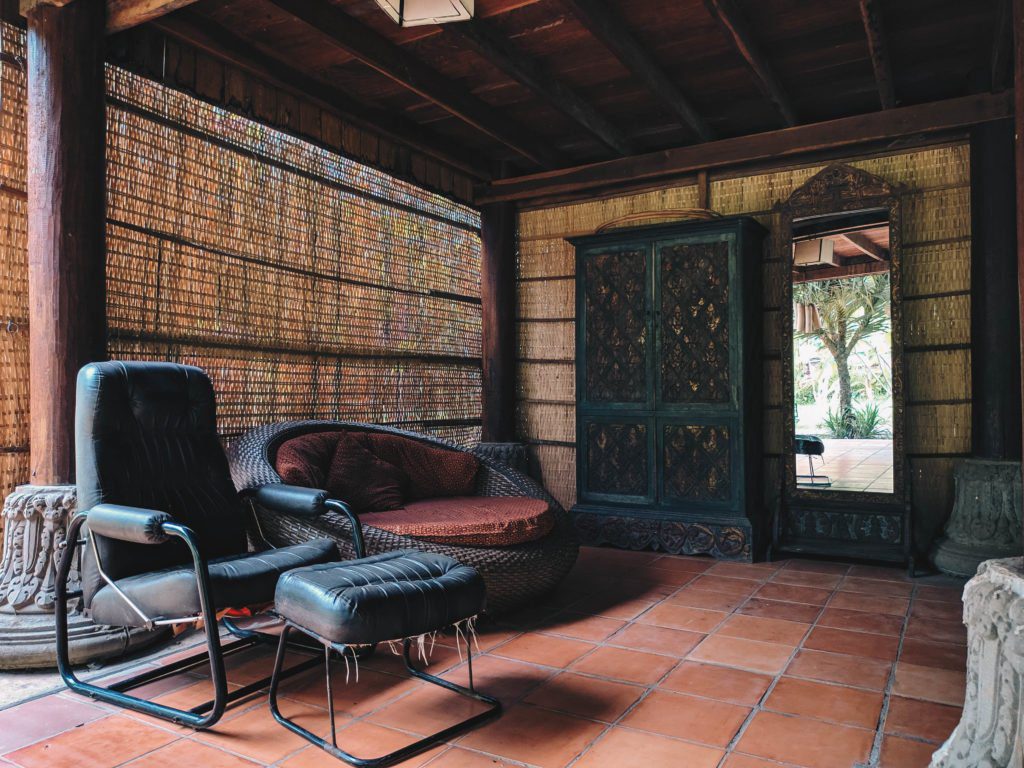 Here's the view from our Boran Villa.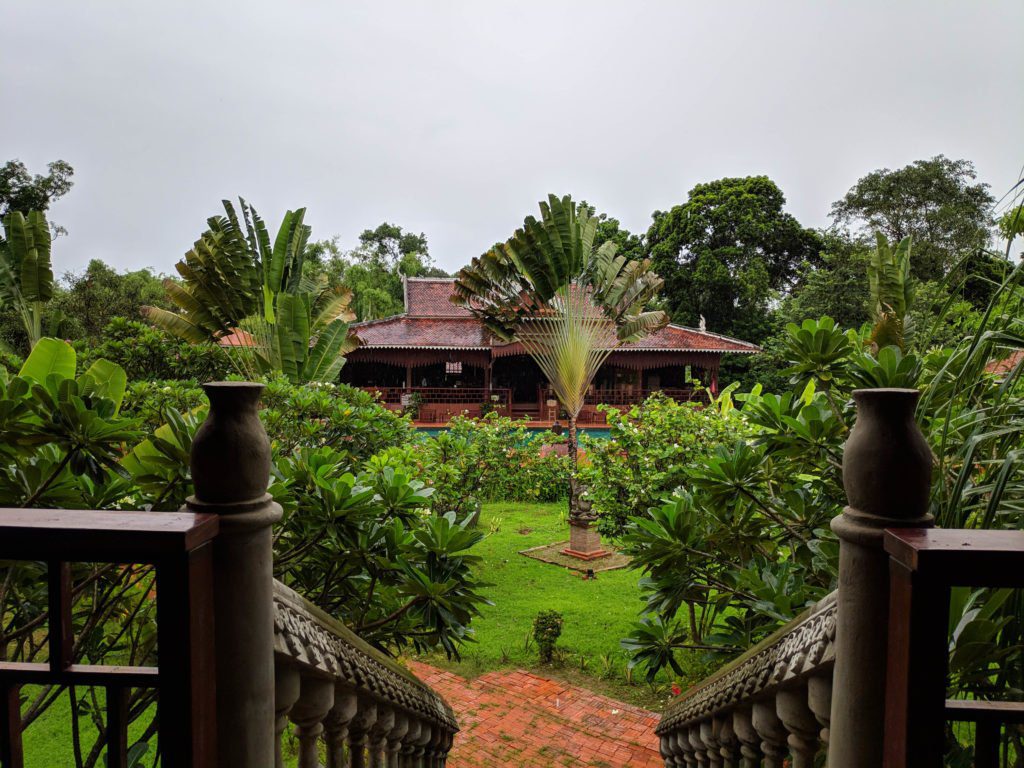 There are 2 things I dislike about Rajabori.
First, I hate the fact that they DON'T HAVE THE EFFING BATHROOM DOOR but curtain for our Boran Villa. I mean I can't poop without feeling guilty. Hahah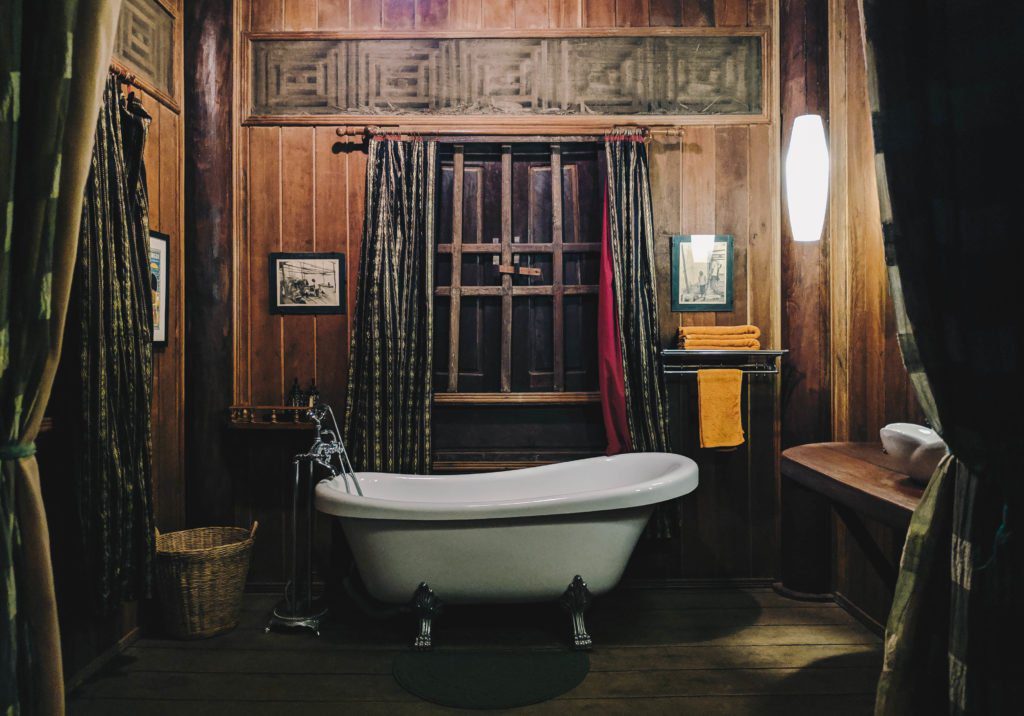 What's funny is that we've checked the other rooms' bathrooms and they've all got doors! I guess they intentionally want the four of us to smell each others' poops. Hahahah
Another thing I dislike is their mattress. Maybe I've been so spoiled by the soft mattress at Le Relais that I find the one at Rajabori really tough.
Our room isn't the only thing that is decorative, so is their restaurant.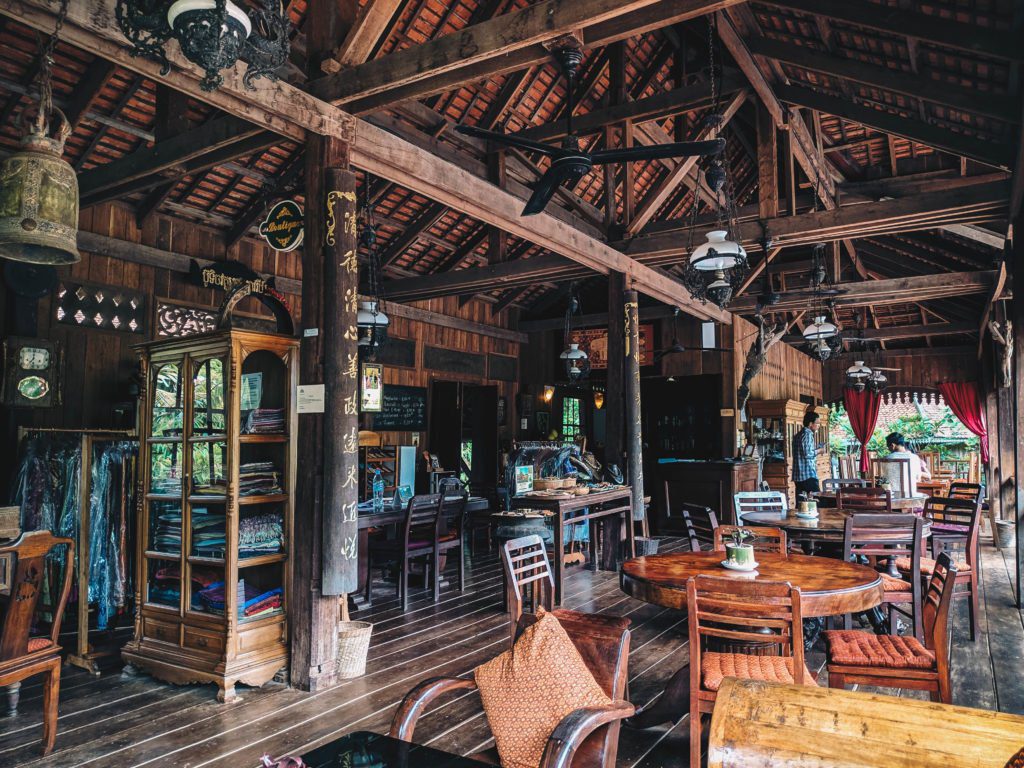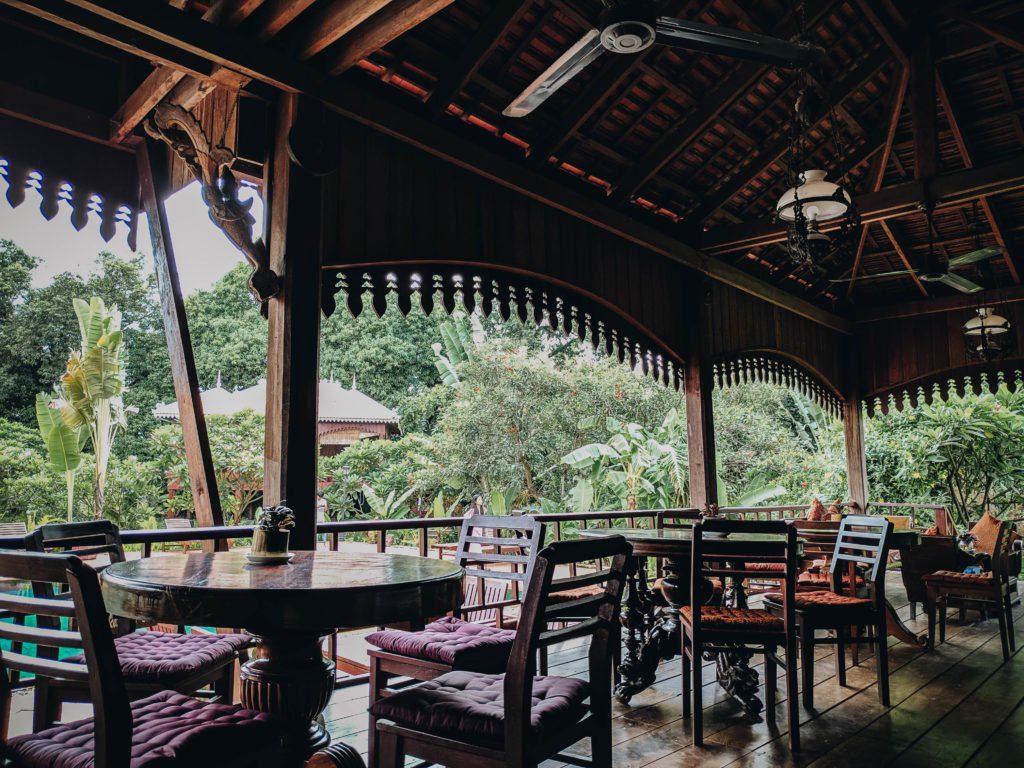 You can also find a small souvenir area in their resort restaurant.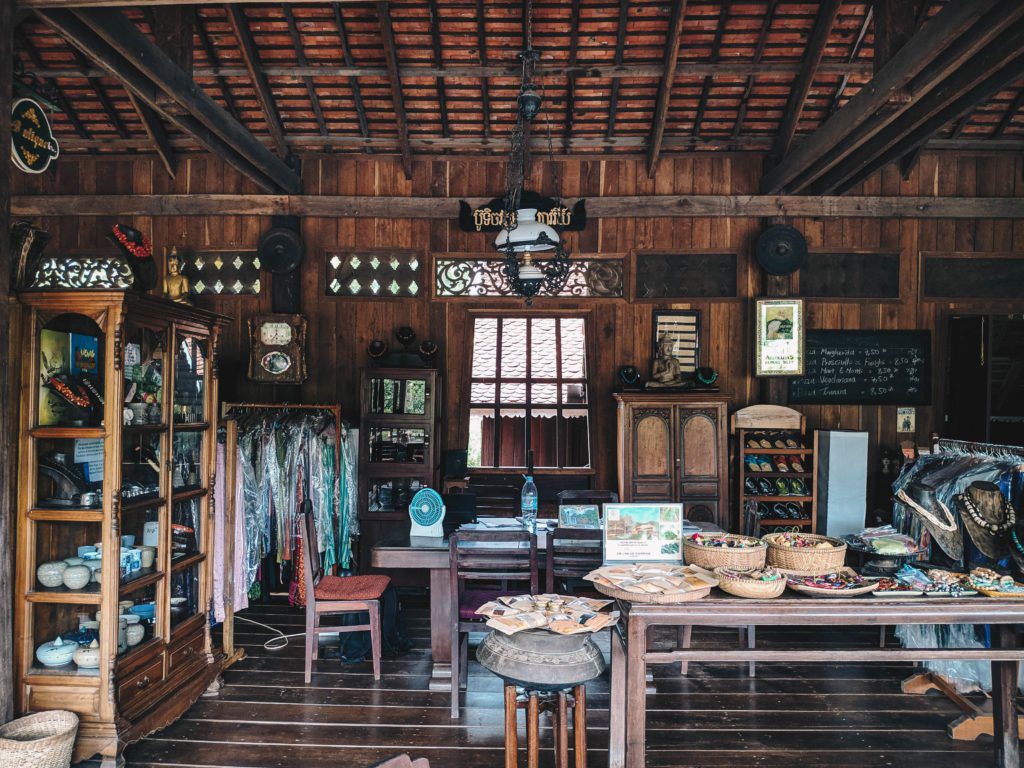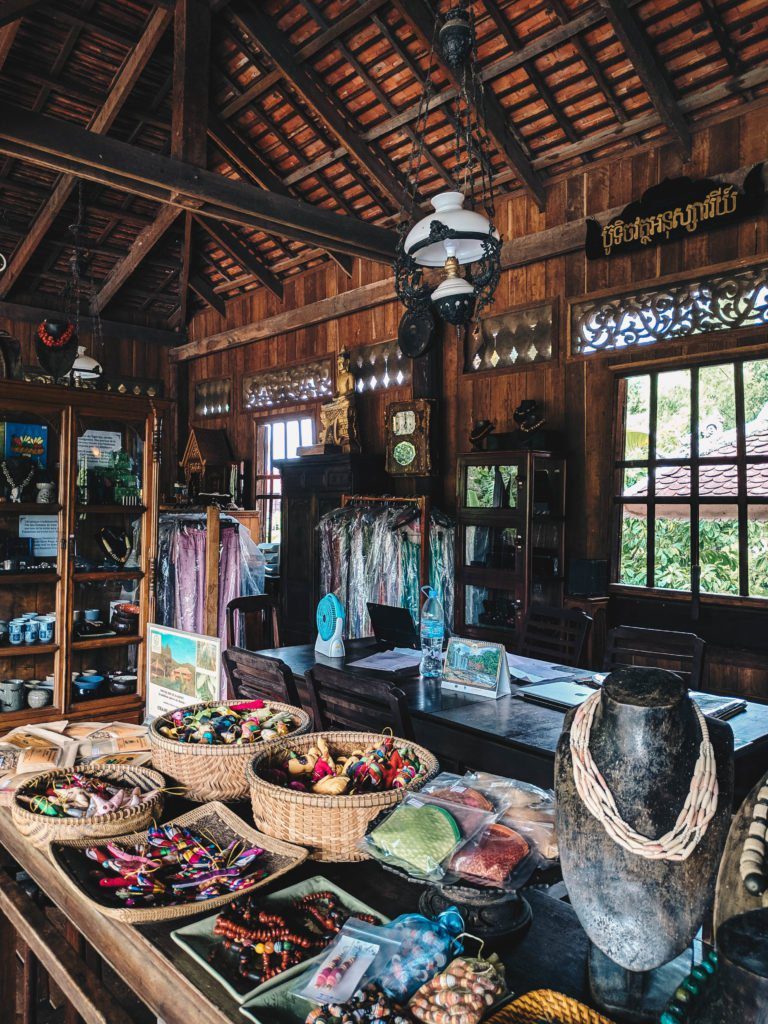 Breakfast is included in our room fare. I ordered a fried pork with rice and I don't like it.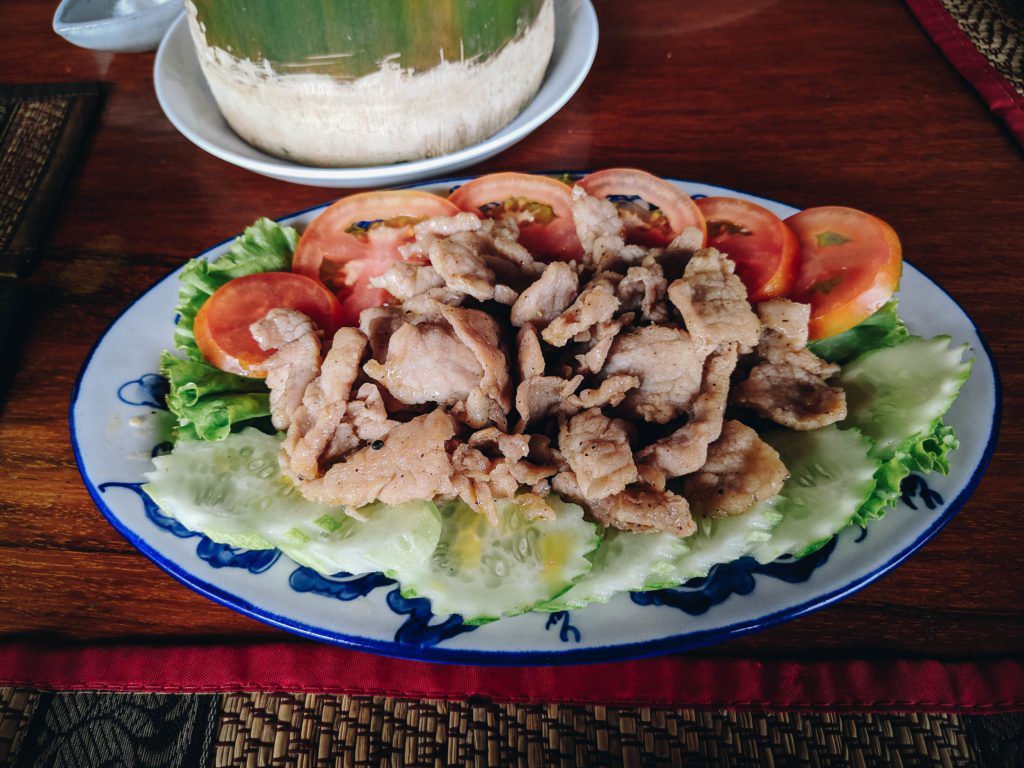 I don't know about the other dish, but there's a room for improvement with my dish.
Besides the amazing villa and the decorative restaurant, they've also got a 1.50m-1.70m swimming pool here. If you're a non-resident and wish to swim during your time on the island, you can also go to Rajabori and pay 5USD/Person for that.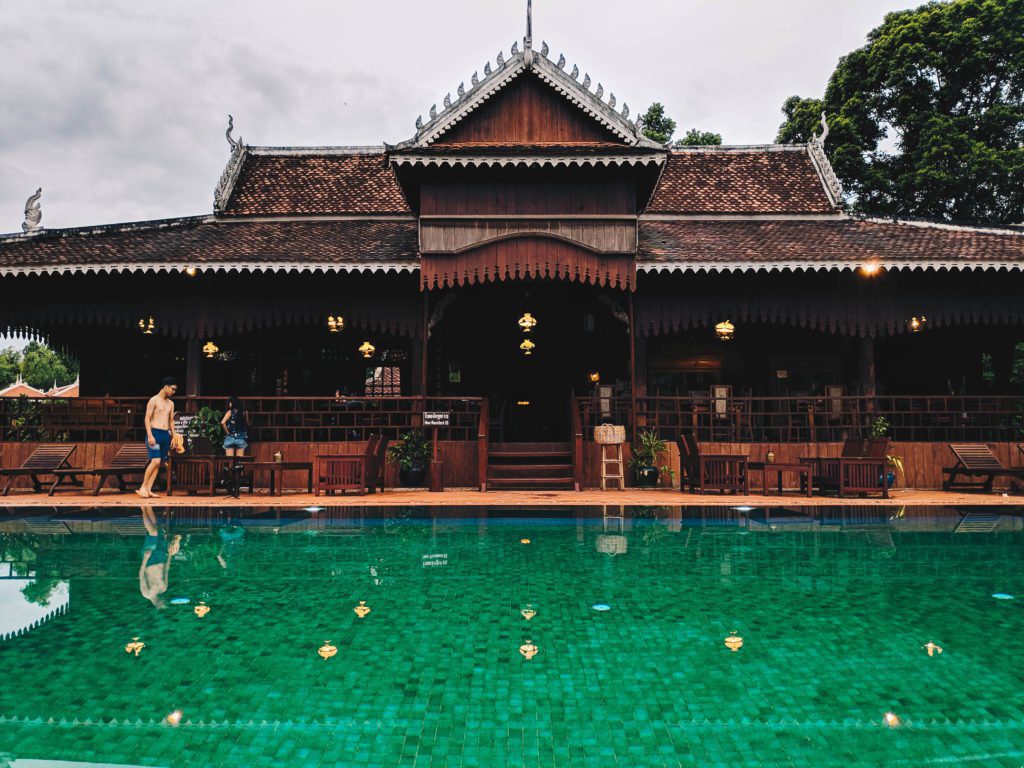 Villa Rate: 55USD to 200USD a night. Breakfast is included.
DAY 3 – Spend a Whole Day on Koh Trong
#9. Cycle around Koh Trong
To get a taste of a real rural Cambodia, make a bicycle trip on Koh Trung. Bicycle is the best option to get around and you can rent the bike for 2USD/Day.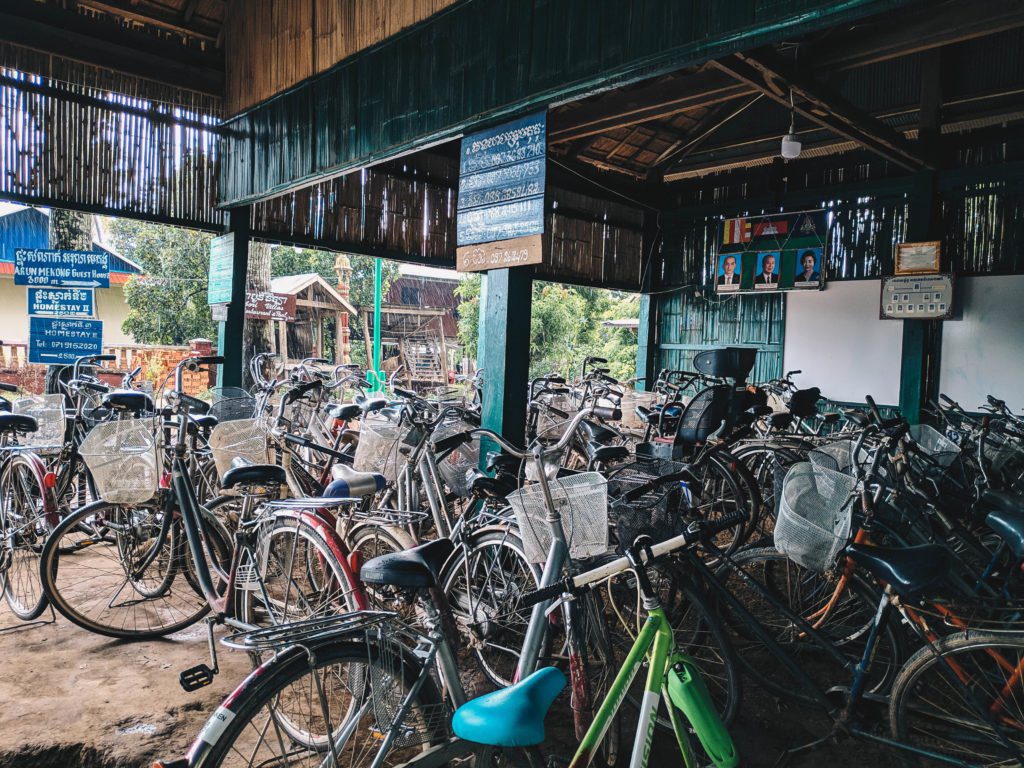 We planned to start biking since 9AM but it was raining all morning. The weather was like "Nuh-uh, you'd better stay at your resort and do nothing."
It was still raining at 12:30PM, but we couldn't wait no more and decided to hop on our bike and started cycling around.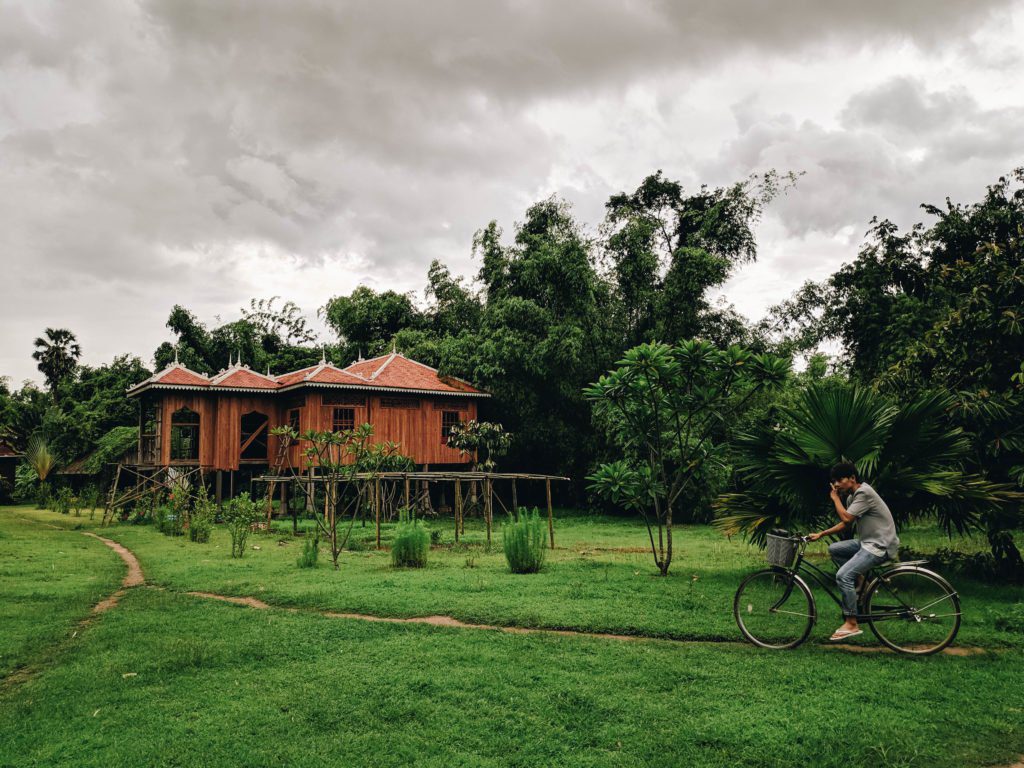 Nowhere I've been to is as peaceful as Koh Trong.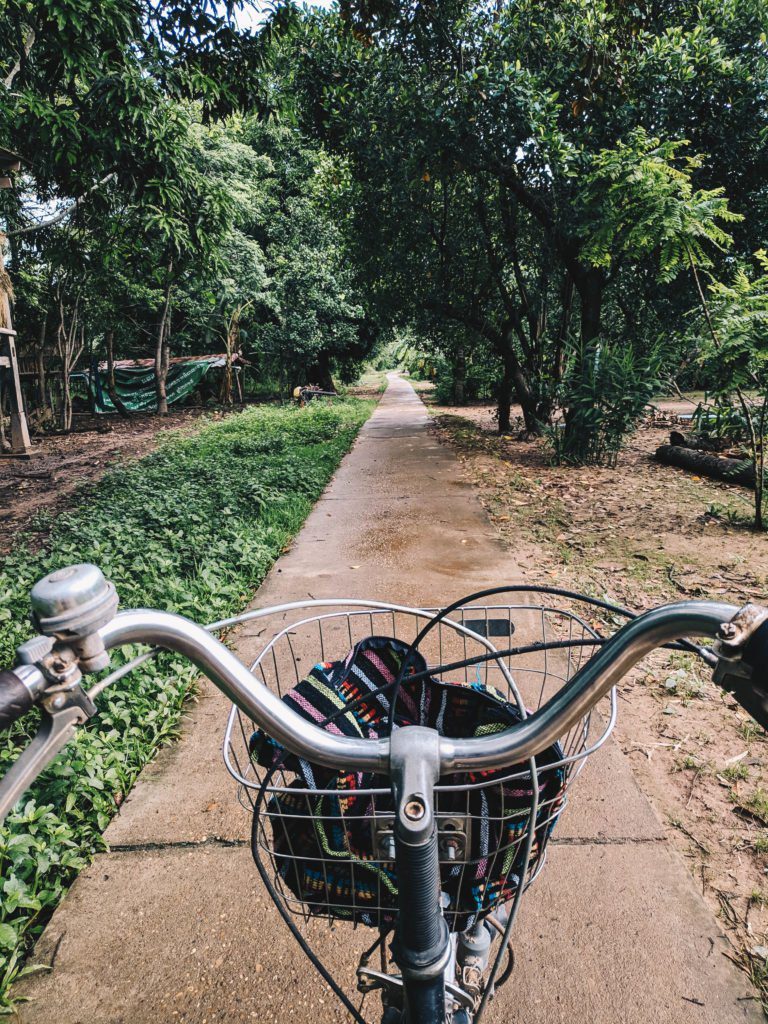 You'll find trees and wooden houses alongside of the small biking trail. No car on the island; just some motorbikes, bicycles and bullock carts. This really feels like Cambodia 15 years ago.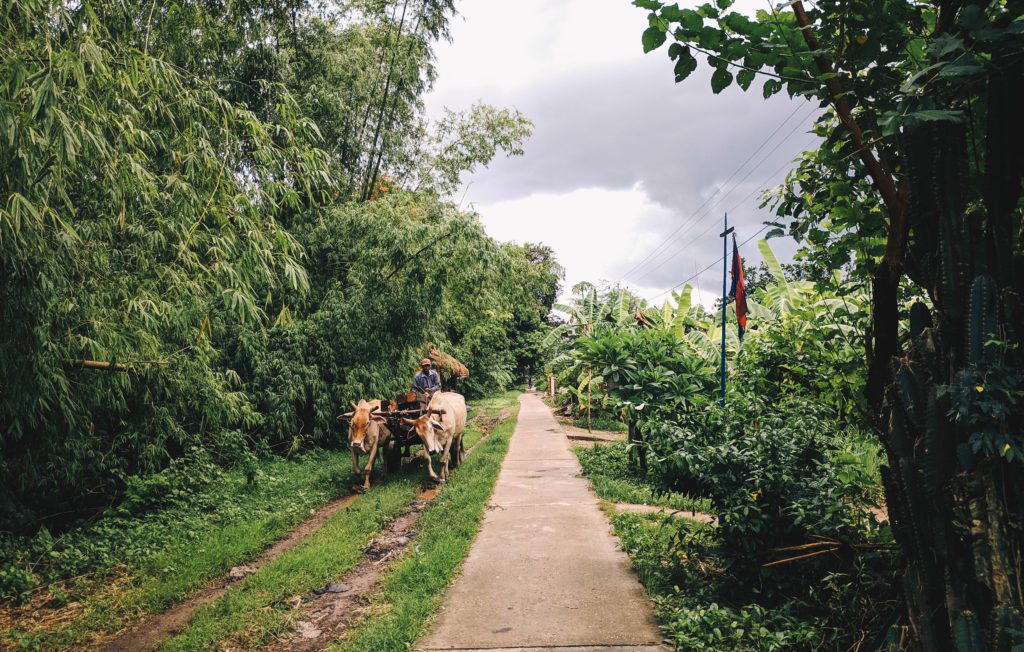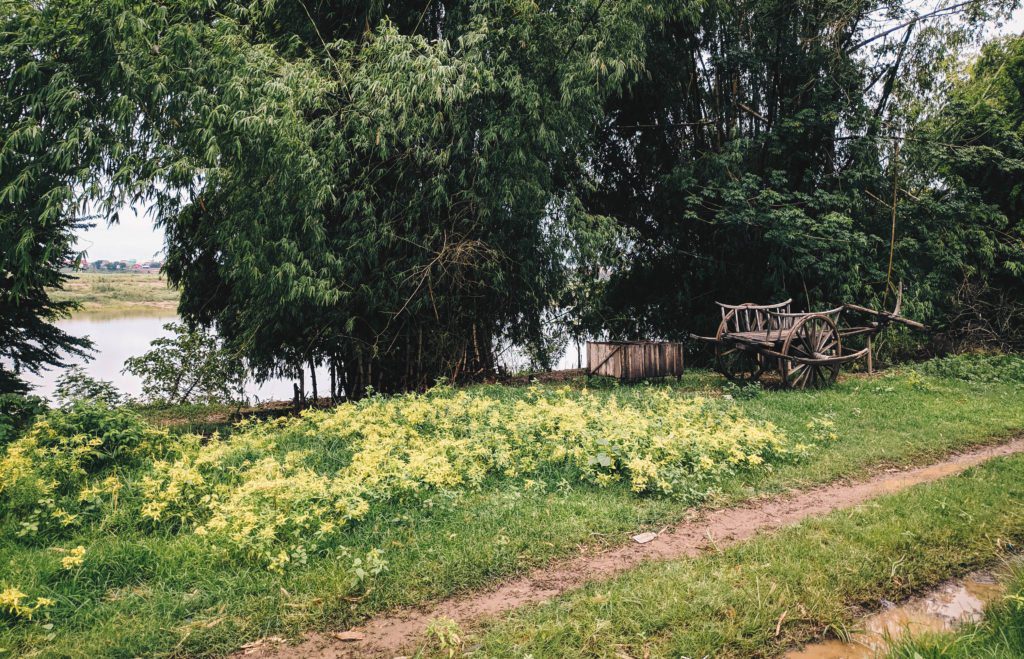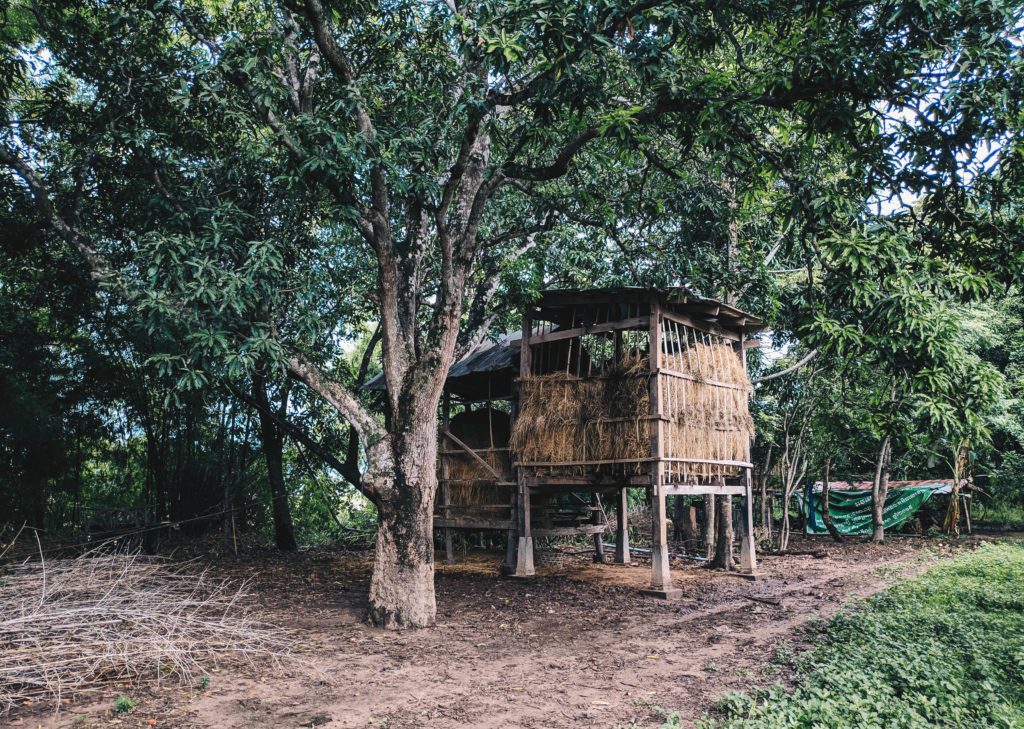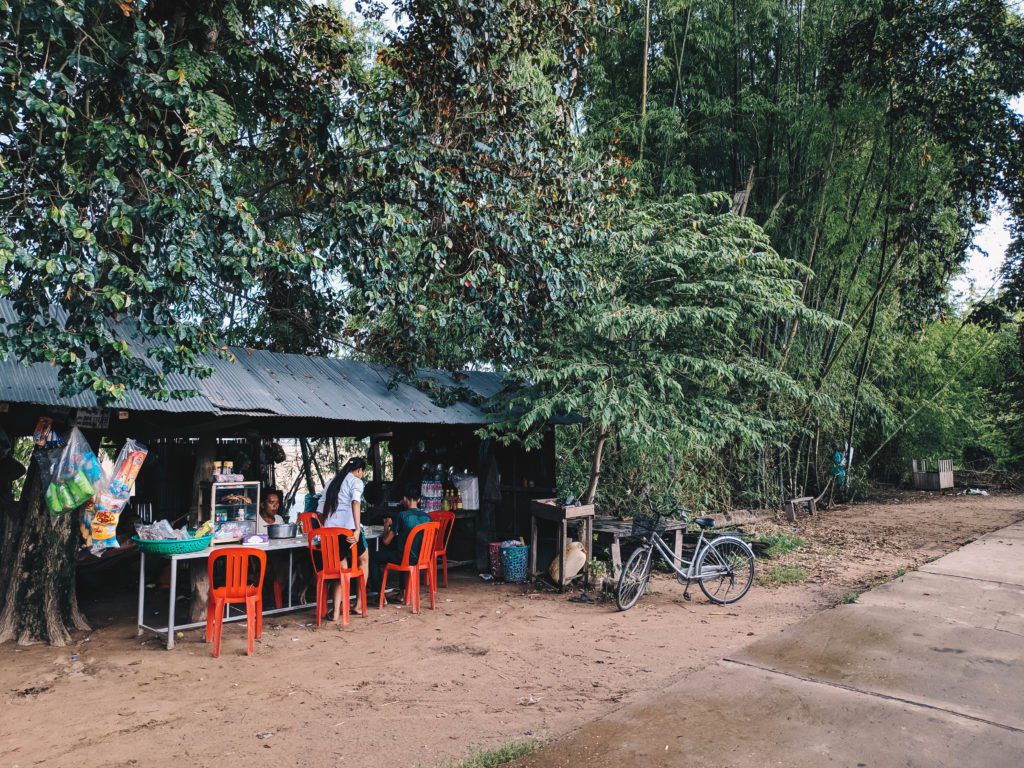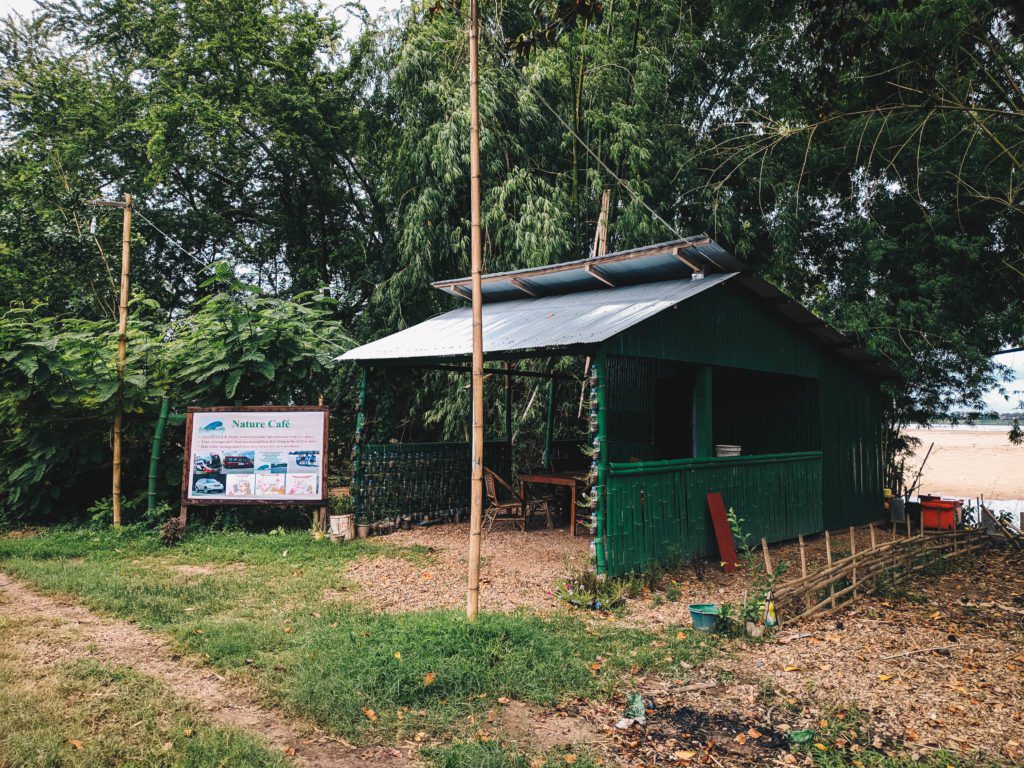 Peacefulness isn't the only thing that Koh Trong has to offer, KINDNESS is another.
I met this old lady when we were cycling around and she came out of her house and greeted us with a very friendly smile. She even gave us a grapefruit and I refused but she still insisted.
#10. Check Out Some Attractions on the Island
Besides the early 2000 vibe and the kind-hearted people that brightened the little island of Koh Trong, there are also some attractions you have to see.
As we started our biking journey from the resort, Wat Tay Param Kbal Koh was our first stop.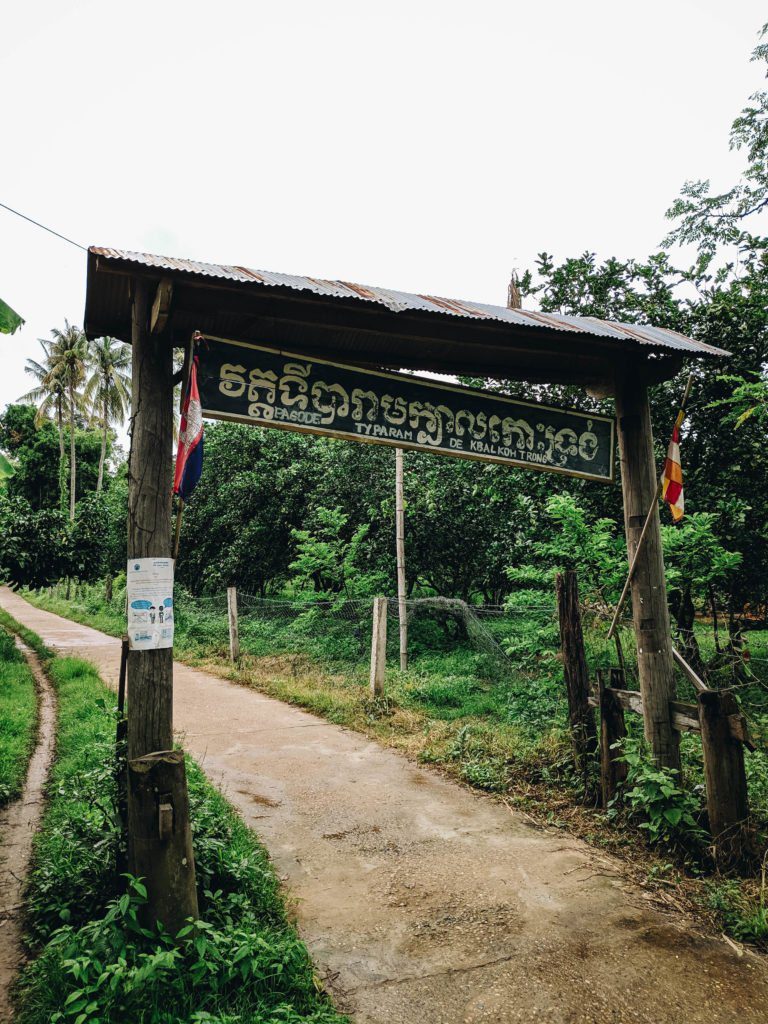 We then continued our way to the end of the island to check out everything and stopped wherever we wanted to.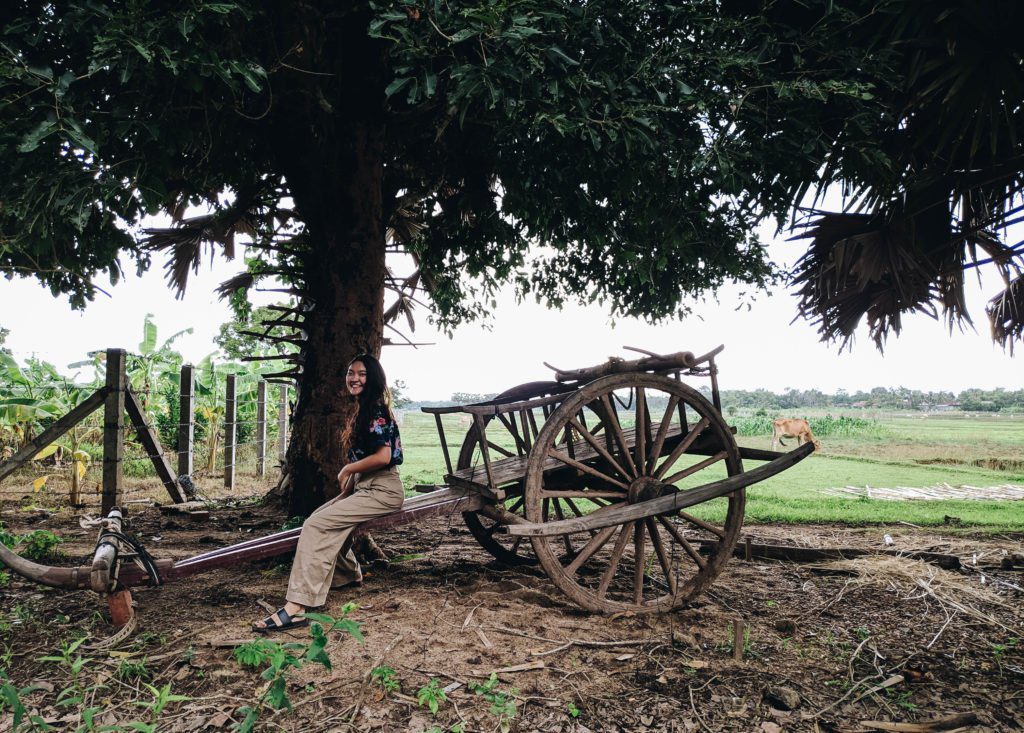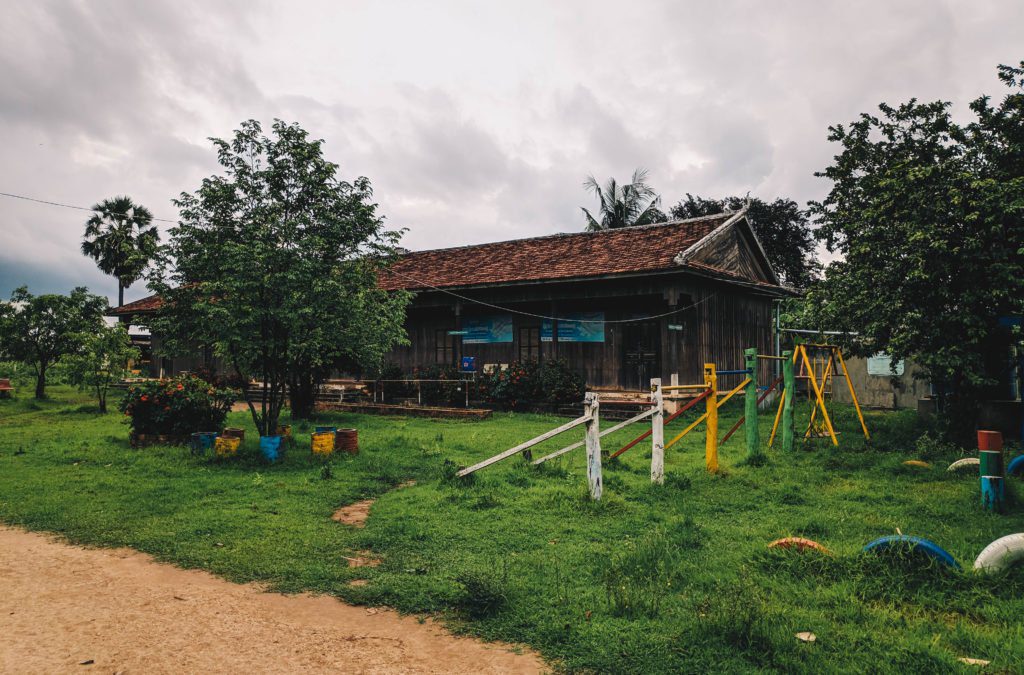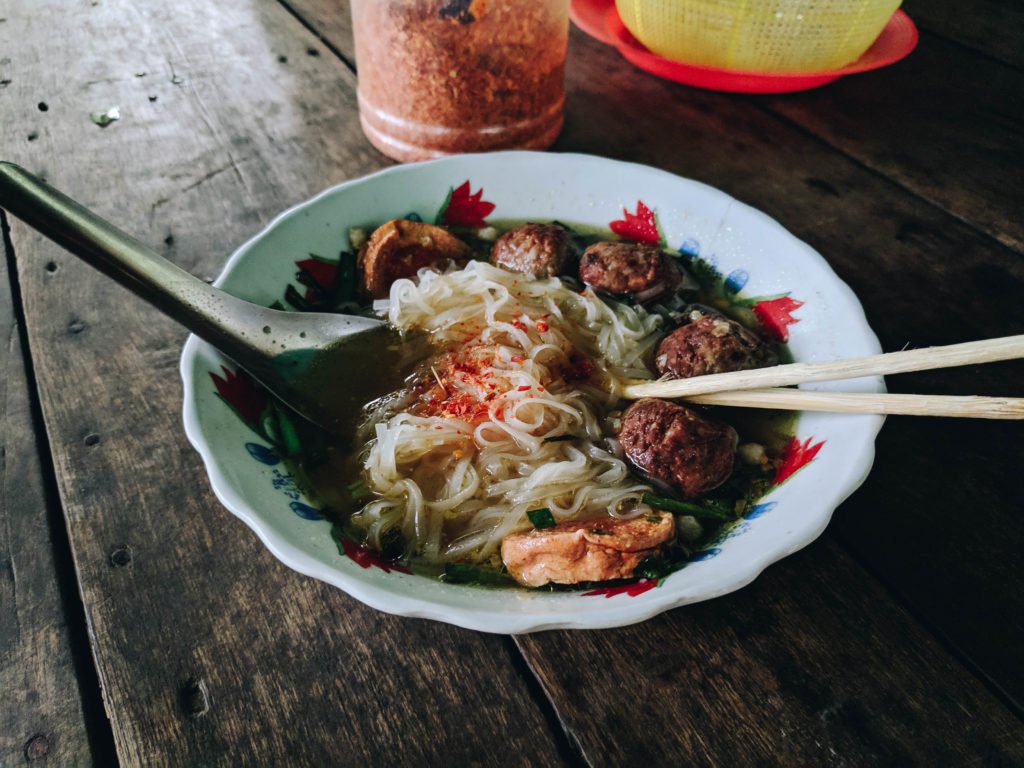 #11. Eat With the Local
Guess who ditched the resort dinner again!? Hahah
We wanted to try the local homemade dish, so we informed the villager in advance to prepare us dinner.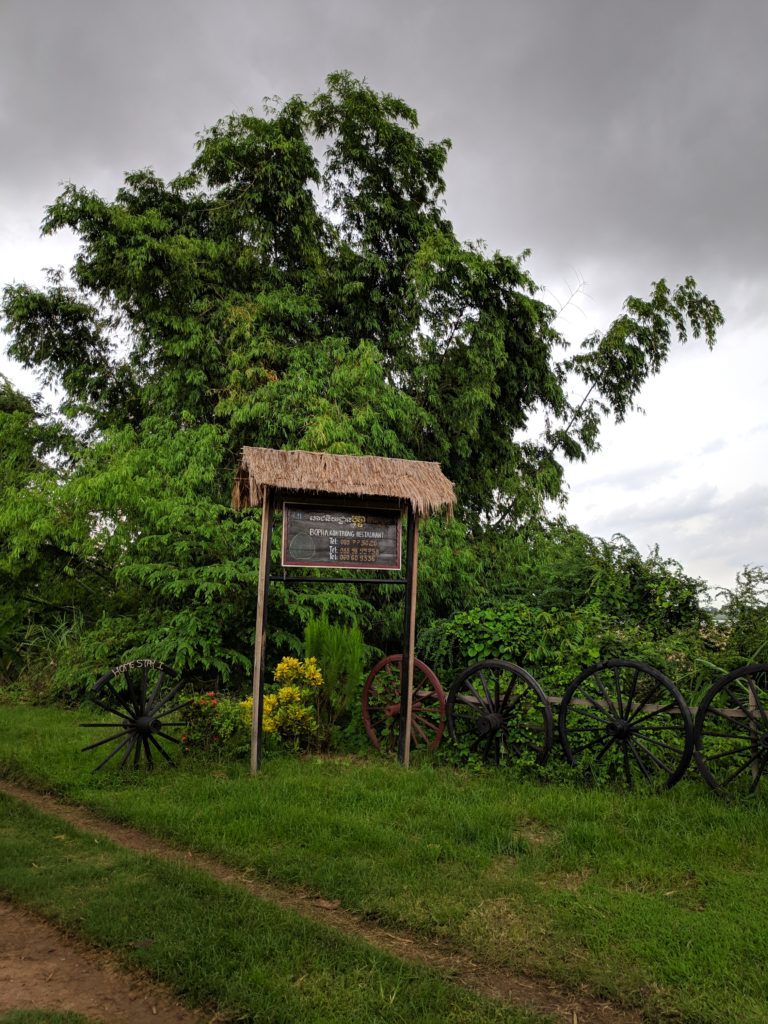 They really surprised us with their table set up.
Where did they learn all that from? Hahaha This is wayyyy too romantic for a group of 4.
They charged us 6USD/Person and we got to order 3 dishes.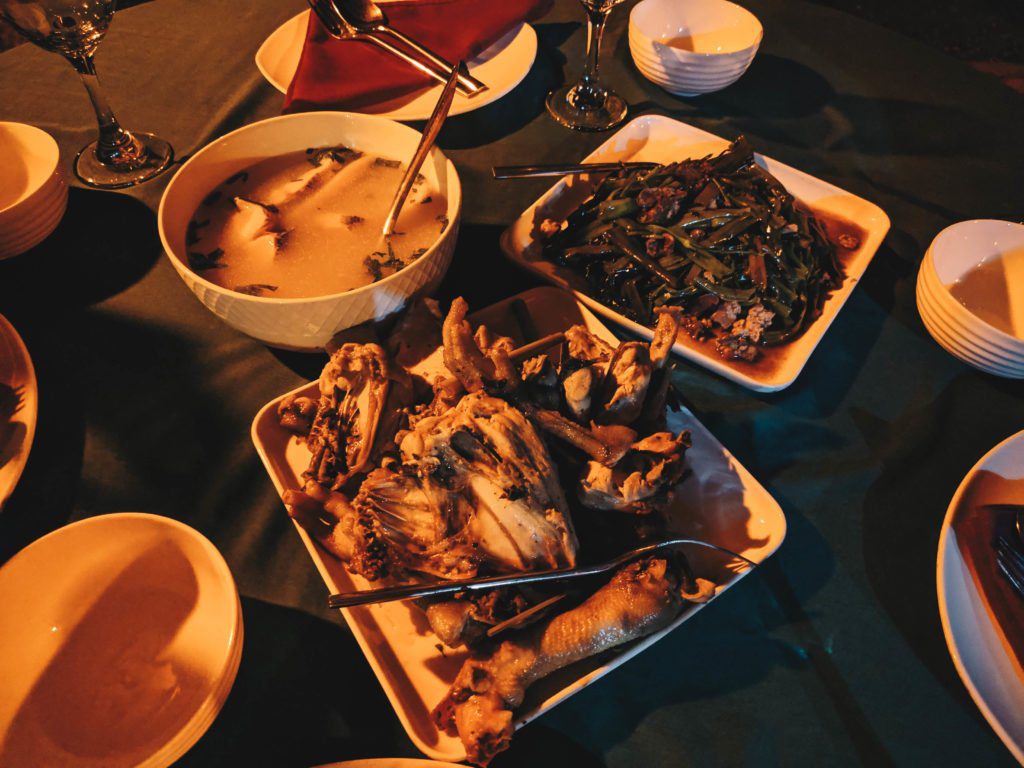 Thinking of going to Kratie?
Here are some tips to make the best of your trip:
Bring some snacks with you as it's hard to find a small snack store or mart here in Kratie.
If you're planning to go to Koh Trong, try to get to the port by 6PM. You can go as late as 6:30PM but to be safe, be there by 6PM.
Dress like the local (especially in Chhlong) or else you'd be looked at like an alien.
Bring back home some grapefruits and naem as these two are their signature.
What are you waiting for?
Gather your friends, pack your bag and go tick off the tourist must-do in Kratie now!
To book your bus ticket, click here.